Today the family and I tried out a couple new dishes from my new Hungarian cook book I got off amazon. It is a great book that has some history in it for you a long with some of the ways to say certain Hungarian words. I haven't finished it all yet but it looks like it has a lot of pastry recipes and also some quick stories of holiday traditions. The name of it is "Hungarian Cookbook" by Yolanda Nagy Fintor.
We made three dishes this evening first one was a cucomber sour cream salad. The proper name is Tejfolos Uborka Salata. It is a sour cream and vinegar based salad that is chilled for about a hour. No real pics of this because I didn't have my camera today, just my phone.
Next is Cabbage and Noodles with Bacon dish proper name of Kaposztas Teszta. This was a big hit and very simple; heck all these dishes were very simple but all were great and flavorful, and very different. It pretty much consists of .5lb of bacon fried into bits and cabbage cooked down for about 30 minutes. Toss in some egg noodles and mix all together. I will be able to post a recipe later for you all.
Cabbage cooking down
All mixed together and ready for plating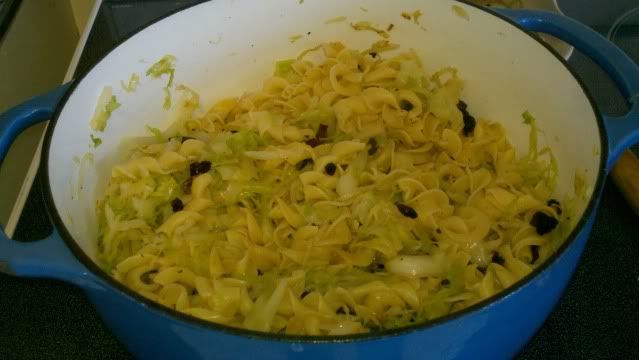 The last dish we made was New World Scalloped Potatoes "Rakott Krumpli Kolbasszal" This is scalloped potatoes with a Hungarian twist. The sauce used in between the layers is sour cream based with some milk, onions, and egg. Hard-boiled eggs are sliced and layered in between the layers of potatoes. This was a very nice taste. Thanks for looking and I will try to get the recipes up, I am swamped right now.
Out of the oven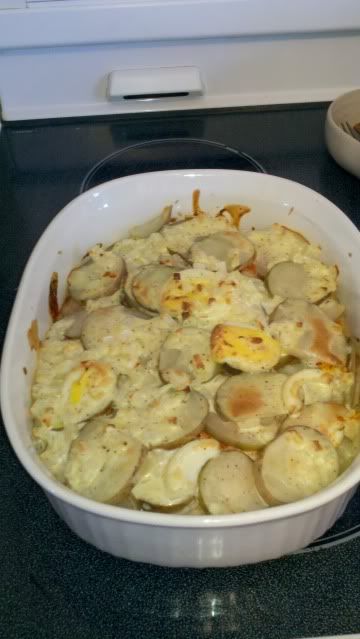 All plated up