This is really almost so easy, that it needs no instructions; however, that's what we do here, so....
Here's what you need (not pictured, salt and pepper):
1 block of cream cheese
1 large can of refried beans
1 envelope of taco seasoning (I prefer Old El Paso)
1 jar of your favourite salsa
1 16-ounce tub of sour cream (fat-free is not recommended, but it will work)
1 can of black olives
2 cups (one bag) of sharp Cheddar cheese
3 avocados (or pre-made guacamole)
1 envelope of guacamole mix (or pre-made guacamole, or make your own using your favourite recipe)
2 or 3 tomatoes, as you prefer
Some spring onions, as you prefer
1 lemon
1 lime
Salt
Pepper
The most difficult thing about this is prep work, and even that really isn't too difficult. First, squeeze out the lemon and limes into a measuring cup; you will probably get between 1/3- and 1/2 cup of juice total.
Next, chop your onions and your tomatoes: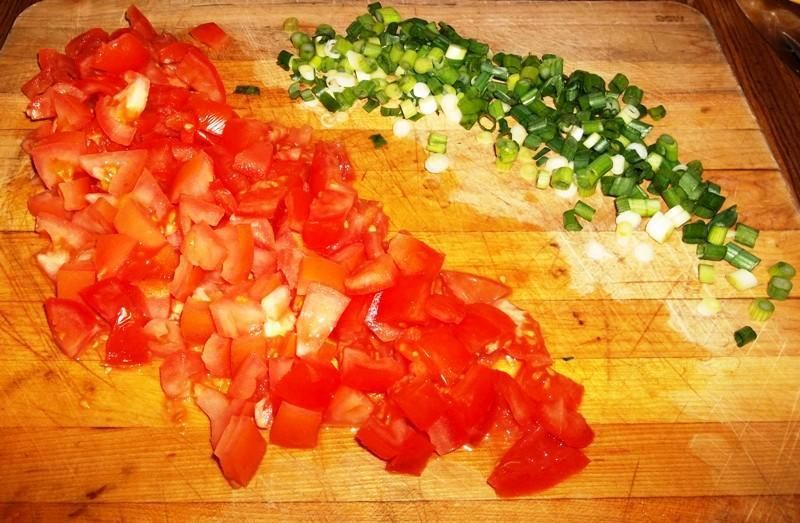 I like tomatoes, so I used a little extra; I'm not fond of raw green onions, so I backed off a little on those.
Next, transfer the chopped onions and tomatoes to a bowl, shake a little salt and pepper on them, and add all but 1/4 cup of the combined lemon and lime juice:
Stir this mixture around so that everything is evenly coated, then place the bowl aside so that the salt can leach out the excess moisture in the tomatoes and onions while the pepper and citrus juices season them.
Next, dump the refritos, the cream cheese and the taco seasoning mix into a bowl: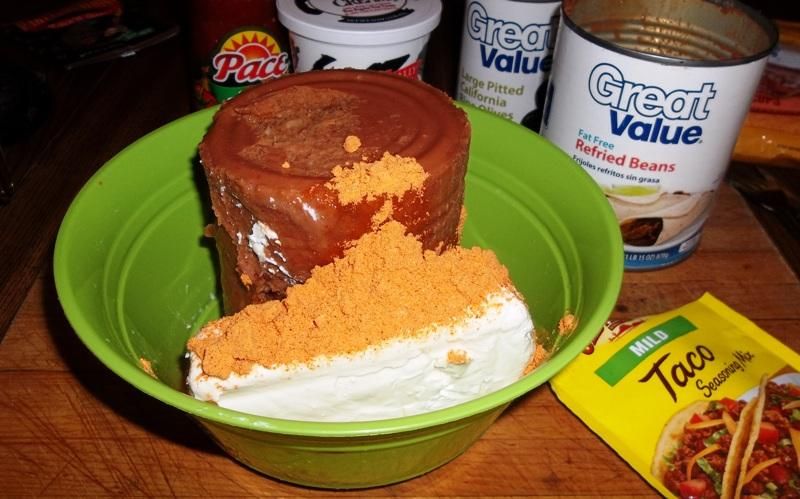 Technically, this bowl might have been a little small, but it was a busy day, so this is what I used.
Pass this off to a kid so that s/he can mash and stir this mixture together with a fork, allowing you to turn your attention to the guacamole.
You have three options, and which option you choose is entirely up to you:
1) You can use pre-made guacamole
2) You can make your own guacamole entirely from scratch
3) You can split the difference and use a guacamole dip/seasoning envelope and some avocados
I went with option #3, and it was perfect for balancing semi-home-made with convenience on a busy day:
First, I ran a knife longitudinally around each avocado (around the fruit from top to bottom), slicing in until I was stopped by the pit. The avocado easily separated into two halves, and the pit was easily removed by whacking it with the blade of the knife and lifting it out. Then, I scooped out each avocado into a bowl: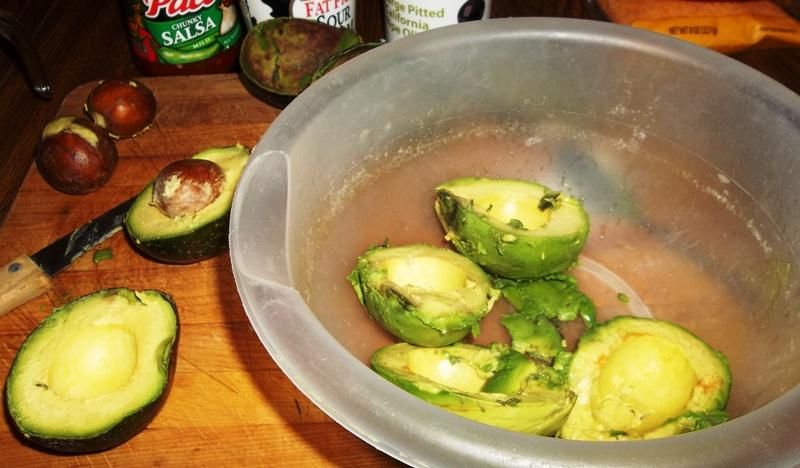 After that, I added the seasoning packet and 1/4 cup of the combined lemon and lime juice; the instructions said to use water, but since this was going to be part of a dip with so many other bold flavours, I used citrus juice in order to allow the guacamole to assert itself a little bit.
I handed off the bowl to the Beautiful Mrs. Tas with instructions to mash and stir the mixture with a fork until it was to a consistency of her choosing. By this time, my son had had enough of mixing the refritos, taco seasoning and cream cheese:
Not perfect, but it was honestly good enough for what we are doing.
Soon after, Mrs. Tas declared the guacamole to be ready:
Meanwhile, I was slicing olives feverishly, trying not to be outpaced: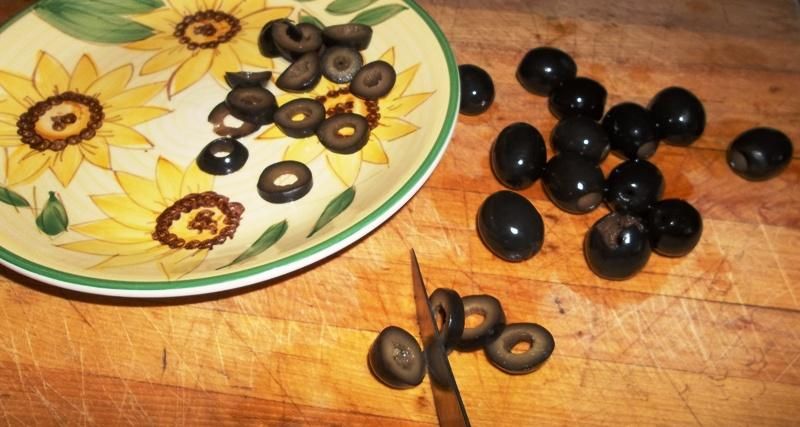 Once I finished the olives, we were ready to assemble the 7-layer dip: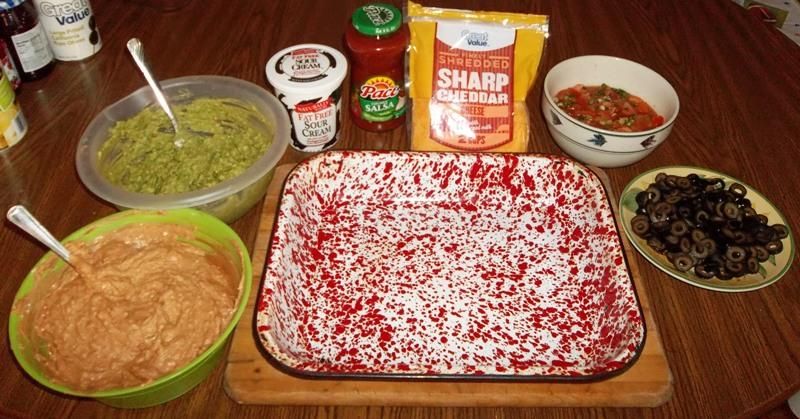 This is, as I said before, ridiculously easy.
Ready?
Go!
Empty pan: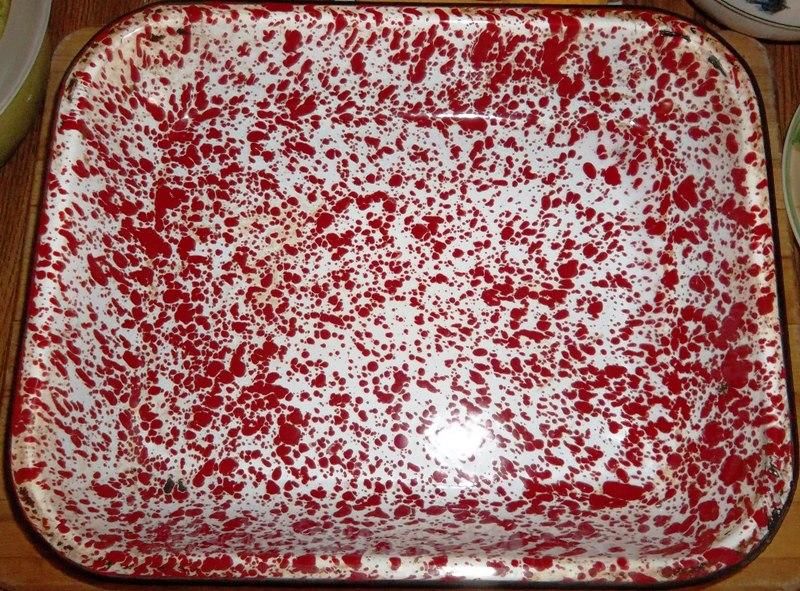 Refried bean/cream cheese/taco seasoning mixture: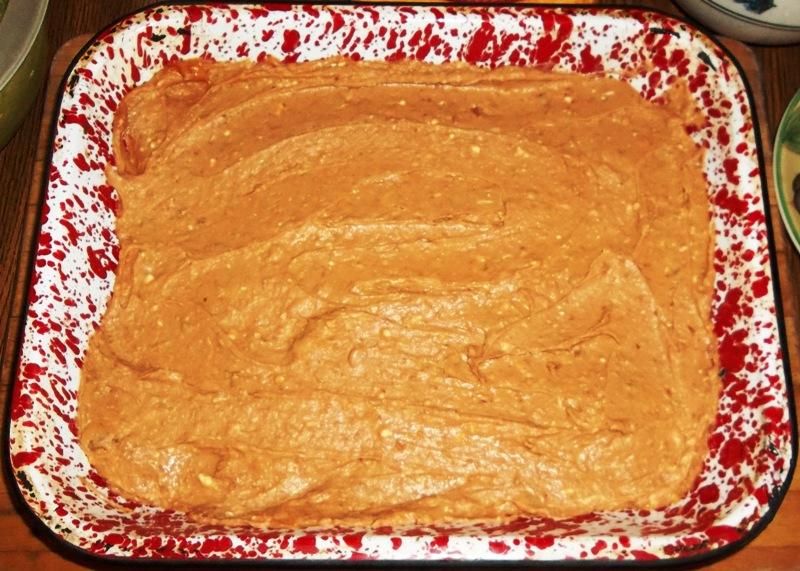 Guacamole:
Sour cream: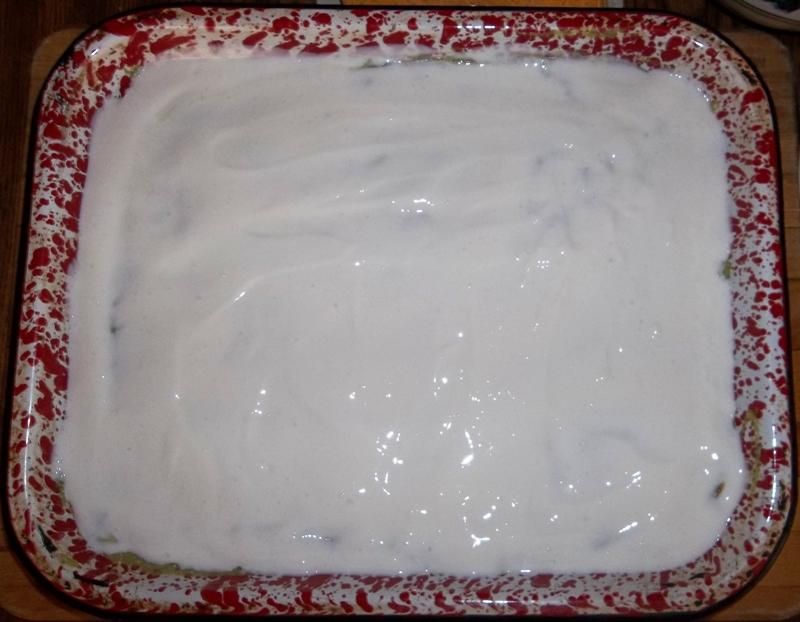 (A short pause here, to say that "real" sour cream works a lot better than fat-free sour cream, due to the fact that the fat-free sour cream seems a little (actually a lot) runny; however, either one will work.)
Next, the salsa:
Then the sharp Cheddar cheese: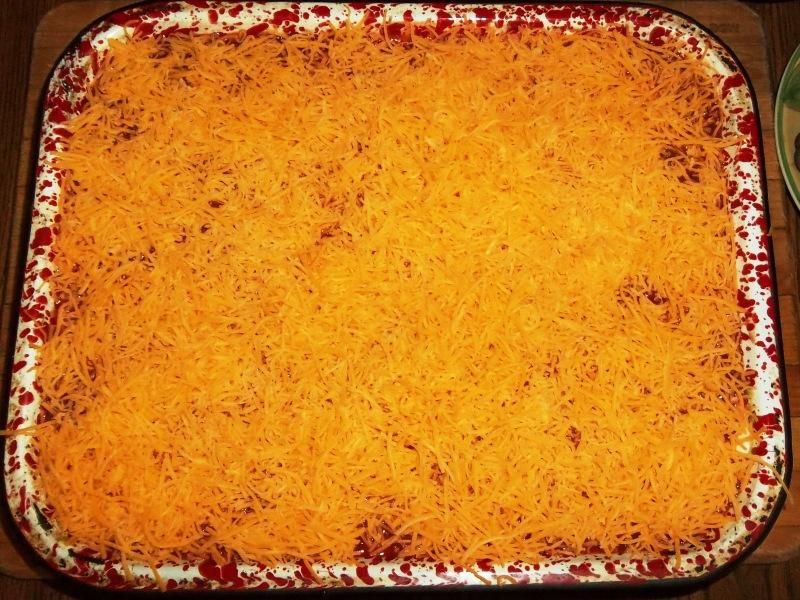 Almost finished!
Now, strain the tomatoes and spring onions from the juices they've been sitting in. The juice is actually pretty tasty, and probably rather healthy too - sort of a "V4" juice (Tomatoes, onions, lemon and lime)....
Back to work! Spread the tomatoes and onions on top of the cheese:
And, finally, top with your olives: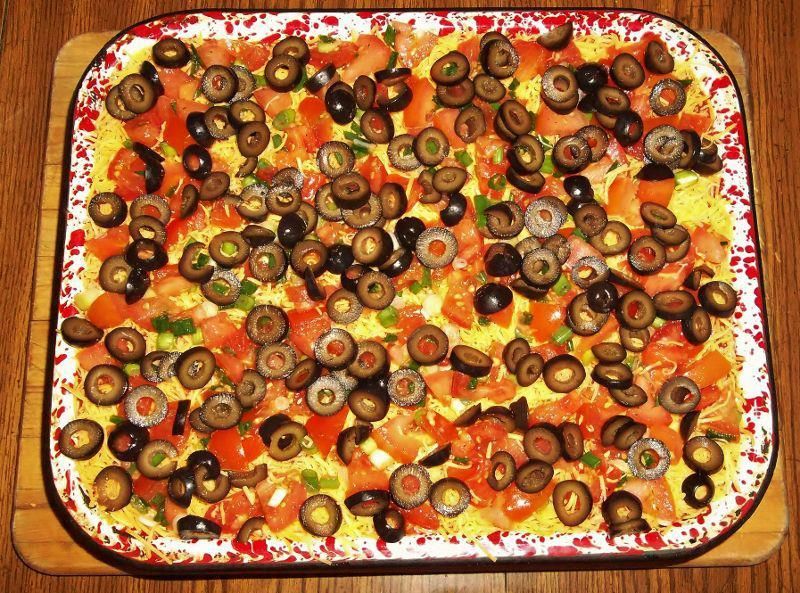 That's it ~ you're done!
Cover the dip with saran wrap and put it in the refrigerator (or, if you live in north-central Siberia like we do, out on the front porch) in order to chill and set while you get the rest of your party ready.
This dip is best served with tortilla or other southwestern-themed chips, or it can be used in any way you desire, perhaps as a spread on a tortilla wrap - the possibilities are yours to imagine. Chances are, the moment you scoop some of this out, the dip will lose its perfect, geographic strata of layers - but don't be dismayed, enjoy!
Thanks for looking, and I hope you try this - you will be the hit of the party with it! I can't imagine that there are any questions about how to make this; but if there are, just let me know ~
Ron