Did a practice smoke today for Sundays comp…. There is a time limit of 8 hours for ribs and 8.5 hours for pork butt. Started out with two different injections, none are super top secret but one is highly classified. Got the smoker up to 250 degrees and butts went in for their voyage to delectable land. Then got the ribs prepped for a 11:30 date with the smoker as well. Rub the ribs with Mad Hunky and let sit in the refrigerator till time. Of course I trimmed them down to a St Louis style for presentation. Here is what surprised me from this whole smoke today…. All the trimmings I used a new rub to me from good old Paul (beer-b-q). Man let me tell ya Mad Hunky has some competition in this house hold after today….I love the MH but I believe I have enough room in my heart to love to rubs….Paul's is a slit more peppery to me ( my palate sucks tho, I am a pepper head) however my wife and buddy loved it as well. I have decided to use Paul's comp rub for the ribs and MH for the butts on Sunday. After all was said and done I did the ribs with this time line @ 300 degrees. 2.5 hours-1.5hours-1hour…. they were a tad over done but with a little tweak they should be fine. I have never done a hot rib smoke before so this is new to me. The Butt's came out great and juicy and I re-injected them after a sit out of the smoker, the family is jaw jackin on them as I type…thanks for lookin and if you haven't tried Beer-B-Q's rub you might want to jump on it, hell of a rub and HELL of a guy as well.
All rubbed and ready to go…one with a simple apple juice and brown sugar injection. The other has the same with a little garlic and pinch of all spice added….both were great
Beer-b-q (Paul) rub on the trimmings…none lasted longer then 5 minutes
Ribs trimmed and going to rest in the refer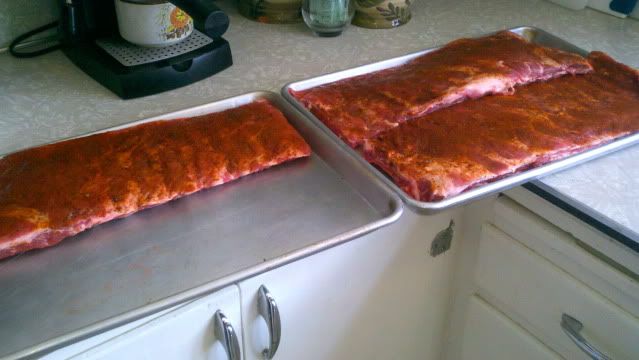 All the kids tucked in to the WesTern SmOker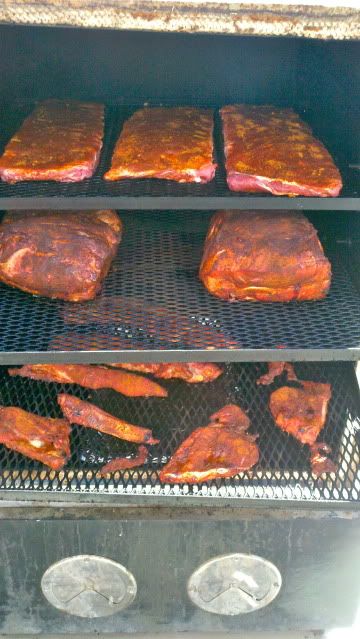 time to foil the ribs with your basic top secret classified method
butts before foil…Man I hate foil sometimes, but it is a necessary evil with this time schedule
out of foil and headed back to the WesTern SmoKer…man I have not had to mess with anything for heat control to this point…gotta love a good insulated cooker
just out and sliced with the new cordless electric carving knife…this thinkg rocks for cutting ribs where there is no power and you want a good presentation…IMHO
butts out and waiting for some attention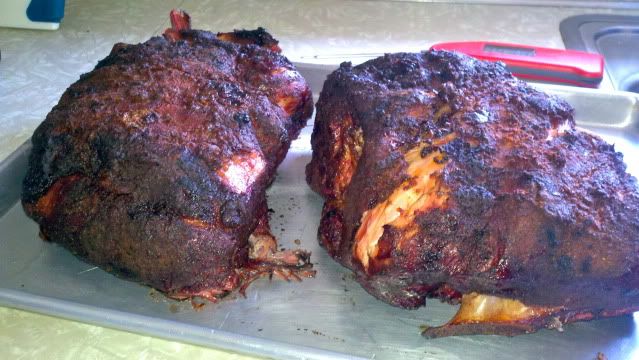 and a shot of the money muscle….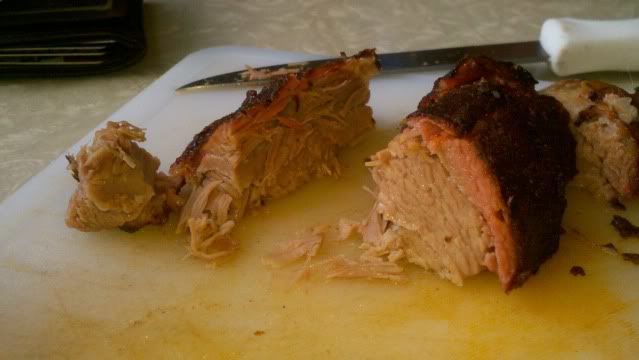 thanks for lookin.