This thread chronicles my attempt at
Andy's house favourite
: the spaghetti sauce of Vincent Curatola, who played John "Johnny Sack" Sacrimoni on The Sopranos.
Some time ago, my wife bought me the box-DVD set of the first season of the Sopranos, which, in spite of its cornucopia of foul language, exploitation of women as sex objects and casual violence, is in my opinion one of the finest adult drama-series a person could watch. One thing I can say is that all cast members are very talented actors who play their parts nearly to perfection and, beneath the seemingly-shallow plot lines, there is a lot of truly insightful writing, character development and story-telling.
Because she is not a fan of the show, I put the set away to watch at a later date, and I regret that it had been forgotten for a couple of years. Finally, over the past couple of weekends, I was able to watch it and catch a few things I hadn't seen before as well as re-acquaint myself with the cast of characters. I'll be ordering Season Two as soon as I can!
Anyway, you can
click here
for Andy's rendition of this wonderful recipe, and
click here
for Mr. Curatola's original version. Mine didn't come out looking nearly as nice as Andy's, and I did have some trouble with photography - but it sure tasted great and I wouldn't hesitate to make this again in a heartbeat. In fact, I think it could easily become a "company night" dinner recipe, both for it's outstanding flavour and colour, but also for its interesting back story.
When the time came to prepare this, I was primed and ready. Here is the recipe I used, which is a slight twist on Andy's slight variation on a doubling of Curatola's recipe.
4 TBSP extra virgin olive oil
1 chopped onion (this was my variation)
6 cloves of garlic, crushed and minced
2 - 28-oz cans of imported Italian plum tomatoes
1 small tin of anchovy filets packed in oil
1/2 tsp sugar
1 tsp oregano
1 tsp basil
1 cup Marsala wine
1/2 tsp salt
1/4 tsp freshly ground black pepper
1 lb or more of Italian sausage or meatballs or a combination of the two (I used ground beef)
1 lb spaghetti
Grated Romano cheese
Here are the goods:
Some ingredient substitutions were necessary due to the season (dried herbs rather than fresh) and availablity. Having no decent Marsala available, I chose to use
carlo rossi's paisano wine
for this, and was not disappointed. I also regret that I had no Italian plum tomatoes available, because i really think this recipe would have been better with them. Finally, I substituted brown sugar for white (strangely, we had no white sugar in the house at the time) and added one other variation in the form of a chopped onion. Not pictured is the grated parmesan/romano/asiago cheese blend that i used rather than straight romano.
Speaking of onions, my first step in the creation of this sauce was to chop one up: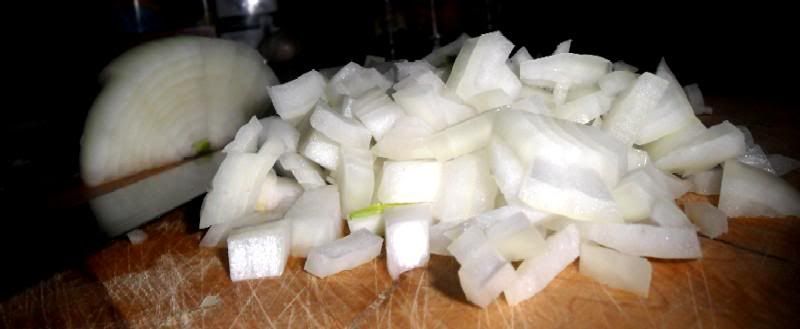 Next, I took some garlic cloves: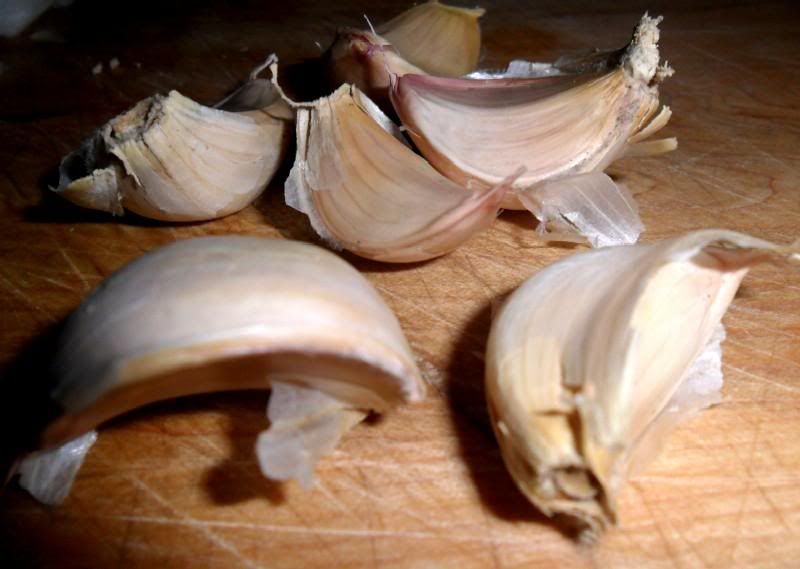 And gave them a a good dicing:
One thing I didn't do, but should have, is crush the garlic cloves with the flat of the knife before slicing, dicing and chopping them. To me, crushing the cloves does wonders for imparting their flavour into the dish, and aids in "melting" the chopped bits into whatever you are cooking.
As you can see with the onion and garlic, I do not get too worried about getting every piece uniform in size when I am chopping, dicing, mincing etc. My feeling is that most are average, and then there are a few oversized pieces that will stand out for their goodness and a few undersized pieces that melt into the sauce. Personally, I am suspicious whenever something "home-made" is all EXACTLY the same size - aren't you?
Basically, for a chunkier sauce, chop these items on the large side, and for a smoother sauce, chop them as finely as possible.
Next, I mashed the anchovy fillets with a fork in their oil until they kinda-sorta reminded me of canned cat food:
Up until I made this recipe, the beautiful Mrs. Tas held the belief that there was no excuse, culinary or otherwise, for the existence of anchovies. My plan was to get them into the sauce and hide the can and box deep in the trash can - and she would never be the wiser, except for the rich, deep flavour and character they imparted into the final product. Like most people who have actually gotten to know the humble anchovy, I have found that, while it takes a particular palate to enjoy them "straight-up" on their own, anchovies can add so much depth and richness when paired with many italian flavours, particulary (in my experience) tomatoes, olives and Italian meats and cheeses.
I then opened the cans of diced tomatoes that I chose for this recipe: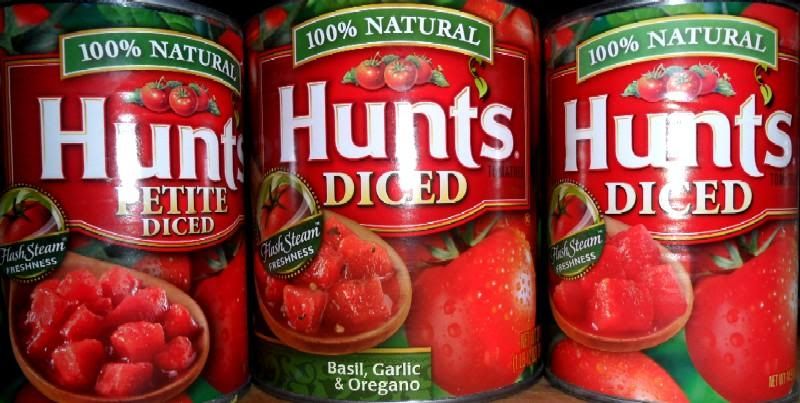 There is no such thing as canned plum Italian tomatoes in my area, so I chose Hunts, which has a great reputation in the canned-tomato world, a niche where you indeed get what you pay for. I decided to try different sizes and varieties, including some with a boost of
basilico,
aglio
e
origano
.
I poured the tomatoes into a container so they would be ready when I needed them. In this picture below, which didn't turn out very well, you can see the bits and pieces of the herbs:
One constant theme in my cooking this dish was my trouble in photographing the tomatoes, whether out of the can, in the sauce or anywhere else. For some reason, very few of my photos with tomatoes turned out well and most were washed out by the flash. A few, however, did manage to come out right, and the rich, deep red character of these excellent tomatoes was shown to perfection.
Mise en place
ready, I began by
sautéing the onion in the olive oil, adding the garlic during the last minute or so in order to keep it from scorching and turning bitter:
This looks like a lot of oil (due to a mistake at the store, I ended up getting "regular" olive oil rather than extra virgin, but it was all good), but by the time the sauce was finished, it seemed to be just about right. One could, i suppose, reduce the amount of oil if they prefer; I heard or read somewhere that with italian cooking, you want just enough olive oil to cover the bottm of the pan well, and that seems like a good guideline.
[NOTE] I have altered the recipe above to reflect a reduced amount of olive oil. After making this a few more times, I think it is safe to say that one can definitely cut the olive oil in half, if they choose. it looks like doubling the oil along with the rest of the ingredients is in fact unnecessary - just be sure to cover the bottom of the pan well!
I then added the tomatoes and began crushing them with my wooden spoon, a step that continued throughout the cooking process as the tomatoes cooked down:
Note - a potato masher works very well for this purpose, but I didn't have one in the house at the time. Be careful when using one if your cooking vessel has a non-stick coating or seasoning.
I added the anchovies, sugar, and salt and pepper:
Then brought the lovely-looking and smelling mixture to a boil, after which I reduced the heat to just above low for a nice, long simmer: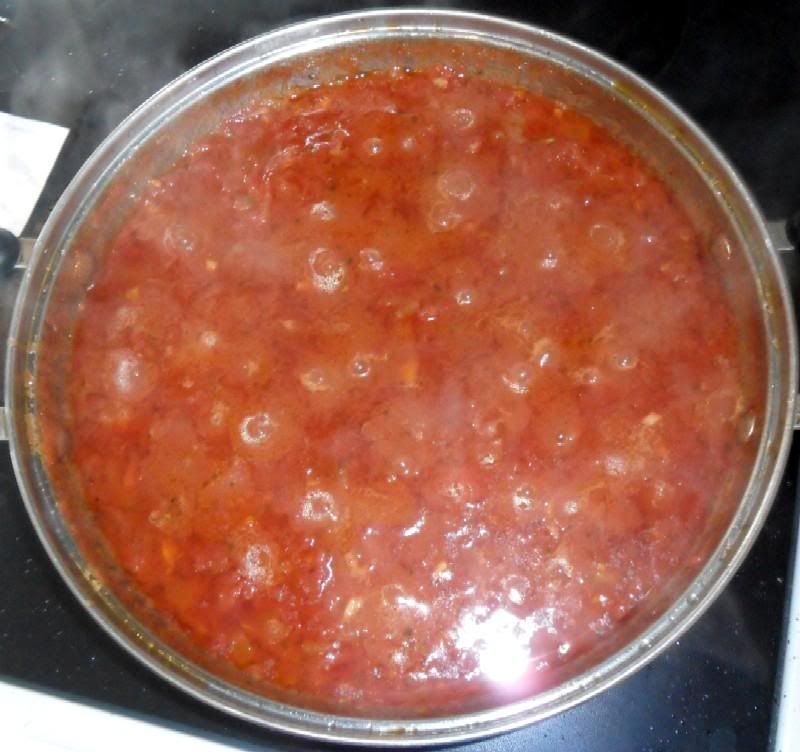 After around 45 minutes, when it reached a stage that looked about right, I added the paisano wine to the sauce:
And, since they were dried herbs, I added the basil and oregano as well:
Had they been fresh herbs, I would have waited until very near the end in order to get the freshest flavour punch from them, but since they were dried, I added them at this time to allow them to work their way in between the cracks where the flavour of the sauce is concerned.
I continued to simmer the sauce, stirring occasionally and mashing the diced tomatoes as often as I could:
I think that during their processing at the canning factory, the diced tomatoes "set up" somehow, which allowed them to resist a lot of the mashing and retain their shape more than I wanted. A potato masher would have helped this, but next time I make this sauce, I will use crushed tomatoes if I cannot find Italian plum tomatoes.
Finally, after much simmering and mashing, the sauce had reduced to a wonderful, rich gravy, and in fact might have been a little TOO thick:
But no worries, since we do like thick, reduced, chunky sauces in this house!
At this point, as Andy says, the sauce is done and ready to serve, but we do things differently here in Montana, so here's what we did.
I browned some good, lean, local burger in a separate pan and added it to the sauce:
Being a family of six, I used two pounds of burger, which was probably a little much, but hey buddy, you're in Montana and it is beef country. Having said that, I would have loved to try this with homemade meatballs or Italian sausage, and will try to do so when I make this again.
Then, after some simmering and melding of flavours, my wife arrived home from work just as the pasta was a perfect al dente. One smart-alec son of mine exclaimed before she could even get her coat off: "Maww-awwm! Dad put anchovies in the spaghetti sauce!" (anyone who has lived in a house with multiple children, rather as a sibling or as a parent, knows exactly the tone I am referring to here), so there was an awkward moment there where she gave me the look, but luckily she was too hungry to complain after working a 9-hour shift, and took the plate.
I served this beautiful sauce up on whole wheat spaghetti with the grated italian cheese blend:
And we enjoyed a fantastic Italian meal.
There are not enough superlatives to describe this wonderful sauce, even though I used many "substandard" ingredients. I can only imagine how much better it would have been with "the right stuff." The base of this sauce, the tomatoes, came through in rich and flavourful fashion, nearly bursting in the mouth and highlighted by every other ingredient. I was very satisfied with this sauce and can't wait to make it again.
Everyone in the family enjoyed this sauce and found it to really be good; there were absolutely no leftovers, but I was disappointed to hear one of my boys proclaim that it would have been a lot less work to use sauce from a jar. This, of course, was the same son who "tattled" on me with the anchovies; being 16, I guess he feels it his duty in the world to be the sounding board for chaos. But he's a good kid and a very good student, so we do give him some leeway.
As for the beautiful Mrs. Tas, she must have become an anchovy convert, at least in situations (such as this sauce) where the flavours of the anchovies blend in and enhance their fellow ingredients ~