Adobo Mojado
You'll hear me say over and over how a simple thing like sofrito will change your life. This is another one of those little life-changing secrets. Adobo...either wet or dry..., will change the way you make pork, chicken, beef, and even fish. I run the risk of repeating myself, but this is not shy or subtle. It is very much "in your face" food, and I mean that, of course, in a good way.
Yield: Makes about ½ cup
Ingredients
12 cloves garlic, peeled
1½ tablespoons fine sea or kosher salt (see Notes)
1 tablespoon black peppercorns
2 tablespoons dried oregano
2 tablespoons olive oil
2 tablespoons white wine vinegar
Directions
Pound the garlic cloves and salt to a paste using a mortar and pestle. Add the peppercorns and oregano, pounding well after each one to incorporate them into the paste. Stir in the oil and vinegar.
Notes
The salt keeps the garlic from flying all over the place as you pound them together.
This wet rub will keep for 5 to 6 days in the refrigerator, which gives you a chance to try it on anything you like, from fish fillets and pork chops to turkey cutlets and steaks.
Ok, here we go - following the steps outlined above for adobo mojado, here's how it's done.
Here are the goods - as easy as it gets:
The garlic cloves I used were very large, so I didn't quite use a dozen of them. Also, I didn't have any white wine vinegar on hand, but no matter - red wine vinegar is just fine; nearly any acid used in cooking would do. I have often used various citrus juice combinations similar to naranja agria ("bitter orange" juice (from Seville oranges) with good success.
One way to prepare adobo mojado is in a food processor, which I did for my first attempt. After crushing and peeling the garlic cloves, I placed them in the food processr with (clockwise from top) oregano, kosher salt and pepper:
Next, I added the olive oil and the red wine vinegar:
I actually added a teaspoon or so extra of olive oil, since the bottle was nearly empty - but that's no problem.
I pulsed the food processor a few times:
Not quite done enough for my preference, so I pulsed it some more, using longer pulses:
That's just about right! It can be pulverized even more, if one wishes, but this is what I wanted, so this is what I got.
How easy is that?
The food processor works just fine for making this, and you will not regret using it. It's what I used for a very long time with absolutely no complaints. But if you want to take the experience and the results up a notch, another way to prepare adobo mojado, which is superiour in my opinion, is to use a mortar and pestle. I purchased one recently from
www.latienda.com
:
I must say, after making my adobo this way, that it will be the only way I make it in the future; either way works, but this really gets you down into the experience, in my opinion.
Here we are, mashing the garlic and salt into a wonderful paste:
And here, we see the whole peppercorns crushed into the garlic and salt: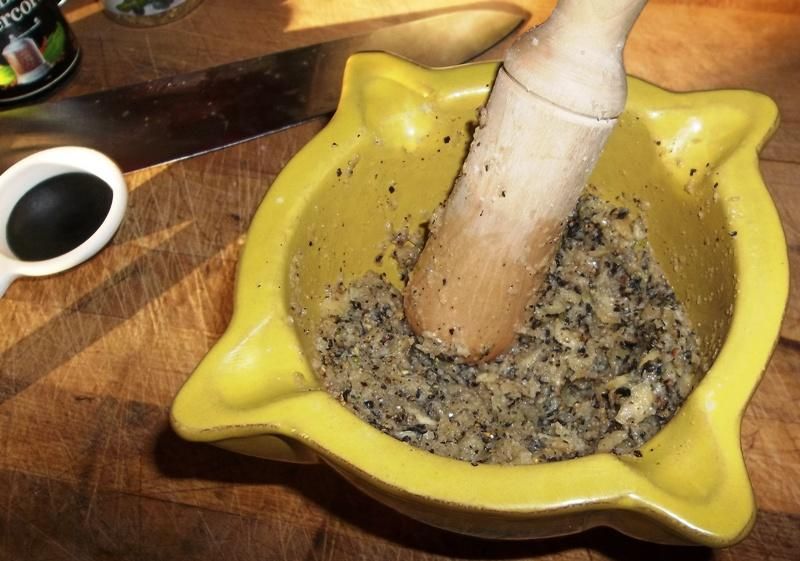 Next, the oregano was worked into the mix:
And finally, here we have the finished adobo, with the olive oil and acid (in this case, naranga agria) added in:
The result, in my opinion, is a much better paste that really allows a person to work all of the flavours of the adobo into whatever you're using it with.