These last couple of years, I've been trying to spend more and more time outdoors with my youngest son (and the older ones too, if they ever want to tag along, which is rarely). Usually we like to go into the Bear's Paw Mountains south of home, and it never fails to be a good time. In the summer, it is easy to find something to do - fishing, hiking, day-camping, cooking over fire and so forth - but in the winter, the choices are much more limited, especially when the temperatures can plunge into the double digits below zero - without the wind chill. Luckily, fishing is still an option!
I used to do a little ice-fishing with my dad when I was a kid - we didn't go too often, but enough that I remembered that I had a great time. I remember his old, old hand-driven auger from Sweden, and how it would hang on the wall of the garage most of the year, waiting for the lake to ice over. I also remember, hanging next to the auger, the home-made "tip-up" rigs that he had made long ago, probably when I was just a toddler. Not long ago, I asked him if he would teach my youngest son to make them; it's something that I could have done, but that wasn't the point - the point was that they had a good time making them together, and those of you with both fathers and children know what I mean.
People spend a lot of money on ice fishing rigs and in my opinon this simply is not necessary, unless perhaps you are going for 20-pound northern pike. All you really need (per rig) is about 30 inches of 1 x 1 or 1 x 2, a couple of screws and a couple of nails.
To make the rig, simply saw the 1 x 1 or 1 x 2 into two not-quite-equal lengths of 14 inches and 16 inches. With two short, strong screws (nails would probably work, too), securely fashion the two pieces into a perpendicular cross, with the 16-inch length on the bottom. To the top 14-inch piece, drive in one nail near one end and another nail farther back past the middle.
That's pretty much it - all you need to do now is tie on some fishing line, wrapping it around the two nails; 6 to 10 yards should be enough line for most situations, although you can put on more if you want. For this rig, I tend to use heavier line than would normally be necessary for the fish we are fishing for, but that's just me. To the end of the line, attach either a snap swivel or your terminal tackle. What you end up with is something like this: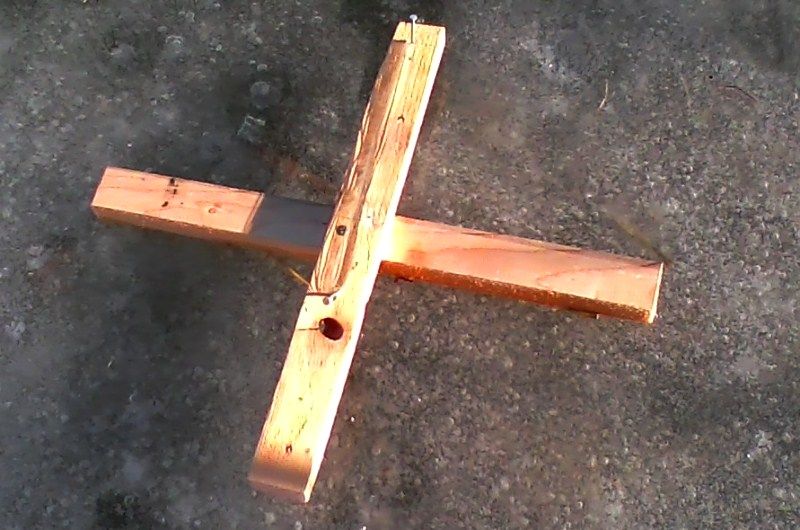 Sorry for the low cell-phone-quality of the photo, but it's all I had at the time....
In any case, repeat as often as you need to until you have as many rigs as you want, then head yourself out to your favourite fishing hole:
If you're lucky like I am, you will be able to have good fishing and stunning scenery at the same time: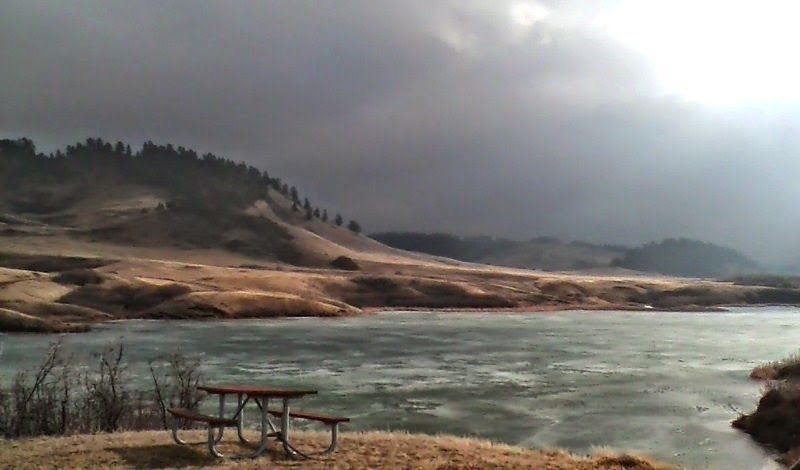 Power augers are a little out of our budget, so we have a hand-driven auger - a newer version of the one that my dad has, but still from Sweden. It works really well, but can take a good amount of time to make a hole, depending on the thickness of the ice. My son and I brought it with us, but luckily we found some holes that someone else had already made earlier in the day: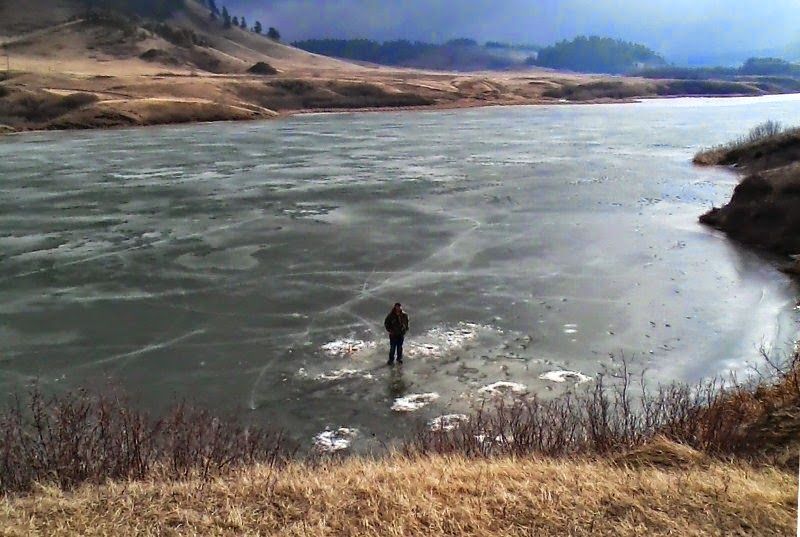 Now, all you need to do is get yourself down on the ice and set up your rigs: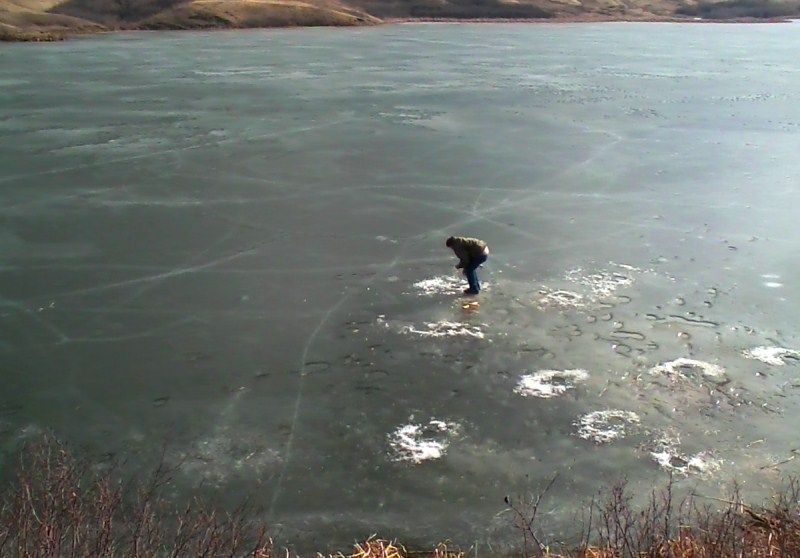 To set your rig, simply unwind the line from the nails as you drop it - with sinker, hook, bait etc. - into the hole, with the nail on the end pointing toward the hole:
The picture above is just for demonstration purposes, you actually want the rig closer to the hole, or even just barely hanging over the edge of the hole:
I should have taken a picture with the end hanging over, but didn't think of it at the time - maybe next time!
In any case, the idea should be pretty clear: since the line is coming off the piece of 1 x 1 (or 2) that is on top of the crosspiece, it will visibly move if a fish is nibbling on the bait. If a fish actually takes the bait and runs with it, the rig will be pulled into the hole, where the longer crosspiece will prevent it from going into the hole. Of course, the piece with the line on it will be pulled down, causing the rig to "tip up." (I should have taken a picture of this to demonstrate, but you certainly get the idea).
These photos were taken about two weeks ago, and this was the first time I'd been ice fishing in over 25 years, except for a couple of times tagging along on school tips for the kids. It was a perfect day for it - not too cold, with no wind and some good ice. We didn't catch anything, but had one heck of a good time.
This past weekend, we had the chance to go to the same lake on both Saturday and Sunday; I didn't get any pictures, but we spent about an hour-and-a-half on the ice each day.
Saturday, we had to dig through about a foot-and-a-half of ice, but it was worth it, We got several nibbles and bites as we learned (or in my case re-learned) the art of fishing with the rigs, and ended up catching five rainbow trout. Continuing our practice of keeping only the ones that "swallow the hook," we released three of them, taking two home.
On Sunday, we went out to the same spot and - thanks to using the same iced-over holes as before - only had to drill down about 6 inches before hitting the water. This time, we caught four and brought two home.
All-in-all, it was a great weekend - and a very successful trial run of the home-made rigs. I'm not sure where my dad picked up the idea for these rigs - maybe he saw it in a magazine somewhere, or maybe it's just what people were commonly doing in the late 60s and early 70s. What I do know is that it will be teaching a new generation how to go ice fishing without breaking the bank, and with any luck will continue to teach a generation or two after that.