Somehow the planets aligned correctly, and I was able to pick up some nice juice to begin yet another batch of this. I started it on 2 October 2016.
I told the boy to stay out of it, on pain of banishment....
The juice that I used was Tree Top's "Fresh-Pressed" 3-apple blend: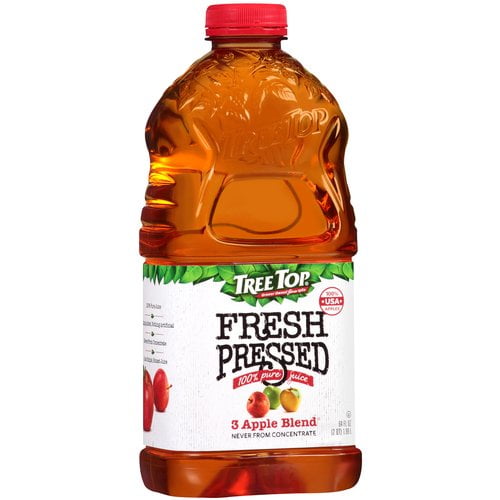 This seemed to me to be a good juice to use, as a blend of sweet and tart apples is often mentioned as the best to use when making apple wine or cider.
I added half a pound of sugar to this batch of
apfelwein
, and used Montrachet yeast, which is the yeast originally mentioned in EdWort's recipe. It's fermenting along very well now, and I'm sure that we'll have some nice stuff in a few months, if I can keep my son out of it!
Well, a late update on this -

Since my last posting, I racked this apfelwein off the lees once, then put it away to bulk-age. For a month or so, I told myself to forget about it, and after a while, I did!

Somewhere in that time, I re-filled the air-lock a couple of times, and finally, a month or so ago, I put a 38-mm cap on the fermenter and put it in the refrigerator, hoping that it would pull down any vestigial sediment etc.

Last night, I bottled this, and I am thinking that I really have something nice. There was just the tiniest bit of sediment on the bottom of the fermenter; but otherwise, the apfelwein seemed wonderfully clear and had a beautiful, pinot-grigio-like colour that was a little lighter than expected; I have no idea why, it was so light, but it looked amazing.

I washed and sanitised all equipment, then got down to doing it. It was quite easy, thanks to my mini auto-siphon and bottling wand - in fact, it was even easier than bottling beer. One thing I was eager to try was this handy gadget, which turned out to be very easy to use and made corking a breeze:

http://a.co/9P7ZAVw

It is currently unavailable at Amazon, it seems, but can be found here, also:

http://mastervintner.com/master-vintner-mini-corker/

I was expecting to get 4 bottles of apfelwein from the batch, plus a partial fifth bottle; because of this, I used 4 bottles that were corked, and one with a screw top that I planned to keep handy for sampling and "quick consumption." I was pleasantly surprised, however, to find that I did indeed get 5 full bottles. I had just enough left over for a small sample, and it sure was good. The apfelwein was pleasantly dry, and it did have a nice "apple-y" flavor to it that I am sure developed as it was sitting in my closet and aging. I am eager to see how it will be after some time in the bottle.

The bottles of apfelwein are currently sitting upright, in the dark, while the pressure equalizes and the corks settle in. In a few days, I will store my apfelwein horizontally and leave it alone for a few weeks while the "bottle shock" wears off. I am guessing that when the time comes to sample it, I'll be quite pleased with it.

Now, I should probably get some more started...for next year....