A couple of years ago, I received a great gift from a great friend: a tin of Baltic sprats, imported from Latvia: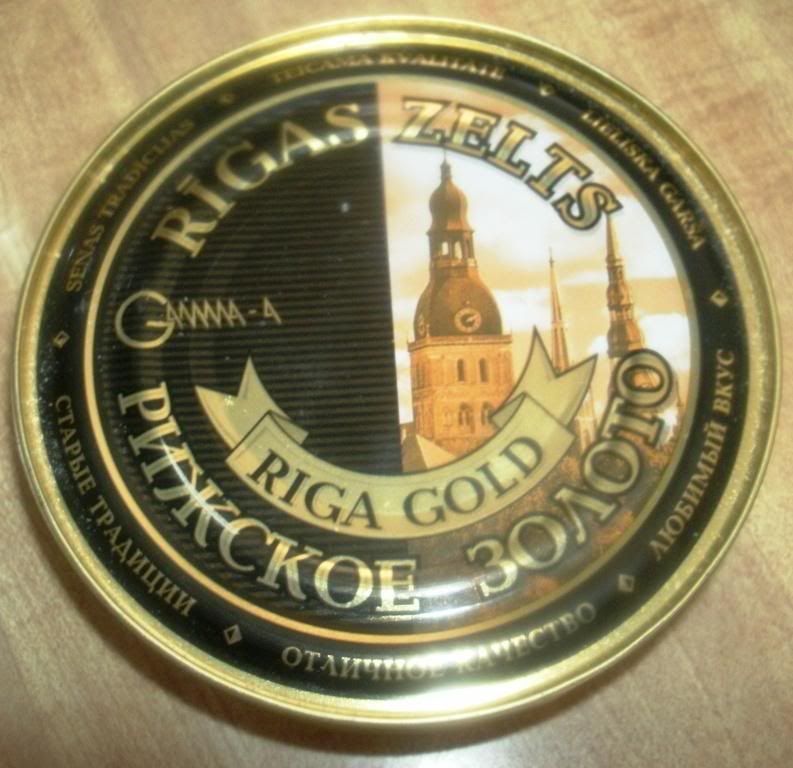 Wikipedia
gives some good information on these tasty little treats:
The Baltic sprat, Sprattus sprattus balticus, is a herring-like, marine fish in the family Clupeidae. It is found in northeast Atlantic Ocean and most of the Baltic Sea, excluding the Bothnian Bay and eastern Gulf of Finland. Its length is up to 16 cm.

Young sprats are commonly known as brisling.

Canned sprats (usually smoked) are available in many north European countries, including the Baltic States, Scandinavia, Germany, Poland and Russia. They are an important Latvian export.
The research I had also indicated that sprats go well when served with another regional favourite:
I'd been meaning to try them for quite a long time, and even took them out a couple of times during some events when family got together, but it never happened until Chrsitmas Eve - this past weekend - when I took them out to my parents' place for an impromptu grazing fest. The sprats lent a nice contrast to the usual chips, dips, deli and reslish trays and other similar fare.
Eager to try them, I layed out some crackers and opened up the tin:
The can had had a hard life in our shelf. It had been knocked to the floor at least three times that I know of, and one day i came home from work to find the cat batting it around like a hockey puck; consequently, it looked like the sprats got a little beat up, but there was no denying the very nice, briny aroma they had, highlighted by a very sultry, smoky (smokey?) ambience that really made me want to try them.
My dad loaded one up on a cracker for the picture:
And then I prepared one for myself as well, to be accompanied by the chilled vodka.
We both decided that these Latvian goodies were really something extraordinary, and thoroughly enjoyed them. A couple of my older boys thought they were good too; however, the rest of the family, including my mother, sister, brother-in-law, the younger boys, my lovely young niece and the beautiful Mrs. Tas, did not try them. No worries ~ more for us!
These were really good, and I think a person who likes sardines, herring, and similar products would enjoy them very much. They are slightly stronger than sardines, but not nearly so much as anchovies - and the smokiness that is imparted into them really takes them to a great level.
My thanks to John for sending them, and sorry that it took so long to finally try them - but they were worth the wait! To those who have never tried them, but might life them, I say you need to give them a go ~ perhaps for New Year's Eve....