Banana Bread
Bananas are found in a myriad of tropical regions around the globe; given man's proclivity to bake bread, a marriage between flour and the banana was inevitable. This recipe was chronicled in Time/Life's Foods of the World - The Cooking of the Caribbean Islands (1970) and comes from Jamaica.
To make one 9-by-5-by-3-inch loaf:

9 tablespoons butter, softened
3/4 cup unsalted shelled pecans
1/4 cup seedless raisins
2 cups all-purpose flour
1 tablespoon double-acting baking powder
1/4 teaspoon ground nutmeg, preferably freshly-grated
1/2 teaspoon salt
2 large, ripe bananas (about 1 pound)
1 teaspoon vanilla extract
1/2 cup sugar
1 egg

Preheat oven to 350 degrees. With a pastry brush, spread 1 tablespoon of softened butter evenly over the bottom and sides of a 9-by-5-by-3-inch loaf pan and set it aside.

Reserve 1/4 cup of the most perfectly-shaped pecan halves for the garnish. Chop the rest of the nuts coarsely and toss them with the raisins and 1 tablespoon of the flour. Sift the remaining flour with the baking powder, nutmeg and salt.

Peel the bananas, chop them coarsely, and put them into a small bowl. With the back of a table fork, mash the bananas to a smooth purée. Stir in the vanilla and set aside.

In a deep bowl, cream the remaining butter and the sugar together, beating and mashing them with a large spoon against the sides of the bowl until the mixture is light and fluffy.

Add the egg, and when it is well-blended beat in the flour and the bananas alternately, adding about one-third of each mixture at a time, and continue to beat until the batter is smooth. Gently but thoroughly stir in the chopped pecans and raisins.

Ladle the batter into the loaf pan and arrange the reserved pecan halves attractively on the top. Bake the bread in the middle of the oven for 50 to 60 minutes, or until a cake tester or toothpick inserted into the centre of the loaf comes out clean. Remove the bread from the oven and let it cool in the pan for 5 minutes, then turn it out on a wire cake rack.

Serve the banana bread either warm or cool.
This banana bread is very easy to make and tastes about as good as can be, with just the right touch of Caribbean ambience; I really and truly enjoyed this bread, in spite of a minor execution problem that was due to my error and no fault of the recipe - more on that later.
As always, we start with the goods, according to the recipe:
I thought I had fresh nutmeg to grate, but I was wrong; no worries, I purchased some ground nutmeg, which will work in a pinch. Also, the pure, Mexican vanilla extract that should have been in the cupboard evidently was used up by the kids, so I was left with imitation - no worries, but I can imagine this bread would have been elevated a notch or two with fresh, pure ingredients.
The recipe called for 2 large, ripe bananas; since the ones I had were on the smallish side, I used three:
The Bountiful Basket organisation recently started operating in our area:
We've been making regular use of its service, to our great enjoyment; it is definitely one way for us to try many fresh, healthy, delicious products that would otherwise be unavailable to us. These organically-grown bananas happened to be part of a "
Bountiful Basket
" that we had recently purchased; as you can see, they are good and ripe for a project like this; I've seen people let them go even further, but I wanted to make banana bread today, so these worked very well and tasted great.
Following the recipe, I brushed a tablespoon of butter in the bottom and on the sides of my loaf pan, and then turned my attention to some prep work.
I'm not normally a fan of nuts in my baked goods such as bread, cookies etc; however, for this pictorial, I wanted to do it "by the numbers;" besides, I do like pecans, so this was no problem. I measured out what I needed, set aside the best-looking ones for later, and proceeded to pulverise the rest with my mortar and pestle:
I purchased this mortar and pestle from
La Tienda
:
And it has since become one of my best friends in the kitchen.
Once the pecans looked good and crushed, but still a bit chunky, I tossed them in with the raisins (to the right in the photo below) and a little bit of flour, as per the recipe:
Next time, I will most likely simply double the raisins and omit the nuts, but this is a personal choice, and not a reflection on the recipe.
Moving along, I measured out the (clockwise from top) baking powder, nutmeg and salt:
And then incorporated them into the flour in a large bowl.
Next, I dealt with the bananas, chopping them and then mashing them with the vanilla in a ridiculously small bowl:
When I think of bananas and the Caribbean, I inevitably think of Harry Belafonte's Banana Boat Song; the original is, to me, pretty classic and provides a great mood, and so I share it here with you ~
Kind of catchy, isn't it?
When the bananas were well-mashed and incorporated with the vanilla:
I began to actually make the bread, a moment I had been dreading due to my (lack of) baking skills.
First, I added the softened butter to a large mixing bowl with the sugar:
I beat them together with a wooden spoon until the mixture looked creamy and started to seem light and fluffy. I then added the egg and, once it was incorporated, I added the flour and bananas, a little of each at a time: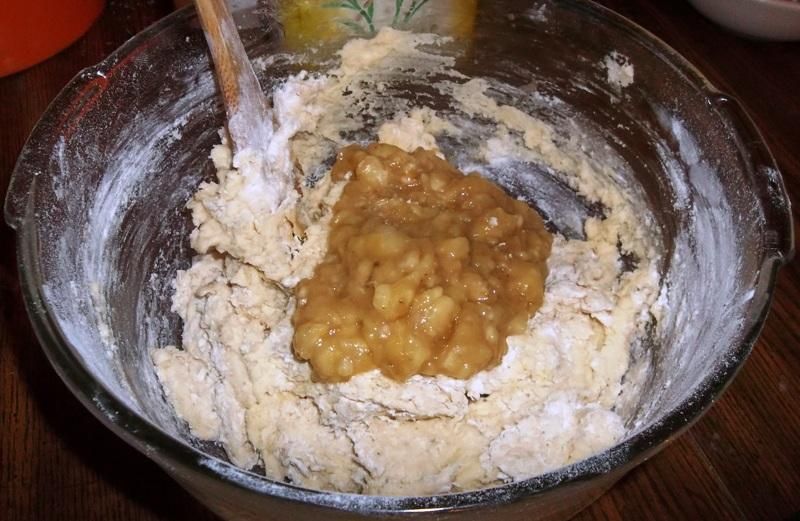 Each time I added a bit of the flour and bananas, I mixed some more, to make sure that the banana bread batter would be well-blended. Once they were thoroughly worked into the mix, which was actually starting to really look like true, smooth banana bread batter, I added the nuts and raisins: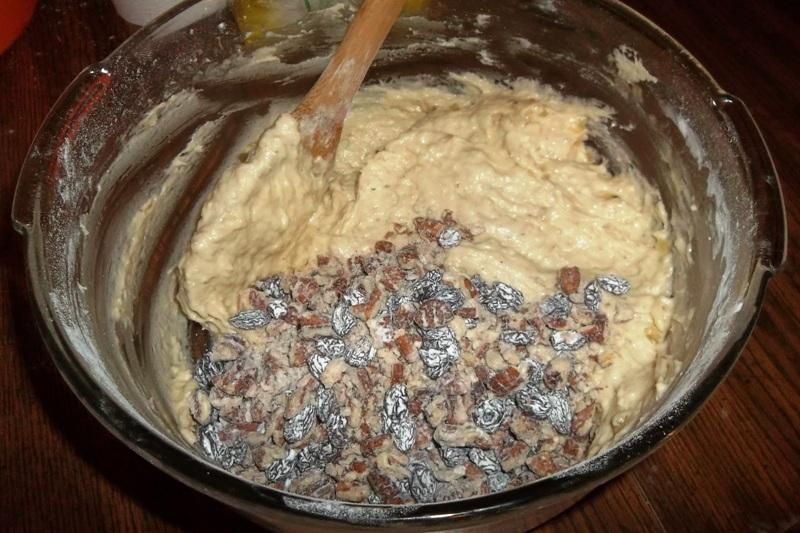 And gently worked them in until they were incorporated throughout:
Next, I ladled the batter into my bread pan, and arranged the reserved pecan halves on the top: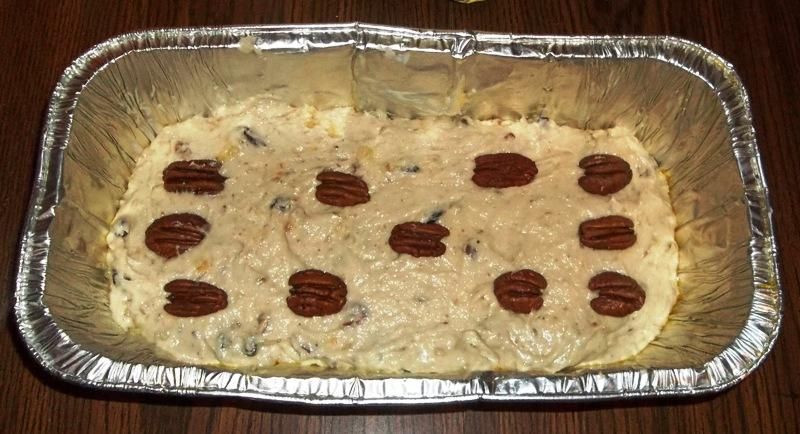 I knew that the bread pan was too deep, but for some reason (I'd been up late the night before, I guess), I thought that the length was right, and it didn't occur to me to check the length. This was my first error. As Brook points out in his awesome bread-baking primer:
http://foodsoftheworld.activeboards.net/the-staff-of-life-a-primer-on-baking-bread_topic3089.html
Details such as this are important, and should not be neglected; you will see why in a few moments.
I then baked the bread in my pre-heated 350-degree oven; due to a few other things that were going on, the bread ended up being in the oven about 5 minutes longer than it should have. This was my second mistake, but it sure looked good coming out of the oven: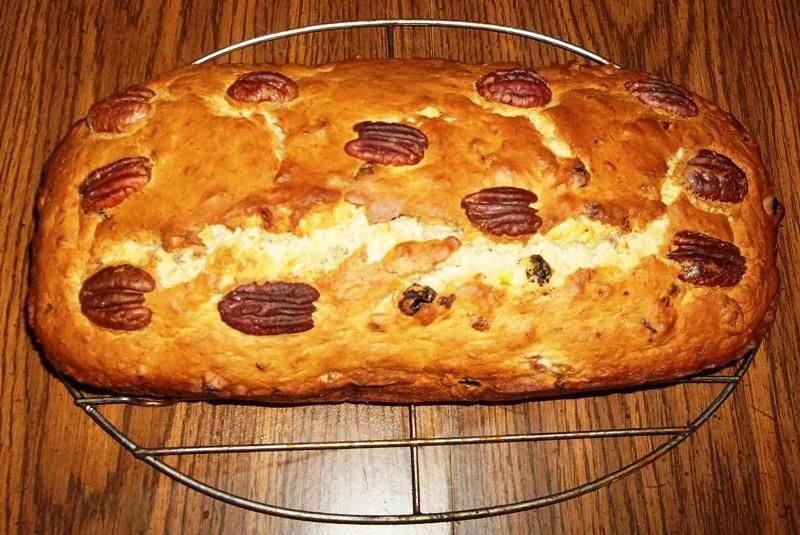 Not bad for a first attempt!
Here's another shot: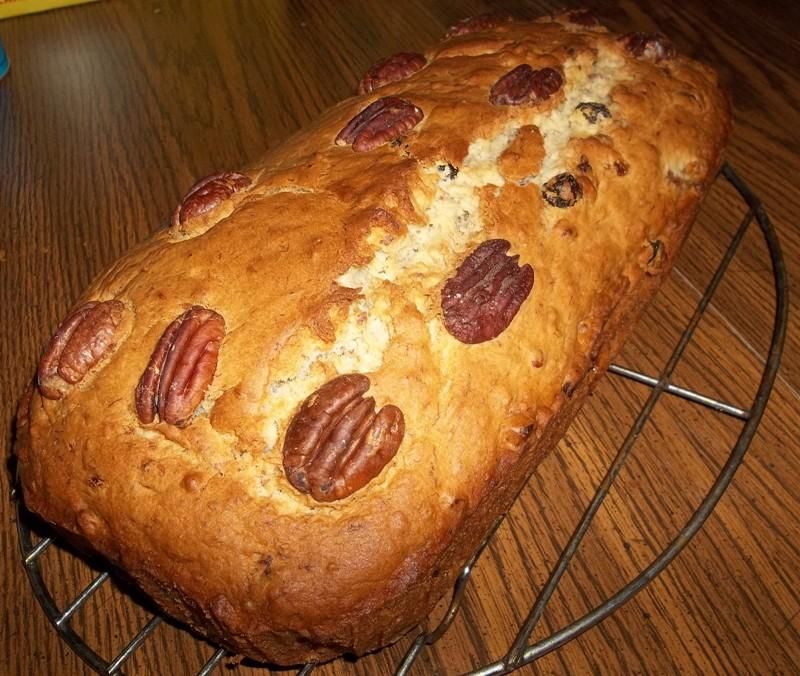 It smelled perfect, warm, buttery, slightly spicy and inviting - and, of course, full of banana-rich promise. I could almost hear waves crashing against a beach, providing a background for some bright, relaxing calypso music, somewhere.
I was pretty eager to try this, and it was indeed an effort not to tear into it right then and there. After letting the bread cool for an hour or so, I proceeded to slice it, and this is where my mistakes became apparent: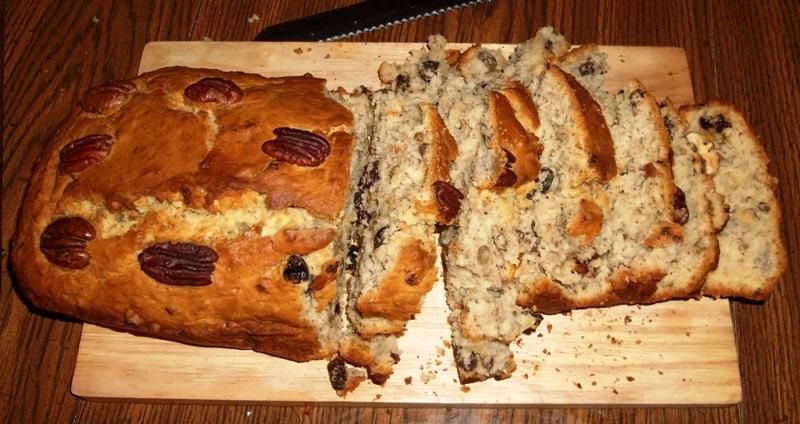 The bread looked stunning and smelled wonderful, but as you can see, it was a little dry and crumbly. Looking back, my best guess is that the bread pan was too long (creating an excess of surface area exposed to the oven's heat); this error was compounded by the extra time in the oven, with the results you see above.
No worries - the taste is what counts, and this was easily the best-tasting banana bread I've ever eaten. It had everything needed to make the best use of the bananas, and nothing more. I'd never actually made banana bread before, and was impressed with how easy it was - a perfect bread for taking a trip to a nice, warm, sunny place near an ocean. This definitely won't be my last time making it; in fact, we've got some bananas at home that will probably be just ripe enough by this weekend to make some more....
Thanks for taking a look at this, and I do hope that you try it. If you have any questions, just ask ~
Ron