Poppy Seed Tort
by Markus Farminger of the American Culinary Institute
I was listening to Baking with Julia Childs as I was doing my school work. They made this and I just had to make one! Here is the video.
http://video.pbs.org/video/2256399755/
Bavaria or Vienna in particular, was a melting pot in the 1860's. Much as America was at the time. A mixture from the East, West North and South. This recipe is a produce of that cultural mixing. Poppy seed from the Middle East and apricots from Belgium.
(The recipe calls for apricots and I could not find any so I had to use nectarines. Not such a great choice, they don't peel well and they get mushier than apricots, but I got through it! The fruit is a little sloppy.)
Ingredients;
2 sticks butter softened
12 apricots fresh ripe
9 cups H2O
2 cups ice cubes
1.5 cup sugar
½ vanilla bean
1 wedge fresh ginger
7 Tbs + ¼ cup powdered sugar
7 Tbs sugar
1 Tbs cinnamon
1 lemon zest
7 eggs separated, save both
1 1/3 cups lady fingers grated
2 ¼ + ¼ cups black poppy seed (blue/gray shells on) ground (coffee grinder)
1 tbs espresso (brewed)
½ lemon juiced
1 baking round pan (or spring form)
2 parchment paper circles (to fit baking pan)
2 cardboard circles
Spray vegetable oil
Fresh whipped cream
Blanch 12 apricots and quench in ice water (3cups + 3 cups H2O)
Peel skin from apricots
Mix poaching liquid, 3 cups H2O, 1.5 cups sugar, bring almost to boil. Add ½ vanilla bean and ginger wedge
Cool to simmer, add apricots and simmer covered till knife pulls without resistance. Set aside off of heat.
Preheat over to 350°F.
Batter
Mix 2 sticks butter to loosen, add 7 Tbs powdered sugar, mix slow or medium
Add 1 Tbs cinnamon, lemon zest, mix to cream.
Add 2 yolks, mix till smooth, add 2 more yolks, mix. If not mixing smoothly heat mixing bowl on stove. Mix till smooth, add 3 yolks mix till creamy, dull - not shiny. Move to bowl. Clean mixing bowl.
Grate 1 1/3 cups lady fingers (cake crumbs) on to parchment paper. Grind 2.25 cups black poppy seeds in coffee grinder. Pour on top on cake crumbs through strainer. Set aside.
Prepare baking pan, cut parchment circles and cardboard, spray with veg. oil, add parchment to circle to bottom.
Meringue
Add 7 egg whites and 7 Tbs sugar to mixing bowl, whisk by hand to start, whisk on Med. To soft medium peaks. Fold ½ meringue to batter bowl, fold together easily. Add ¼ poppy seed mix, fold. Add rest of meringue, fold to center, pour in the rest of the poppy seed, fold. Add 1 Tbs espresso and lemon juice. Fold till well mixed. Pour into baking pan, flatten top and mark for 12 pieces.
Seed and cut apricots in to halves. Place 12 apricot halves on to edge of 12 pieces marked on Tort.
Place in 350°F oven for 35 - 40 minutes.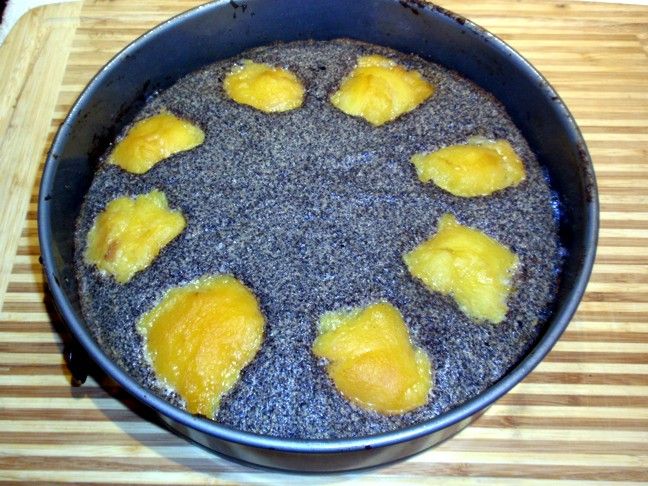 While warm, cut sides clear from pan. Place parchment circle, then cardboard on top. Flip and remove from pan. Peel parchment paper off, replace cardboard and flip back over.
Place remaining 12 apricot halves on top of the 12 already in the tort, dust with powdered sugar. (It was getting late, I forgot the sugar)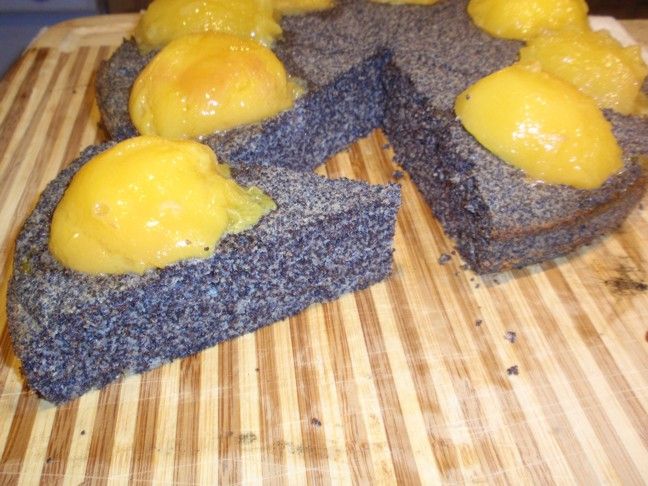 Cut and serve with fresh whipped cream on the side and garnished with poppy seeds.
I could not take more pictures, kind of messy, of the process but it is all in the video. I do have enough poppy seeds to make another and I will get the photos the next time. It took a lot more time than I thought it would.