Bergensk Fiskesuppe
Bergen Fish Soup
I've been wanting to make this for a very long time - a perfectly simple recipe that seems ready-made for the climate where I live and and the people who live here, many of whom - including myself - are descendents of the Nordic peoples who subsisted on fish as they eked out a living in the harsh, frigid northern latitudes.
Here is what author Dale Brown had to say about this soup in Time/Life's Foods of the World - The Cooking of Scandinavia (1968):
Dale Brown wrote:

What seems odd is that the Norwegians, with their plethora of fish, do not have a great many ways of preparing it, and instead of employing a number of sauces to compliment it, they use few.... I was puzzled by this this until I realised that when fish that fresh is available, there is no need to do much more than cook it. The sweet sea flavour is all that counts. And in Norway no impediments are put in its way.

 

[F]ish Soup [is] a specialty of Bergen and little known outside the country, although it deserves to be. It is made of winter vegetables, sour cream and egg yolks, and it exists in several versions, most recipes for it being family secrets. I had it for the first time at the home of a botany professor and his wife in Bergen, and they took pride in their version. Early in the day they had gone in search of the right fish for the stock - a young coalfish, a relative of the cod.

 
In Bergen's fish market the shopper has the option of buying his fish live. Professor Knut Fægri, a botanist and cook, is seen grabbing the tail of the particular coalfish that he selected to make the soup that is a specialty of the city.
In addition, they had carefully shopped for firm vegetables - parsley root, celeriac, carrots and parsnips. At home they simmered the coalfish, head, tail, fins and all. And when they had obtained the stock from it, they threw the meat away. ("Fish that has been used as a base for stock," said the professor, "is proper food for cats only.")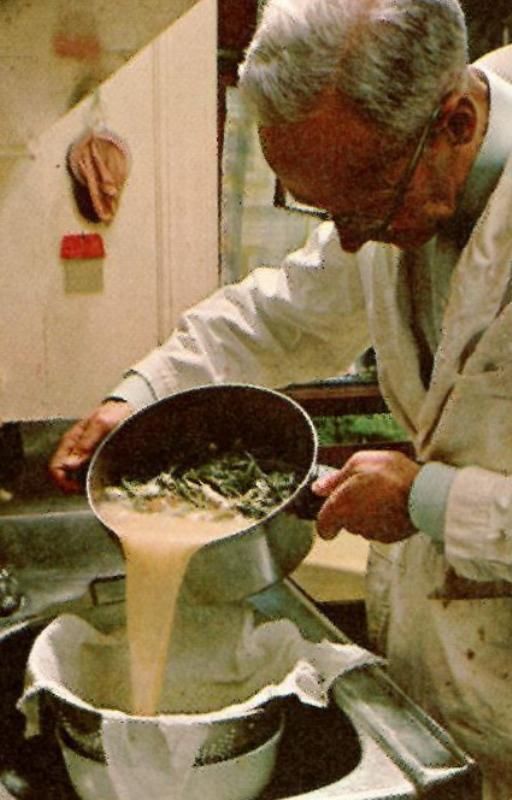 After boiling the coalfish with celery leaves, Professor Fægri pours the fish stock through cheesecloth to clarify it. He will then combine it with cooked diced parsnips, celeriac and carrots, and a little veal stock.
The root vegetables were diced and cooked together in a little stock until almost done, but not quite, a residual crispness being an essential part of the character of the soup. When the stock, vegetables, sour cream and egg yolks had all been combined, my hosts added a tiny bit of veal stock, some salt, and a little bit of sugar to "round off and soften the soup." And that was all: no herbs, no spices, no sherry.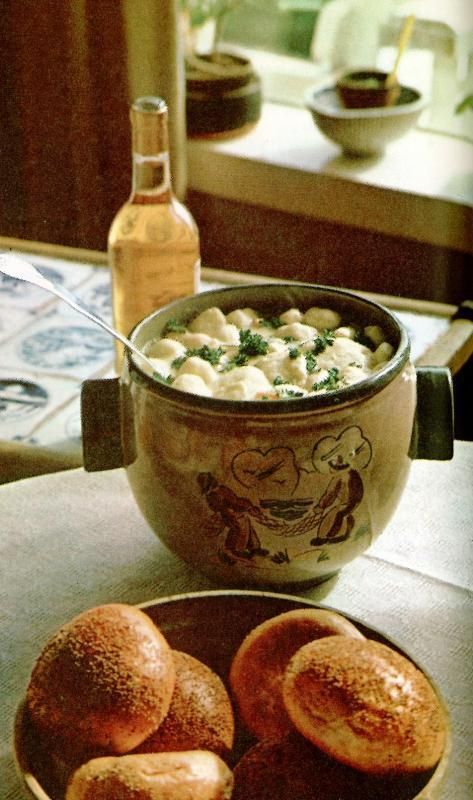 The velvet soup came to the table in a white tureen, sprinkled with chopped parsley and tiny
fish dumplings
of such whipped consistency that they floated on top. I found the soup so good, so without a fishy taste, that I had another bowl. But what I admired most about it was the way it expressed all that I had come to recognise as finest in Norwegian cooking - honesty, flavour and satisfaction.
And the recipe (optional ingredients and procedure in italics):
To serve 6:

 

Fish Stock:


1/4 cup coarsely-chopped parsnips
1/2 cup coarsely-chopped carrots
1 large yellow onion, coarsely chopped (3/4 cup)
1 potato, peeled and chopped (1 cup)
1 teaspoon salt
6 whole black peppercorns
1 tablespoon chopped parsley stems
1 bay leaf
3 stalks of celery with leaves, or celeriac tops (preferred)
2 pounds of fish trimmings (heads, bones, etc.), washed
4 quarts cold water

 

Soup:

 

1/2 cup finely-chopped carrots

1/4 cup finely-chopped parsnips

1 pound boneless halibut, cod or haddock, in one piece

1/2 cup finely-sliced leeks, white parts only

2 egg yolks

Salt

Freshly ground black pepper

3 tablespoons finely-chopped parsley

6 tablespoons sour cream (optional)

1 cup veal (or beef) stock (optional)
1 scant tablespoon sugar (optional)
1 pound shrimp, peeled and de-veined (optional)
Fiskefarse (Fish dumplings) (optional, click link for recipe):

 

 

To prepare the fish stock, which will be the base of the soup, combine the stock ingredients in a 4- to 6-quart saucepan, casserole or soup kettle. Bring to a boil, partially cover the pan, turn the heat low and simmer for 30 to 40 minutes. Strain the stock through a fine sieve into a large bowl, pressing down hard on the vegetables and fish trimmings with the back of a spoon to extract their juices before discarding them. Wash the pan and return the strained stock to it. Reduce the stock to about 6 cups by boiling it rapidly, uncovered, for about 20 minutes. Re-strain through a fine sieve or through a double thickness of cheesecloth lining a regular sieve.

 

Again return the stock to the pot. Add the finely chopped carrots, parsnips and fish. As soon as the soup reaches the boil, lower the heat and simmer uncovered for about 10 minutes. Add the leeks and simmer 2 or 3 minutes longer. Remove from the heat, lift out the fish with a slotted spoon and set aside on a platter. In a small bowl, beat the egg yolks with a wire whisk; then beat in about 1/2 cup of the hot soup, 1 tablespoon at a time. Pour this back into the soup in a thin stream, beating continuously with a wire whisk. With a fork separate the fish into flakes and add it to the soup.

Prepare the dumplings and add them to the soup with the shrimp, the beef or veal stock and sugar, if desired

. Season with salt and pepper and reheat

until the dumplings and shrimp (if used) are just cooked

, but do not let the soup boil.

 

To serve, ladle the soup into individual bowls and sprinkle with chopped parsley. If you like, garnish each serving with 1 tablespoon of sour cream.
As I said before, this soup has been a long time in the making - I was first exposed to the concept of
Bergensk fiskesuppe
in 2010, when a friend made it and extolled its virtures; you can read about his experience with it
here
:
I was intrigued by the idea, and encouraged by his enthusiasm, but things never quite lined up right so that I could try it. Finally, this year, I resolved to try it before winter was over; I am sure glad that I did, and I hope that it won't be three years before you, Dear Reader, are able to have the same experience. This fiskesuppe is an incredible blend of flavours, textures and aromas; very easy to make, with no complications as long as you pay attention to detail.  It truly is an outstanding soup that will put you right on the docks of Bergen; you will almost hear the cries of the seagulls and the clanging of the bells on fishing trawlers as they enter Bergen's Puddefjorden (Powder Bay).
Photo Credit:http://www.geolocation.ws/v/W/File%3ABergen%20IMG%203745.JPG
One primary step in preparing this soup is to make a stock from the trimmings of the fish that is used to make the soup; the problem with this is that, even during Lent, I could not seem to locate any fresh ocean fish, and ended up buying frozen cod fillets. Because of this, I ultimately decided to rely on an excellent fish base from
the makers of the Better Than Bouillon product line
:
While this base was a perfectly acceptable alternative for a fish stock, I was a bit disheartened by the fact that I was unable to make it "from scratch." Due to the salt content, I added no additional salt to the recipe, and this seemed like the right thing to do. If you are lucky enough to be able to make a fish stock from scratch, please do follow the instructions in the recipe, and also pay heed to these tips that I received from my friend Chris in Flanders:
ChrisFlanders: wrote:

Never, ever cook fishstock longer that 20 minutes or it will go bitter!! After it's sieved, you can reduce it for as much as you like. Also; do not use bones/heads from fatty fish in stock, it will turn out disgusting! Same with using heads for fishstocks; you need to remove the gills and eyes... most recipes never mention all these tiny things but they are essential.
So, for me, the part involving the stock was easy; I simply combined enough of the fish base and water to make the fish stock:
Normally, I make my stock double-strength, but since I've never worked with fish stock before, I kept it pretty close to the concentration as prescribed by the label on the jar. I might have added a bit more, but not very much.
While the stock heated up to a genle boil, I prepped the vegetables that would go into the soup. Since I was making the soup for six people, I decided to double the vegetables. One hallmark of this recipe is that the vegetables be cut small; often, they are juillienned, but I prefer them to be finely chopped or diced, so that they fit on a spoon better. So, that's what I did - first the carrots:
Then the parsnips:
And then the leeks:
The actual soup doesn't call for celery, but the home-made fish stock does; since I was using the fish base, I decided to add two stalks of finely-chopped celery, along with the leaves: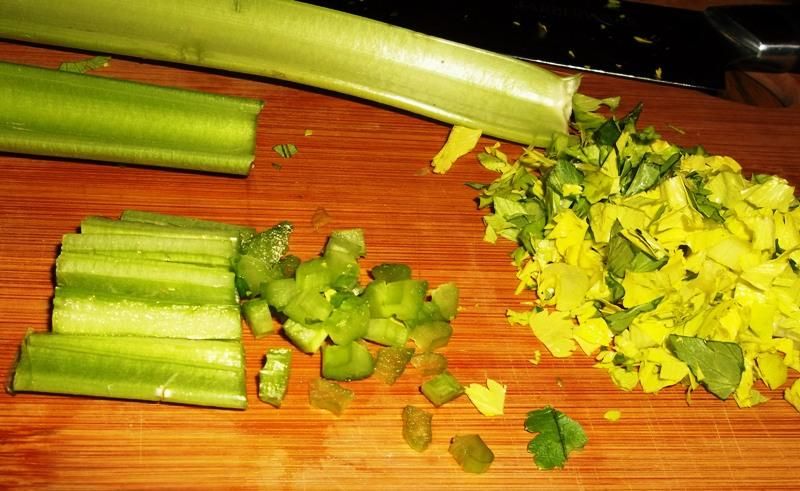 By the time this prep work was done, the fish stock was at a nice simmer, so I introduced the root vegetables: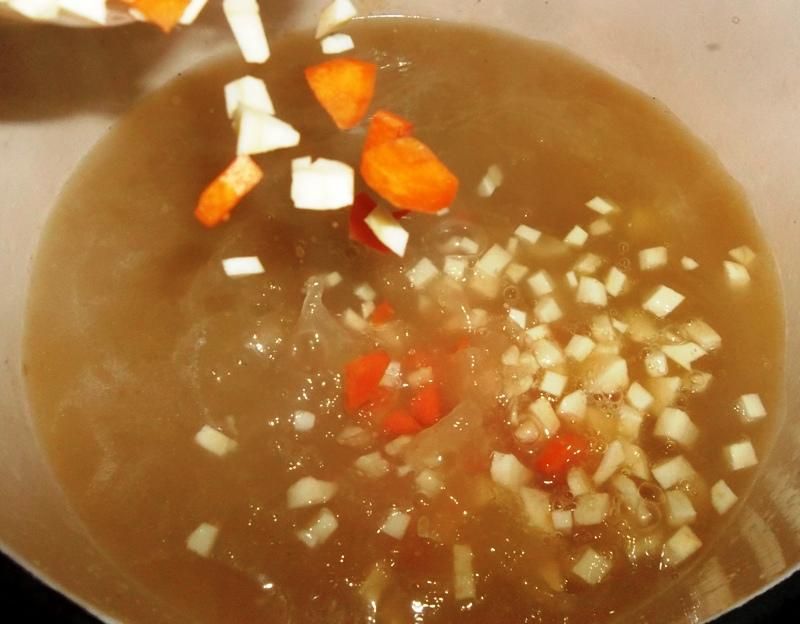 Next, I turned my attention to the fish that would be the heart of this soup; one can use halibut, haddock, and probably many other Northern European species of fish to choose from, including cod, which was my choice: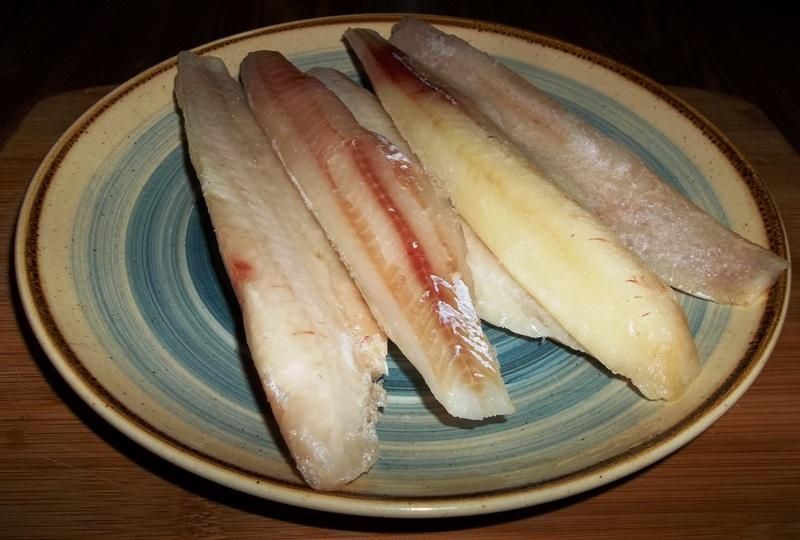 As mentioned above, I used frozen cod fillets, and while they worked well, I can only imagine how good fresh-caught cod from frigid Scandinavian waters would have been. I added the fillets to the simmering stock:
I kept the pot simmering at a slow, gentle boil, keeping an eye to make sure that it wouldn't become too frantic:
After 10 minutes, I added the leeks:
I also added the celery at this time, and then continued to simmer for another few minutes:
The aromas coming from the kitchen were really, really good, and made me glad that I had finally been able to try this soup. As I've mentioned many times before, Scandinavia and the cold waters of Northern Europe are in my blood, and this soup is the very embodiment of such things. It was really calling to me, and I hadn't even tasted it yet!
A hallmark of the soup is that the vegetables be cooked just enough to be done and tender, yet still have a bit of tooth and crunch to them; consequently, gentle simmerng and timing are important with this dish, and you do not want to over-cook anything. After a few minutes, the cod fillet were cooked through, so I removed them from the stock in order to cool before flaking them: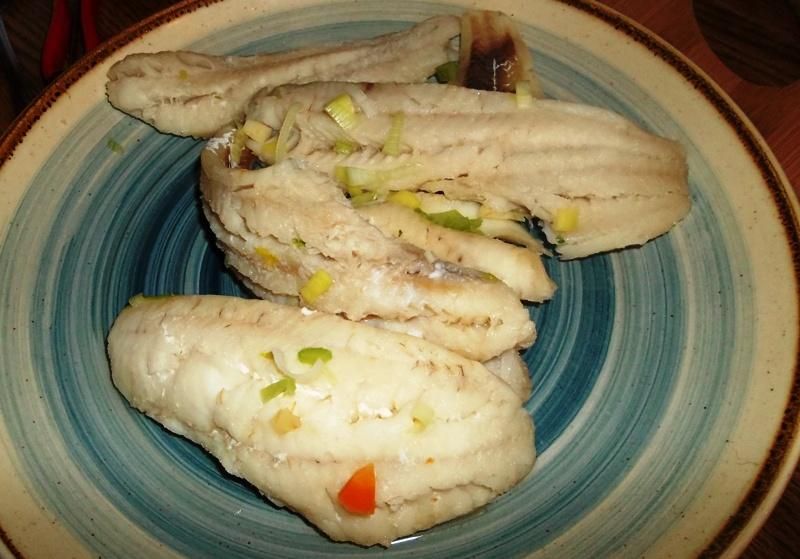 I then took on a task that is an integral step in making this traditional Norwegian specialty: tempering the egg yolks into the soup. This is something that is very easy to do, if you are careful; however, if you are not, then your soup will suffer. First, I separated the egg whites from the yolks: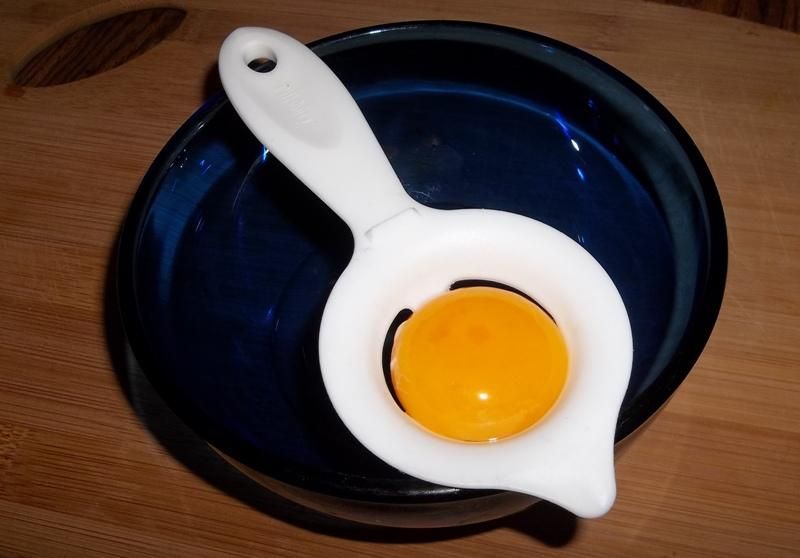 This handy little gadget is a big help for this step, and worked like a charm:
Next, I beat the yolks a bit with a wire whisk:
I then added added a half-cup of the soup stock slowy - a tablespoon at a time - whisking steadily as I did so:
This had the effect of introducing the hot soup into the yolks gently and gradually, so as not to cook them. Once the yolks and the soup had been incorporated together, it was an easy matter to add the tempered mixture back into the soup:
Once this important step had been accomplished, I was able to flake the fish with a fork:
Because the cod fillets were rather small, I didn't get the big, beautiful flakes that I had seen with good cod before, but this was fine, albeit not quite as attractive:
The soup was coming together really nicely now, as I added the flaked cod back to the soup: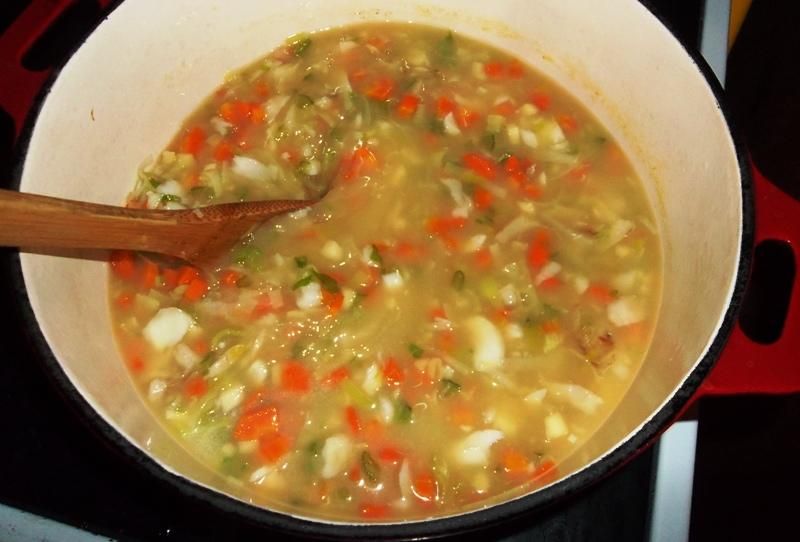 The tradition of Bergen fish soup requires adding a little bit of sugar at this point, along with a cup or so of veal stock; these additions give a very unique, characteristic flavour, and in my opinion balances the soup perfectly. I added a teaspoon of dark brown sugar, but I had no veal stock, so I used beef stock as a substitute:
The soup was nearly done now, but required one more ingredient that would make it an extra-special experience befitting my first attempt at this quintessential meal; I added a pound of frozen shrimp to the simmering soup: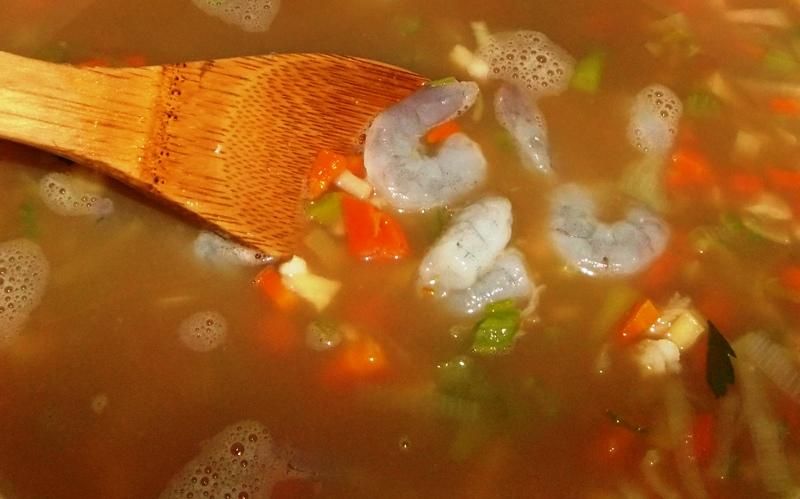 And gently cooked them just to the point of being done:
And that was it ~ pretty easy, I would say!
I served the soup in deep cobalt bowls, which were reminiscent to me of the deep, icy waters of the North Sea. Traditional
Bergensk fiskesuppe
is normally served with
fish-based dumplings - called fiskefarse
- but today I used large croutons, which worked just fine; I also garnished with a dollop of sour cream and a bit of freshly-chopped parsley:
Not everyone in the house likes black pepper, so I provided a grinder of it for those who wished to add it.
The moment - over three years in the making - had finally arrived, and I was at last able to try this soup that had been so highly recommended. One bite, and I was instantly hooked! It had a bare hint of fish flavour, just briny enough to be good without being overpowering at all and in wonderful harmony with the rest of the soup; I could sense the contributions made by the full spectrum of ingredients, but none of them interfered with or trampled over any other. As I have discovered so many times, the leeks were a wonderful contributor to a good dish, and the parsnips were well-suited for it as well. The velvety texture provided by the tempered egg yolks and the sour cream were like a blanket. It happened to be a grey, dreary day when I made this, and I cannot imagine a better day for it because this soup has the ability to wrap itself warmly around someone and bring comfort under nearly all conditions.
Even better, the rest of the family really seemed to enjoy this soup. I was a little worried because the Beautiful Mrs. Tas has never been a fan of fish or fish dishes, but after my success with my
bacalao al pil-pil
project, she was open to trying this and was not disappointed. The children also expressed a few doubts at first, but were pleasantly surprised by this bowl of Norwegian goodness.
The sour cream did lighten up the colour quite a bit once it was stirred in; however, the soup was slightly darker in colour than expected, probably due to the fact that I had to use store-bought fish stock, double-strength beef broth and brown rather than white sugar. Next time, I will attempt to correct these "flaws," which might make for a "nicer" presentation; however, I want to stress that these "flaws" were not really flaws, because the flavour itself was incredible.
Two ingredients might give a reader pause; however, all I can do is implore you to try them before you discount them. The bit of sugar - just a touch - brought everything together in beautiful balance; it may seem weird, but it works! Another unusual ingredient (for a fish soup, at least), is the small amouont of veal broth (I had to use beef) - once again, it works! Trust the recipe, and all will be fine.
The fiskesuppe was nearly perfect in its capture of all things Norway, and all I can say is that I should have made this a long time ago, because I have definitely been missing out. It was yet another dish that transported me across the oceans and continents to the fjords of Norway, and after my experience in both preparing it and tasting it, I felt as if I had come to understand this wonderful part of the world a little bit more than I did before. If you try it, I can just about guarantee that you will love it.