Another day wearing the apron here lol.
Made one of the wifes favs, Bigos, which translates to Hunter's Stew.
A big meal with lots of stuff in it. This one is a combination of two different recipes. Each fairly similar to the other with only minor additions.
Well start off with some pics with the recipe following that.
First step was to brown some salt pork. Didn't have any, so I browned up some of those big bacon chunks (lardons) that I had from my bacon makin.
3/4 # here.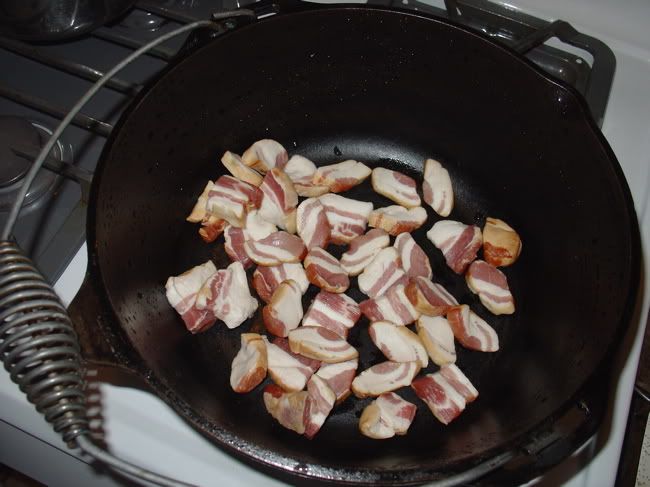 Next, brown up the other meats. Those consisted of 1 3/4# pork loin.
1 3/4# of Venison Kielbasa. 1# of Chuck.
After all the meats were browned, set them aside and saute up carrots, celery and onion. Part way thru, add fine sliced cabbage and cook until it's starts to wilt.
Recipe called for mushrooms so what better than wild one. These are Hen of the woods that I picked this year, also known as "Maitake".
Since I dehydrated these, I reconstituted them in the beer that the recipe called for.
Going to need what is called "Bouquet Garni". This consists of 6 Juniper berries, 2-3 bay leaves, around 20 peppercorns, 1/2 t of caraway seed, celery seed, dill seed, 10 allspice berries, savory and marjoram, all wrapped in cheesecloth and the end tied.
All the meats browned up.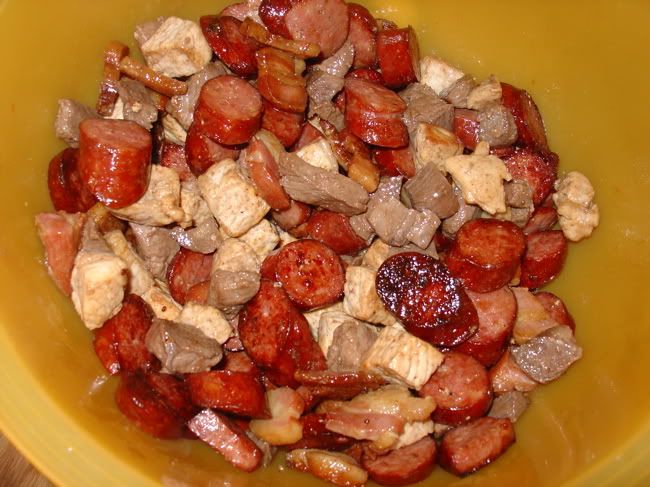 Carrots, celery, onions and cabbage cookin up.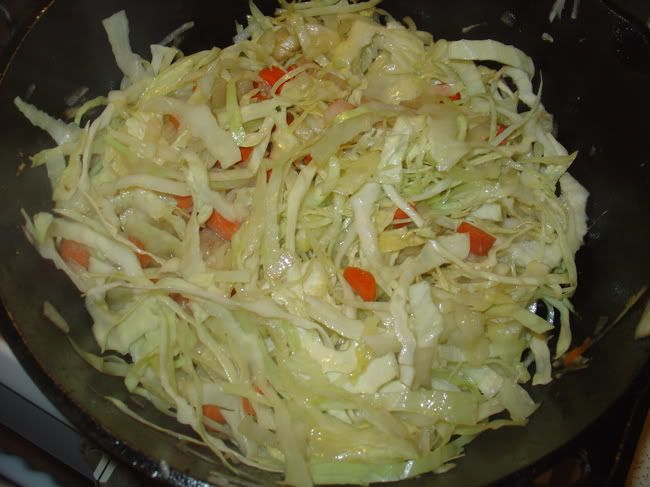 Tossed in some diced and shredded turnips along with some of the sauerkraut, all the mushrooms and beer.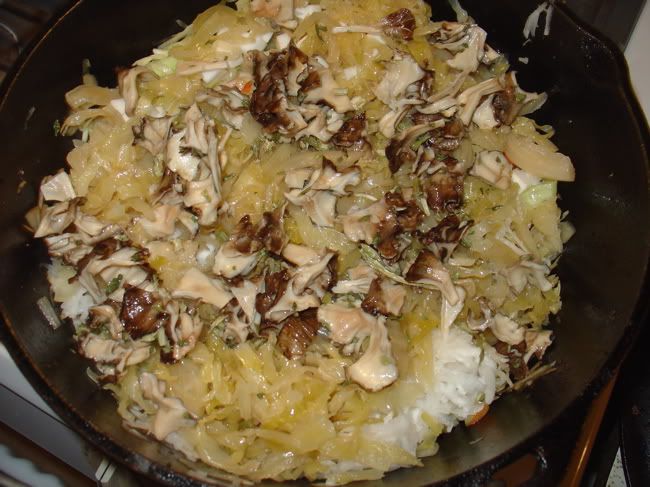 Tossed in all the meat.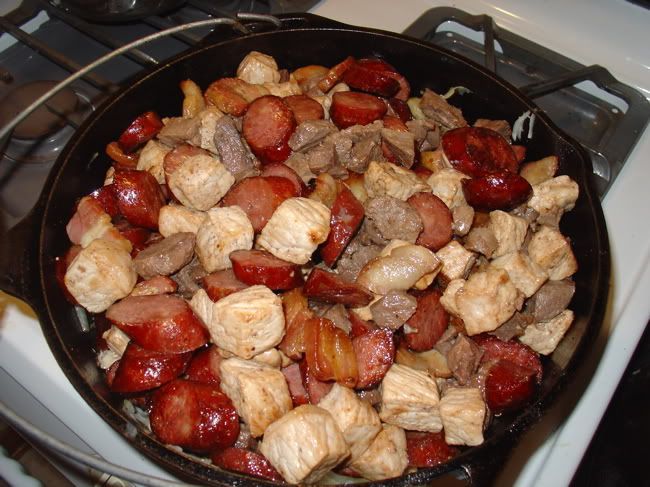 Followed by the rest of the kraut.
4 1/2 hours later, we got Bigos.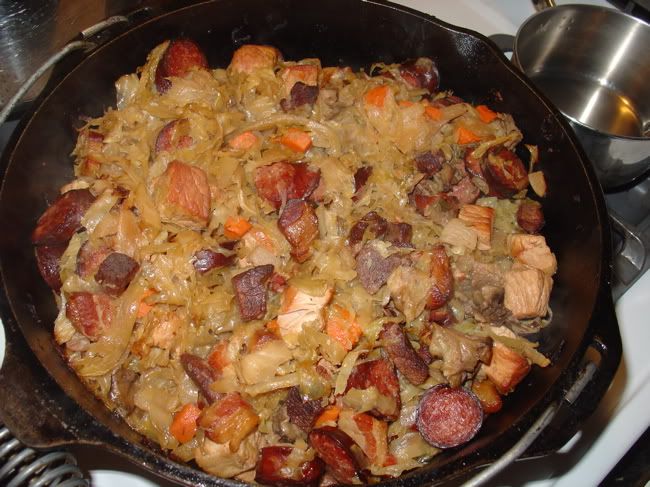 Wife came home from work tonight just in time to sit down with me and enjoy a bowl, or two :whistle: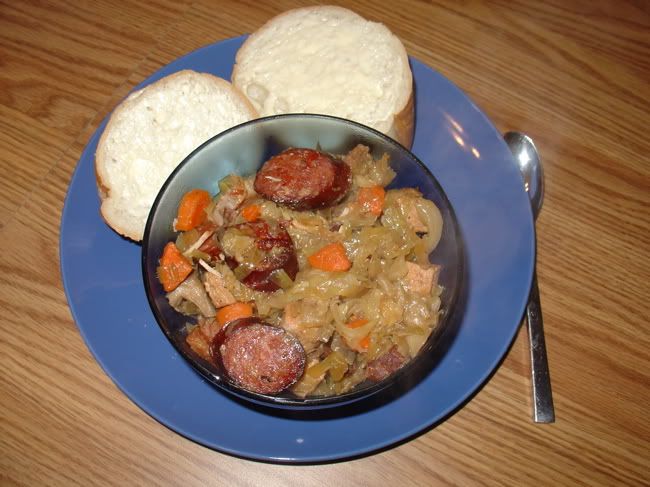 And that.....is that. Was quite good, and is even better the next day.
There are a few variations for this, as long as you stay fairly true to style, I don't think you can go wrong. Here is the one I made tonight.
Salt pork (Used super thick bacon instead) 3/4#
1 3/4# Lean Pork
1 3/4# Venison Kiebasa
1# Chuck cubed 1"
1 1/2# Thinly sliced cabbage. Should be thin like the kraut.
1 Large Onion chopped
2 stalks Celery, chopped
2-4 Carrots chopped
1 Large Turnip cut into wedges. I Shredded half, and diced the other half.
1/2# Mushrooms
2# Kraut (1 package) drained and rinsed. I only drained. We like the extra tarty tang.
3 Cups beer. (approx 1 1/2 bottles)
1 Bouquet Garni
Salt and pepper to taste.
Using a large pot, we used our large DO, brown all meats, set aside when done. Do in small batches, works better than trying to do all at once.
If pan bottom browns over, deglaze, then put veggies in. If needed, add a small amount of oil to saute veggies.
Saute carrots, celery, onions until slightly cooked, then add sliced cabbage and cook covered until cabbage starts to wilt.
Add meats back to pot along with beer, mushrooms and kraut. I layered the kraut on mine, you certainly don't have to.
Toss into a preheated over at 300 degrees for 4-5 hours. Remove a couple times to mix things up.
Dish is best served with sour cream, steamed potatoes and a good crusty bread.
REMEMBER TO REMOVE THE BOUQUET GARNI BEFORE EATING.
I think that's it. If I made any mistakes or you don't understand something cuz lets face it. I ain't the best recipe writer, let me know and I'll edit it. Otherwise, if you try it, I hope you enjoy it.
It makes quite a big batch as you can see, and this recipe certainly can be reduced...
Also, the meats are not the only ones to use of course. Being that it is Hunters Stew, several sources say that Wild Boar is best used. Not too many of them runnin around so use what ya like. Pork, beef, chicken, lamb, venison, all acceptable meats. Thanks for lookin :thumb: