Bogracs Gulyas, "Kettle Goulash" in our beloved Anglospeak.....
This is my absolute favorite dish from the Foods of the World cookbook series. It is from "The Cooking of Vienna's Empire", the recipe is on page 110 of the book. I have been making this dish for at least 15 years, I bought my copies of the excellent Time-Life series, circa late 1960s, for a few dollars at an auction way back in 1993! Wow, am I getting old! If you try this dish I promise you won't make it just once!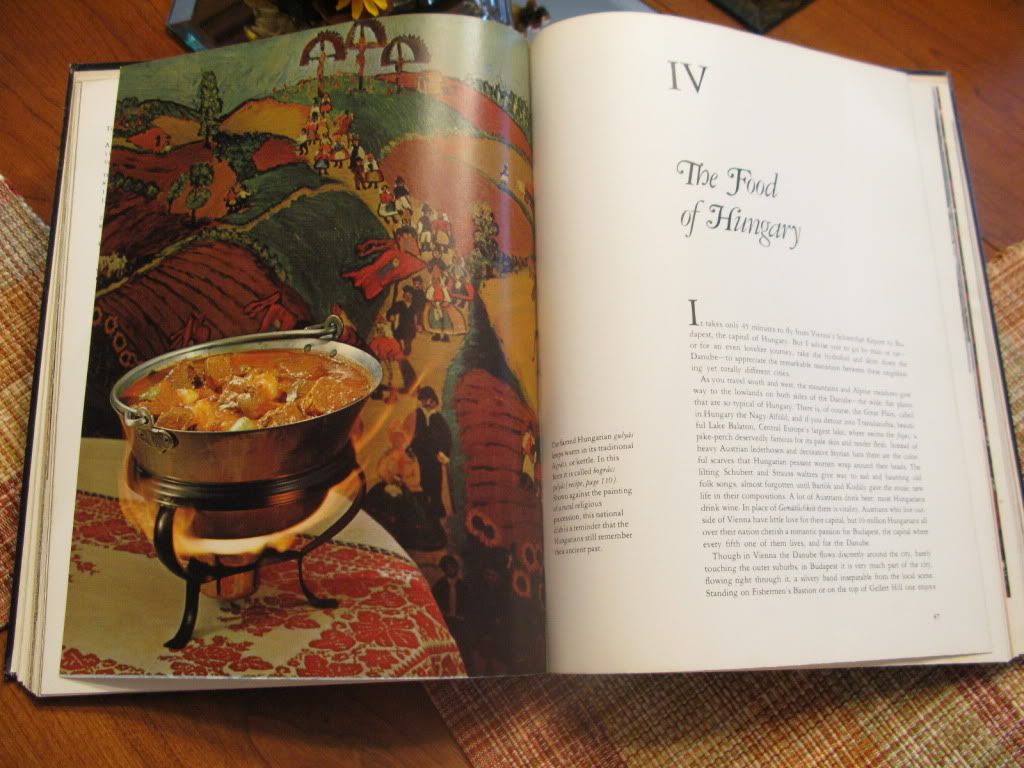 First some history from the book...
"To sort out fact from fiction about gulyas is almost impossible. Everybody agrees that gulyas is a folk dish, a belly-warming shepherds' stew that has been traced back to the Ninth Century. It was invented for the same reason as other stews, ragouts, hashes, and thick soups: It was nourishing and inexpensive and it had a good taste. But most important to men who had to wander far from home, it could be prepared from previously dried ingredients that could be transported easily - a kind of ancient survival ration...
...Over the years everybody has developed his own version of the national dish, basing it on one cut of beef or another, even on fowl, sometimes adding bacon or lard or both. But the traditional gulyas is still prepared more or less as the wandering shepherds prepared it, though it is no longer dried in the sun; people today eat it when it is ready. Its basis remains cubes of beef, preferably from the rib or shoulder, cooked with finely chopped onions and diced potatoes. Some people add fresh tomatoes or tomato puree; some use garlic, some put in sliced peppers or hot cherry peppers; all add paprika, caraway seeds and salt. It is taboo, however to use any flour to thicken the sauce or to add wine to lend it a French touch. Classic gulyas, authorities insist, is never made of mutton or pork, and its gravy is almost never finished with sour cream. "
Here's the goods...
2 tablespoons lard
1 cup finely chopped onions
1/2 teaspoon finely chopped garlic
3 tablespoons sweet Hungarian paprika
2 pounds beef, cut into cubes
1/2 teaspoon caraway seeds
4 cups chicken or beef stock or 4 cups water
1/2 teaspoon salt
Freshly ground black pepper
2 medium-size boiling potatoes, chopped
1 pound of tomatoes, peeled, seeded, and finely chopped (about 1 1/2 cups)
2 medium-size green peppers. chopped
1/2 teaspoon marjoram
I like this dish so much that I always make a recipe and a half, increasing the ingredients by 50%, so if the amounts of ingredients in my pictures look greater than what the ingredient list above would indicate, that is why.
The recipe calls for lard but I find that the lard one gets from the market these days, if you can even find it, is so highly refined that it has no flavor. When I was a kid we raised our own hogs and we had freshly rendered lard which is worlds away from what one can get today. I know, I know!! Pork fat!!
But please don't substitute vegetable oil or the like, this dish calls for pig fat and there isn't enough in it to hurt anyone anyways, we're way too sensitive these days. It seems that many of us modern folk are so afraid of dying that we are afraid to live.
So.....
I use bacon fat, we never throw away bacon fat, we keep it in a jar in the fridge. Into the kettle goes a few tablespoons of the best the piggy has to offer...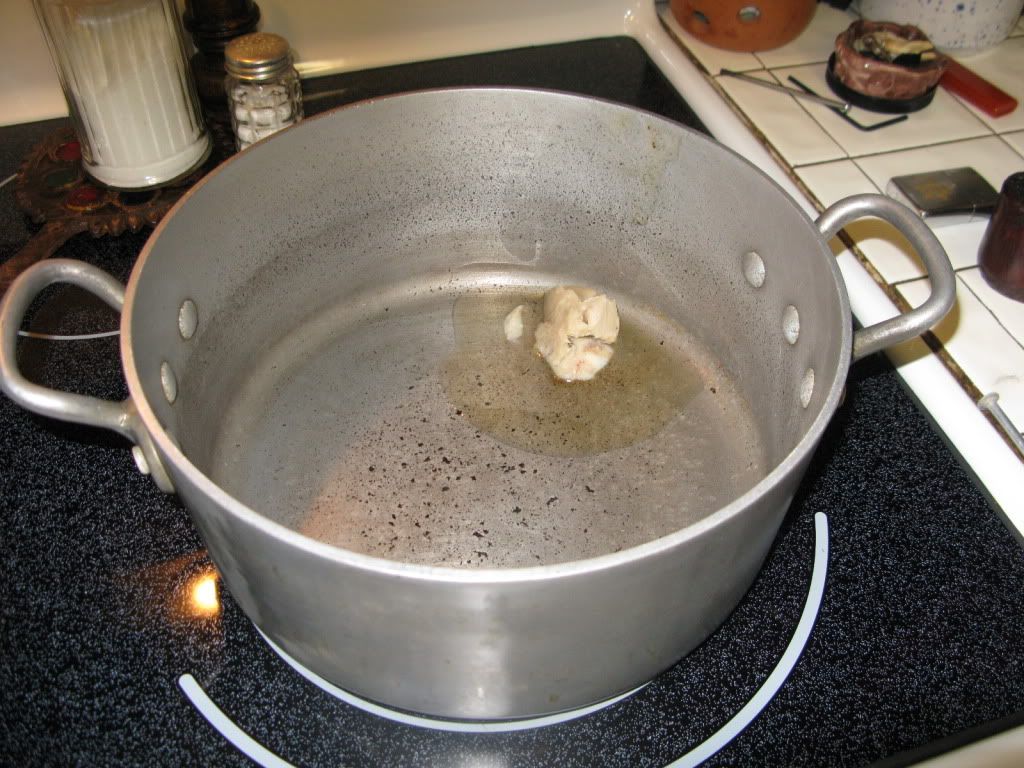 chop the onion and garlic...
and add them to the hot, but not too hot, fat, the Hungarians insist that the heart of this dish is in the frying of the onions, you want them to be just lightly golden, I fry them on low heat for at least 20 minutes and if you burn them at all you must start over so go easy...
I could have sworn that I took a pic of the fried onions and garlic before adding the paprika but I must have been mistaken and for that I apologize as I can't stress enough not to overcook them. Once they are fried to a very light golden brown remove them from the heat and add the paprika and stir until well coated, you must remove the pan from the heat whilst adding the paprika or it will burn...
once the onions and garlic are well coated with the paprika, add the caraway seeds and broth, I use beef broth, and stir well...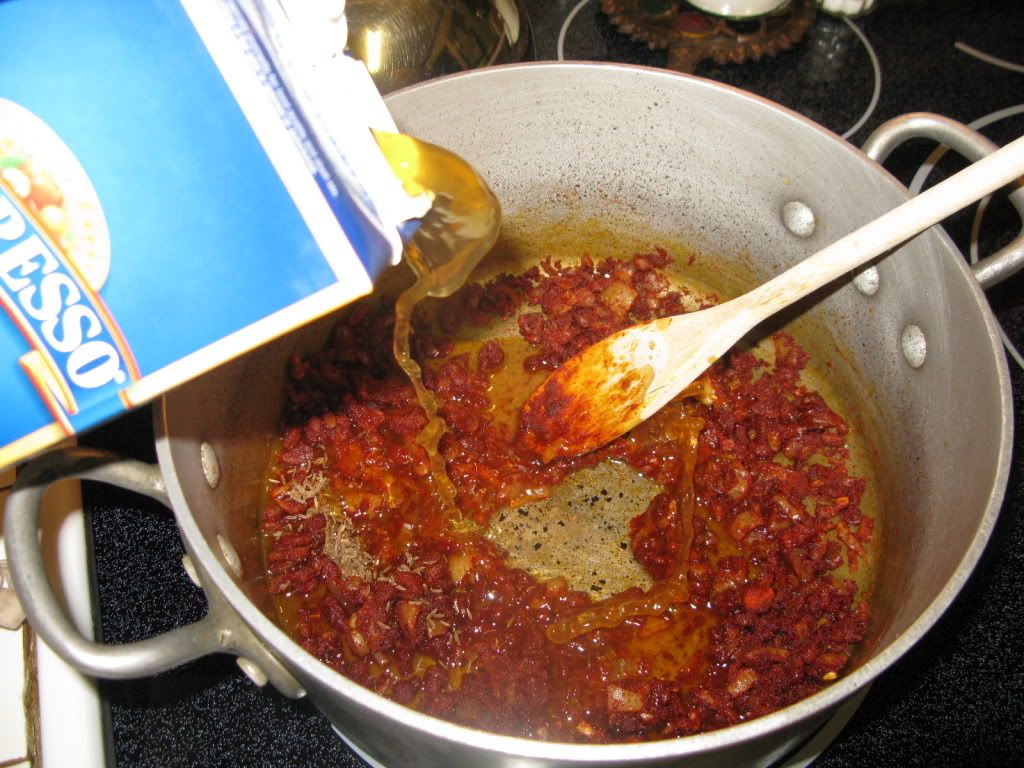 next, add the cubes of beef and season with salt and freshly ground pepper...
bring it to a boil and simmer until the beef is beginning to get tender, an hour, more or less...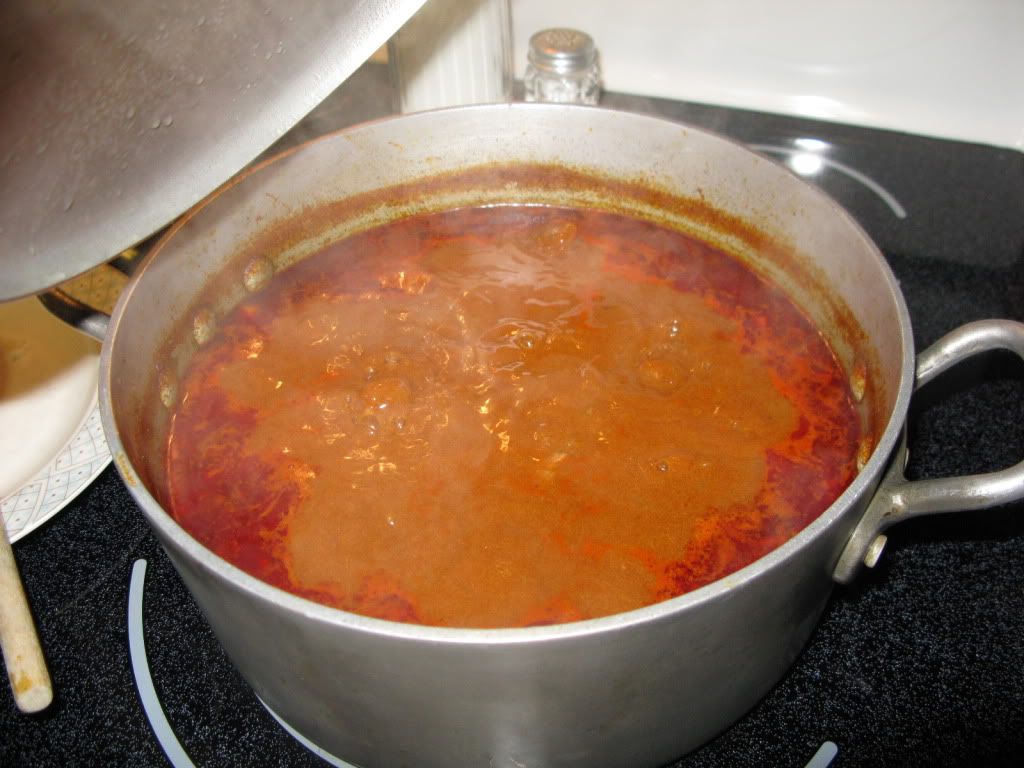 once the beef is starting to become tender, add the chopped green pepper, diced tomatoes, and diced potatoes...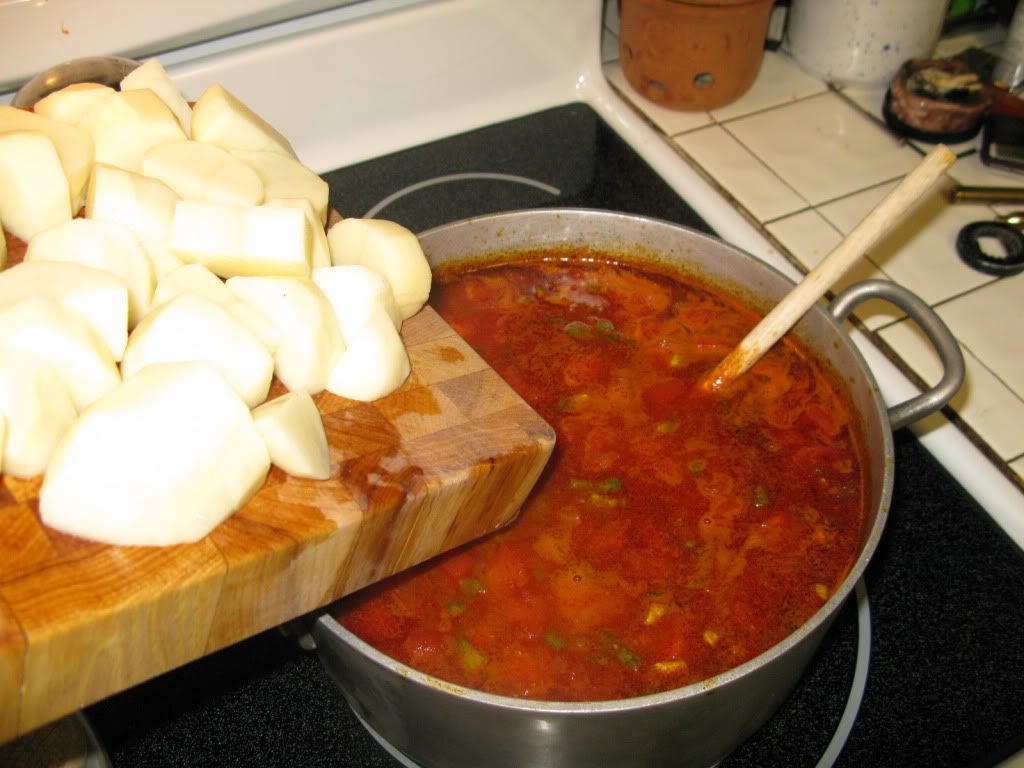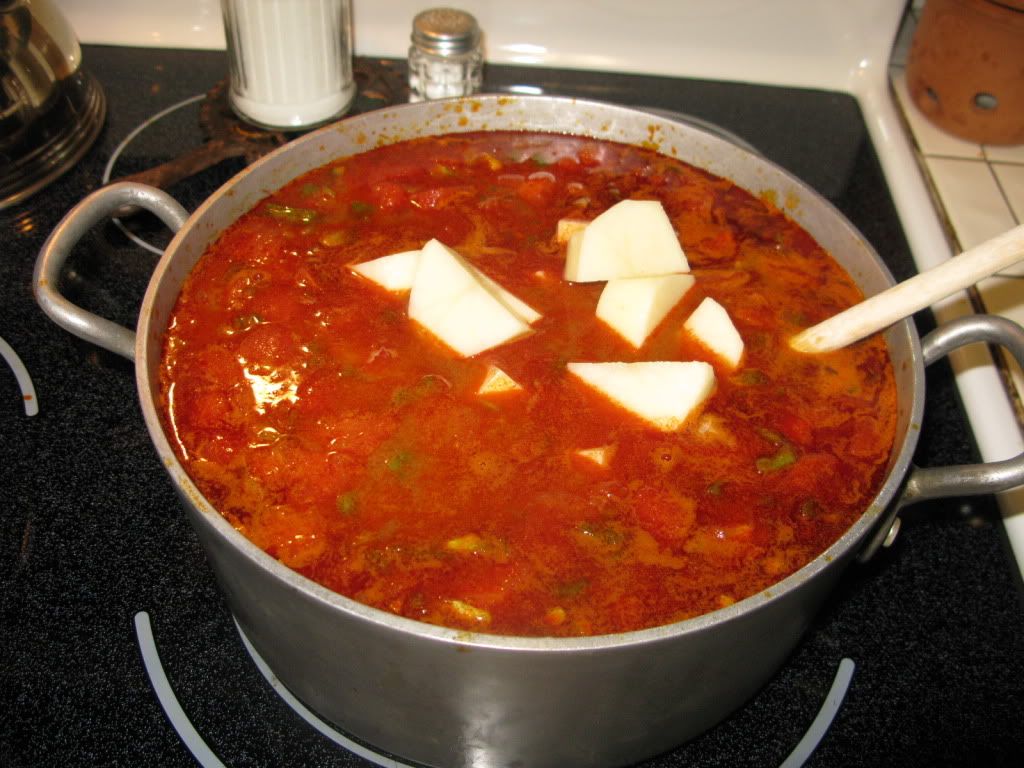 add the marjoram...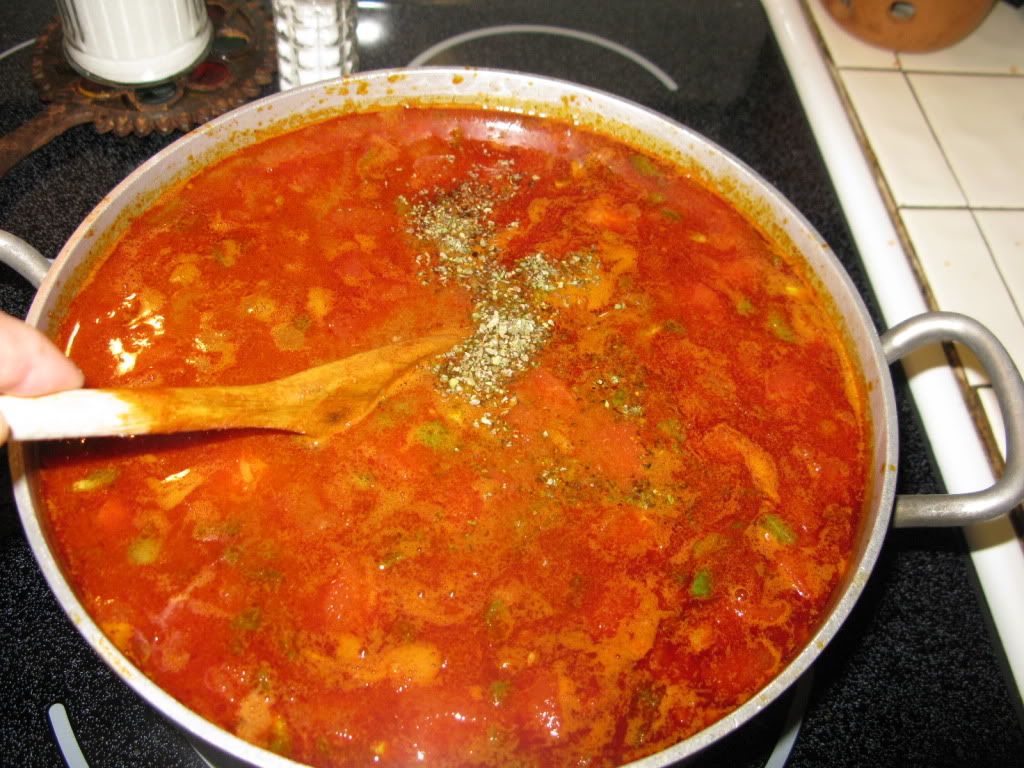 simmer until the beef and potatoes are tender...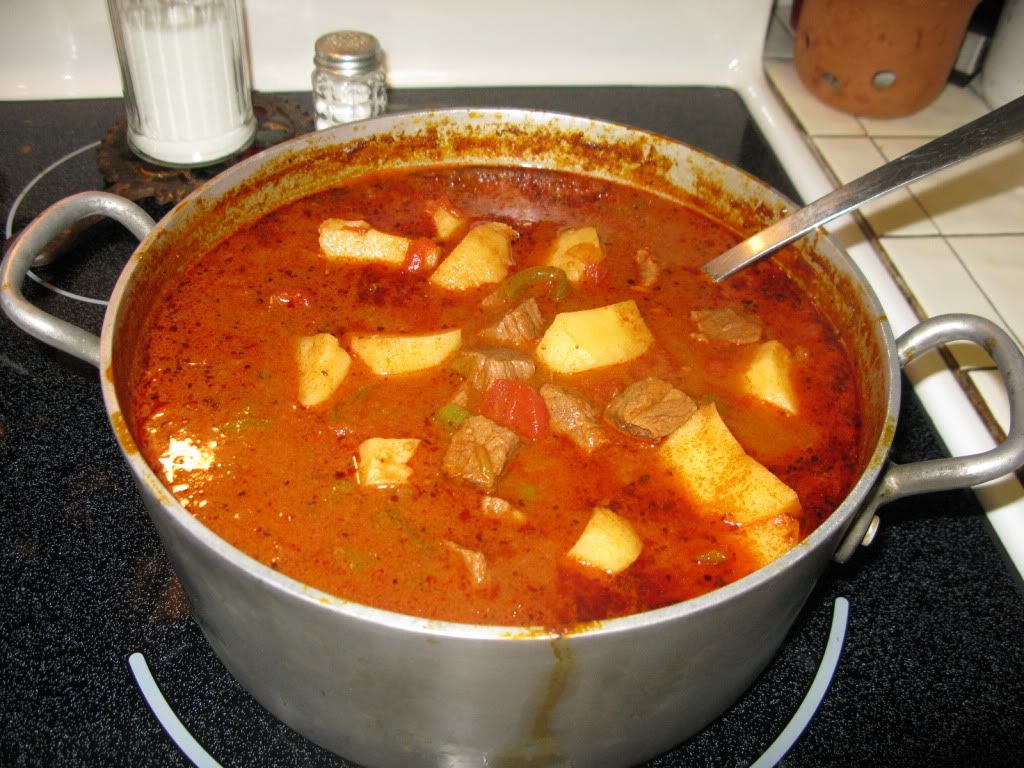 serve with a nice bread and eat like a medieval Magyar shepherd!!!