Today, I brewed a Dandelion Gruit, from Brooklyn Brew Shop.
Gruit is an ancient style of beer that was in wide use before hops became popular. In gruits, herbs, spices and other flavourings were used as bittering agents to balance the malts. You can read more about gruit here:
I made this from a pre-packaged mix, but I also have the recipe for this gruit from Brooklyn Brewshop's book, MAKE SOME BEER. The closest homebrew supply store is 250 miles away, so it's easier for me to just to get the mixes sometimes, rather than trying to assemble the ingredients myself. I highly recommend this book, along with their first book, BEER BREWING BOOK. Both books have dozens of creative and interesting recipes, each written for 1 or 5 gallons. I
f anyone would like to try this recipe, shoot me a PM or an email, and I can send it over (it's in pdf format). With dandelions in full swing, now's the time!
It started out as a pretty standard brew. The mash went well for the most part with only a little bit of trouble holding temperatures in the ideal range. I was above my range for a couple of minutes, but hopefully this did not adversely affect the beer too much. My past experience tells me that everything will be fine, as far as that goes.
Interesting note - these grains (and the wort they produced) seemed to have a bit of lemony quality to them, without any additives. Looking at the grains in the recipe (Belgian Pilsner and White Wheat), I'm not sure why, but it is quite pleasant.
The boil is where things went out of the box, literally. Gruits balance the sweet malts with herbs and spices rather than hops, and Medieval monks were quite creative in their variations. T
he original recipe for this gruit calls simply for dandelion leaves, black peppercorns and lemon peel, but I had a hard time simply leaving it at that, and decided to add a few other additions that would have been available to abbey breweries. I looked through my inventory and found all kinds of things. One thing I was missing was whole cloves, but there were quite a few other interesting alternatives, and I put together what I hope turns out to be a good blend.
I did some searching on the Internet, gathered some ideas, and converted some usages from 5 gallons down to 1 gallon. Wanting to take a rather conservative approach to my radical addition of stuff, I smelled/tasted the herbs and spices and decided to go with these amounts for this first brew:
For the 60-minute boil:
*7 dandelion leaves (beginning of boil)
1 cinnamon stick (beginning of boil)
*Black peppercorns - 5g (45 minutes left in boil)
Long pepper - 5g (45 minutes left in boil)
*1 lemon peel
Grains of paradise - 0.4g (10 minutes left in boil)
Coriander seed - 1g (10 minutes left in boil)
Allspice berries - 1g (10 minutes left in boil)
Mugwort - 5g (5 minutes left in boil)
Elderflowers - 5g (5 minutes left in boil)
*Called for in original recipe (twice as many black peppercorns used in original recipe)
I did take a few photos with this brew. I apologise for the cell phone pictures, but we haven't gotten a new camera yet.
Here are the dandelion leaves, lemon and black peppercorns (I cut the amount of peppercorns in half in order to use the long pepper: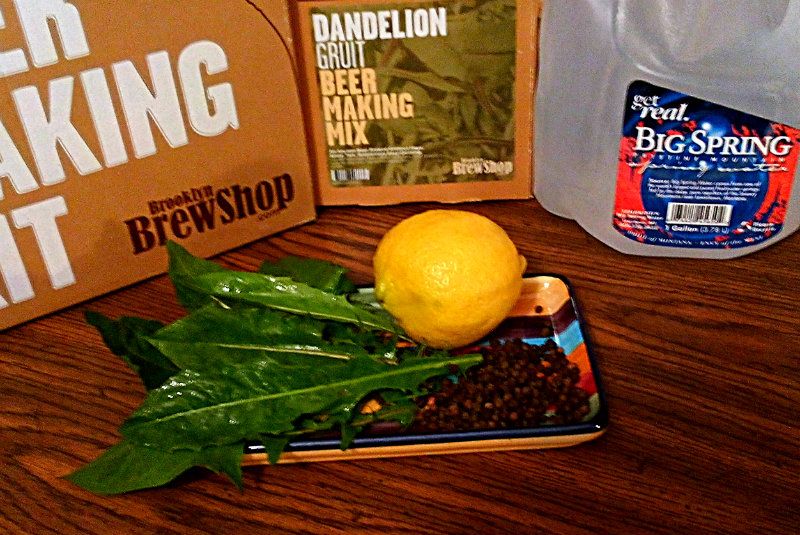 Here is the cinnamon stick along with the lemon peel:
The dandelion leaves and cinnamon stick were added at the beginning of the boil. The lemon peel was added with 10 minutes left in the boil.
Here are half the black peppercorns with an equal amount of long pepper: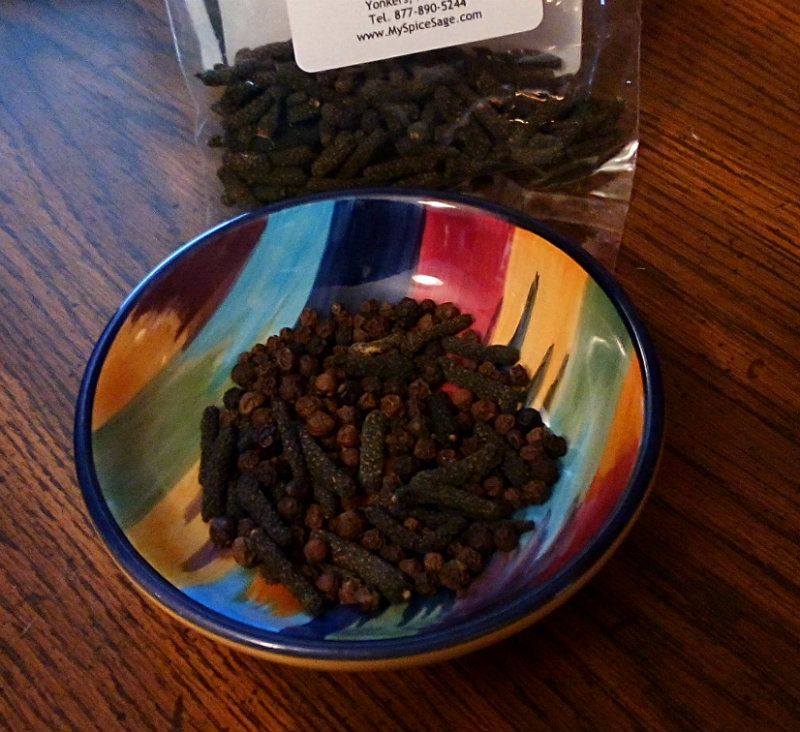 These were added 15 minutes into the boil.
Here are the grains of paradise, coriander seed and allspice berries:
I added them, along with the lemon peel, with 10 minutes left in the boil.
Finally, here are the mugwort and the elderflowers:
These were added with 5 minutes left in the boil.
The boil went well enough; I was a a couple of minutes late with one addition, but extended the boil time by the same amount to compensate. Once again, no big deal in the over-all scheme of things.
Once the boil was finished, I chilled the wort in an ice bath, transferred it to my fermenter and pitched my yeast. This Medieval concoction is now tucked safely away in my closet, there to begin it's fermentation in the neighbourhood of 68 degrees.
I snatched a wee sample of the wort, and it is interesting for sure. There's almost no bitterness, but there is a little, and the spices seem to come through very well. Time will tell, once fermentation is complete and the gruit has been bottled, but I think this might turn out to be very interesting, and tasty.
More as it happens, etc. &c....