I love a good sweet potato french fry but they are exceedingly hard to find. Somehow, many restaurants manage to cook all the flavor out of them or burn them or something. So I was excited to see this recipe in
Foods of the World: Pacific and Southeast Asian Cooking
. Maybe if I could make them at home, I could get all the parameters right and make a good sweet potato chip. The recipe was simple and easy to follow...and had spectacular results!
Camote Frito (Philippines)
Deep-fried sweet potato chips
To serve 4 to 6
2 pounds sweet potatoes, preferably long cylindrical ones
Vegetable oil for deep-frying
Confectioners' sugar, or salt
With a small, sharp knife or vegetables parer, peel the sweet potatoes and cut them crosswise into paper-thin slices. Drop the slices into a bowl filled with cold water and let them soak for about 15 minutes.
Meanwhile, pour the oil into a deep fryer or large, heavy saucepan to a depth of 2 to 3 inches and heat it until it reaches a temperature of 375F on a deep-frying thermometer.
Fry potatoes in 2 or 3 batches. Just before frying, drain the slices and pat them completely dry with paper towels. Place them in a deep frying basket or large sieve, slowly immerse the potatoes in the hot oil, and let them fry for 3 or 4 minutes, or until they turn a delicate golden color. As they brown, transfer the slices to paper towels to drain.
Serve warm, sprinkled lightly with confectioners' sugar in the Philippine style or sprinkled with salt in the Western style.
While out shopping for ingredients for this dish at the mega Asian grocery, I ran across a substitution I couldn't resist. I already had the sweet potatoes at home (grew them ourselves!) but saw Japanese purple yams at the store. I've seen pictures of them before, but never in person. So I got one. Beautiful vegetable, quite a shock when you start peeling it!
I used a mandoline to slice the potatoes and probably didn't get them quite as thin as I should have (stupid cheap mandoline). The little munchkin helped put them in the cold water (in which I tossed some ice too).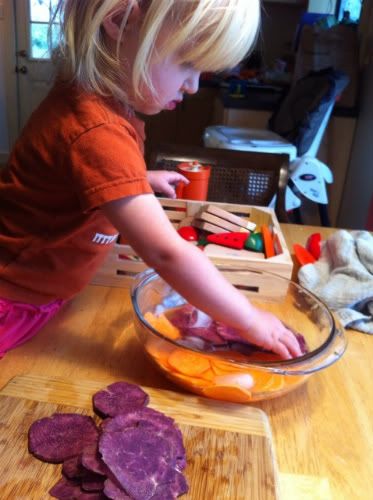 Of course, this had to be the night my thermometer went on the fritz so I don't think I got the oil hot enough. They took about 5 minutes to cook and some of them came out limp. Well, they all came out limp, but most crisped up on cooling.
The sugar didn't sound promising but the reason we are cooking from these books is to expand our horizons. So we did half the batch in sugar and half the batch in salt. The sugared ones were GREAT appetizers! Absolutely delicious. I preferred the salted ones for munching on during the meal though.
Wonderful snack, something we want to make again. My toddle scarfed them down and she usually won't eat sweet potato!