Note - Since my first posting on this dish, I've learned a lot about it, including some slight variations and/or improvements in the ingredients and the method that make it a little more "authentic" and also help improve the final product. You can make this as described in the first post, and it will be outstanding; however, if you want to take it up a notch or two, read the entire thread and consider some of the suggestions that are included ~ if you have any questions, just ask!
This beautiful, rich peasant stew, known in north-eastern France as Carbonnade du Bœuf, has a long and humble history, as described by John ("Rivet") when he was telling me about the french version:
This is a very old, very basic, farmers dish from the Alsace region of France, way up in the northern cold border with Germany. Plain rustic fare that is in keeping with the people and their ways - farming, beer making, not much time for fuss and frivolity.
When I first read about this wonderful, French dish, serendipity must have been knocking on my door; as circumstance had it, i not only had nearly all the ingredients for this on hand, but had also just returned home with a three-pound chuck roast and a couple of bottom round steaks and no plan on how to prepare them. not only that, the wonderful mrs. tas had intimated that she wanted some sort of beef dish for sunday dinner. the only thing missing was some appropriate beer, and a quick trip to the grocery took care of that.
Then, when I began my research for this, i ran into a lot of crossover with Belgian cuisine. This makes sense, for Belgium is the bridge between the north-east region of France and north-west Germany:
Wikipedia also noted that
Carbonnade du Bœuf
is a hallmark of the cuisine in the nord-pas-de-calais (artois, flanders, hainaut) and picardie regions.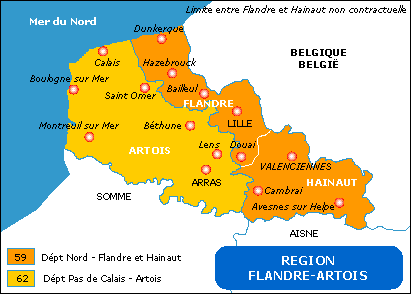 In Belgium, the dish is called
Carbonnade Flamande.
Wiki's description is virtually an exact enumeration of the components that John used, with only slight variation:
A carbonade flamande (or à la flamande), in Dutch Vlaamse Stoverij or Vlaamse stoofkarbonade, is a traditional Belgian sweet-sour beef and onion stew made with beer, and seasoned with thyme and bay.
 
The type of beer used is important, and traditionally an Oud bruin, Brune Abbey beer or Flanders red is the beer of choice with a somewhat bitter-sour flavour. In addition to this and to enhance the sweet-sour flavour, just before serving, it has a small amount of cider or wine vinegar and either brown sugar or red currant jelly stirred in.... It is often accompanied by frites or boiled potatoes.

The term carbonade may also refer to...certain beef stews cooked with red wine such as Beef bourguignon in the south of France, but is more commonly associated with the Belgian dish.
Because of this extremely close relation, i decided to prepare the Belgian version; but truth be told, the method seems to be equally at home in Belgium, Holland or France - and probably Germany, as well - as it is a regional specialty of the intersection of those areas.
In comparison to john's version, mine was, by necessity, going to be slightly different than his; for starters, i only had red wine vinegar, so i used that. also, not having a cast iron dutch oven at the time, i planned on making this in an earthenware crock. i would use the the crock for the oven only, and do the browning/deglazing in my trusty copper-bottomed stainless steel pan. finally, whereas he used Guinness, i used a Belgian-style beer called Blue Moon, a nice choice that incorporates orange peel and coriander to great effect and, while it is probably not completely, authentic for this dish, it worked very well.
For the sake of convenience, here is a shopping list and summary for this outstanding, rustic, peasant dish!
Carbonnade du Bœuf, prepared as Carbonnade Flamande

Butter and/or extra virgin olive oil for frying
4 to 5 large onions
3 to 4 pounds beef chuck, bottom round or other cheap cut of beef
1/4 to 1/3 cup flour, as desired for thickness
1/2 cup white balsamic, or you can use white wine vinegar
6 to 10 cloves garlic
1 tbsp dried thyme, or 2 tbsp fresh thyme
4 to 5 bay leaves
3 to 4 beef bullion cubes (or equivalent glace de viande), to taste
Salt and Freshly-ground black pepper, to taste
2 bottles of Belgian beer

Pre-heat oven to 325 degrees. Slice onions thickly (perhaps 1/2 inch) into disks. Trim of most of the fat from beef and cut into approximately 3-inch by 2-inch chunks and put them into a bowl. give them a modest shake of salt and freshly-ground black pepper, stirring to coat. Measure out flour into a bowl or cup. Pour 2/3 cup of wine vinegar into a bowl or cup and de-cap beer bottles. Crush and peel garlic cloves and put them into a bowl with the thyme, bay leaves, bullion cubes, salt and pepper. Heat 3 to 4 tablespoons butter and/or olive oil in a wide skillet or sauté pan to high, but back off a bit of it starts to burn. Alternately, this recipe can be made entirely within a cast-iron Dutch oven.

Toss onions into pan and sprinkle a bit of salt on them to help release moisture. Sauté until well-browned and caramelized on both sides; if the disks come apart into rings, don't worry, but try to keep them whole. Remove from heat and place half of the onions in the bottom of an earthenware crock, reserving the remainder. If using Dutch oven, simply put the onions in another container and set aside for now.

Note: Scroll down to further posts for suggestions on how to improve the technique in the preceding step

Add a bit more butter and/or olive oil to the pan. When hot, add meat (in batches) and sear on all sides, it will take some time to cook the moisture down; stick with it! Just when you are about to give up, the real majority of the moisture will get cooked out and the meat will get well-browned on all sides and the liquid will reduce into a wonderful, flavourful, thick hot mess - you will also start to get browned bits in the bottom of the pan.

Note: Scroll down to further posts for suggestions on how to improve the technique in the preceding step

Place meat on top of the bottom layer of onions and sprinkle the flour over the meat. If using Dutch oven, put meat in a bowl and set aside for now.

De-glaze the pan or Dutch oven with the balsamic or wine vinegar, stirring well to lift all the brown bits from the pan. When the vinegar has reduced down to a thick, caramelized liquid, drizzle it over the beef in the crock. If using Dutch oven, remove from heat, place half the onions on the bottom and stir them around to mix with the deglazed liquid, then place meat on top of the onions. Sprinkle the flour over all, along with the garlic, thyme, bay leaves, bullion cubes, salt and pepper. Spread remaining onions on top and pour in the two bottles of beer.

Cover crock or Dutch oven, making sure that some steam will be allowed to escape, and place in oven at 325 degrees for half an hour, then reduce heat to 300 degrees for two-and-a-half hours.

Remove from the oven and remove the cover. Sauce should thicken while standing. If necessary, heat uncovered until it thickens to desired consistency. Carbonade Flamande should be dark, thick and rich, like a stew or gravy. Serve with potatoes cooked your favorite way, rice, noodles or dumplings, along with your favorite vegetable, as well as a good beer - Belgian, if possible. Don't forget to have some sliced, crusty warm bread for sopping up the sauce!
Here's how it went down the first time I made it. I wish to stress that my techniques and execution were not perfect by any means, but the Carbonnade was still - in spite of my inexperience - very good. Since then, I've picked up a few concepts and have refined some of the techniques - and I've also taken some much better pictures. If this recipe interests you, please read on for some excellent discussion, lessons learned and great photos!
For the most part, i followed john's procedure very closely so that i would have a "base line" for future experimentation. Later, I picked up a few concepts along the way that seem - to me - to be an improvement.
Here's a picture of the goods -
Note that this is so simple and yet so little is needed; it is hard to explain how much bang for your buck you get with this dish. it is a perfect example of peasant food in that it takes such simplicty and turns it into such wholesome, rib-sticking goodness that you can wrap yourself in.
The beef used was about three-and-a-half pounds of chuck roast in combination with about a pound-and-a-half of bottom round steak. This is a huge amount, but there were over half a dozen of us to feed that day, and we wanted leftovers.
To begin, I trimmed the meat to remove most of the fat, but did leave a little on. the beef was then cut into chunks around three inches-by-two inchs, give or take.
Next, i sliced the onions and gave them a good sauteeing in order to soften them up and carmelize them:
I can never decide whether to use olive oil or butter, so i generally use a bit of each. the onions came apart into rings, which makes me think that i didn't quite slice them thick enough; this is in contrast to john's preparation, where the thick slices stayed together during the browning, but it was all good.
Once the onions had acquired just a bit more "sizzle," i removed them from the heat and set them aside. i then added a little more olive oil and butter and proceeded to brown the meat: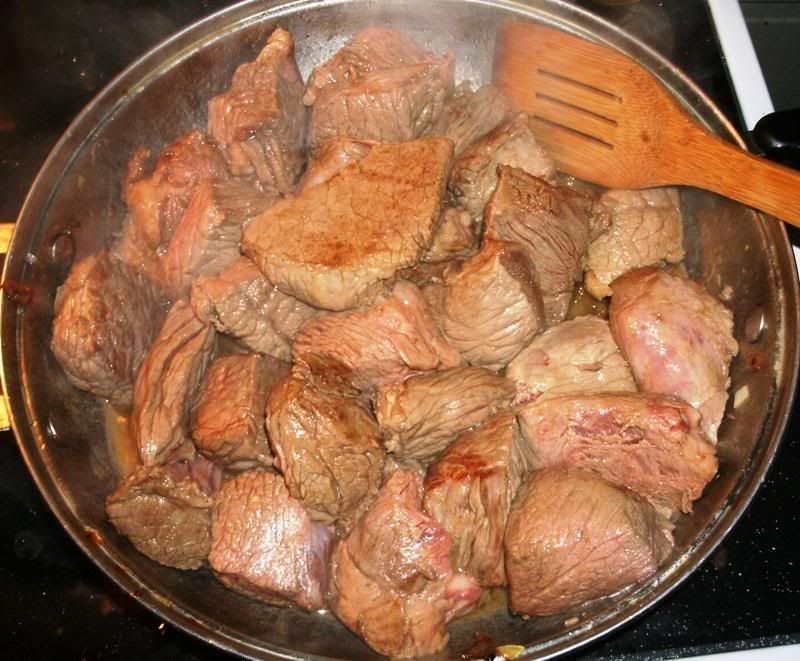 When the beef hit the pan, it released a lot of moisture. as this "boiled off," a trememdous amount of rich, carmelized, beefy goodness was left in the pan. this thickened and darkened and became the base for the rich sauce. as the reduction neared its culmination, the beef started to brown really well:
Once the beef was wonderfully seared, I laid down half of the onions in the bottom of my crock, then spooned the beef over the top of them. i then sprinkled a quarter-cup of flour over the top of the beef (a little more would have been better) and spread the remaining onions on top (in a Dutch oven, the procedure is a little different. review the recipe above, and/or see the posts below). quickly, i turned my attention back to the pan and poured a half-cup of red wine vinegar to de-glaze. the effect was immediate and filled the kitchen with a great aroma of browned beef and onions kissed with a sharp, rich tang. i boiled off the vinegar and reduced this down, then spooned it over the top of the onions. i then added the thyme, bay leaves, 8 crushed-and-peeled garlic cloves, pepper, a pinch or so of salt and 4 boullion cubes. this was looking beautiful, but the best was yet to come as i poured in the two bottles of belgian beer:
Note - these next photos aren't the best; scroll farther down this topic for some better ones!
I then sealed the crock tightly with foil (see below for thoughts on this action) and set it in the middle of the oven.
I got a late start to making this, so I had to deviate from the original cooking times and temperatures a bit, but i see nowhere that it adversely affected the final product. By now, there were so many good smells going on that it was hard to take them all in. it was 6:15 pm and we were looking at a long, slow braising ahead of us before we could eat. the oven was preheated to 325, and i made the decision to braise the beef at this temperature for two hours, rather than cook for a half hour and then reduce down to 300 for another two-and-a-half hours. one key factor in this decision was the fact that i had taken the beer out early in the day and it was by now at room temperature. i was concerned that higher temperatures might result in tough meat, and i was afraid i may have traded time for quality, but as it turned out, my fears were unfounded.
Two hours later, the beef was done. i removed the crock from the oven and set it on the stove top on a burner that was just barely on "warm" and covered it with a towel to keep warm. i then threw the temperature of the oven up to 450 for about a half hour in order to finish the OMG potatoes that were going to be sitting next to this stew. after maybe 20 minutes, i carefully lifted the foil off and saw that there was still a lot of liquid in the crock, but that was no big deal - it smelled so good, and just needed a little thickening. 
i left it uncovered, bubbling nicely, in order to thicken up, but it never got as thick as i preferred, so i mixed some extra flour in with a little cold water and added it to the liquid to thicken it up. this seemed to do the trick.
No one was in the mood for elaborate plating pictures - we were hungry! so this is what you get - a grainy, hastily-taken picture of a plate getting filled with beef, OMG roasted potatoes, mixed vegetables and cottage cheese bread with rich, savory gravy over all: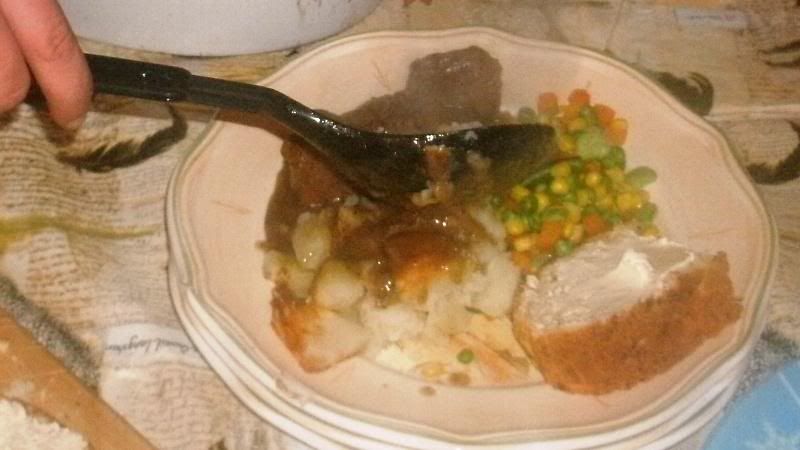 Reception of this simple-yet-exquisite peasant dish was very good all-around and ranged from "wonderful!" to "perfect!" speaking for myself, i just flat-out LOVE it when a person can take such simple, easy and basically CHEAP stuff and turn out a work of art. this was absolutely one of the best meals I had emjoyed in quite a while - probably since the
Poulet aux Quarante Gousses d'Ail
that I made for the first time during the previous autumn.
The family loved it. when i described what i was fixing for supper, my dad had given me a hard time for using "fancy" beer (wasting it, in his mind), but he had to admit the results were outstanding. in his opinion, it was a little heavy on the garlic (i really like garlic), but the only real complaint that i heard that evening was that there wasn't enough for a 3rd helping! for my part,i thought that the garlic was just right in it.
The potatoes and vegetables made the perfect side dishes and the cottage cheese/chive bread was perfect for sopping up the rich, thick gravy. the chuck was fork-tender - fell apart with just a little pressure on the chunks. the meat had this rich, red colour from the braising - even the few chunks of bottom round steaks that i added were very, very tender. not quite as much as the chuck, but still able to cut with a fork. the tartness of the red wine vinegar worked perfectly with the onion, thyme, garlic and beef flavors. the belgian beer had some orange peel and coriander and even though i couldn't specifically pick those flavors out, i knew they were in there and i think they blended with the other flavors perfectly. this was a home run out of the park.
The only problems i saw were these:
I only had 3 onions - a fourth would have been perfect and even a fifth wouldn't have been excessive.
I used a little too much oil/butter to brown the meat, and threw it in the saute pan at a bit too low of a temperature. it took me a while to figure this out, so it didn't quite get seared the way i would have liked, but it did not suffer in moisture, tenderness and flavor, all three areas were great. also, when the juices reduced down, some good browning did finally ensue.
caution to anyone who makes this dish: it seemed like forever to get the initial moisture out of there, but it was worth it when it finally boiled off and the serious browning began, the incredible beefy good news was all there. stick with it and you will be rewarded!
The extra oil made the deglazing with the vinegar a little weird, like there never really was anything to deglaze, even though there was a LOT of thick, concentrated beefiness in there - i poured in the vinegar and boiled it off and reduced it down and the results were very good, but not quite the same as if they would have been the browned/caramelized/lifted-from-the-bottom-of-the-pan bits. in spite of this, everything turned out fine, though.
As i said before, when i took it out of the oven (a third hour a lower temperature might have made a difference), i sat it on top of the stove still covered, but even after about half an hour while the potatoes finished up, it seemed way too thin. so i did mix another bit of flour and a little water to thicken it. I am not sure if extra cooking time and/or resting time would have thickened it anyway, but the meat was so tender it certainly didn't suffer at all.
I will improve on these issues next time - and there WILL be a next time! the house still smelled like carbonnade this morning - loved it. rich and savory.  
I know that this post is a bit jumbled, but that;s how it went down! Even with the things that didn't seem to go right, it turned out just about perfect. I very strongly recommend this dish for anyone who wants a wonderful hot meal on a winter's evening.