Char Siu - Chinese BBQ Pork
It has been many years since I've had great Char Siu. Part of my misspent youth revolved around taking the train into NY City and, among other things, making a visit to Chinatown. Perhaps that is why I'm so excited about this dish, and this recipe in particular.
The literal translation of Char Siu is "fork burned" which refers to the traditional method of skewering and slow roasting over an open fire. These days, Chinese restaurants all seem to rely on quick and easy concoctions using red food coloring, and/or prepackaged powdered mixes to produce Char Siu, and the wonderful street vendors have all but disappeared. You can spot these versions on sight in all their neon red glory rather than the traditional deep mahogany color.
I adapted this from Chef Marc Matsumoto's brilliant recipe. It comes very close to what I remember. Pork butt may be used or even pork loin. I would't recommend the loin but some folks like it. We will use pork belly.
FOR 2 Pounds Pork Belly
Try to find a pork belly that is leaner than usual. If your pork belly has a skin, remove it. Trim off as much excess fat as possible.
Marinade:
1 teaspoon 5 spice powder
4 tablespoons maltose (or honey)
4 tablespoons Shaoxing cooking wine (or sherry)
2 tablespoon hoisin sauce
2 tablespoon thai chili sauce
2 tablespoon Chinese dark soy sauce
4 teaspoons oyster sauce
4 teaspoons fish sauce
4 cloves garlic, grated
Mix the ingredients for the marinade together in a Ziploc bag. The maltose is a little tough to incorporate but it's okay if there are some lumps as these will eventually dissolve, just make sure there are no big clumps.
Add the pork belly to the marinade and push out as much air as possible so the meat is completely surrounded by marinade. Let it sit in the fridge for at least 2 days, flipping the bag over every to ensure it's evenly marinated.
To roast your char siu, set you Primo up for indirect with fire on the left. Preheat the Primo to 275˚- 300˚F. Set an elevated wire rack on a rimmed baking sheet and lay the marinated pork belly on the rack, saving the marinade for later. Put the pan in the Primo on the right side and let it roast, indirect, until the meat reaches an internal temperature of 160˚F. This will take 1 − 2 hrs. I am at altitude so mine went 2 hrs. Add a little cherry smoking wood if you like. Not a lot. We only want a touch of smoke here.
Pour reserved marinade into a small sauce pan and reduce over med low heat to a syrupy glaze while stirring frequently. There is a lot of sugar in this marinade, and sugar burns easily. If the glaze becomes to thick just add a bit of water and you will be fine.
When the meat has reached an internal temp of 160˚F, remove and increase the Primo's temp to 350˚F. Coat the pork with some of the reserved marinade, then cook direct, turning frequently, until dark and glossy with the edges just slightly charred.
Slice your finished char siu and drizzle the last if the marinade over the top. Serve with rice or noodles.
Marinated Pork Belly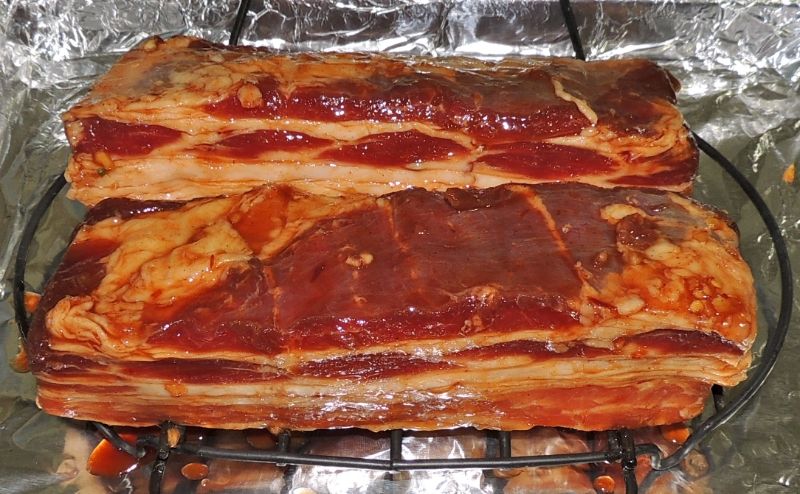 A close up. Check that coloring from the Dark Soy Sauce.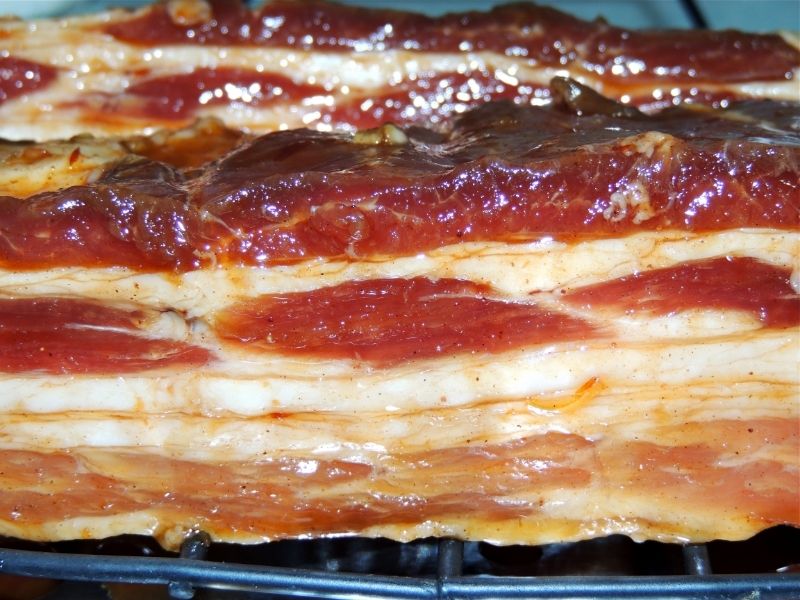 Roast marinated pork indirect on a grill at 275˚ - 300˚F with a small amount of cherry wood for a touch of smoke. Keep the smoke light.
While the pork is roasting reduce the reserved marinade to a syrupy glaze over med low heat. Stir frequently to keep the sugars from burning. If it becomes to thick, add a bit of water to loosen.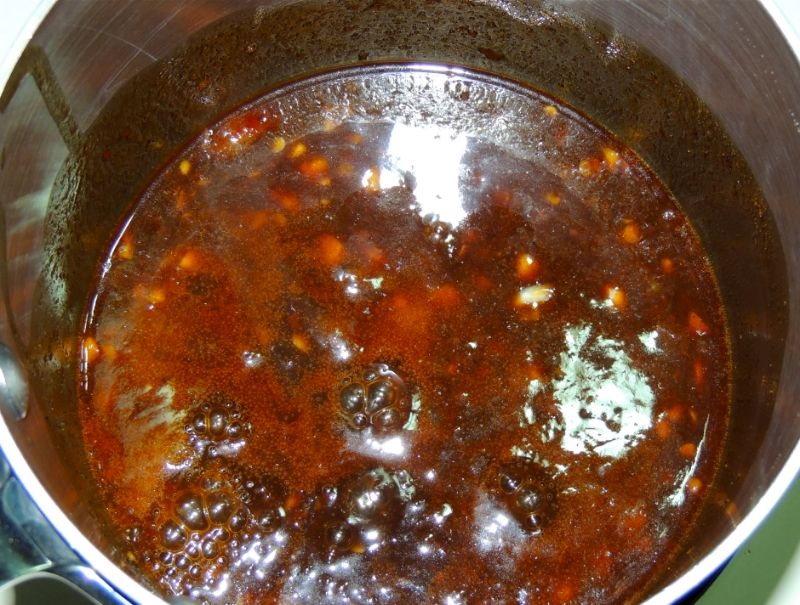 When the pork reaches an internal temp of 160˚F, remove and coat with syrupy glaze. Bring cooker temp up to 350˚F. Return glazed pork to cooker and sear direct for a slight char. This step happens quickly and requires full attention so no pics of the sear.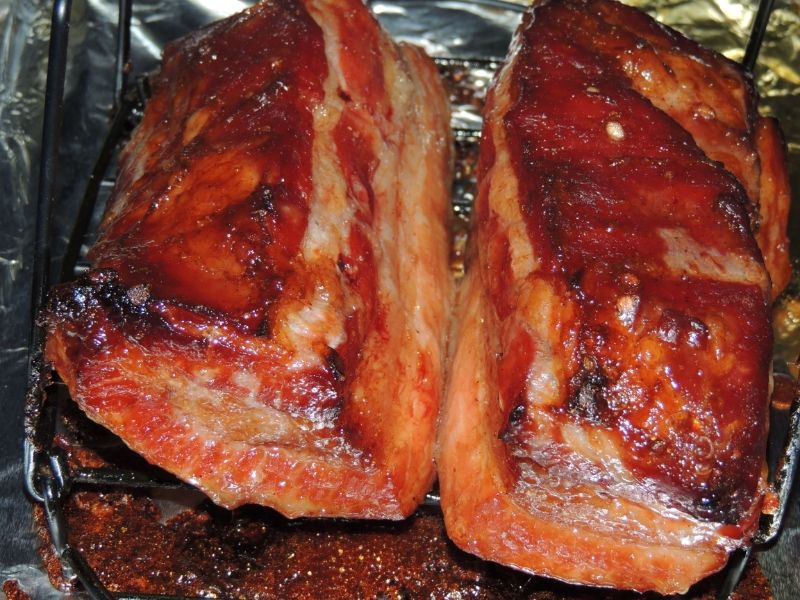 Sliced Char Siu plated over steamed rice, drizzled with syrupy glaze, sprinkled with toasted sesame seeds, and surrounded with stir fried veggies.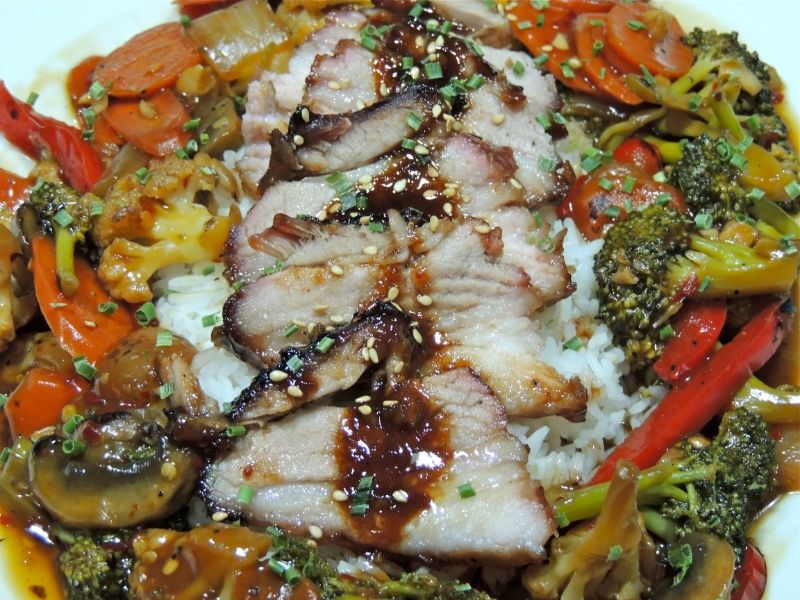 Close up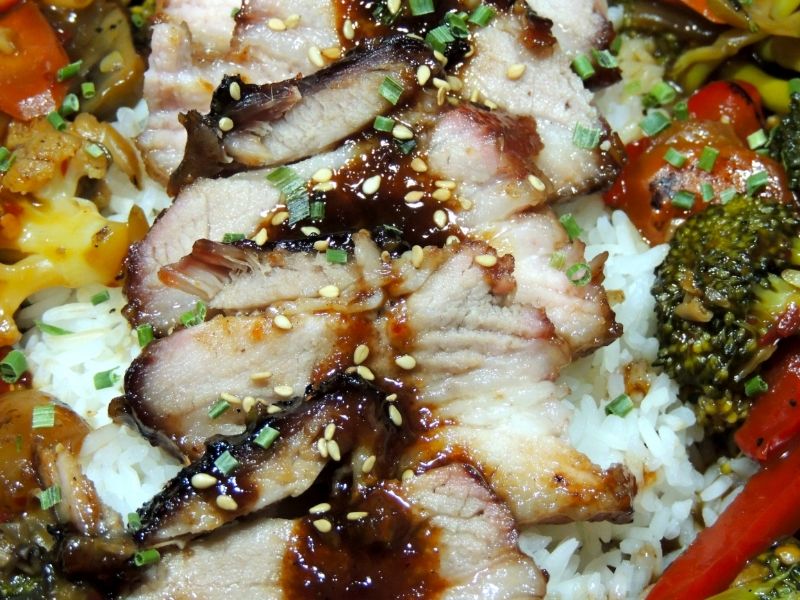 If you've never experienced this moist and intensely flavorful dish it will be a revelation. I received more positive comments on this dish than any other I have ever produced. It is pure joy.