this is my all-time favourite thing to make during the christmas season and i have found memories of it going back to my earliest childhood. don't know why it stuck in my mind as the definition of holiday treats (superceding cookies, candies etc.) but somehow it did. my favourite part was the gooey "over-seasoned" bits that somehow gravitated toward the bottom of the pan, and there were many fights between my sister and me for these savory tidbits.
anyway, here are four recipes for you to try. i did get pictures using our own "house recipe" and will post below, but all recipes follow the same basic method.
Real Original Chex Party Mix


This is called 'Real Original' because it is the recipe taken directly off the back of a 1950s Chex cereal box.

2 tablespoons Worcestershire sauce
1/2 cup butter or margarine
1-1/4 teaspoons seasoned salt
1/4 teaspoon garlic salt
3 cups Wheat Chex square cereal
2 cups Rice Chex square cereal
1-1/2 cups peanuts
1-1/2 cups small pretzel rods


Preparation:


Preheat oven to 275 degrees F. Melt butter in a shallow pan. Stir in Worcestershire sauce, seasoned salt, and garlic salt (not garlic powder). Add Wheat Chex, Rice Chex, nuts (peanuts, pecans or cashews), and pretzel rods. Mix until all pieces are coated with the butter mixture.

Place on a shallow baking pan with sides. Heat 30 minutes in a 300 degree F oven, stirring every 10 minutes. Cool and enjoy.
here's the recipe that i grew up with and remember fondly as a child in the 1970s:
CHEX PARTY MIX

1/2 c. (1 stick) butter
1 1/4 tsp. seasoned salt
4 1/2 tsp. Worcestershire sauce
2 2/3 c. Corn Chex cereal
2 2/3 c. Rice Chex cereal
2 2/3 c. Wheat Chex cereal
1 c. pretzel sticks
1 c. salted mixed nuts

Preheat oven to 250 degrees. Heat butter in large shallow roasting pan (about 15 x 10 x 2 inches) in oven until melted. Remove. Stir in seasoned salt and Worcestershire sauce. Add Chex and nuts. Mix until all pieces are coated. Heat in oven 1 hour. Stir every 15 minutes. Spread on absorbent paper to cool.
and here's the updated, modern recipe that is now touted by chex - i am not a fan, but it is here for the sake of continuity, and also just n case someone wants bagel chips in their chex mix AND thinks a microwave is really the way to prepare a national treasure:
CHEX PARTY MIX

INGREDIENTS:

1/2 cup butter
2 Tbsp. Worcestershire sauce
1-1/2 tsp. seasoned salt
1/2 tsp. garlic powder
1/2 tsp. onion powder
3 cups corn chex cereal

3 cups rice chex cereal
3 cups wheat chex cereal
1-1/2 cups mixed nuts
1 cup pretzels
1 cup garlic flavored bagel chips

PREPARATION:

Preheat oven to 250 degrees. Melt margarine in large roasting pan in oven (5 minutes). Stir in seasonings. Add remaining ingredients and mix until coated. Bake at 250 degrees for 1 hour, stirring every 15 minutes. Spread on paper towels to cool, and store in airtight container.

Microwave Method: Melt butter in large microwave-safe bowl on HIGH. Stir in seasonings, then remaining ingredients until coated. Microwave, uncovered, on HIGH 5-6 minutes, stirring every 2 minutes. Spread on paper towels to cool, and store in airtight container.
finally, here is the tasunkawitko "house recipe" chex party mix, which incorporates two things: a) making lots of it for a large family and lots of friends, and b) getting the most savory goodness possible:
Tasunkawitko's House Chex Party Mix

Cut recipe in half for a smaller batch

· 1 box corn chex

· 1 box rice chex

· 1 box wheat chex

· 1 bag pretzel stickss

Seasoning Mix:

· 3 Sticks butter or margarine

· 1 Tbsp. garlic powder (not salt)

· 1 Tbsp onion powder (not salt)

1. Heat oven to 250 degrees. Dump cereal and pretzels into large mixing bowl or roasting pan.

2. Melt butter in saucepan with other seasoning ingredients over medium-low heat, stirring often until well-blended and dissolved.

3. Drizzle seasoning over cereal and pretzels, pausing occasionally to stir gently and mix well until all pieces are coated.

4. Bake in oven for one hour, stirring gently from the bottom-up every 15 minutes. Try not to nibble until it is done.
alright, folks, you have waited patiently and now it's yours to see. here is the last time i made chex party mix using our house variation described above. keep in mind that the amounts of the seasonings that i gave up there are still in flux a bit; i've often found that most of the ingredients benefit from just a pinch or couple of drops extra, but who measures that?
here are the goods - pretty basic and easy to understand even with the bad photography:
low-sodium soy sauce is something we've been using for years with good results - in fact, i have gotten to the point where i prefer it over full-sodium soy sauce. it may sound a little crazy in a batch of chex mix, but its savory, umami-filled goodness works very well with all of the flavours already there, and adds a bit of depth and dimension. i tried it once when we were low on worcestershire sauce, using a combination of both sauces, and since then it has become a staple. when we lived in spearfish, south dakota, we were able to buy no-sodium soy sauce and if you have this in your area, it might be worth a try, since i believe that often in cooking, many of the other ingredients already have plenty of salt. this is especially true in the case of chex party mix!
also, when purchasing the components for this latest batch, i spotted low-sodium worcestershire sauce in the aisle for the first time and grabbed it.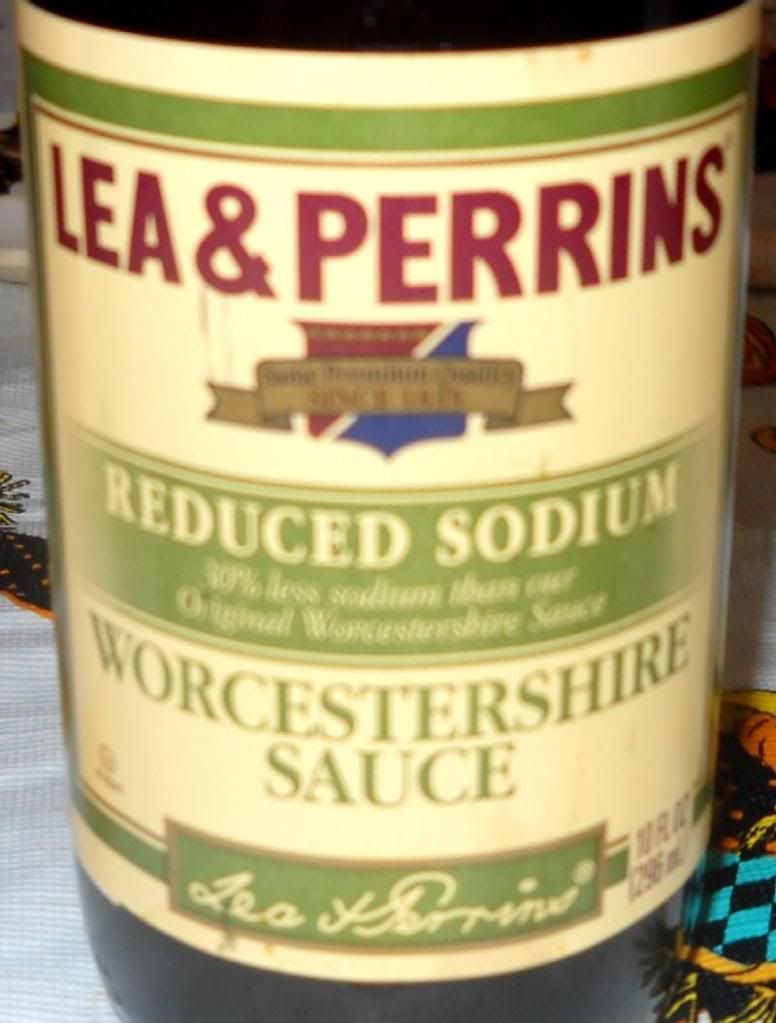 this is one other product that i think is perfect for chex mix, because it has a lot less salt - yet, all of the other great flavours to be expected from worsty.
when we make chex mix, the first thing we do is dump the cereal into a baking implement of some kind: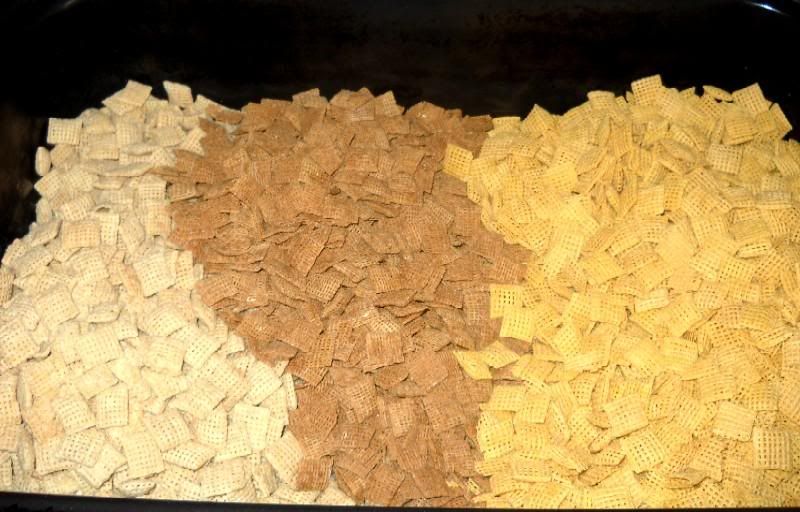 four healthy boys ages 8-20, with voracious appetites (plus neighbour kids), plus two adults, all of whom really like this stuff, means that yes, that is a large roasting pan. perfect for making double or triple batches, and since this is the only time of the year we have it, i guess that's fine.
after the cereal, we put the pretzels in and get everything mixed well:
then put the butter/margarine and liquid ingredients (soy sauce, worcestershire sauce and hot sauce) into a saucepan and put it over medium-low heat to melt, meld and get good:
there should be three sticks in there for this batch, not two!
a note about butter versus margarine: i've tried both and they have good and bad points on each side, and the jury is still out regarding which is better to use. if you're not careful, butter tends to give an off-taste that is kind of like it is burned, and it takes away from the final product, in spite of its rich goodness. margarine doesn't burn and seems to produce more of those crunchy-chewy, savory clumps of chex mix that everyone fights over, but it leaves a really greasy mouth-feel and is extremely unhealthy. one of these days i'll figure out which works best, but not today. for butter, we use un-salted; for margarine, we usually use imperial brand margarine and avoid "spreads" that have a high percentage of water.
i usually melt the butter/margarine with the dry ingredients, but this time, i tried adding them once the liquids were well-married and getting along famously:
we add the dry ingredients/seasonings:
and give it a whirl with the hand-blender: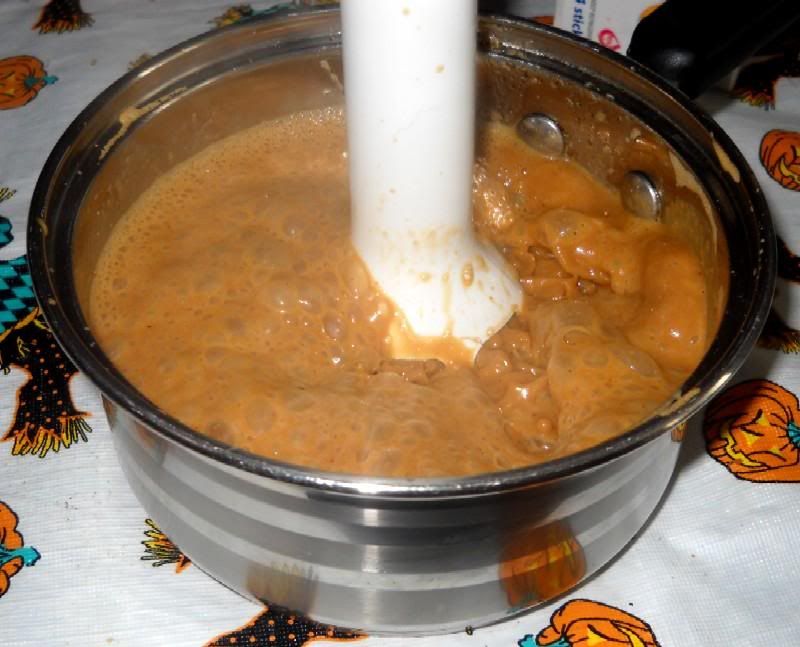 it seems to work just as well to do it either way, so you might as well put the dry ingredients with the liquid to begin with.
the wand blender is not completely necessary, since a person can just do it all on the stovtop whilst heating and stirring with a spoon, but i gave it a try this time. it seems to me that the final product tastes a little better when on the stove for the whole process because the sauce takes on a little more of a cooked flavour that adds to the savoriness (is that a word?); however, that could simply be my imagination, since the stuff cooks for an hour in the oven anyway. the important thing is to make sure that everything is well-blended and dissolved into the mix.
next, the mixture is carefully drizzled over the cereal and pretzels (more carefully than it appears in this photo, but it was hard to drizzle and take the picture at the same time!):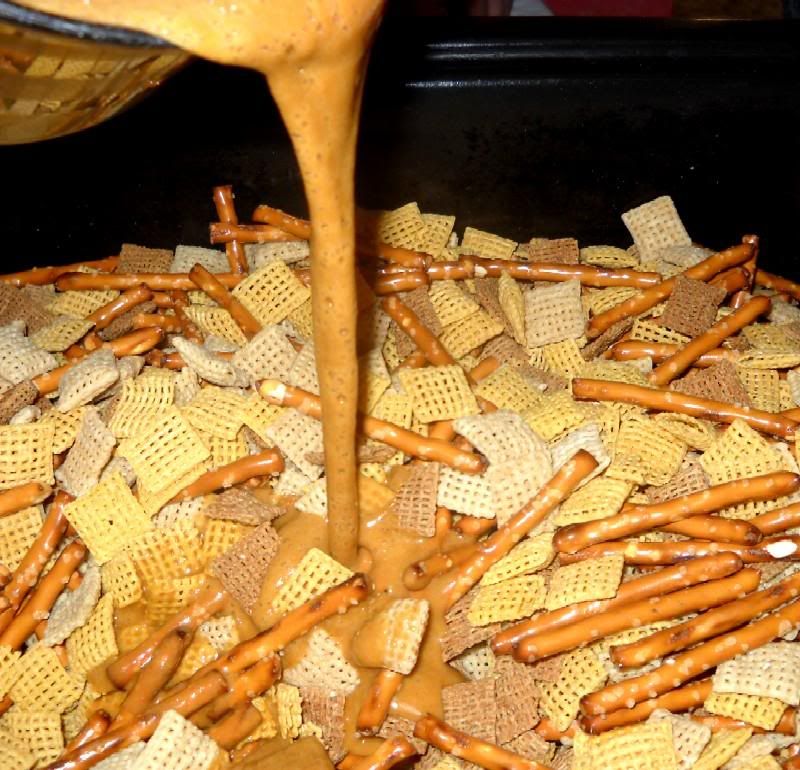 and stir everything until all pieces are well-coated: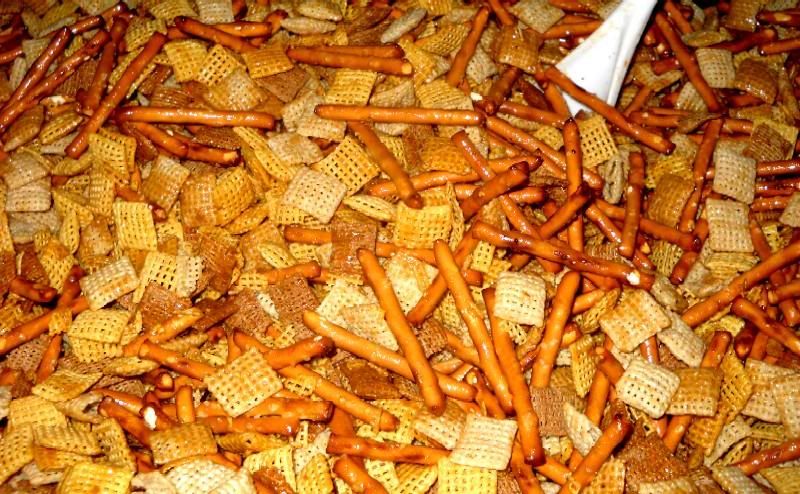 i've found that it seems to work best to drizzle half the sauce in, then stir well, then put the rest in and stir again. when stirring, be gentle and take care not to break the cereal up. it might be more accurate to say that you want to fold everything in together.
after that, put the pan into a pre-heated oven at 250 degrees (maybe a little less if using butter - more like 230-235 degrees) and bake for one hour. it is important to stir the chex mix every 15 minutes, and this must be done for best results. be sure to stir gently and be sure to lift everything off the bottom and rotate everything around so that no burning occurs.
at the end of your hour, the chex mix will be done - stir it around and let it cool a bit, then pig out.... or take it to the office party the next day!