Not long ago, I put together a pretty decent meal featuring a Basque classic,
bacalao al pil-pil
. You can read more about that meal here, if you're interested:
When it came time to consider a side dish, I had many factors to take into consideration; above all, I wanted something plausible, meaning that it didn't necessarily have to be a quintessential or traditional Basque dish, but at least something that could conceivably be made in Basque country, using ingredients familiar to a Basque cook. Also, I wanted something that would provide a bright, vibrant colour contrast to the white salted cod and the pale, greenish-yellow sauce that is expected with a proper, modern preparation of pil-pil. Finally (but by no means least important), I wanted to choose something that the beautiful Mrs. Tas would enjoy, especially since I was asking her to try a meal that was completely unfamiliar to her.
Thinking of bright, vibrant colour immediately brings the colour red to mind; often in Basque cuisine, peppers, stuffed or otherwise, are served - however, neither Mrs. Tas nor I are fond of peppers in general. A natural second choice was tomatoes.
But how to prepare them? Well there are of course a lot of ways, ranging from simple and rustic to complex and elaborate; considering that most of my attention would be centered on the main dish, I wanted something as simple as could be, while still being an interesting, hot side dish. Gradually, things started to focus in my mind, and I remembered something that ChrisFlanders had posted a while back, as part of an Easter meal:
ChrisFlanders wrote:

I learned this in the south of France decades ago. Cut the tomatoes in half. Make a mixture of breadcrumbs, parsley, garlic, butter, s&p and mix well. Spread on the tomatoes and put in the oven until golden brown. So simple, so delicious... but seriously better when using sunripened tomatoes of course.
It seemed to me that this would be perfect, so I gave it a try; as it turned out, my execution wasn't quite perfect, and certainly not as nice-looking as Chris's, but it was delicious, and I will certainly be exploring this concept more in the future.
To start, we have our simple ingredients here: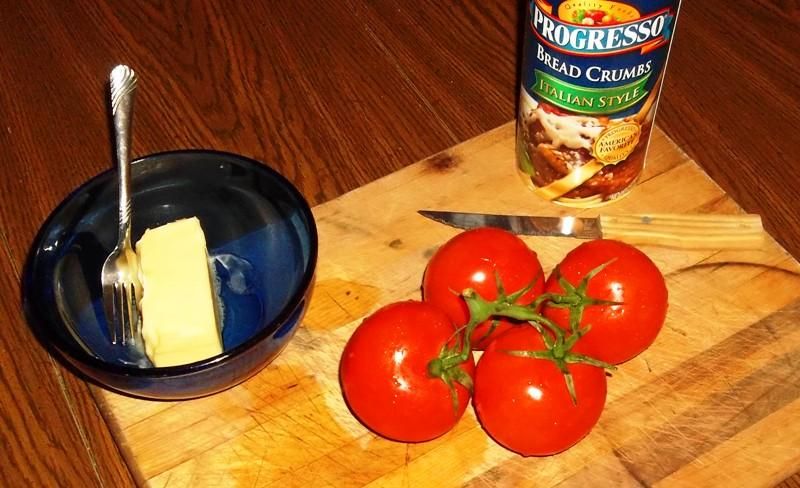 Softened butter, vine-ripened tomatoes and herbed bread crumbs. Not pictured: fresh-squeezed lemon juice, grated Parmesan cheese, salt and pepper.
A note on the bread crumbs: the next time I make this dish, I will make my own bread crumbs from some day-old, home-baked bread; these worked fine, but to me, the final product did not look as nice as Chris's did. Having said that, the Italian seasonings in the bread crumbs (namely, basil, oregano and garlic), went very well with the tomatoes, so the store-bought bread crumbs were definitely an acceptable choice.
Making this was ridiculously easy. I simply stirred salt, pepper, lemon juice and bread crumbs into the butter until it seemed to be the right consistency; then I added just a little bit of parmesan cheese. After that, I sliced the tomatoes in half:
And then I topped them with the mixture:
When the main meal was nearly finished, I popped these in the oven under the broiler for a few minutes, until the bread-crumb mixture turned a nice, toasty brown, then served them with the meal:
I must say, for an improvised side dish, these were wonderful! Bursting with tomatoey goodness, and crusted with toasty, savory warmth; on their own, they would have been delicious, but as a side dish for this meal, they were amazing, packing a lot of complimentary flavour for very little effort, all in a bright, vibrant package, just as I had hoped.
Many, many thanks to Chris for this suggestion - it was perfect! Obviously, a person could take this dish in a lot of directions depending on what it is being used for; I would urge anyone and everyone to give this a try - you will not be disappointed!
As I said, this dish is very easy, but if anyone has any questions, please feel free to post them, and I will get them answered. Thanks for taking the time too take a look at this, and
e
et smakelijk!