Costillar de Cerdo Lacado
"Lacquered" Pork Ribs
From Culinaria Spain:
"Pork is [an example] of Castile's various specialties.... There is a popular Castilian saying that ham is more likely to produce Christian converts than the Spanish Inquisition. With the reputation of Spanish hams, and the country's pork cuisine, that is certainly true. Roast suckling pig (cochinillo asado or toston) which epitomizes Castillian cuisine, enjoys cult status in the villages. It has aroused such passion among its devotees that many recipes are reminiscent of romantic poems addressed to the dearly beloved, extolling the virtues, for instance, of "fat, tender, healthy piglets, 25 days old, and barely 9 pounds in weight." The bakers stoke up their ovens on weekends, to roast suckling pigs. These are put in the oven at the local bakery whenever there is cause for a celebratory feast.
Roasted pork is integral to the cuisine of Castillian Spain, and there are many ways to enjoy it. This recipe, from the book, Culinaria Spain, is a modern take on the ancient Iberian tradition of roasting a pig over an open fire.
Simple foods are often the best; it has been proven time and again, and if you haven't learned this already, then now's the time! You will need:
Honey
Red wine vinegar
Salt
Pepper
That's it. 4 simple, readily-available ingredients. When I made these ribs, I tried a twist introduced by a friend a long time ago, so I had 5 ingredients:
The balsamic is not required for thsi recipe, and is not a quintessential ingredient of Spain, but I wanted to use it in order to experience these ribs as my friend had enjoyed them, so I did. In the future, I'll stick the the four ingredients, experimenting with different honeys and vinegars, as I can; one spin-off that I would like to try is in replacing the wine vinegar with apple cider vinegar, which is commonly found in northern Spain's Asturias province.
Anyway, as I said, this is easy - incredibly easy. I started with a couple of teaspoons each of sea salt and freshly-cracked black pepper:
The ratio of honey to vinegar is 3 to 1; for instance, if you use 6 tablespoons of honey, then you need 2 tablespoons of vinegar. Since I had a lot of pork to cook, I used 3 tablespoons of each vinegar (for a total of 6 tablspoons, equivalent to half a cup):
Next, I turned my attention to the honey that I had chosen; the recipe specifies "runny acacia or woodland honey," but since I live in the middle of nowhere, I used this: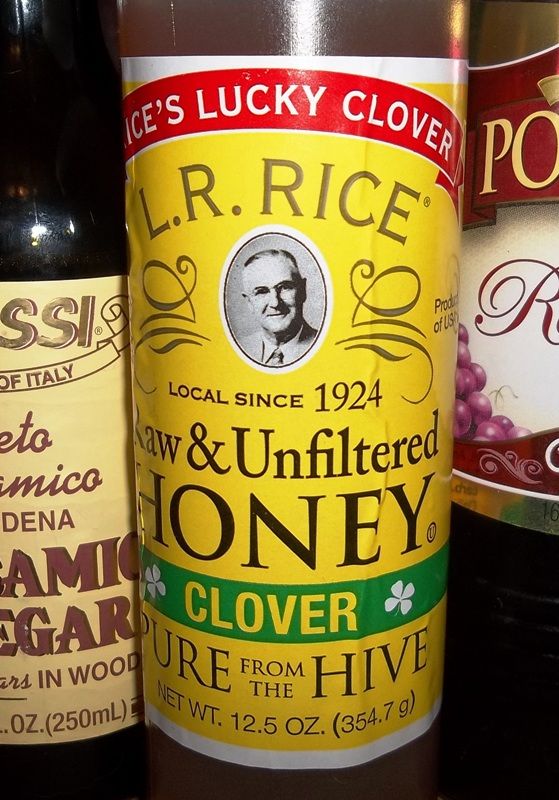 We actually have two local apiaries, and the next time I try this, I will use some raw honey from one of those sources.
Keeping to the ratio described above, I added 1.5 (equivalent to 18 tablespoons) cups of honey to the seasoned vinegars:
And stirred everything together:
This resulted in a wonderful concoction that promised to take my ribs to a whole new level!
Marinating the ribs is not necessary; a simple shake of salt and pepper - perhaps with the addition of a little pimentón de la Vera - is all that is needed. Having said that, I decided to let the ribs take in the flavours for a couple of hours, just because that's how I'd seen them done before. With this in mind, I poured the lacado mixture into a roasting pan, gave the ribs a modest dusting of salt and pepper, and then brushed the lacado mixture onto the surface:
I then turned the ribs face-down into the bottom of a roasting pan, dusted the bone side with a little salt and pepper, and brushed some of the lacado mixture on that side as well:
Once again, this is not necessary, but it certainly doesn't hurt a bit.
While the ribs soaked up the vinegars and honey for a couple of hours, I got ready for my barbecue. I brushed some yellow mustard onto some country-style ribs and dusted them with a standard barbecue rub; once that was done, I set up and lit my offset smoker, bringing it to a nice running temperature in the neighbourhood of 250 degrees. When everything was ready, I tossed all the pork onto the grates and began my cooking:
After a couple of hours, things were coming along nicely, so I began "painting" the lacado mixture on my ribs; first the bone-side:
And then the top:
The goal is to "paint" (brush) the lacado on in thin layers, one after the other, giving time for each layer to dry and glaze over for a crackling shine - you want to wait maybe 45 minutes to an hour in-between brushings.
I said it before and will say it again: simple is the way to go, and nothing elaborate is needed in order to produce beautiful, juicy, tender barbecue ribs that taste like a million dollars. You can be complicated if you want to, and have some very wonderful things - I've done it many times myself - but it's not necessary all the time, and this experience was proving exactly that.
I kept brushing and flipping and brushing the ribs every hour or so, whenever I added hickory or charcoal to the firebox of the smoker. It wasn't long before the ribs started to take on a beautiful shine and develop some deep, rich colour: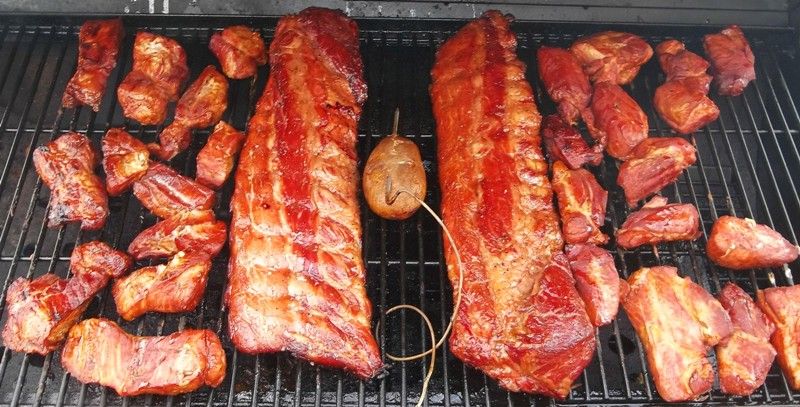 As you can see, I also brushed the lacado mixture onto the CSRs as well. Remember - many thin layers add up to a beautiful "lacquered" rack of ribs!
About three hours into the cook, I moved the ribs over closer to the heat: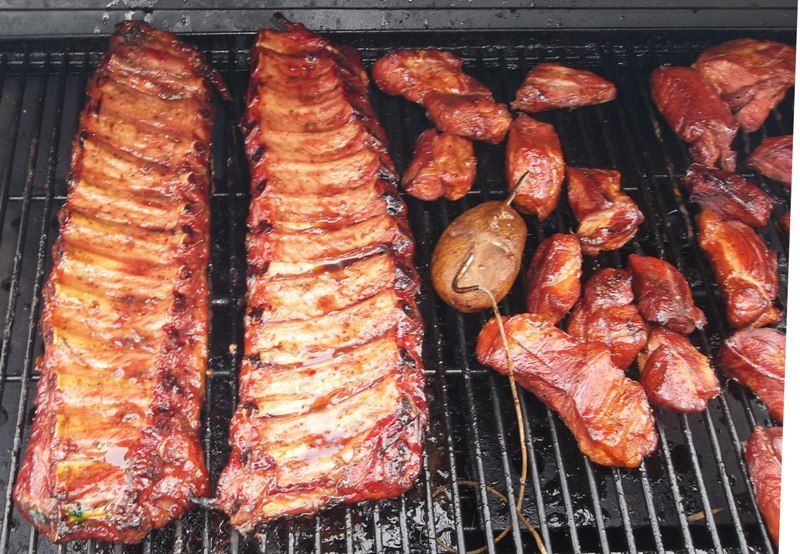 You want to move the ribs over nearer to the heat source for the final layer or two so that they can really get the colour in there; The lacado will continue to glaze on in thin layers, allowing it to really earn its reputation as it "lacquers" the ribs:
Whaddaya think? I think they're coming along nicely, myself: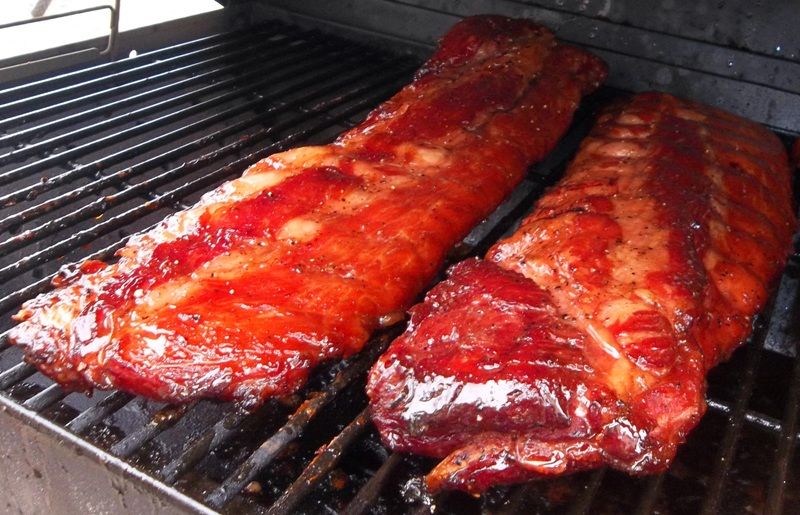 By the time the ribs were just about ready, the lacado and the heat had done their work beautifully, creating a wonderful, crackling shine on the ribs:
Between the lacado, the sweet hickory smoke and the pork itself, the aromas wafting up from the grates were enough to really bring out the carnivore in almost anyone:
When the everythng was ready, I brought it all in; first the CSRs:
And then the ribs:
I couldn't really stop myself - I took another picture:
And another:
The family couldn't stand it any longer, so I cut the ribs into sections and tossed them into the pit to be devoured. As you can see, there was - in addition to everything else - wonderful smoke penetration:
The taste was incredible. The smoked pork was just about perfect, with a savory, beautiful "bacon on a stick" flavour that comes from a really good barbecue. This was enhanced by the sweet/sour flavour and the crackling sheen of the lacado. A home-run all-around. This little trip to Castillian Spain was a nice way to enjoy a Sunday afternoon on a sunny spring day.
Hopefully, I've made it clear with this pictorial that simple can often be the way to go, and - if done right - will provide some very wonderful barbecue. Four ingredinets. You all have them in your kitchen or pantry. Try this, and you won't be sorry.