Alright, Bill - I think this is something you're going to like - and be sure that a certain bus driver also sees this, because I do believe this is exactly what he was looking for! It turned out exactly right, as far as I can tell, and I am actually impressed with myself for being able to achieve such results on the first try!
When we last left you, Dear Reader, we had just put the venison roast and cure into a vacuum-seal bag and into the refrigerator to cure for at least 5 days. As it turned out, I didn't get to continue this project until the evening of the 25th of December, so it was a few more days than that, but no worries - a little bit of margin is just fine!
Here we are after 7 days of curing, turning, massaging and light pressing:
I'm not sure if all of the steps above are necessary, considering the vacuum seal, but as I've said before, it sure didn't hurt. You can see that the curing process brought out quite a bit of moisture, and the venison has taken on a beautiful colour.
I soaked the roast in ice-cold water for half an hour, in order to draw out excess saltiness: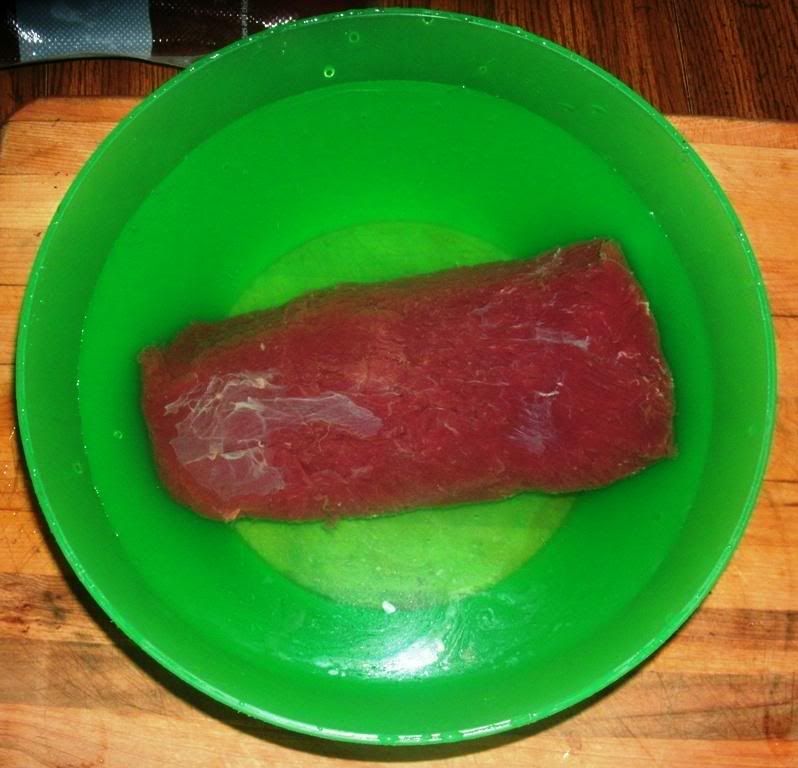 We didn't have any ice, so I kept it in the refrigerator for the allotted time in order to keep the meat as cold as possible.
At this point, most folks do a "fry test," which involves slicing off a bit of the roast, frying it, and sampling it to see what the salt content is like, to determine if it needs to soak longer or not. I skipped this step, purely on a whim, but the "fry test" is advised, so that you can avoid any surprises that might hurt your chances for success.
Next, after wiping the roast down with paper towels to dry, I ground some fresh, black pepper over both sides of the cured roast and set it out on one of my smoker racks:
And put it in the refrigerator overnight, uncovered, in order to form a pellicle, which is nothing more than a slightly dry, slightly tacky surface; the pellicle helps with smoke penetration and a better final product.
The next day, I set up my Little Chief and began smoking the roast over alder wood chips, which I felt would be a great compliment to the venison. The Little Chief is perfect for projects like this, which call for cooler smoking temperatures rather than "smoke cooking."
Smoking is optional, but highly recommended for a wonderful touch. I found alder to be perfect for the venison, but that's no reason not to experiment. I imagine cherry, apple or maple would really be something, while hickory, oak, pecan or mesquite would lend wonderful properties of their own. Your imagination is your only boundary.
After 8 hours or so of smoking, with some drying, here's what we had:
The aroma was outstanding, with the subtle alder adding a perfect undertone to the sweet-spicy smell of the venison, which had developed a semi-hard, semi-dry outer surface. It can't really be called a "crust," because it wasn't hard, but at the same time, it was firm. The best way to describe it would be an outer skin that was almost like a casing on a sausage. The interesting thing about this is that it allows the meat inside to stay just about right - not too moist and not too dry - while allowing the seasonings, cure and smoke to work their magic.
For this project, I chose to finish it inside, so I put the rack in the oven on the lowest setting for about 3 hours, to get it up in the 145ish-degree range. I apologize that I can't be more precise, but it seems that my temperature probe thermometer was "misplaced" since I used it last. Children are the joy of life, but at times it is a challenge to remember that.
In any case, here's how we looked after some time in the oven to come up to temperature:
At this point, I let the roast cool down in the oven for a couple-three hours, until there was no appreciable heat to it, then put it in a ZipLock bag with the air pressed out and placed it in the refrigerator for the rest of the evening and the next day.
When I got home from work, I was eager to see how it turned out, and also to try out my new meat slicer. I removed the venison from the refrigerator and took it out of the ZipLock. There were a few drops of residual moisture that had settled to the bottom of the bag, but only a few, and there's how the roast looked:
I set up my slicer, and then cut the roast in half so that slicing would be easier (from the middle-out, so to speak):


Looks pretty good! It reminded me a lot of the gravlax project I did:
http://foodsoftheworld.activeboards.net/a-new-gravlax-project_topic1105.html
As you can see, the cured meat in both cases is dry, yet moist; firm, yet soft.
Henceforth, this product shall be referred to as "dried beef," even though it was by no means dry, and of course it isn't beef; that's simply what it's called, and that's what I'm going to call it ~
Eagerly, I began slicing; my goal was to get the thinnest slices possible, but there was a bit of a learning curve on this first slicing attempt:
However, once I got the hang of it, I was able to do pretty well:
Here's the first "half" of the dried beef: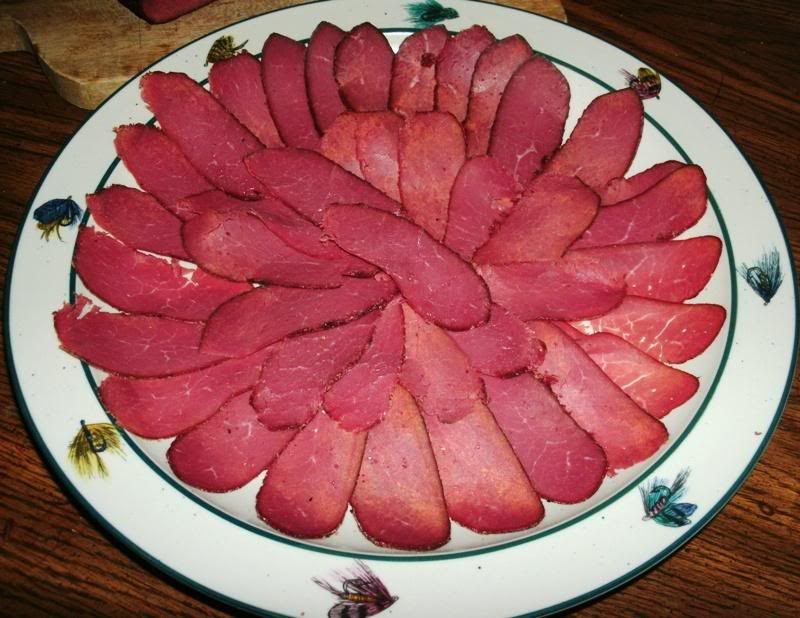 The lighter spots that you see toward the bottom are washout from the flash; also, there may be a few slices missing, as everyone was in sample mode.
I tried a piece myself, and WOW this stuff came off just right. The first piece I tried was one of the thicker pieces ("thicker" is a relative term; it really was quite thin), and was impressed at the complex result of such simple ingredients: cure, brown sugar and black pepper sprinkled on the outside - that's it, and that was really all it needed for an amazing result. Then, when I tried one of the wafer-thin pieces that were nearly transparent, I was completely blown away even farther as it practically melted on my tongue into an array of flavours that seemed to come from all sides. This stuff is wonderful, and certainly not the same "chipped beef" that we loved (or hated) as kids!
I continued to slice until both halves were finished: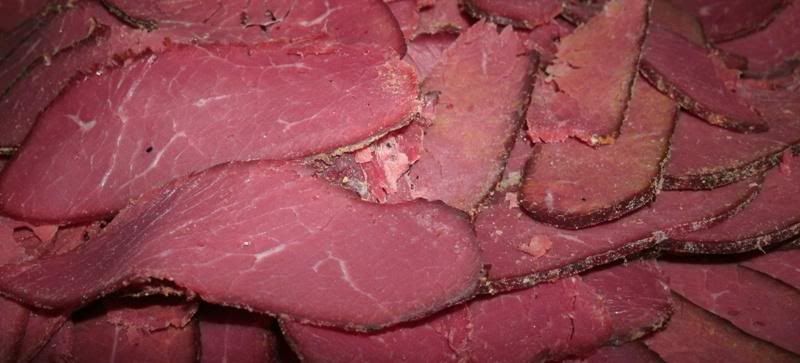 And then separated the slices into two piles based on thickness:
I wanted to keep the magnificent, super-thin stuff separate, so that I could lay those wonderful slices of goodness out on a meat-and-cheese tray sometime. The other pile will be used for sandwiches, or perhaps chopped and worked into a white sauce and put over biscuits, in the not-too-distant future.
I then vacuum-sealed the packages:
And put them in the freezer.
I cannot say too many good things about this product. It is easy, tastes great, and is a good use of venison. It's also versatile, as the preserved meat can be eaten on it's own or worked into nearly any dish. It's similar to ham, but with flavours, properties and character all its own. Naturally, this process can also be used with just about any meat, including, of course, beef; any meat that can be cured can be given the "dried beef" treatment.
That pretty much concludes my venison "dried beef" tutorial, and it is certainly one for the books! I cannot recommend this stuff enough, and am very glad that I took the leap into trying it. It was new territory for me, and I will admit there was a huge satisfaction at putting out something so good at the first attempt.
Thank you for looking, and I hope that you are inspired to try this. I believe I covered the process quite well, but if anyone has any questions at all, please ask.