Well this could easily fall into several categories, but I'll leave it here since in the end it's canned.
Yesterday I was checking the fig tree in my back yard and very surprised to find that most of them were ripe, and quite a few beyond ripe already. Usually I don't see any ready ones until at least late August or into September, but we've had an unusually hot and dry summer this year and they were ready quite early.
I picked about 5 or 6 cups worth, and discarded probably just as many that were already too far gone. I modified a recipe I was given for fig jam on another site and turned it into Drunken Fig Jam.
Original Recipe
4 Cups figs, washed, stems removed
2 cups sugar
4 lemon slices, seed removed
3/4 - 1 cup water
1/2 tsp salt
Add all ingredients to large stockpot on low and cook for about 3 hours, stirring occasionally to prevent burning. Remove the lemon slices and water-bath can.
So I had found a recipe online for Drunken Fig Jam that was basically the same except added brandy or cognac, but the recipe called for about 9 cups of figs. So I did a little playing and came up with this:
5 cups figs, washed, stems removed, quartered
2 cups sugar
zest of 2 lemons
juice of one lemon
1/4 cup water
3/4 cup blackberry brandy (since all I had was blackberry)
1/2 tsp salt
And off we go....
All the ingredients in the pot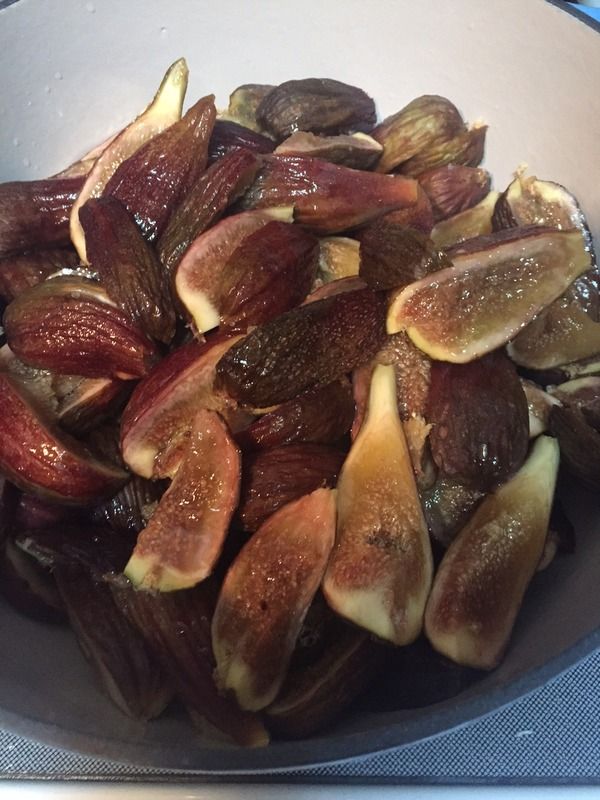 After about 10 minutes, things getting all nice and cozy
3 hours later, ready to get canned
I ended up with 4.5 pints of jam. Plenty to last a while.
A couple of notes. This stuff is very very good, though I think I'll make a couple changes for next time. The lemon flavor is very pronounced, so I'll cut the zest down to just 1 lemon, and I'll probably julienne the zest so it's smaller, there's long, wide strips of zest in it now and when you find one it's quite a change in flavor from the rest of the jam. So I figure smaller julienne strips will make it more like orange marmalade and easier on the palate. Second, I'll cut the figs into smaller pieces also. There's some rather large chunks in this still, which isn't a huge problem, but it does make it somewhat difficult to spread evenly. Lastly, I might play a little with adding more brandy later in the cook. After 3 hours last night it still had a noticeable brandy flavor, but after canning and sitting overnight, this morning it doesn't have nearly as much.
Overall I'm very happy with this experiment, and will definitely do it again with next years batch of figs.