Well today is my Oma's (Grandmother's) 85th birthday, and yesterday we had a birthday party for her. One of her (and my) favorite soups is Erwtensoep, so I made up a batch of it. It takes a while to make, and it's really better the second day anyway, so I started this Saturday afternoon.
Anyway, before I get started on that, here's a little bit of history for the interested. Way back in the day in Holland, high-schools were more like trade schools and they had different high schools depending on what trade you wanted to go to. As most girls did back then, my Oma when to Huishoudschool, which roughly translates to household-school. It was basically a huge "Home Economics" school. When she graduated she was given a cookbook that has tons of recipes and tips for "domestic science". Here is that book...
I have no idea how old exactly this book is, since they didn't put publishing dates in them back then, but the foreword is dated 1910. This is the 11th printing, and I'm guessing if it was new when she graduated it's probably from the late 1930s. Lots and lots of old time recipes in here.
Here is the recipe for Ewrtensoep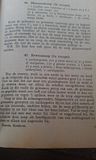 My Dutch skills are sorely lacking, but here's my rough translation of it.
2 pigs feet
500 g fresh sausage, or 50 g butter or margarine
750 g green peas
4 L water
30 g salt
4 leeks
1 bunch celery greens
1 small celery root
2 potatoes
Wash the peas, soak them overnight in water and cook gently the next day in the same water until tender (+ / - 2 hours). Pour them through a horsehair sieve and rub the peas, until the skins come off. Boil the washed pigs feet in this water for one hour. Add the sausage and boil half an hour (it is then removed and added back the warm soup at the end).
Then add the cleaned, chopped and well washed vegetables and potatoes together and cook, occasionally stirring. Gently cook until the soup is thick and the meat of the feet is released. Fill the soup from time to time with some water. Serve with rye bread with. Consider this soup as a lunch main course and follow with dessert only.
Now, that is NOT the recipe I use, however I do use my Oma's recipe that she modified over time until she settled on this one.
Trim fat off fresh hamhock or pork shoulder.
Simmer in 2 1/4 quart water for 3 hrs
De-bone
Cut up 1 bunch of celery (with all greens) and celery root and 2 potatoes (cubes)
Add to liquid
Add 1 lb split peas
Cook until veggies are tender and peas fall apart
If soup is too thin, grate potato to thicken and cook until done
Add meat and 2 bouillon cubes
So... here we go. I could only find smoked hamhocks, so I used those, along with pork shoulder blade steaks. I only used 3 of the hocks, and 1 of the steaks.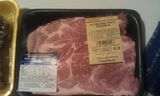 In the pot coming up to boil.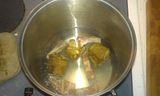 Boiled for three hours, then removed the meat and deboned the steak, cut out the extra fat and cut the meat into cubes and added them back to the pot. The hocks I didn't really feel like digging into too much so I pulled just a little of the easiest to get meat out and put that in the pot, then discarded the rest of the hocks. Besides most of what I want was already boiled out and that was the collagen to help thicken it later.
[new stuff starts here]
Here's the hocks and shoulder out of the boil, cooling a bit so I can work with them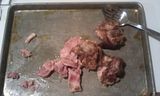 Celery root before peeling
Celery root after peeling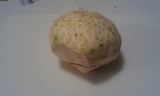 Chopped up celery root and potato
One chopped up celery
And a bowl of rinsed and drained split peas
All of these went into the pot and boiled for about an hour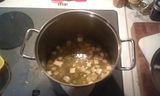 [new stuff ends here]
Then I mashed it up roughly with a potato masher. Seasoned to taste with salt and pepper. When they say this is a thick soup, they're absolutely right, you can stand a spoon in it.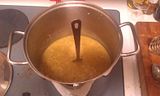 Mmmmm. yum.