Everything Bagel Kit from FarmSteady
This thread will chronicle the "bagel half" of the Everything Bagel and Cream Cheese kit that I recently purchased from FarmSteady:
http://farmsteady.com/
This handy kit comes with everything that you need to make delicious, home-made cream cheese as well as wonderful Everything Bagels. The kit is "reusable" in the sense that you learn some valuable techniques and skills in order to make these foods again any time, using a bagel recipe and the cheesecloth provided; you will have some rennet left over, as well, that can be used again.
Click here for details and discussion regarding this and other kits from FarmSteady:
http://foodsoftheworld.activeboards.net/pretzel-bagel-cheesemaking-kits-from-farmsteady_topic4698.html
Click here for my pictorial and discussion regarding the home-made Cream Cheese:
http://foodsoftheworld.activeboards.net/cream-cheese-kit-from-farmsteady_topic4708.html
I'm a pretty big fan of these kits and the folks that produce them. They have provided valuable information along with the necessary materials, ingredients and inspiration, making these worth much more than the sum of their parts. I've learned a lot about cheesemaking as well as the steps in making bagels (and - soon - pretzels); further, the success that I've had thanks to these kits inspires me to continue learning, outside of these introductory experiences. If it weren't for these kits, I'd still be
wanting
to make things such as this, instead of actually
making
them.
According to Alison Herman and Maria Balinska, bagels and their development are "inextricably tied with that of the Jewish-American experience." A brief history of bagels follows:
Beginning in eastern Europe as the product of Jewish bakers, the bagel was a luxury item in the 17th century. As wheat became cheaper, the bagel became a widely consumed - and widely beloved - snack food…. [Bagels] had even become part of eastern European...rhymes for children…. There are stories told about bagels [and] songs about bagels."

Eventually, the bagel followed its community in the 20th century as Jews emigrated to the United States and Canada. In New York and Montréal, it became a mainstay of the cities' Jewish communities, even as it remained largely unknown outside of them. That changed in the mid-20th century, when New Haven's Lender brothers "made characters out of bagels" in order to sell them to a national audience (and industrialization made mass production possible).

http://firstwefeast.com/eat/2015/09/an-illustrated-history-of-bagels
Balinska herself delves even deeper into history of the bagel, as exhibited in this article from Slate.com by Joan Nathan:
The basic roll-with-a-hole concept is centuries old. No surprise, really, as there's a practical advantage to this design - it's possible to thread such a roll on a stick or a string, facilitating transport. Balinska identifies several possible candidates for the ur-bagel from around the world, including the taralli - hard, round crackers flavored with fennel that have been the local snack for centuries in Puglia, Italy. She also mentions the Roman buccellatum and the Chinese girde but neglects to note that even the ancient Egyptians had a bagel-like treat. [As evidence of this], I came across Egyptian hieroglyphics at the Louvre in Paris, and among the depictions of daily life were rolls with a hole.

The evidence suggests that the first rolls with a hole, those of ancient Egypt and of the greater Mediterranean, came in two types: the soft, sesame-studded variety, called bagele in Israel today, eaten plain or dipped in za'atar (a spice combination of wild oregano, sesame seeds, and salt); and a pretzel-like crispy Syrian ka'ak flavored much like taralli. Neither is boiled, a distinguishing characteristic of American bagels.

Polish-born and half-Jewish, Balinska...tells us that the boiled and baked bagel as we know it comes from her homeland. She tells the story of the Krakow bagel, which was a product of the 1683 Battle of Vienna. Although the story is completely speculative and perhaps even fictitious, it is a piece of gastronomic lore that has endured throughout the ages. As the story goes, 17th-century Poland was the breadbasket of Europe, and King Jan Sobieski was the first king not to confirm the decree of 1496 limiting the production of white bread and obwarzanek (bagel-like rolls whose name derives from a word meaning "to parboil") to the Krakow bakers guild. This meant that Jews could finally bake bread within the confines of the city walls. Furthermore, when Sobieski saved Austria from the Turkish invaders, a baker made a roll in the shape of the king's stirrup and called it a beugel (the Austrian word for stirrup). As Balinska says, "Whatever its origin, the story of the bagel being created in honor of Jan Sobieski and his victory in Vienna has endured."

http://www.slate.com/articles/life/food/2008/11/a_short_history_of_the_bagel.html
If you really want to learn all there is to know about bagels, you can purchase Maria Balinska's book,
The Bagel: The Surprising History of a Modest Bread
:
http://www.amazon.com/Bagel-Cultural-History-Maria-Balinska/dp/0300112297/ref=sr_1_1?ie=UTF8&s=books&qid=1226086666&sr=1-1
(Note - Please take a moment and click on the link above in order to learn more about this book from Amazon. By doing so, you help this site pay for itself!)
As you can see, much has been written, both in fact and in legend, about the bagel and it is undeniable that bagels are a mainstay of modern American culture. To me, bagels bring up images of sunny mornings at a busy diner in New York City; it is simply the connotation that comes to mind - and a natural one, considering the immigrant history of our country's most prominent metropolis. But the truth is that you can enjoy a bagel anywhere and anytime, whether it is morning in Manhattan, or evening in Montana!
I made these bagels late one recent October night and had a great time. Two of my sons and my father were on hand, so we all worked together on them. I took some photographs of the process, but I will warn you ahead of time that my phone alternates - for no reason that I can find - between absolutely wonderful photos and downright terrible photos. Nevertheless, I have included some of the not-so-good photo for the purpose of demonstrating some parts of this process. My apologies accompany the lesser-quality photos.
Here is everything that comes in the kit for the bagel side of the project:
Clockwise from the top: malt syrup, "Everything Spice Mix," yeast and "Everything Bagel Mix." More about some of these products later, but as you can see, they are pre-packaged for convenience. Any and all can be procured through other means for future bagel-baking sessions. Note the instruction card that explains in detail how to make bagels. The information there can be used in the future, as well. The instructions for making the bagels can also be found at FarmSteady's website:
https://farmsteady.com/instructions-how-to-make-everything-bagels/
There are some slight differences, but the differences are not worth worrying about. The online instructions also include a very helpful video that goes a long way to illustrate a few key steps in the process:
https://youtu.be/3aemIAEqsqU
Once again, I feel that the education and experience gained was worth at least as much as - if not more than - the ingredients (and resulting bagels) themselves. It was convenient having everything in one kit, but the real value, to me, is that purchasing the kit motivated me to finally stop planning on it and start doing it.
Here are some additional ingredients that you will need in order to make the bagels:
Water
Oil or nonstick spray
Flour (for dusting surfaces)
1 egg
Here is a list of additional equipment that you will want to have available:
Food processor or stand mixer
Mixing bowl
Plastic wrap
Kitchen Towels
Large slotted spoon or spider
Baking sheet
Baking mat (I'm not sure how necessary this one is, but I had one, so I used it)
Pastry brush
Once you have everything ready, you can begin your bagel-making adventure!
The instructions say to begin the bagels by adding the baking mix and yeast to a food processor, then pulse it until the components are thoroughly mixed. After that, run the food processor whilst drizzling 12 ounces of hot water into the flour and yeast. Keep it running for about two or three minutes, until the dough forms into an elastic ball.
My food processor is not big enough to do this, so I used my Kitchen Aid stand mixer:
I let the dough hook work the dough for about 10 minutes, which seemed about right. I did have to add a little bit of flour to the mix in order to get the non-sticky, elastic feel to the dough, but it wasn't much; surely no more than a third of a cup, and probably a lot less than that.
From this point, I proceeded with the written instructions, moving the dough to an oiled bowl:
After that, I covered the bowl with plastic wrap and put it in the oven (power was off, but the light was on) so that the dough could rest and rise until it doubled in size. The instructions say that this should take about 45 minutes, but it is a rather cool time of year up here; I let the dough rise for just about an hour, and called it good.
After that, I lightly floured up my cutting board, punched the dough down a bit, and then divided the dough into 12 balls, as evenly as I could:
Now comes the part where we actually turned the dough into bagels!
Once this was done, my youngest son and I rolled and pulled each dough ball into a rope, about 1 inch in diameter and 6 or 8 inches long. Once we had the rope, we would hold one end in the hand while wrapping the other end around the back of the hand, bringing it around to where we began and making a loop. We then twisted and pressed the ends of the loop together to seal and form a ring of dough. We then repeated this until we had formed all 12 bagels:
This step is illustrated very well on the instructional video in the link above, but it is also a very natural and intuitive process; after the first or second try, you will not have any problems duplicating the procedure. As you can see in the picture above, some formed better than others, as we became familiar with the concept. I could have fixed the "not-so-good" ones, but elected to leave them as they were, in order to commemorate the time when my son and I learned to make bagels together.
Once the bagels were formed, we carefully covered them with a clean kitchen towel so that they could rest while we turned our attention to the next step.
First, fill a pot of water with 5 quarts of water and get it started on its way to a boil; a stock pot works very well for this, but any pot that will hold that amount of water will do. While you're at it, you should also begin preheating your oven to 400 degrees.
When the water reaches a boil, add the malt syrup; you want to be stirring the water as you add it, and afterwards as well, until you are sure it is completely dissolved into the water. The reason for this is that it is heavier than water, and can sink to the bottom of the pot, where it might burn or scorch.
The malt syrup is crucial for achieving the distinctive flavour and texture of the bagels; in order to make bagels again in the future, malt syrup (or powder, which works just as well) can be purchased online or perhaps in grocery stores of larger towns and cities. If for some reason you cannot find it anywhere, then you can substitute with honey or brown sugar.
Now, we reach one of the defining steps of bagel-making. Using a large slotted spoon, spider, wide spatula or other similar utensil, add a bagel to the boiling water. It will sink down, then float back to the top in a moment. When it floats up, start counting out 30 seconds; at 30 seconds, flip the bagel over and allow it to swim around for another 30 seconds before removing it from the boiling water and placing it on the kitchen towel.
Repeat this step until all of your bagels have been "boiled" - here's how mine looked:
The primary purpose for this is to give your bagels the firm, chewy surface that they are famous for; it is definitely a step that you don't want to skip! Once you gain more experience with this, you could probably do two or more bagels at a time, in order to save a few minutes; but it really doesn't take too long, either way.
Once all of your bagels have gone for their swim, transfer them to a baking sheet lined with a baking mat:
As I said earlier I am not sure how necessary the baking mat actually is, but since I had one, I used one. I am certain that parchment paper would work just as well, and wouldn't be surprised if you could just put them on the baking sheet with nothing underneath.
Next, you want to crack an egg into a small bowl or cup, add a tablespoon of water (milk might work just as well, or possibly better) and mix them up with a fork so that you can brush your egg wash onto the bagels: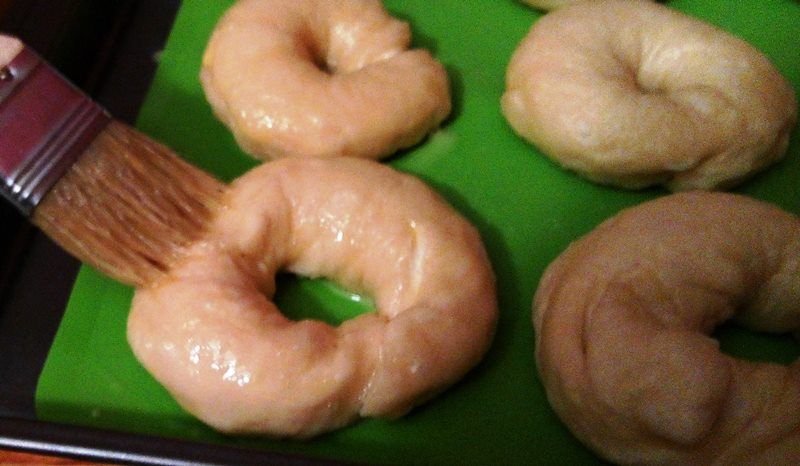 Then, sprinkle each bagel with a tablespoon (maybe a little more) of the Everything Spice Mix:
The Everything Spice Mix consists of a combination of poppy seeds, sesame seeds, onion flakes and garlic flakes; I do not know the proportions of each component in the mix, but I am sure that it would be easy to duplicate for future bagel-making sessions. You could also, of course, top the bagels with any of these components on their own; or, you could just top with a little kosher salt, or something else...or you can leave them plain, if you prefer.
Here we are, ready for the oven!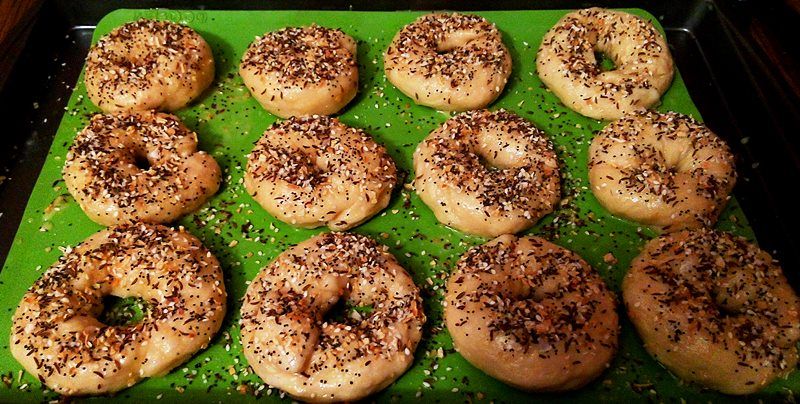 You
did
preheat your oven to 400 degrees, right?
Bake the bagels at 400 degrees for a total of 25 to 30 minutes; after about 10 minutes, I flipped the baking sheet around for even baking. The written instruction card that came with the kit added an extra step here, advising one to flip the bagels over, upside-down - after 20 minutes of baking, leaving them that way for the last 5 or 10 minutes of baking. I assume that this is so that the bottoms can crisp up a bit; I tried it, and liked the result, but I am not sure that it is necessary.
Here we are, fresh out of the oven:
I
really
liked what I was seeing, and smelling!
It's possible that I could have baked them just a couple-three minutes longer; but then again, maybe not. They had that shiny, shell-like exterior when I tapped them, and the colour was, in my opinion, wonderful to behold.
I don't mind saying that I was pretty proud of myself and what I had done, and I feel it necessary to repeat that I probably would not have yet tried this project if I wouldn't have purchased this kit, so I am sure glad that I did. I
could
have done it without the kit, but chances are that I
wouldn't
have. The "motivation factor" really kicked in, once I actually had everything there together.
My helpers - Dad and two of my sons - and I didn't even really give the bagels time to cool down a bit; once they were finished, we each enjoyed one fresh out of the oven, with a healthy schmear of my delicious home-made cream cheese. If you look closely, you can see it melting on the hot bagel here:
How did they taste?
Well, pretty much perfect. Everything - and I do mean everything - that I love about bagels could be found in a single bite, except that the experience was so much more than any I had ever had before.The outside had the crunch and the and the baked, "browned" flavour that I crave; the inside was tender, chewy and filled with just the right goodness that I was expecting. The wonderful aroma, tangy cream cheese, and enticing Everything Spice Mix added to the experience, transporting me right to a booth in the aforementioned downtown Manhattan diner described above.
The rest were carefully stowed away, to be eaten for breakfast the next morning. The whole family really enjoyed them, and look forward to the next batch. Now that I've actually made bagels, I can't imagine buying them in the store ever again, so they will be made at least a few times each year.
I hope that you've enjoyed reading this pictorial as much as I have enjoyed writing it; even more, I hope that it inspires you to try your own hand at making bagels; it's easy, and as you can see, it has its own rewards. If you do try them, let us know about it! Post your experience here; and, as always if you have any questions, comments or feedback, please feel free to post those as well. If I don't know the answer, I'll find it!
Thanks again for taking time out of your day to read this, and take care -
Ron