Let me preface this thread by saying I bought a paellera when they were on sale almost 4 years ago with the intent of making this dish. As is typical, life gets in the way and that pan sat in the back of my cupboard, lonely, dusty, and needing some love since then. Well, this past weekend was finally it's chance to shine as all the kids were out of the house (minus the almost 3 year old, but he doesn't count) so they couldn't complain about what I made for dinner, and my wife was laid up after having surgery, so we were stuck at home
I started with a mash-up of several recipes I'd found both here and on the internet.
Ingredients -
(3-4 servings)
1/4 lb spanish chorizo / linguicia / smoked sausage, cut into coins
4 chicken thighs, skin on, boneless
1 medium yellow onion, diced
1 red bell pepper cut into strips
1/4 lb trimmed fresh green beans cut to 1-2" lengths
1 medium tomato, deseeded, grated, no skin
4-6 cloves garlic, minced
1.5 tsp +/- smoked paprika (to taste)
7 saffron threads
1 cup bomba or calasparra rice
4 cups chicken stock or broth (kept warm)
Salt
Pepper
Olive Oil
Unfortunately this cook did not go off without a hitch, but we'll get into that as I go.
First the ingredients looking all pretty.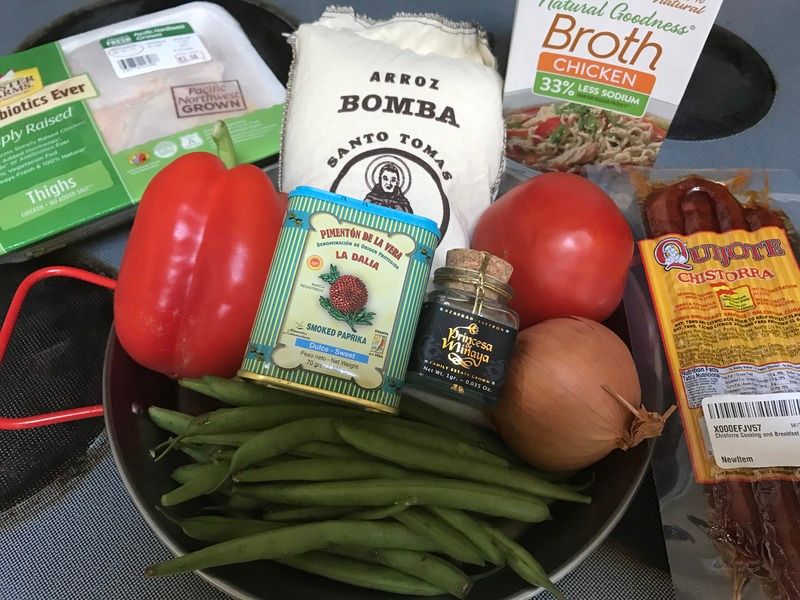 Then a little prep for the mess-in-place, chopped the onion and sliced the bell pepper. Washed, trimmed and sized the green beans, and deseeded and grated the tomato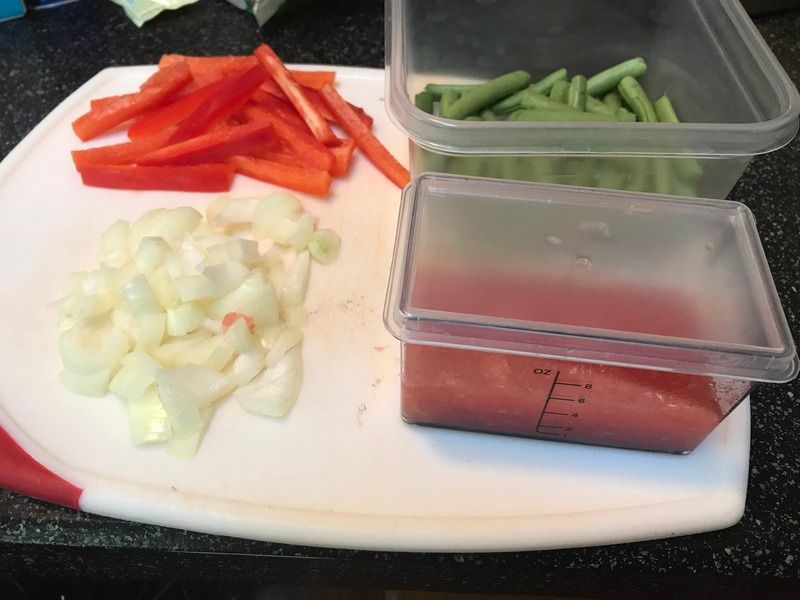 Next I browned the chicken in a little bit of olive oil. Here's where my first mistake came in. I totally forgot to season the chicken, so in the end they came out a little flavorless. Next time definitely need to season them, and maybe even marinade them before hand.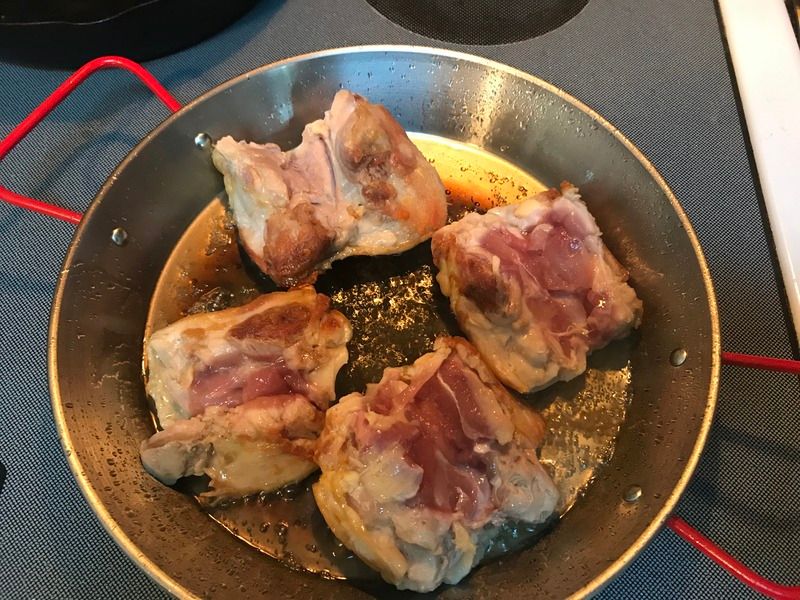 After the chicken was browned I removed them and added the chorizo and onions. Boy, I was not prepared for the amount of grease the chorizo would release. I ended up draining off probably a good half cup worth. Once the onions were translucent, I added the green beans and peppers and let them cook down a bit. Then the heat was reduced to low and the garlic added to cook a bit without scorching, followed by the grated tomato with I let simmer for a while to cook down.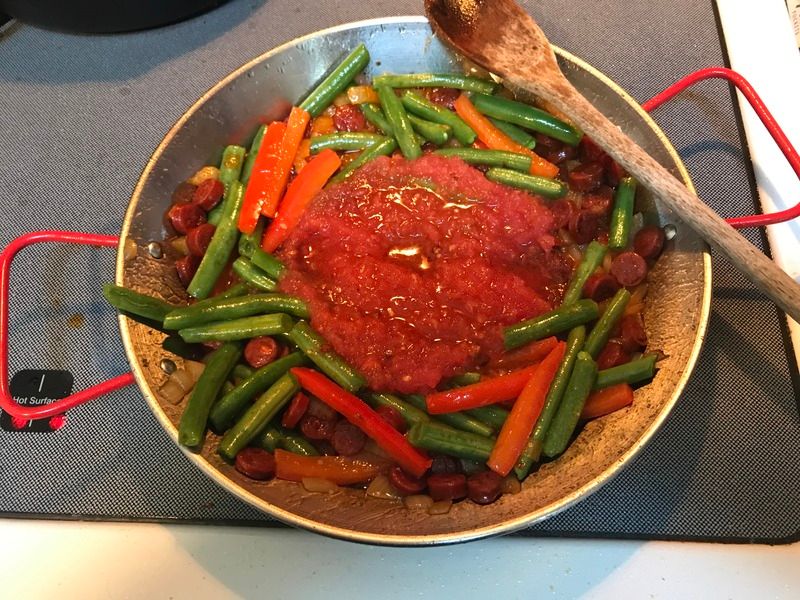 Meanwhile, the chicken stock had been warming in a pot, and I added the saffron threads. Second mistake, I really underestimated the number of threads I should have used. I ended up using about 10, but I didn't really notice much of a result, so next time I think a couple more. 1 cup of rice was added to the paellera, along with about 2 cups of the chicken stock, all that it would hold. The remaining stock stayed on the stove on low to keep warm.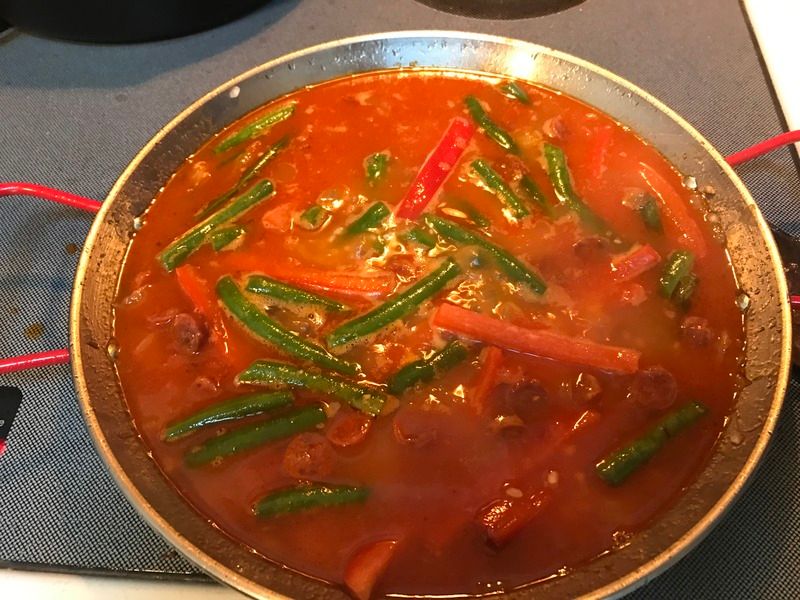 The paella simmered away at this point, the rice soaking up the stock and everything getting nice and flavorful. This is where the third issue came in. Since this was my first time I wanted to try this in the comfort of my kitchen rather than on the grill, but my stove top is a flat top, and sadly the paellera is not perfectly flat on the bottom, so getting even heat was a bit difficult. In the end I wound up with a heavily burnt spot in the center and no crust at all on the edges. I foresee some time with a straight edge and a hammer in the paellera's future soon. Anyway, after about 8 minutes I added the chicken back on top and topped up the chicken stock with about another cup's worth.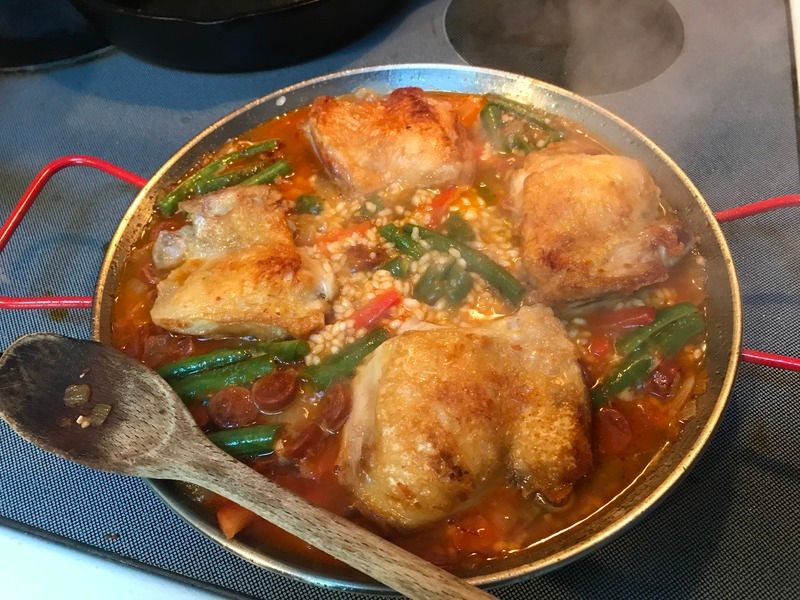 At this point is was a waiting game, periodically checking the rice for done-ness and adding extra stock as needed. I ended up using almost the entire 4 cups of stock.
Finished product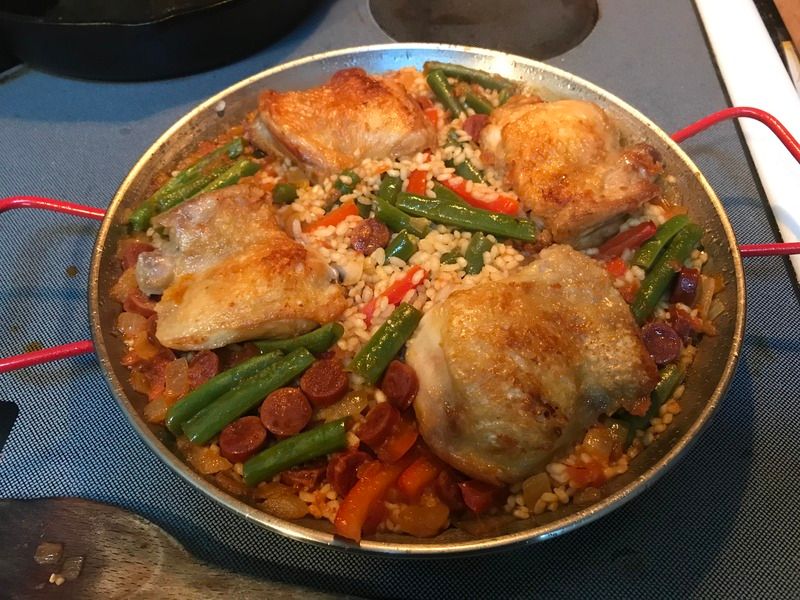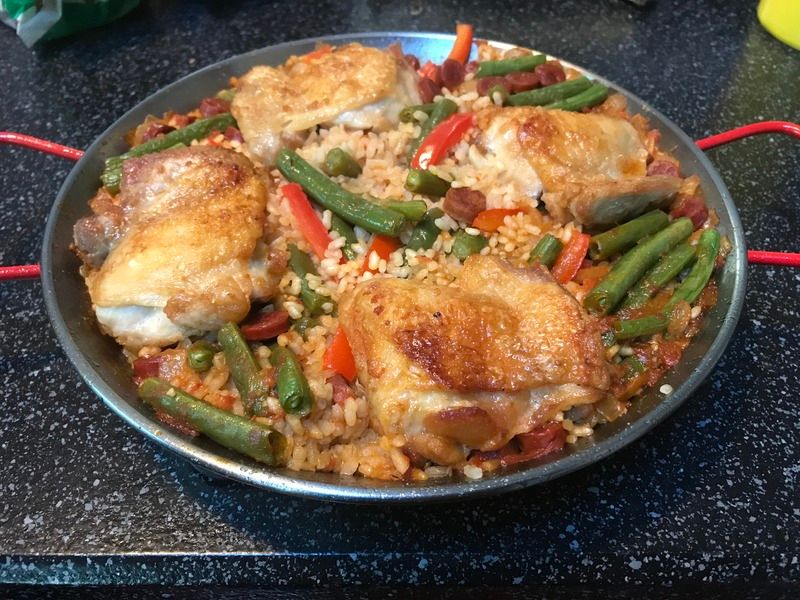 Now for the results. I will say it wasn't bad for a first try, but a little bit underwhelming really. The lack of seasoning on the chicken, and I think just an overall lack of seasoning on everything made it a little bland tasting. Plus the burnt part in the middle contributed a slightly bitter taste to any bites that had some in it. That said, I think it definitely has potential and with some changes to the recipe and technique it could be a real winner. This will definitely not be my last time making this. I just hope the next time is a little sooner than 4 years.