Note - The recipe in this opening post is the one that I used the first time I ever attempted French Onion Soup. As I've learned and experimented more, my knowledge, experience and method for French onion soup have evolved, leading to some very nice improvements. This soup is very good, but there is much more out there than I originally thought. Please read this entire thread, if you are interested in learning about the journey!
John's French Onion Soup
Recipe shared by John Rivera
6 or 7 softball-sized white onions
6 to 8 cups double-strength beef stock or broth
4 to 5 tablespoons butter
2 tablespoons olive oil
1 1/2 cups merlot
1 tablespoon sugar
1 tablespoons flour
3 or 4 large cloves garlic, crushed
1 teaspoon salt
1 teaspoon finely-ground black pepper
*Thick slices of stale, crusty, French-type bread; if none available, you can toast fresh bread
*Equal parts Parmesan and Swiss cheeses, coarsely grated - do not use the pre-grated stuff in a can, it will burn (you can also substitute the Swiss with 50/50 Romano/Mozzarella)
Preparation:
Slice onions into rings 1/4- to 1/2-inches wide and separate them.
In a large, heavy pot, such as an enameled cast-iron Dutch oven, melt the butter and oil over medium heat. Add all onions, stirring to coat evenly. Reduce the heat a bit, then cover and
sauté
gently for at least 45 minutes, or until the onions are well carmelised; reduce the heat to low, if necessary. Let onions slowly caramelise, stirring occasionally so they wont stick and burn. When they are just getting nice, add garlic and sugar and continue cooking for another 15 minutes or so. Meanwhile, make the broth, if using boullion cubes.
Remove the onions from the pot, add flour and mix it well with the remaining fat to form a
roux
. You may have to add another tablespoon of butter, if needed. When the roux is nice, deep brown (but not burned) deglaze with a splash of stock and stir well until the mixture is smooth with no lumps. Add all the remaining stock and the merlot, then add salt and pepper to taste. Simmer for 5 or 10 minutes, in order to develop deep, rich, colours.
Put the onions back into the pot and bring the soup to a low boil, then reduce the heat to simmer and let the soup cook uncovered for 30 minutes. At this point, the soup will keep all day, simmering, if you keep it covered.
Toast the sliced bread on both sides under the broiler for a few minutes on each side. Ladle the soup into earthenware or ovenproof bowls. Place a slice of bread on top of each bowl of soup and cover it generously and completely with the cheese mixture. Place bowls of soup under the broiler until the cgeese brown and bubbly, then serve immediately. Caution - the soup and the bowls will be hot.
Enjoy!
~~~~~~~~~~~~~~~~~~~~~~~~~~~~~~~~~
This is a cold, grey day's meal in itself! Since my original post, I've added some notes and pictures. This thread is a continual work in progress on a very good version of a classic soup, so please do read all the posts, so that you can pick up as much information as possible. French onion soup is wonderful stuff, and a little extra care in preparation can make it even better.
Here's a shot of everything needed, as per the recipe above: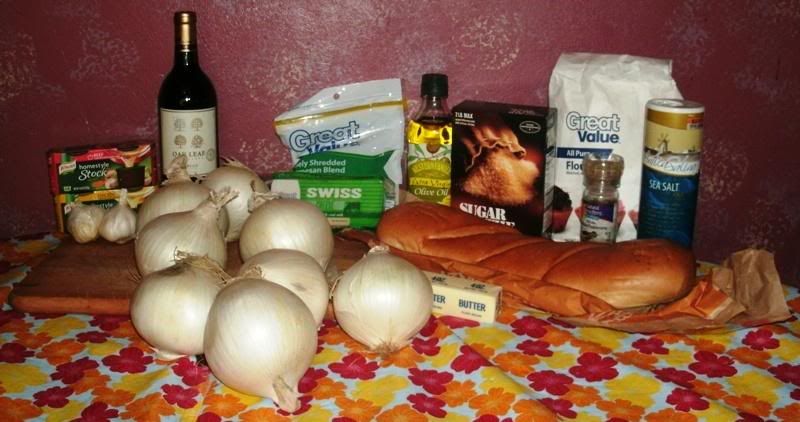 A note on onions: John's recipe calls for white onions, which work very well; however, many recipes call for yellow onions. I've tried them both ways and like them equally, in slightly-different ways. In the end, use what you have or can get - even a combination of white and yellow onions is fine. Read the posts below for some more discussion on this.
A note on wine: John's recipe uses merlot, and I very much enjoy it this way; having said that, some folks prefer white wine, such as Chardonnay or Pinot Grigio. Read the posts below for some alternate ideas and suggestions on this.
As with nearly any recipe worth making,
mise en plas
is the key step, making all the difference in the world; if you're well-prepared, nearly any recipe in the world can be a simple matter, and this is a good example. To prepare for this soup, I peeled and crushed the garlic: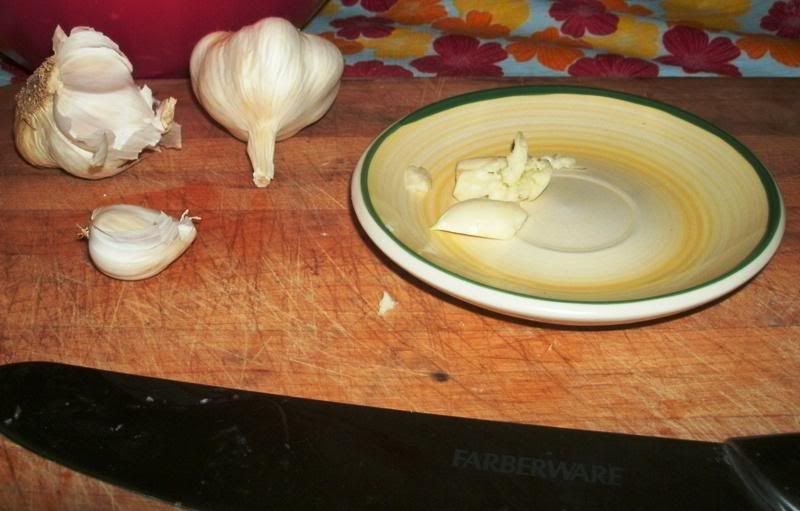 Then, I got my stock ready to simmer - having no homemade stock on hand, i relied on these very convenient concentrates:
The recipe calls for beef stock, which is very good; lately, I've been utilising a 50/50 combination of chicken and beef stock, which I believe brings out the best of both, adding a subtle ambience to the final product.
Next, I measured out the wine (see notes above and comments below):
Grated the cheese:
And measured my flour, salt, pepper and sugar: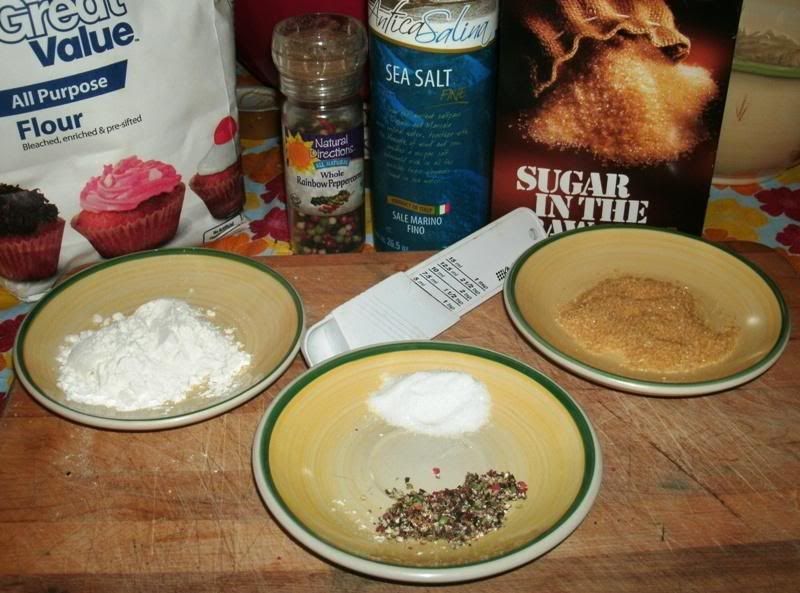 I prefer to use about double the flour; this, for me, creates a richer soup that is ever-so-slightly thicker in a way that is hardly noticeable, but makes all the difference in the world, in my opinion. Regarding the sugar, many more conventional recipes do not include it, relying on the carmelisation of the onions to bring the right sweetness to the party. This is, in my opinion, a judgement call - I've tried it both ways and, like with the onions, find both ways good for different reasons.
Ready to proceed, I peeled the onions (see notes above and comments below):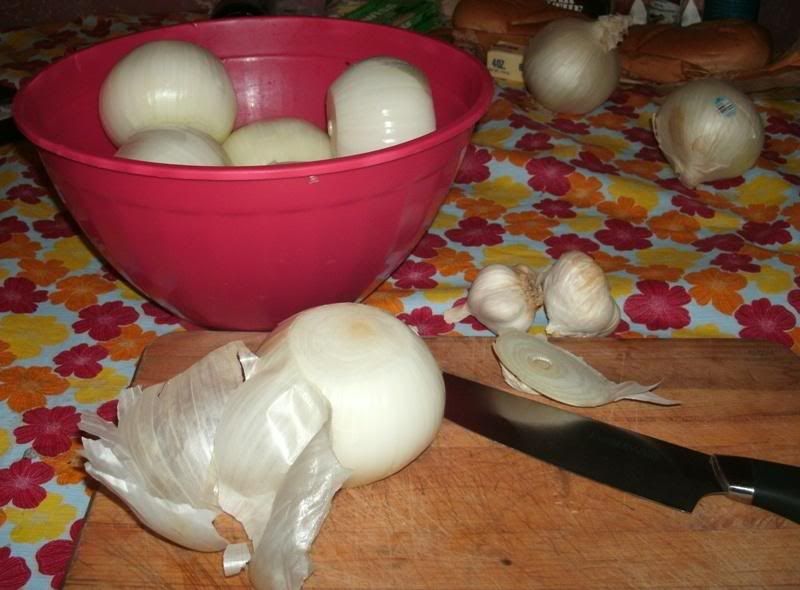 And then sliced them:
Yes, there are quite a few onions there! No worries, they will cook down just fine. You might choose to quarter the onions and slice them, rather than slice them into rings, which are hard to gather up on a spoon. I don't know if this would hurt the authenticity or integrity of the soup, when I do it, it sure makes things more manageable. I read with some methods that the onions are sliced with the grain running vertically, rather than across the grain. I did try this once, but for no real reason in particular, I prefer to slice them across the grain. Also, in the name of experimentation, i sliced some close to 1/4-inch thick, and some closer to 1/2-inch. The 1/4-inch ones looked nicer and more elegant, but the 1/2-inch ones stood up to the long, slow cooking better, it seemed. the best thickness is probably somewhere in-between.
Prep work complete, I melted a combination of butter and olive oil in my enameled cast-iron Dutch oven, and then tossed all the onions in to begin their cooking and browning: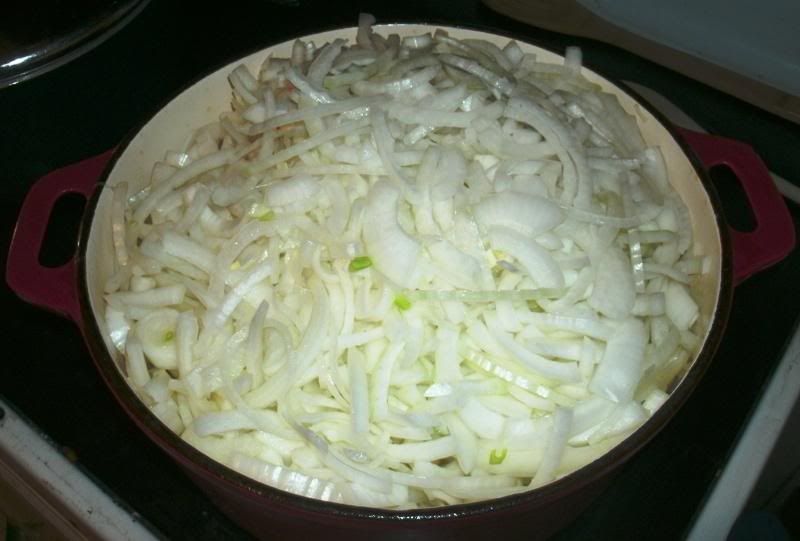 They sure take up a lot of room when you first put them in!
But no worries, as you stir them to coat them in the fat, then slowly cook them over medium-low heat, stirring constantly, they will cook down:
And down: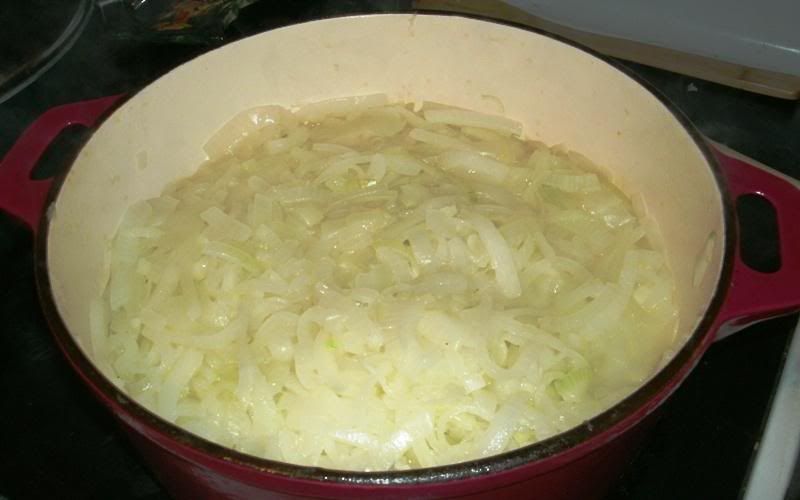 And down:
As you can see, the onions will indeed cook down quite a bit as they
sauté
slowly. The key is to stir often, in order to keep them moving around so they can carmelise without burning. Also, the cooking process will release quite a bit of liquid. You want to keep the cooking slow, so that the liquid can evaporate as much as possible before the onions actually start to darken. This process will take, oh - approximately as long as it is going to take. There is no real time frame that can be attached, in my estimation. Many factors come into play, inclusing the type of onions, the type of cookware used, the temperature and properties of the stove-top and other things. It can be as little as 45 minutes or as much as a couple of hours - maybe even more. The key, as stated before, is to do it slowly so that you get good carmelisation, rather than burning. You will definitely be rewarded for your hard work in the end, with wonderful aromas and deep, rich flavours.
This concludes the "new" pictures and comments that I have to date, because my camera's battery died. From here, I will continue with my older series of photos that were taken during my first preparation of John's delicious soup, with the original notes along with some that have been added as time has passed. Some of the material from this point may be redundant now, but, as the post progresses, the pictorial will be streamlined....
i didn't realize this at the time, but the onions probably should have cooked and carmelised for a longer time. as it turns out, i don't think the onions were quite carmelised enough in the picture above, but other than that it sure looked like we're on the right track. let this be a lesson: go ahead and cook/carmelise the onions longer than the mentioned 45 minutes, if necessary, at medium-low heat.
this also applies after adding the sugar and garlic. you want most of the liquid to go away and for the onions to take on the slightly-browned, cooked quality that really brings out their flavour. if there's still a lot of "onion juice" after removing the onions, it's good to reduce that as much as possible. even if it ends up being a little over an hour and a half, total, it will be very much worth it.
here's another tip: when adding the flour to the fat left in the pan after removing the onions, stir often at medium/low heat until a nice, rich roux is formed, then de-glaze with a little broth or wine. adding twice as much flour as recommended seems to help for a slightly thicker, richer soup if you prefer it that way, but reducing the liquids is critical.
when adding the rest of the wine and stock, allow it to simmer a few minutes before adding the onions back in, so that the wine, stock, flour etc. cook a little and take on a beautiful colour, otherwise, if you add the onions back in too early, and they will turn red, like they did here:
if using broth, you might want to omit the ADDITIONAL salt, since the broth is probably salty enough. if you are fortunate enough to have true stock, adding a little salt should be fine.
after adding the onions back in the pan, simmer at least for another half-hour - longer, if necessary, until the soup is rich and dark. meanwhile, shred the swiss cheese so that it can be blended with the parmesan and top the crouton. slice the bread and toast it on both sides under the broiler.
it wasn't long until the soup was finished:
it was looking and smelling wonderful, but there was one more thing to do. i ladeled some soup into two bowls, floated a toasted slice of crusty bread, and sprinkled some cheese on top. then under the broiler in the oven it went for a few minutes. i could have toasted the cheese a little longer, but it was just fine like this:
ready to serve and enjoy!
this was a great soup and truly restaurant quality. it is always an accomplishment to take the most simple and basic ingredients and turn them into something that is more than the sum of their parts. this recipe certainly does that, and i highly recommend it.