Geschmorter Schweinsbraten mit Kapern
Braised Pork Roast with Paprika, Capers and Caraway
On a sunny mid-winter morning here in north-central Montana, I found myself in a quandary. I had taken out a nice 3.5-pound boneless pork sirloin roast to thaw, then got to wondering what I would do with it. I wanted to do a project that I hadn't tried before, but there were certain constraints. We were on the back side of the pay period, so I was looking for something that would make a nice "Sunday supper" that could be made mostly from ingredients on hand, that wouldn't need a long grocery list. Naturally, I turned to one of my favourite resources, and it wasn't long before I found something that looked like it would fit the ticket quite well; I also learned a few things about modern Austrian cooking and eating trends.
From Time/Life's Foods of the World - The Cooking of Vienna's Empire, 1968:
It used to take a lot of cooking to keep the Austrian people going, and to a reat extent this is still true; unlike many people who get along on three meals a day, many Austrians have twice as many.... Austrian cooking and eating today is certainly less ostentatious than it was in the days of the empire, but it is nonetheless substantial.... In many...homes people are still trying to maintain the complex tradition of Viennese cooking with all its imported dishes...and the many...foreign ingredients and influences that have become part of Austrian cooking....

If you ask an Austrian what he considers the main element in his country's cuisine, he would probably say meat.... There is no question of the importance of meat in the Austrian diet....Almost 60 per cent of all meat bought is pork. Beef comes next, at about 25 per cent. Veal, always expensive, accounts for less than 10 per cent. The rest is poultry and a small amount of mutton.

Pork is of a high quality and is prepared in many ways. In winter the Viennese make roasts of pork flavoured with caraway seeds, garlic [or] mustard, accompanied by red or white cabbage, sauerkraut, dried peas, lentils, potatoes or dumplings.... The pork roast called Jungschweinbraten, from a pig less than 6 months old, is a big favourite. (A roast from older animals is called Schweinsbraten.) Jungschweinbraten, either loin or leg, boned or on the bone, is always prepared with the rind on. It is seasoned, browned, and placed in the roasting pan with the rind side down. Beef stock is added, then carrots and onions, then the sauce is thickened with cream. The crackling should be brown and crisp. Sometimes poppy seeds are added.
Here's the recipe, which looked pretty good to me and will, I think, make a nice addition to our collection here at FotW. We had everything on hand except capers, and a quick trip uptown took care of that; however, I did find that chopped green olives or chopped dill pickle make a perfectly-acceptable substitute. Since this recipe is for Schweinsbraten, rather than Jungschweinsbraten, it has some slight variations from the method described above; nevertheless, I was expecting good results, and wasn't disappointed.
To serve 6:

4 tablespoons lard
A 3-pound boneless loin of pork (about 5 pounds with bone in)
3/4 cup finely-chopped onions
3/4 cup diced carrots (1/2-inch chunks)
1 teaspoon sweet Hungarian paprika
1 cup chicken or beef stock, fresh or canned
Salt
Freshly-ground black pepper
2 tablespoons flour
1 cup sour cream
1 tablespoon finely-chopped parsley
1 teaspoon capers, drained, dried and chopped
1 tablespoon caraway seeds

In a 4-quart casserole, heat the lard until a light haze forms over it. Add the pork and, over high heat, turning with a fork, brown it on all sides - about 10 or 15 minutes altogether - then remove it and set it aside. Preheat the oven to 350 degrees.

Pour off all but a thin film of fat and add the onions. Cook them about 8 minutes over medium heat, or until they are lightly coloured. Add the carrots and cook 2 or 3 minutes longer. Off the heat, stir in the paprika. Continue to stir until the vegetables are coated. Pour in the stock and bring it to a boil, stirring in any brown bits that cling to the bottom and sides of the pan. Return the pork to the pan, fat side up, salt and pepper it, and bring the liquid to a boil again. Cover tightly and braise the pork in the middle of the oven for 1.5 hours, or until thoroughly cooked and tender. Baste it occasionally with the pan juices.

Transfer the pork to a heated platter. Pour the contents of the pan into a sieve set over a saucepan, pressing down hard on the vegetables before discarding them. Skim off as much surface fat as possible and bring the sauce to a simmer on top of the stove.

With a wire whisk, beat the flour and sour cream together in a bowl, then beat the mixture into the pan. Bring the sauce to a simmer once more and add the parsley, capers and caraway seeds. Taste for seasoning.

Carve the pork into into 1/4- to 1/2-inch slices and serve with some of the sauce poured over them and the rest passed separately in a sauceboat.
I really enjoyed making this dish; it was similar to a few other dishes I've made, so I was comfortable with the ingredients and steps of preparation, but it also was different enough - using flavour profiles I hadn't tried before - that I could experience something completely new with those familiar components and methods.
Unfortunately, I had one of my famous camera SNAFUs during this project: Somehow, my camera settings were altered to take pictures at 640x480 pixels, rather than my usual resolution, which is large enough to allow for editing, rotating, cropping etc. before re-sizing down to 800x600 pixels. Because of this, some of the resulting pictures are slightly fuzzy or pixilated, but all things considered, they turned out very well over-all.
Here are the goods, by the book (not pictured, fresh parsley):
As you can see, all of these ingredients are fairly common, nothing fancy. The only things that might be considered out of the ordinary would be the capers and the caraway seeds. Capers should be readily available anywhere, but if not, finely-chopped dill pickles or green olives will substitute just fine. If you use dried parsley, cut the amount in half.
A couple of notes: Our pork was a boneless sirloin roast and, for some inexplicable reason, was cut in half at the store; either that, or two small roasts were put together. no worries, but I did bring down the cooking temperature a little, and shortened the cooking time to compensate as I did not want a dry, over-done pork roast. Also, since it was 3.5 pounds, rather than the specified 3 pounds, I did add just a tiny bit more of everything to the recipe, to make up for it. Finally, I hate using store-bought broth, finding it to be too salty, but I rarely have other options. Occasionally, I have enough vegetable and meat trimmings to do a boiling and make stock, but that wasn't the case today. I used a 50/50 combination of chicken and beef broth since I have found that beef and chicken together make some really good flavours for meats that are not beef or chicken.
Prep work was fairly simple - here we are (clockwise from top) with the chopped parsley, caraway seeds and capers, which were drained, patted dry and then chopped:
I should note that due to the taste preferences of The Beautiful Mrs. Tas, I only used half the caraway seeds called for in the recipe; see my notes below on the effect of this modification.
Next, I gave the carrots and onion a good chopping:
I probably could have gone a little finer, but this was alright.
I measured out the rest of the ingredients and lined them up, then commenced with preparation of the dish. The recipe calls for using lard, which I normally don't have on hand (who does?). As a substitute, I use butter, olive oil, or a combination of the two; however, today I happened to have on hand just the right amount of pig fat, rendered from some previous project and saved in the refrigerator. So I heated it up in my trusty Dutch oven just to the point of starting to smoke, then backed the heat off a little and added the pork roasts: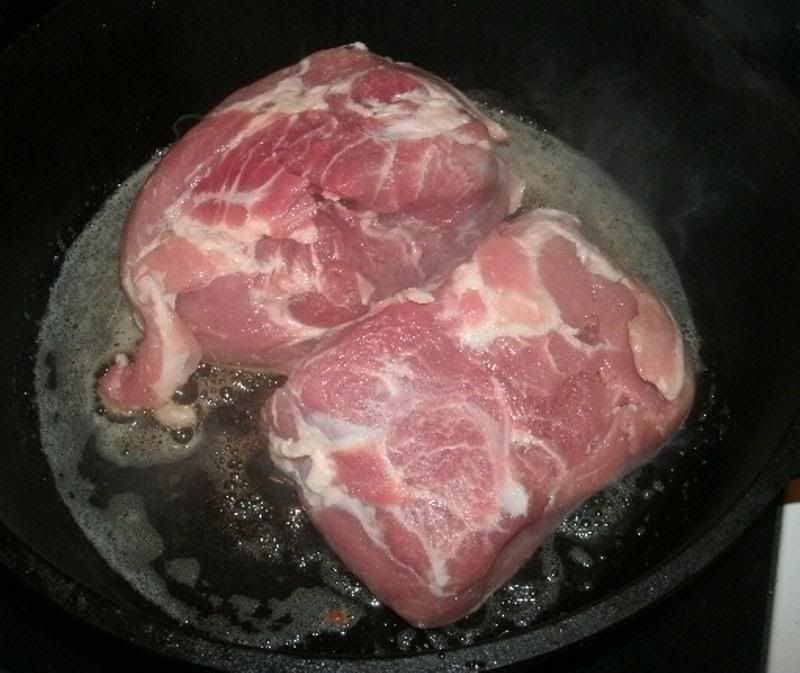 You want the heat to be fairly high, so that you get a nice sear immediately at the beginning and can proceed from there to brown all sides. Dutch ovens are great for this: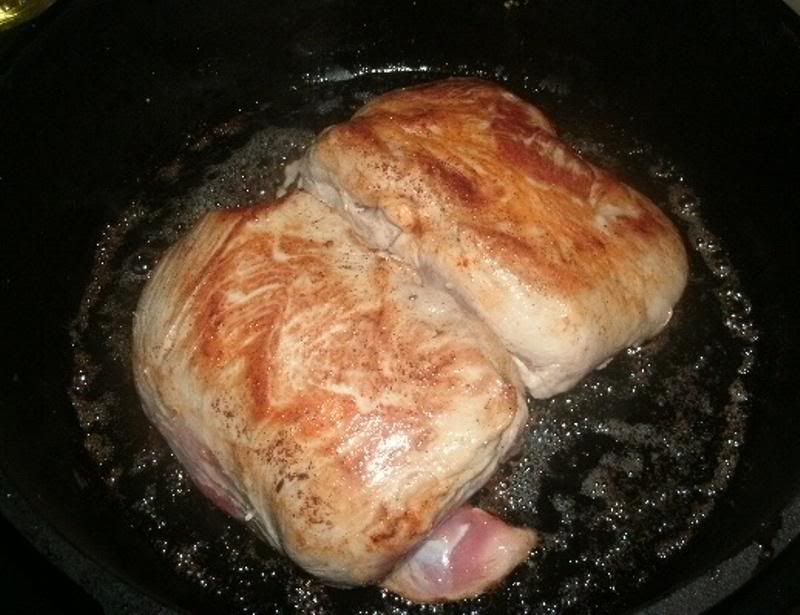 Some people say that the "searing step" seals in juices - I have not found this to be the case, but I'm no chemist, so don't take my word for it; rather, it seems to me that this step does indeed add a lot of flavour, due to the Maillard reaction during browning. Examples of this can be found almost any time a wide variety of foods are "browned" with heat, resulting in carmelisaton of the sugars and other elements in the food. If anyone is interested in this phenomenon, you can learn more about it here:
http://en.wikipedia.org/wiki/Maillard_reaction
After searing the roasts on all surfaces, including the "sides" and "ends," I set them aside and poured off all but a thin film of fat, then added the onions, cooking them over medium heat until they were slightly browned (more of that Maillard thingy):
When they reached this point, I added the carrots and cooked them for just a few minutes, and then I removed the Dutch oven from the heat and added the paprika:
When cooking with paprika, you want to be careful not to add it to a hot pan over direct, high heat. Paprika does require two elements in order to reach its full potential: heat and fat, which allow the sugars in the spice to carmelise and melt into the whole dish; however, the direct heat of a hot pan could cause the paprika to scorch, ruining the flavour and probably making the paprika bitter and/or gritty. This would be an example of the Maillard reaction gone terribly wrong.
After stirring the paprika, off the heat, into the onions and carrots for a few minutes, I added the broth to de-glaze:
As mentioned before, I used a combination of beef and chicken broth, which works well with pork. I also made what amounted to a "double strength" broth, since I like the meaty flavour punch. The thing to remember here is that when you double the strength, you double the salt - with that in mind, I added no salt to the dish.
I stirred and scraped around the bottom of the Dutch oven in order to lift all the browned bits and fond from the pan and then brought the liquids to a boil:
I then added the roasts back to the Dutch oven before grinding some black pepper over them: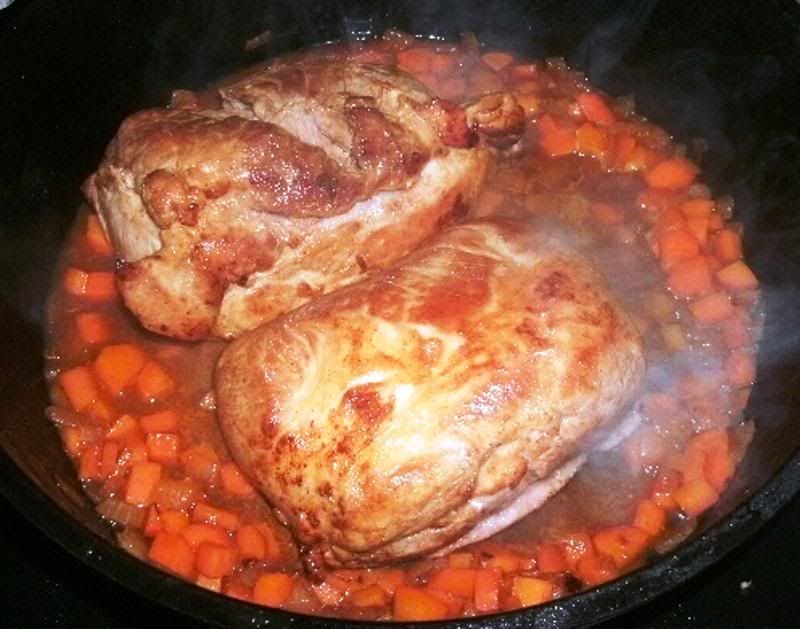 After that, I quickly brought the liquids back up to a boil again, then set the heavy lid down on the Dutch oven and put the whole thing in the oven at 325 degrees. As I mentioned before, I decreased the temperature compared to the written recipe; this was for two reasons: a) because I have found that when it comes to roasts, Time/Life gives temperatures that seem a little too high, and b) because instead of one roast, I actually had two smaller ones with more surface area, which would cook in less time.
With this in mind, I also decreased the cooking time, by 15 or 20 minutes, so that the final product would not be over-done. I didn't have a thermometer handy, or I would simply have cooked it to the desired temperature. The final, "finished" temperature depends on preference, but I have seen it anywhere from 145 degrees to 160 degrees for non-poultry meats (which should be cooked to 165). The USDA recommends a minimum of 145 for whole cuts of meats, and your preference or cooking goals (depending on what type or cut of meat you are cooking) will take it from there.
As the roast cooked, I basted it two or three times, and the smells coming from the kitchen were really incredible. I believe that there are few finer things than the aroma of a long, slow-cooking meal in an oven - especially with a cold, winter day going on outside the window - and I try to enjoy that sensation as often as I can!
When the roasts were finished, I set them aside to rst under a tent of foil, strained and discarded the vegetables, and then poured all the liquids from the Dutch oven into one gadget that I truly value: a gravy separator:
As you can see, the fat rises to the top, and the de-fatted juices can be poured out the spout from underneath. It's always good to give the liquids as much time as you can in order to separate, so that you can remove as much fat as possible.
Next, I poured the de-fatted juices into a saucepan and brought the liquid to a simmer on the stovetop:
Meanwhile, I beat the flour into the sour cream, and stirred it into the saucepan, along with the parsley, caraway seeds and chopped capers:
When adding sour cream to a sauce, it does take a little time for it to "melt in," but it is worth the wait. Before long, things started to come together, with greens in the capers and parsley accenting the creamy, meaty sauce: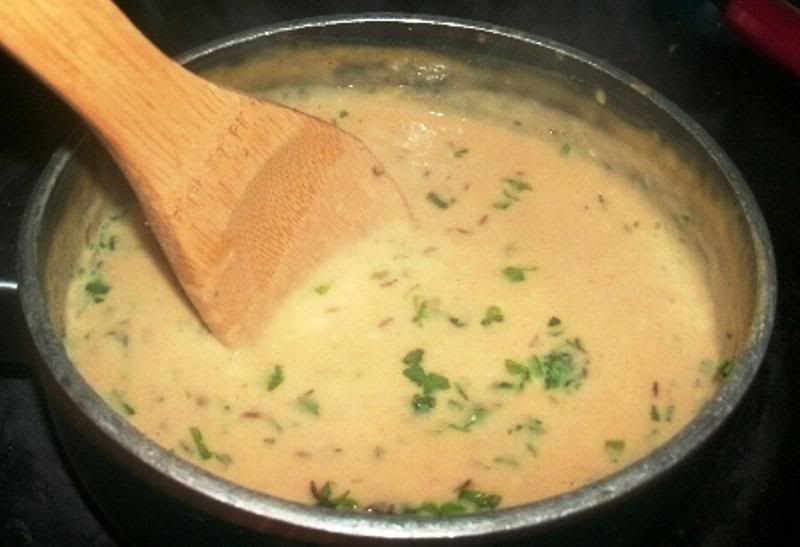 Crossing the finish line, I sliced the Schweinsbraten and served it next to small, boiled red potatoes, then poured some sauce on top of the slices: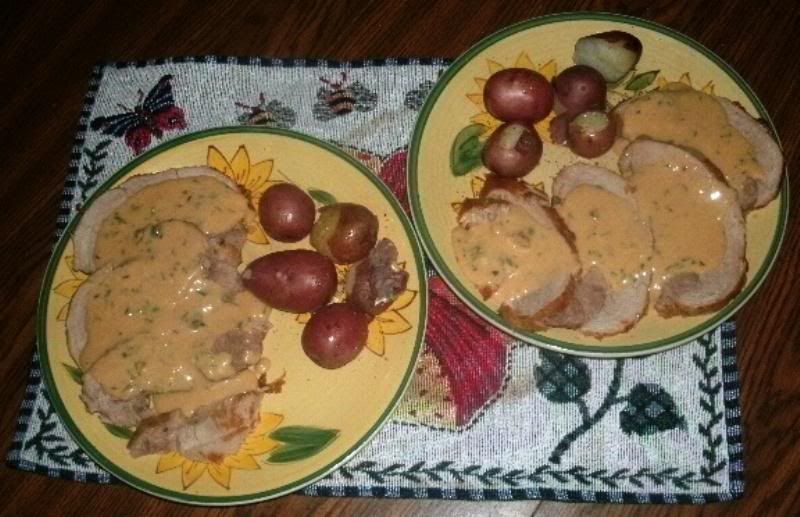 I probably went a little overboard with the sauce, but I wanted to have some there for the potatoes, after mashing them with a fork: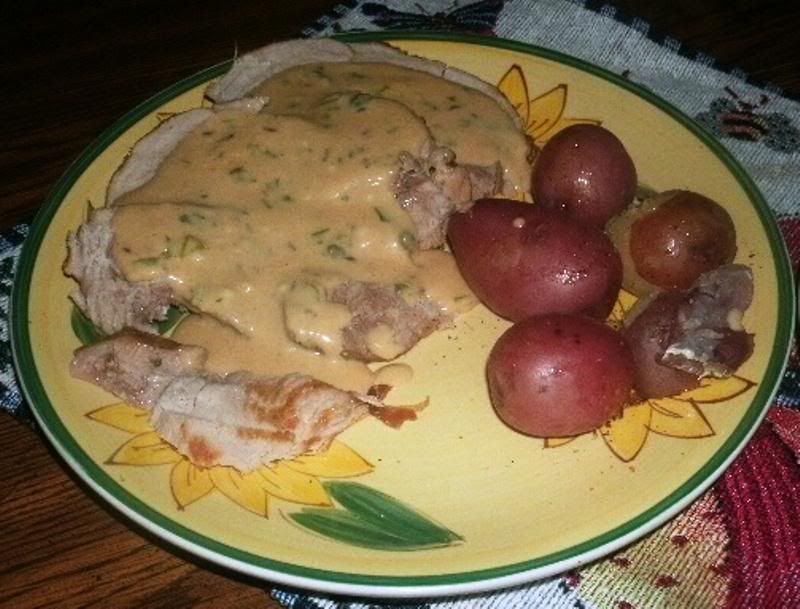 I have to say, this meal was an absolute, unqualified success! The pork was done just about right - maybe just slightly over-cooked, but it had very good flavour on its own and as I always say, braising makes up for a lot of errors that are made by a amateur home chef. The sauce was creamy smooth with a tangy piquancy, and had a rich flavour that was very meaty and savoury from the cooking liquids, with the greens adding just the right colour and taste accents. The potatoes were perfectly boiled, with their own smooth and creamy texture and full flavour - spooning some of the sauce onto them provided great highlight that went well with them.
The decision to halve the amount caraway seeds was just right, in my opinion, and I would sum it up this way: if you really like the taste of caraway, then by all means, go ahead and use the whole amount specified, in order to bring it out to the front. If you are neutral or curious where caraway is concerned, or are preparing this dish for dinner guests and don't know their preferences, then I advise you to halve the amount. You will get the suggestion of caraway, carried on the sauce in great harmony with the other flavours, but it will not hit you full-on or overwhelm. If you do not like caraway, then you will probably want to omit it from the dish in order to enjoy it.
Amazingly simple, yet elegant-looking and delicious ~ this dish is a true reflection of modern Austrian cuisine, blending the richness and glory of the former empire to anyone's table. It is very much worth a try, and highly recommended. If you give it a go, let me know if you have any questions, and also how you liked it.