alright, debbie, you have waited long enough!
john, i hope this lives up to expectations!
i've got a lot of step-by-step here, so you all can see how it's done. this was my first ever attempt at gnocchi - being from the middle of nowhere i had only heard about it and had never even eaten gnocchi, so i am sure that it isn't perfect, but it was fun and easy, and i am sure it is close to someone's gnocchi somewhere....
i know that there is a "battle" going on over whether pasta orginated in italy or in china, but the more i think about it gnocchi's roman origins, and the more i remember how the roman empire spread across europe, bringing gnocchi to its far-flung territories in eastern europe, the more i tend to think that pasta either originated in italy or, more likely, the idea of pasta and noodles originated independently in both regions. it seems to me that gnocchi is just an earlier form of pasta that has survived down through the ages, and in fact, some homemade pasta recipes, where ingredients are concerned, differ very little from gnocchi. by the time you have read this, we'll see if you agree.
here are the goods -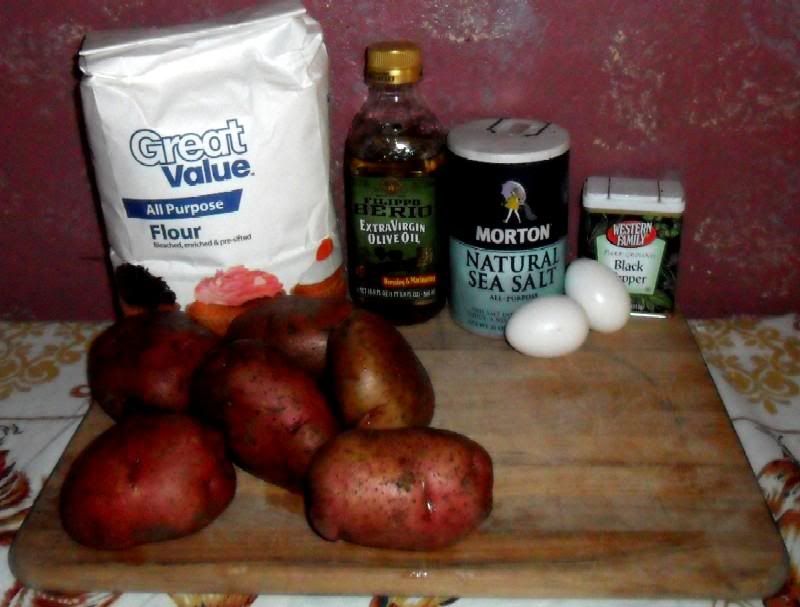 some necessary substitutions due to availibility at the time: i only had black pepper and red potatoes, rather than white pepper and brown russets. I don't think this made much difference at all, except the pepper was of course visible in the finished product. as for the potatoes, red ones didn't seem to hurt any; in fact, according to
Wiki
, they are preferred; and i do like the bold flavour that they have - so no worries. also, we usually have unbleached flour around, but not this time - so i used bleached. once again, not really a big deal.
for the record, i have no idea why i included the olive oil in the picture, as it is not needed to make gnocchi by itself! those who know me know that i am half-north-dakotan, and i guess that is reason enough!
first order of business was to get the potatoes boiling while i baked the meatballs, which i had rolled the night before, and prepared the sauce:
this recipe was unique from other recipes i have made incorporating mashed potato as a component, in that it advised boiling the potatoes whole, skin on. previously, i had always peeled and then cut the potatoes into quarters, 6ths or 8ths, depending on the size of the potato or what i was doing with it.
after boiling for 40 minutes, i set the potatoes to drain, dry and cool a bit: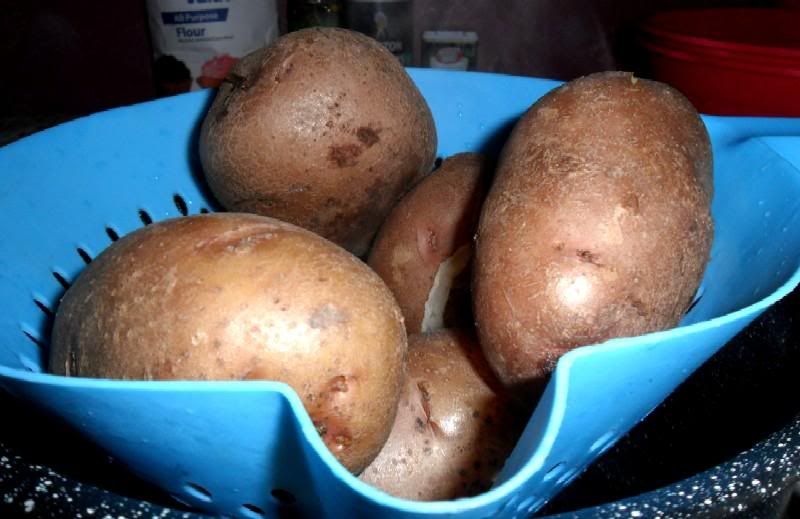 as you can see, the skins did some splitting in some places, and this allowed them to be peeled fairly easily: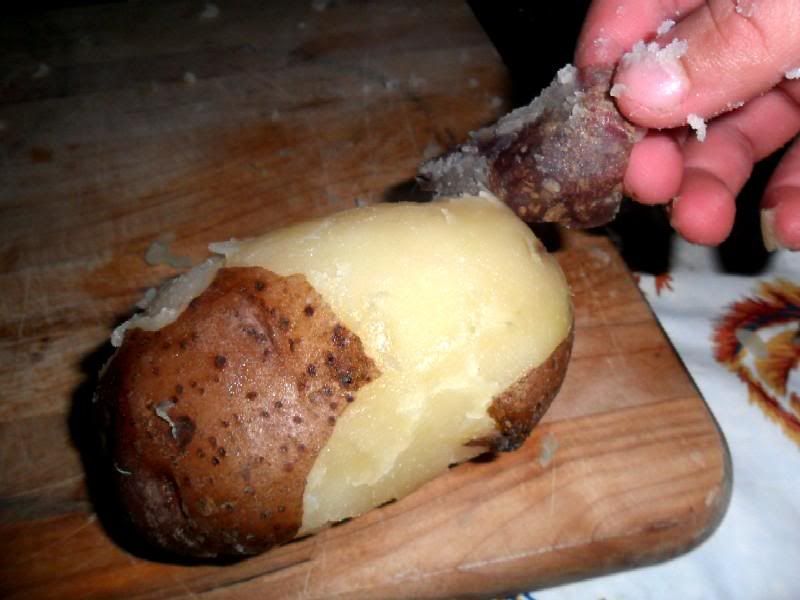 this method worked pretty well, and had one advantage in that i am not the best potato peeler in the world, so we were able to get all of the potato: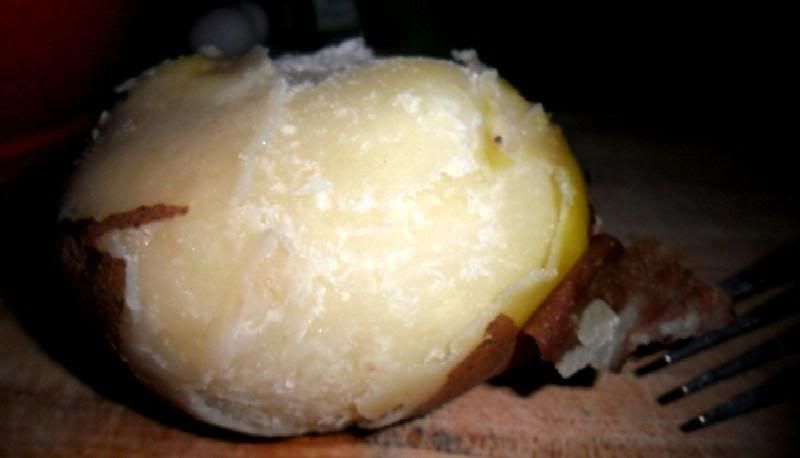 the disadvantage is that they have to be boiled 40 minutes rather than the usual 15 or so; however, when you take into account the time involved in peeling a lot of potatoes, then cutting them, i am guessing that we broke even.
next, as with the
halušky
, you want to rice the potatoes or, if you are like us and can't afford 12 dollars for a ricer, simply mash them with a fork:
you want to be very thorough, stirring them around off the bottom and sides of the bowl in order to make sure you that mash all of the potatoes completely: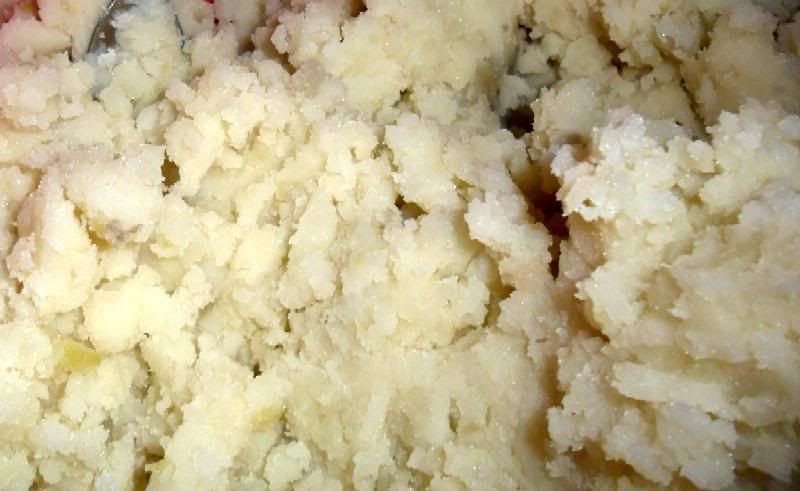 following the recipe, i then spread out the mashed potatoes on our cutting board in order to cool and also to dry out a little:
in order to increase the surface area for cooling and drying, i pressed down my fingers into the mash - it seemed to work pretty well, and made up quite a bit for the limited space that i had:
meanwhile, i took the meatballs out of the oven to cool a little, and sauteed an onion and some garlic in order to jazz up my plain-jane store-bought jars of ragu.
then, i got a big pot of water boiling, adding a little salt to season it:
and turned my attention to the making of the gnocchi. for the first step, i mixed together 2 eggs and some black pepper: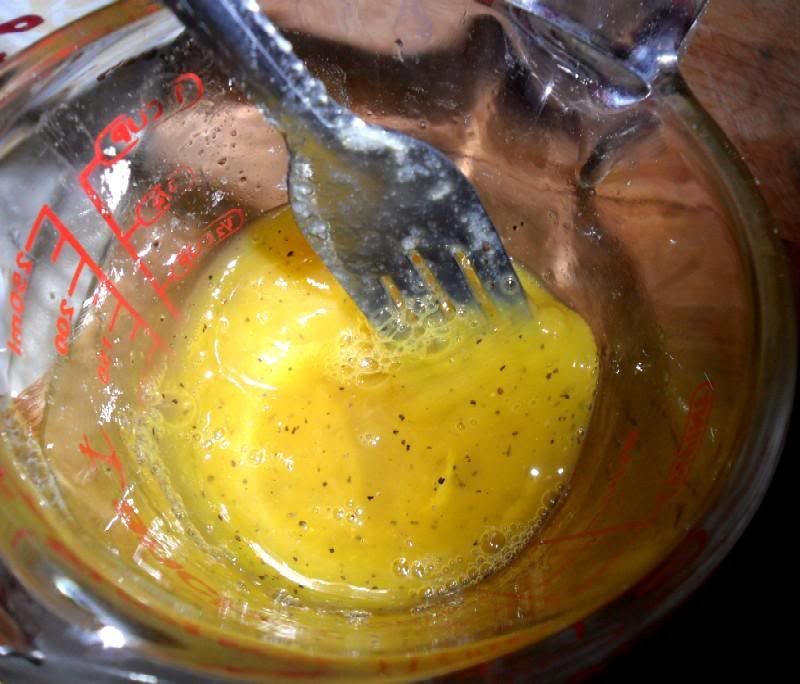 since i forgot to add the salt to the eggs, i simply tossed it on the potatoes and then made a well in them with a measuring cup. then i poured the egg mixture into the well:
then, starting in the centre, i stirred with the fork out into the mashed potatoes, incorporating the egg into the potato thoroughly:
i then added one cup of flour: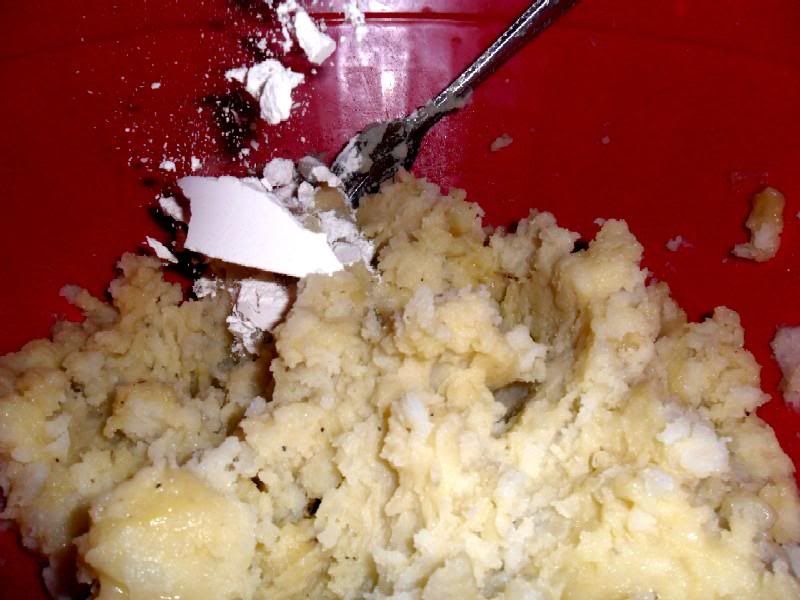 and worked it into the mixture to a consistency resembling this: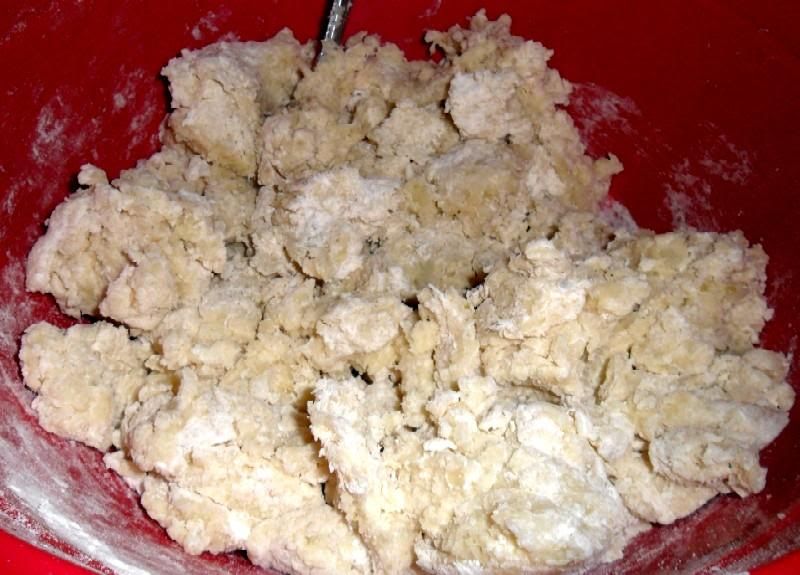 then, i added the rest of the flour (2 cups):
and we worked it in until we had a stiff dough that was just a little on the dry side. you do not want to handle the dough too much, but enough to get it like this: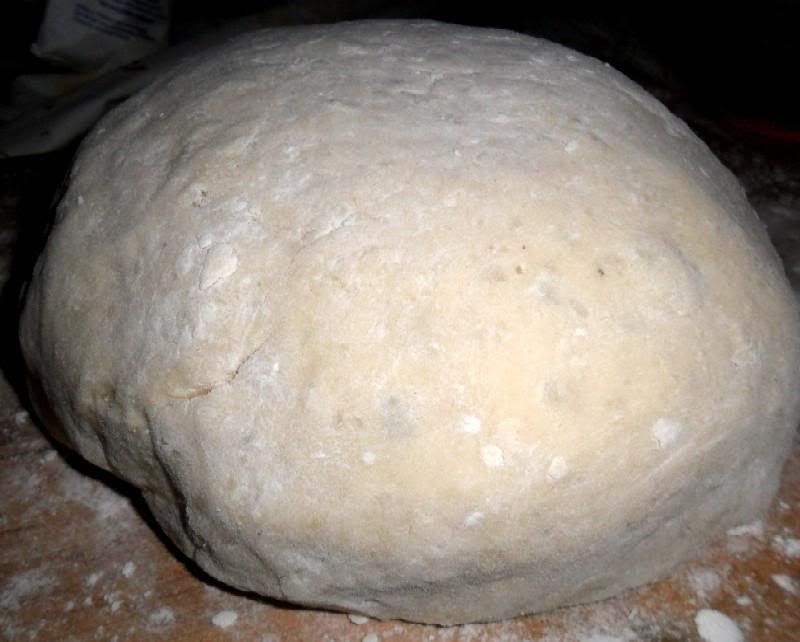 as you can see, you want a firm dough that will not spring back much or be too elastic:
now comes the fun part - cut the dough into six equal portions: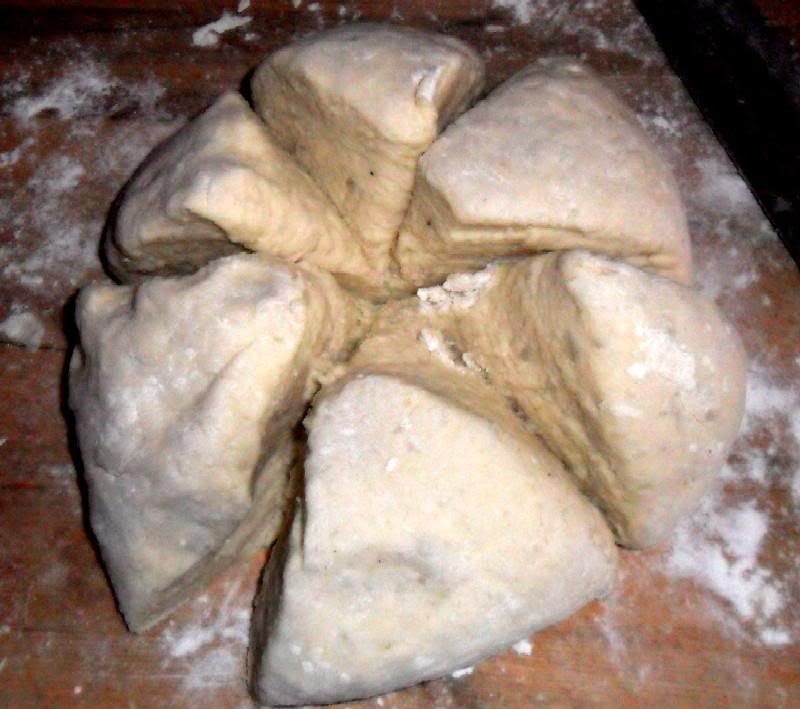 and shape them into balls, orbs, globes, spheres - pick your geometric term: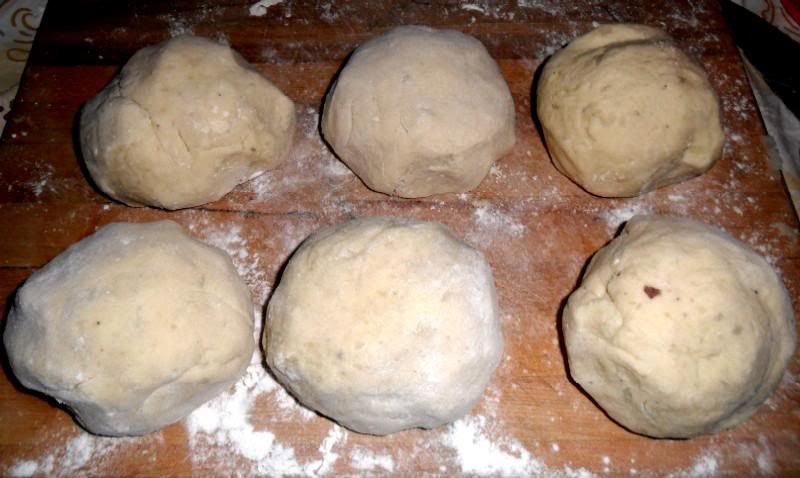 take one and start rolling it out on a lightly-floured surface with lightly-floured hands: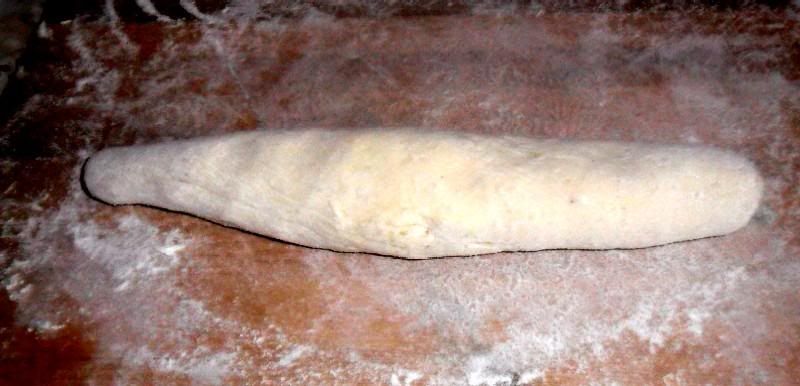 we quickly saw that the cutting board wasn't going to "cut it" where work area was concerned, so we moved the operation onto the table-top:
and kept rolling until we had a very long tube/cylinder/roll (pick your geometric term) of dough:

this actually wasn't quite long enough, as you want the dough to be half an inch in diameter, and this was just a little bigger than that, but close enough for a bunch of non-italians in montana. i doubt some little old nonna in the tuscan mountains has a ruler to measure her gnocchi with; and if she does, i doubt that it is in inches, so this was good.
next, we cut the gnocchi from the dough, using the back-side of a knife blade to spare the tablecloth:
and laid them out of the cutting board, which managed to hold a batch at a time (total of 6 batches):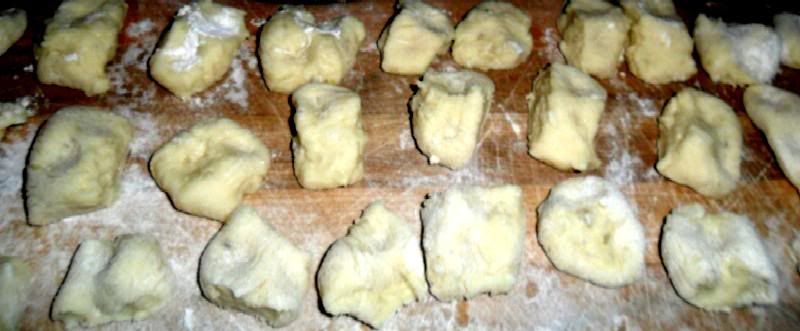 most of you who have seen gnocchi have seen it with little grooves made by a fork or a special device for that purpose. i am not quite up to that level yet, so i worked out an interesting substitute. i lightly floured my middle- and index- fingertips and lightly pressed them into the gnocchi, rocking them forward and backward a bit to round them on one side and dimple them on the other:
the ones in the pictures aren't the best examples of what i did, but they are close. my 8-year-old was helping me with this, and he tended to be heavy-handed, so a lot of them got squashed anyway, but that's ok. once again, i doubt that the peasants in rural italy are going to sic the gnocchi police on us!
it was at about this point, after the egg, the mixing, the kneading, the rolling and the cutting - and right before we started putting the gnocchi in boiling water, that i got to thinking that gnocchi, which originally was made exclusively with grains such as semolina and wheat rather than using potato, must have been the ur-pasta, which was subsequently refined over the centuries with different varieties evolved for different applications. maybe i'm wrong, maybe not - but i can say that i am glad that gnocchi migrated throughout the roman empire and became a staple throughout europe, including the ancestral lands of my wife and myself - how else would we know
Spätzle
and
halušky
?
anyway, back to the gnocchi! the water was boiling steadily, so i dropped a bunch in: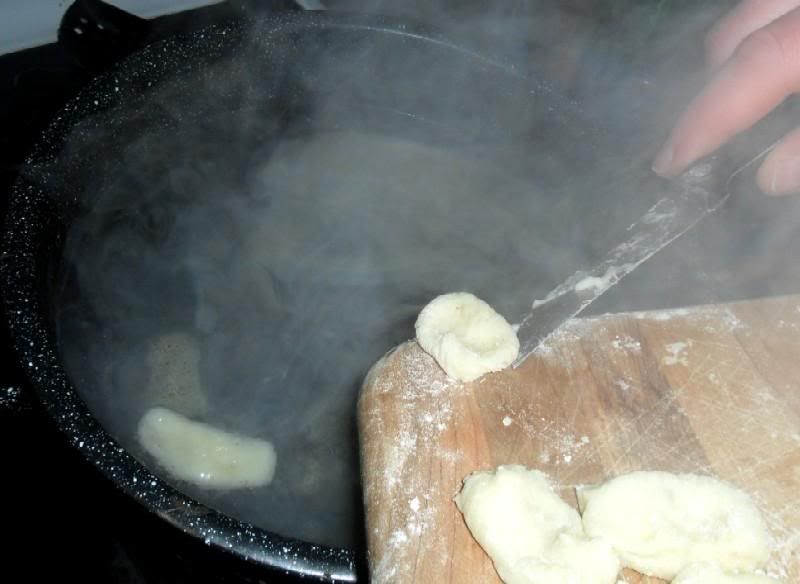 and of course when they were done, they promptly floated to the surface:
to be skimmed off and put in a strainer until all were done: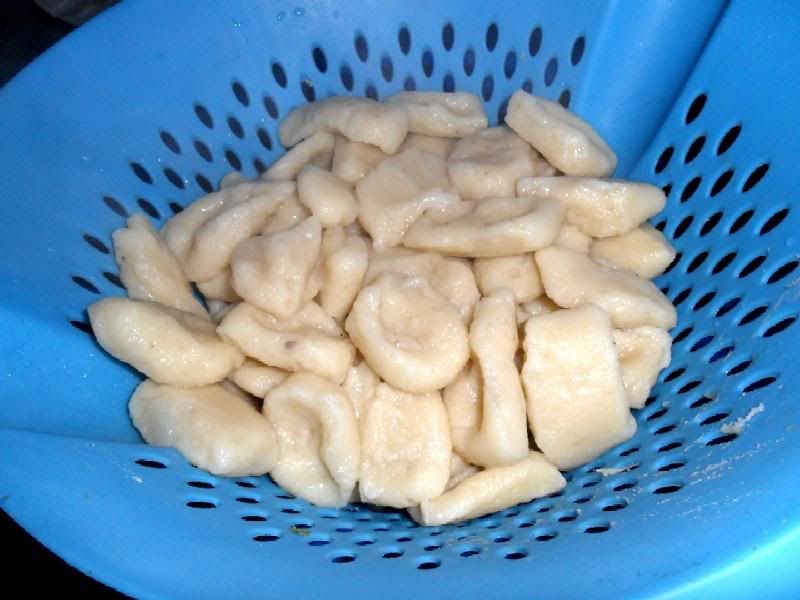 i repeated this procedure throughout the six "batches" that derived from the six balls of dough i had made. this made quite a bit of gnocchi and was just enough to feed all seven in the household, including our houseguest.
by now, the meatballs were simmering in the bubbling red sauce. it was simply a jarred sauce from ragu - nothing special - to which i had added oregano, basil and some black pepper, along with the sauteed onion and garlic - not perfect, but it was ok:
right before actually serving the gnocchi, i took the strainer that they were all in and dropped them all back in the boiling water, just for a moment or two, to fluff up a little: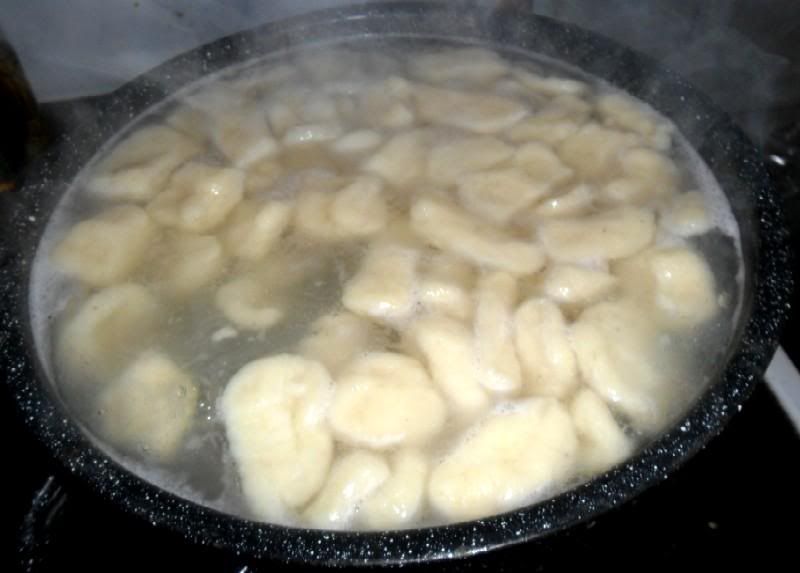 this step was not necessary with the
halušky
, as they were subsequently fried with the cabbage, onions and bacon; but with this dish, it seemed like the right thing to do. once they were all fluffy again, i portioned them out next to some meatballs: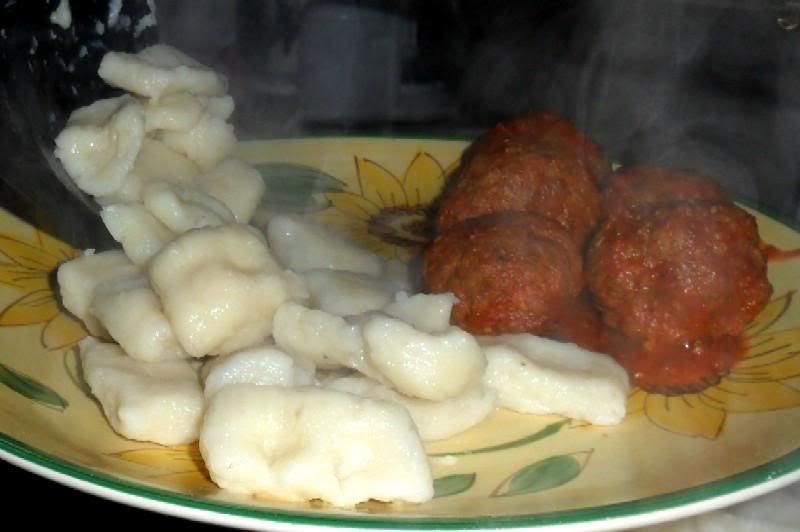 and covered them with some of the sauce:
and then served them topped with some grated parmesan cheese: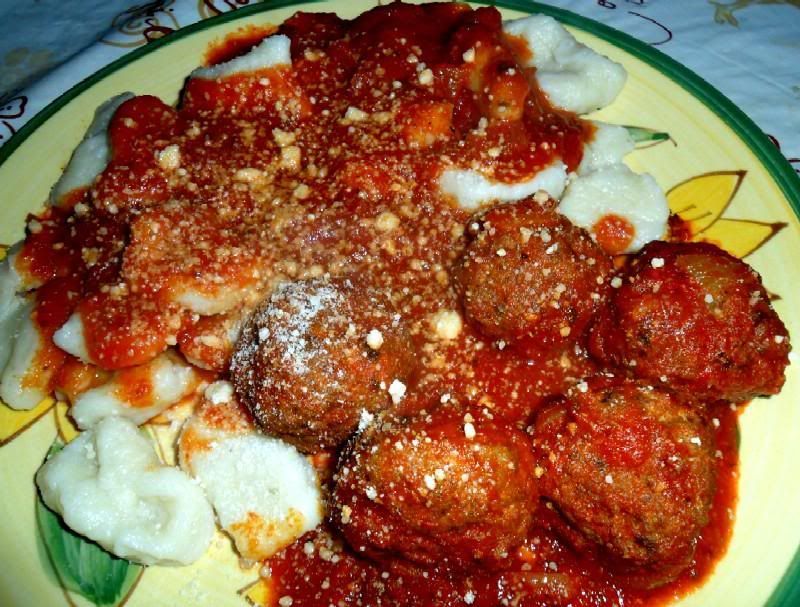 not too bad at all for a first attempt!
this was an immediate hit with everyone in the household, and we were all impressed with the goodness in the gnocchi themselves, which was enhanced by andy's excellent meatballs and the "improved" jarred sauce: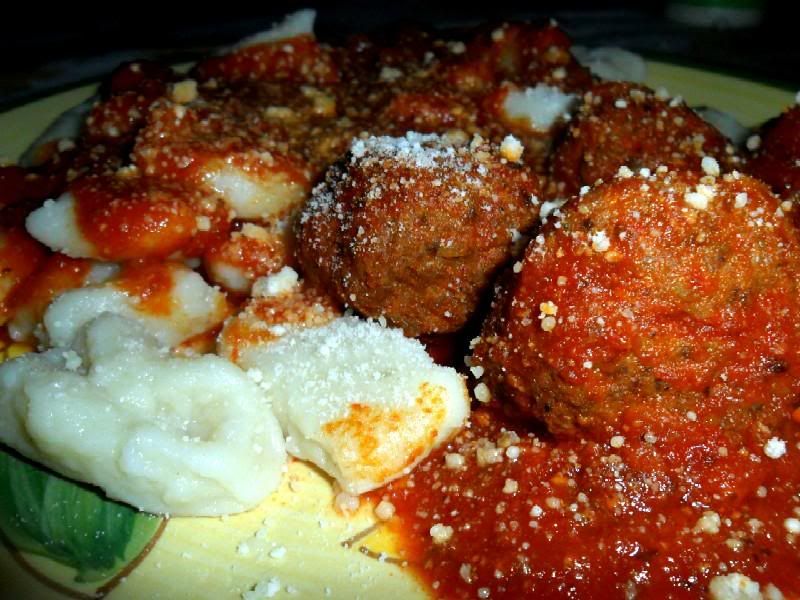 the gnocchi were light, fluffy and feathery in texture and had a very good, potato flavour that came from the use of the red potatoes, which are more rustic and bold in taste than the milder russets, in my opinion. all in all, it was a very good meal that was worth the modest amount of effort:
thanks for taking the time to look, and i hope that you give this truly historic recipe a try. the great thing about gnocchi is that you can use any sauce at all that you want - tomato, alfredo, pesto, or a dozen others, or you can put them in soups as dumplings, or you can simply toss them with a little butter or olive oil. the varieties are endless and the preparation is simple, so no reason not to try ~