Well it's plum season around here and my cousin posted this on facebook last night, so I had to share it here. Unfortunately we lost my grandma to cancer while I was still in high school so a lot of what I have to remember her by is her recipes. I do not recall ever having this recipe of hers, but odds are I have more times than I can remember. Since I have a batch of plums sitting on my counter this seems like a good time to revive her recipe.
Please note, this recipe calls for prunes (aka dried plums) however I'm willing to bet that she used fresh plums. Either way though, I'm betting it's going to be good.
Here's her original hand written recipe:
Prune Coffee Cake
Blend 3/4 cup sugar - 1 egg - 1/4 cup margarine, softened - 1.5 cup flour - 1/2 tsp salt - 2 tsp baking powder and 1/2 cup milk.
Mix and pour into 9x13 greased pan.
Pit enough prunes to cover dough.
Mix 1/2 cup brown sugar - 3 Tbsp flour - 1 tsp cinnamon - 3 Tbsp margarine, softened - 1/2 cup milk. Sprinkle over top of prunes.
Bake at 375 for 35 minutes.
Here's my cousin's picture of the finished product from last night.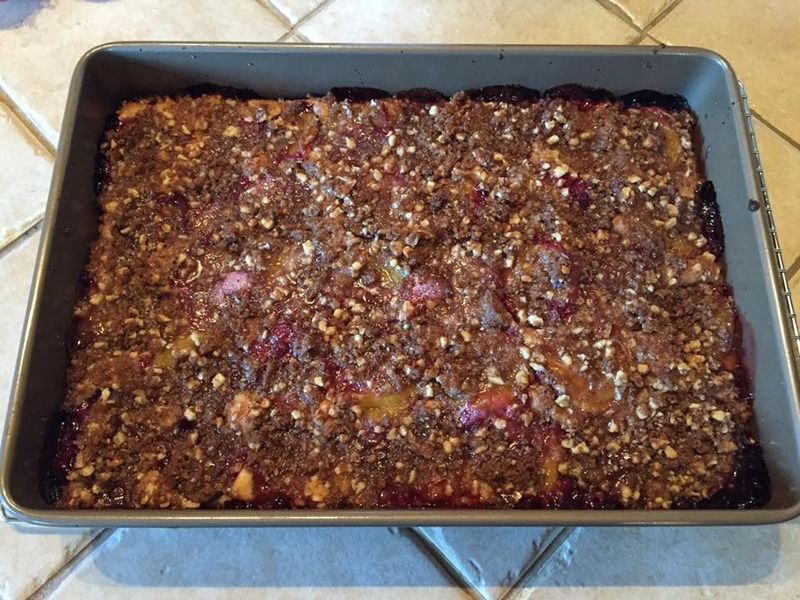 I can't wait to get home tonight and try it.