Greek Sparerib Barbecue
As I've often said here, the beautiful Mrs. Tas isn't terribly fond of smoked meats (except bacon, ham and other "store-bought" stuff like that); having said that, she is pretty tolerant and supportive when I do my barbecue, and I do appreciate that a lot - otherwise, by life and my weekends would be awfully boring.
Anyway, after actually enjoying my recent
costillas de cerdo parrillas al Yucatán
, as well as a couple of previous Mad Hunky pulled pork barbecues earlier this summer, she grabbed a couple of slabs of spares while shopping one day and brought them home. Hoping to provide another good barbecue experience for her, I put my thinking cap on, trying to come up with something that would be different (don't want it to get "boring"), but also good. I also happened to be doing my thinking whilst looking through PitRow's pictures of his European vacation a few years ago.
And then it hit me - Greece.
So I set out to do the spares with a good, solid Greek flavour profile, beginning with a rub. I'd danced around this concept before, using a very simple and good homemade "Greek seasoning" that consisted of equal parts salt, pepper and oregano. This had worked pretty well, so I wasn't flying totally blind; however, I wanted to take it a little farther, and definitely wanted to be able to do good pork rib barbecue with it, so I decided that maybe it needed a little more - in truth, it probably
doesn't
need more, but I wanted to tweak it a little, so I did.
One thing that rubs do need a little of is sugar; it balances out other flavours, and it also works with the meat well, providing chemical reactions and also contributing to Mr. Brown, so I added some turbinado - that's a no-brainer.
Next, I added granulated garlic, also common to the Greek flavour profile.
Finally, after some reflection, I also decided to add paprika. Two reasons for this: first, I've seen and used paprika in plenty of Greek cooking, so it was staying true to the theme. Secondly, I fracking LOVE what paprika does for meats in cooking, especially barbecue, adding a deep, rich mahogany colour and a slightly-spicy-yet-tangy-mellow flavour.

To keep a baseline reference, I added these three "extra" ingredients in the same ratio as the salt, pepper and oregano - in other words, all of the six ingredients:
Sea or kosher salt
Black pepper
Oregano
Granulated garlic
Turbinado sugar
Paprika
Are in equal amounts.
Looking back, granulated onion would also have been a good addition, so in the future I will probably incorporate this, as well.
I whirled this all through the food processor, in order to give the components consistency, and gave it the "finger test" to see if needed to I add any more of the ingredients or change the ratio in order to balance it out. To my surprise and delight, it seemed pretty dang delicious and well-balanced, just as it was - so I decided not to mess with a good thing.

Usually when doing pork barbecue, I give the meat a light slathering of mustard before applying a rub. This time, keeping with the Greek idea, I tried something different as a base for my rub:
Extra virgin olive oil
Lemon Juice
Also in equal amounts.
I thoroughly mixed them together in a 50/50 ratio, then brushed the resulting concoction on the St. Louis-trimmed spares, as well as the trimmed briskets and flaps. I then applied to rub generously to the spares:
And the trimmings:
I then covered the meat in saran wrap and put it all in the fridge overnight.
When I opened the fridge the the next morning, I discovered that this combination produced a very wonderful colour and an amazing aroma. From what I could see, I had a great start on a nice Greek pork barbecue!
I fired up the offset and prepared to turn this dream into reality. I tossed some alder on for smoke, and once the pit temperatures climbed up to where they needed to be, I threw the ribs on the heat:
I can never, ever, get a decent picture of what's in the pit under direct sunlight!
Anyway, I had been wrestling with the question of what to do with these ribs, now that they were cooking, for a baste and/or glaze. Normally, I give my barbecue some sort of mop or baste while cooking, in order to help protect the meat from the heat, and of course to add some depth where flavour is concerned. I also usually apply some sort of simple glaze toward the end, for colour, depth, crackle and shine, and of course for that one final layer of flavour. The problem is, I couldn't really think of anything yet that would fit in with my Greek profile.
One idea that came to me, which would keep it Greek, would be a simple honey glaze - that's right, plain, ol' honey. The only problem I saw with this is that I've heard that honey used like that tends to take over the whole flavour profile - not sure if it is true, but it is a concern. Another thing I was thinking of was to do honey half-and-half with vinegar of some kind (red wine vinegar or maybe apple cider vinegar). This might work and might keep it Greek, but after thinking on it some more, I had an idea.
For the baste/mop, I decided to continue with the same base I applied to the ribs before the rub:
Extra virgin olive oil
Lemon Juice
In equal amounts.
I mixed these ingredients and began brushing it on once every hour (give or take 15 minutes or so), usually while I was adding charcoal or alder. Before long, the ribs really begain to take on some nice, rich colours as the rub and the mop worked together to provide layers of depth:
But what about a glaze, you ask? The answer is simple: I used none! It occurred to me that there was something that might be even better, and I decided to take on a new project that I hadn't tried before:
tzatziki
:
My thinking was that this wonderful, light, refreshing Greek specialty would make an especially good dipping sauce for the ribs, much like it makes the perfect topping for a gyro, so I made the tzatziki - which seemed quite successful for a first time - and put it in the refrigerator.
Eventually, after continued basting with the olive oil and lemon juice, the ribs were finished: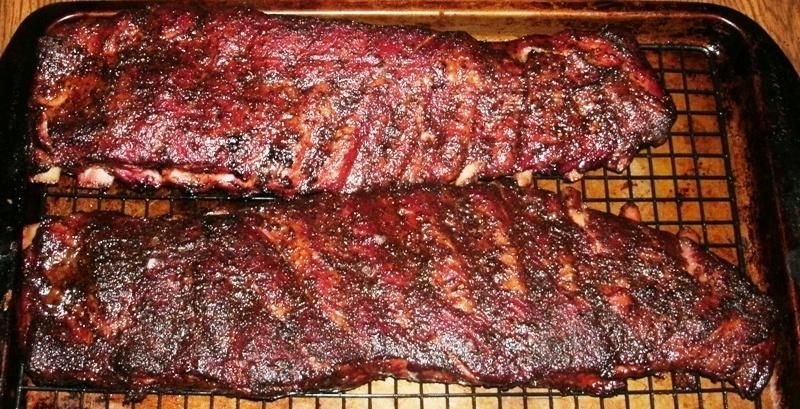 Pretty nice, wouldn't you say?
They looked so good, in fact, that I took two pictures: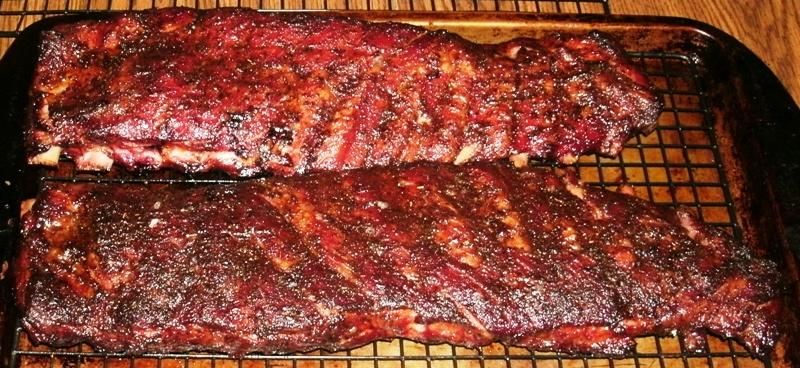 I cut the ribs into individual riblets for serving:
Here they are, all piled up and ready to serve:
And again, they looked so good, I snapped another photo:
Finally, I realized that I had a bunch of restless natives drooling behind me, so I served the ribs with some vinegar-soaked cucumbers and pita bread, along with some hummus and tzatziki for dipping:
This lunch was an immediate and dramatic success. The simple rub worked incredible magic with the simple baste, providing a good balance and amazing flavour that hit on all levels. The herbs, spices, citrus, smoke and everything in between all performed in very good harmony.
Other than adding the granulated onion, as mentioned above, I wouldn't really change a thing!
These Greek barbecued ribs were so successful, in fact, that I did pretty much the same thing a couple of weeks later:
The ribs were just as good the second time as they had been the first, and I feel safe in affirming that this concept works pretty darn well if your goal is to apply a Greek profile for barbecue. The next thing I would like to try would be to apply this same method to pulled pork, serving it in pitas with tzatziki, tomatoes, onions and all the rest of the usual condiments that would be associated with gyros.
To recap, here is what you need:
Rub (mix in equal amounts):
Sea or kosher salt
Black pepper
Oregano
Granulated garlic
Turbinado sugar
Paprika
*Granulated onion (to be attempted the next time I do this)
Slather/Mop/Baste (mix in equal amounts):
Extra virgin olive oil
Lemon juice
That's it! Can it get any easier?
I intend to re-visit this theme often, especially as I learn more about Greek cuisine, adding side items and other highlights to complete a dining experience that will take me on a trip to one of the most beautiful and ancient destinations in the world.
Thanks for looking, and I hope that you do give this a try - it's certainly worth the modest effort!