Heisse Biersuppe
Hot Beer Soup

To serve 4:
3 12-ounce bottles or cans of light beer
1/2 cup sugar
4 egg yolks
1/3 cup sour cream
1/2 teaspoon ground cinnamon
1/4 teaspoon salt
Freshly-ground black pepper
Pour the beer and sugar into a heavy 4- to 5-quart saucepan. Bring to a boil over high heat, stirring constantly until the sugar is dissolved, then remove the pan from the heat. In a small bowl, beat the egg yolks with a wire whisk or fork to break them up, and beat in the sour cream a little at a time. Stir in about 1/4 cup of the hot beer into the mixture, and then whisk it into the beer. Add the cinnamon, salt and a few grindings of pepper. Return the pan to low heat, and cook, stirring constantly, until the soup thickens slightly. Do not let boil or it may curdle.
Taste for seasoning and serve at once from a heated tureen or in individual soup bowls.
Please note that, in the German context, a "light" beer does not have the same context that it has in America. Because I wanted to use a Montana-brewed beer, I limited my options somewhat, but the truth is that there are many out there, German, American and otherwise, to choose from.
When I made this, I wasn't having much luck with the camera. Some are a little pixilated, and others got a little washed out from all the light colours, but you will definitely get the idea.
Here are the goods:
As you can see, there is nothing here that is exotic, but I was impressed with the different layers of flavour. You definitely get a little bit of everything, from sweet (sugar) to sour/acid (sour cream) to salty (take a guess) to bitter (the beer) - albeit with an emphasis on sweet.
For this project, I chose Trout Slayer Wheat Ale, from Big Sky Brewing Co. in Missoula, Montana. It has long been a favourite of mine:
This worked pretty well, but there are so many good choices out there. One I would like to have tried would have been a "Berliner Blonde" or similar "light" beer. Another good choice would probably be Blue Boar, From Henry Weinhard's "Private Reserve" line. I don't know if Beck's would be a good choice, but after sampling the beer by itself, it is one I will probably try for this soup at a later date. Judging by the results, you want to avoid one that is overly-bitter or hoppy.
Anyway, the first thing I did was measure out my spices; when I do something completely unfamiliar for the first time, I usually stick pretty close to the recipe the first time. Here we have salt, pepper and ground cinnamon:
Next, I prepared the eggs by separating them and breaking up the yolks with a fork until they were a smooth, creamy yellow:
Then, I poured the beer into a Dutch-oven-type pot:
Added the sugar:
Then brought the beer and sugar to a quick boil:
And removed it from the heat.
Meanwhile, I stirred the sour cream into the egg yolks: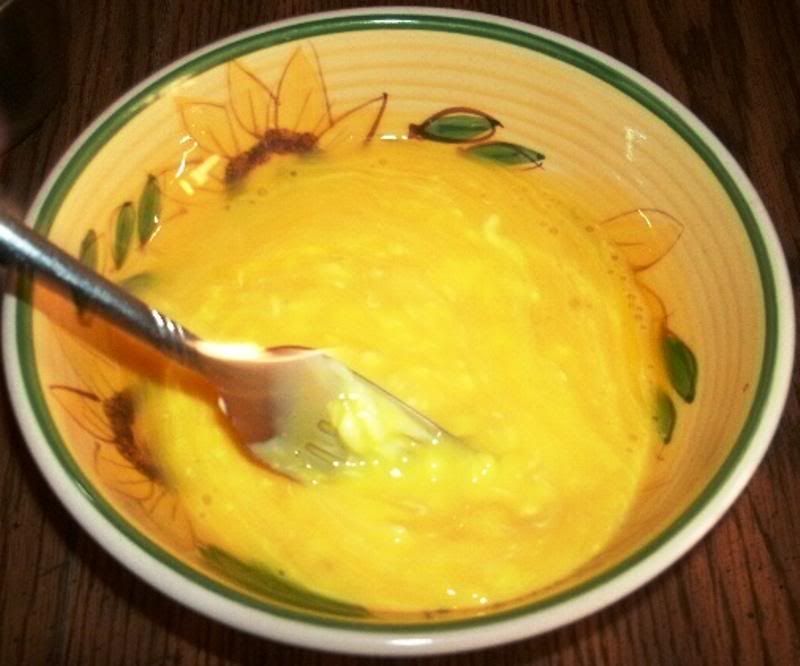 And then began the process called tempering, which involves adding a little bit of the hot beer into the eggs:
And stirring it into them well: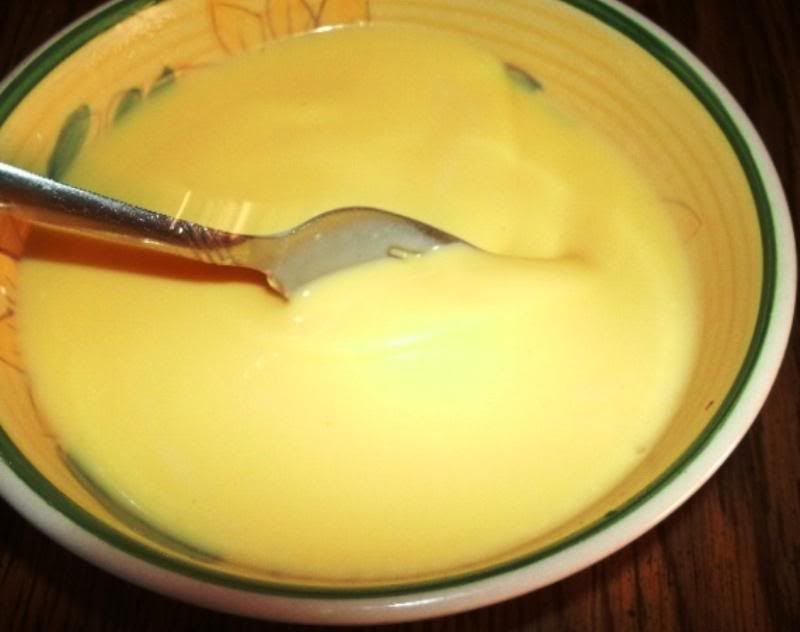 In order to bring their temperature up without cooking them.
I then added the tempered egg mixture back to the beer and added the spices: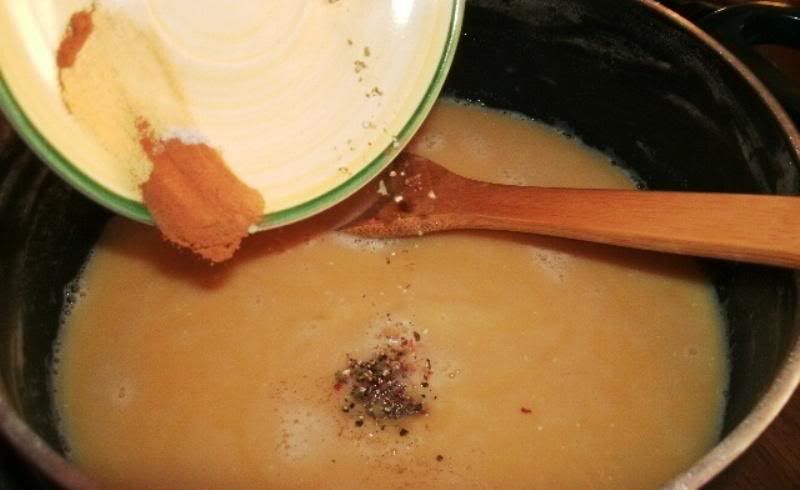 I'm not sure why I added another picture here, but there it is:
By now, I was getting a blend of a lot of different aromas, and it was pretty good, with a very warm, spicy sensation that promised good things on a cold day.
I kept the biersuppe over low heat, stirring constantly:
The recipe says that the soup will "thicken slightly," but to me, this never really happened, even though it stayed quite warm (not boiling, which would curdle the soup) for an extended period of time. It did get a little more "body" to it, but by no means was it "thickened," in my opinion; however, when I judged it to be done, I ladled it into bowls:
And gave it a try.
For myself, I liked it. The different flavours played off well with each other, and it kind of reminded me of the famous "Cinnabons" in a way, or perhaps French toast, thanks to the sweetness and the cinnamon, of course, but also the yeasty, creamy quality that came from the beer and the sour cream. Even though there was no vanilla in the recipe, this soup also seemed to have that quality, which contributed to the "Cinnabon" perception. My only real complaint was that it was so "thin," that it didn't have any substantial "body" to it.
There was some bitter undertone, probably due to the style of beer I chose; I am not sure if it was from hops, since I thought there were no hops in ale, but it was something. It wasn't unpleasant to me, but it was enough that the rest of the family wasn't impressed. A less-assertive beer might have helped with this.
All-in-all, I liked it, and would certainly make it again. As I said before, it is great on a cold day, and from the flavours, I can see why it is mentioned as a breakfast item in Germany; having said that, I believe it would be good any time of day. If anyone wants to try this, I would recommend putting some thought into choosing a beer for it. Based on my experience, you might want to try a lighter, mild-tasting beer your first time; the malted, yeasty quality of beer is great with this recipe, but you will want to experiment to find your level of bitterness or hoppiness that works for you.