Red beans and rice are important in Cuban, Puerto Rican, Dominican, Haitian and Jamaican cuisine. They are usually accompanied with any form of plantain snack (including "tostones" and "fritos"), chicken, or meat. In the Dominican Republic it is common to pour olive oil on top of the dish.
These delicious Red Beans and Rice give you just a hint of delicious island flavor. The Cuisine of Jamaica is a combination of foods from all over the world that has come together on the island, and there is a wide variety of meats, seafood, and tropical fruits available there, too.
One day, a cold, icy storm blowing outside, so what better food to feast on than the tasty, mouthwatering caribbean flavor of Jamaica? I made this recipe to go along with
Jamaican Meat Patties
, the post you can find
here.
Okay, fire up the reggae and away we go....
Jamaican Red Beans And Rice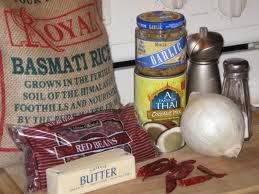 1 pound of red beans
6 cups water
salt pork, leftover bacon, a ham bone or other similar chunk of pork for boiling
1 large onion, diced
4 to 6 cloves garlic, to taste, minced
2.25 cups white rice
2 cups coconut milk
3 to 5 hot, dried red peppers to taste
1 to 2 teaspoons thyme, to taste
salt and pepper to taste
I used basmati rice because we like the taste the best, but any white rice is okay to use with this recipe (except minute rice).
Soak the beans overnight and rinse. Put them in a pot with 6 cups water, a chunk of pork (salt pork, leftover bacon, whatever) and the diced onion and garlic and salt and pepper. Simmer over medium heat for about one and a half hours, covered. When beans are firm/soft but not mushy they are ready. Drain the beans in a colander and reserve the liquid.
For the rice, mix 2 cups coconut milk, 4 or 5 hot, dried red peppers (didn't have any scotch bonnets) salt pepper, thyme and 2 1/2 cups of the reserved broth from the beans. Bring to a boil, and add 2 to 2 and 1/4 cups of rice. Bring back to a boil, then add the reserved beans, mixing gently in. Bring that to a boil again, reduce heat to low and cover. Let simmer for about 30 minutes or more, if you get a toasty brown crust on the bottom, so much the better!
This dish is almost a meal in itself! A couple squirts of lime really brought out the island flavor; the red peppers did not add any heat at all, simply a depth to the dish, the heat from them counterbalanced by the coconut milk. The coconut milk and broth from the beans really made plain old white rice sing with a rich taste that is hard to describe.
For our full traditional Jamaican meal, I made
meat patties
to go with it. Pure island deliciousness, mon!