Jaternica (also known as Hurka)
Slovak Liver Sausage
One of the most significant and time-honoured traditions in Central and Eastern Europe is the time for slaughtering a pig in order to process it into various pork products for the coming winter. It is a time to give thanks for the bounty that is provided by this humble, domesticated animal - and it is a tradition that is not much different today than it was several hundred years ago. This, from Time/Life's Foods of the World - The Cooking of Germany, 1969:
A Time for Pigs to Turn into Wursts
"Everybody Rejoices when November kills its pig." So says the Latin inscription under the painting (above) depicting the agricultural activity appropriate to November on the great clock in Münster Cathedral. The artist showed a family, helped by a relative, doing its own butchering as was the custom in the 16th Century. After the butchering was completed and the wurst was made, the family and the neighbours got together for a Schlachtfest, a convivial meal at which they sampled the freshly-made wurst and dined on the parts of the pig that could not be processed. Nowadays farmers either take their pigs to a commercial plant to be slaughtered and processed or call in professional butchers to do the work. The wurst-maker (below) is working with his own equipment in the sunny backyard of one of his customers, a farmer in the Bavarian Alps, filling a casing with a wurst paste he has made himself using his own recipe.
In Slovakia, the pig slaughtering time is called
zabíjačka
, and it is quite a special event; it begins in the springtime with the collective purchase of a young pig and lasts through summer as the pig is fed, cared for and fattened. In the middle of autumn, as everyone starts looking ahead toward winter, the pig is slaughtered; families, friends and neighbours come together to share in the work - and in the rewards. Men, women, children - young and old alike participate in the feasting, celebrating and transforming the pork into many products - such as sausages, hams, bacon and more - that will carry the family or village through the cold months. It is not my intention to delve too deeply into the subject here, but Luboš Brieda has a thorough description of
zabíjačka
on his Slovak cooking blog; you can follow
this link
to learn much more about the traditions, the process and the foods that are made as a result of the slaughter:
The pig is a wonderful animal that provides almost everything needed in order to be its own pork-processing factory; during zabíjačka, every part of the pig is used, from the snout and the ears to the tail and the trotters. Many of the whole cuts are cured and smoked in order to preserve them (belly for bacon; hind legs for ham etc.); the rest, including the internal organs, is either eaten during the celebrating and the processing work...or turned into sausages and other products (such as head cheese) along with the scraps and trimmings.
One of the sausages that are made during zabíjačka is a liver-and-grain sausage called jaternica or jaternice; in some areas, it is also known as hurka (plural hurky). This sausage is a staple throughout Central and Eastern Europe, known by these and other various names from Poland down to Hungary; from Germany to the Ukraine. From what I can see, it is even very similar to France's boudin blanc, and it is a great way to utilise meats that would otherwise spoil or be discarded.
My reading and research indicates that the primary meat that identifies jaternica is liver, supplemented by pork from the shoulder or other areas with a similar fat-to-meat ratio. Jaternica also usually contains meat from the heart as well as various scraps and trimmings that result from processing the animal. Other meats that might find their way into jaternica - especially in the "old days" - come from the boiled head, the jowls, the hocks and the trotters. Even the lungs and other internal organs, as well as the snout and skin, would sometimes be used; occasionally, blood was also added. As you can see, when it comes to jaternica, anything goes, as long as there is a prominent presence of liver and fatty pork.
As for the "grain" component, which serves as a filler and binder, the two grains that I saw most mentioned in my research were rice and barley; I also saw references to using millet, bread and even potatoes. I never saw it mentioned when I was doing my reading, but it would not surprise me if buckwheat groats (kasha), a very common and much-used cereal in the region, was utilised as well.
As you can see, jaternica is quite resourceful in how it is made; this versatility is also shown in how it is cooked and eaten. There are many ways to enjoy jaternica; the two most common ways are as a porridge and as a cased sausage. As a porridge, the jaternica is simply made and then fried like a hash; eggs are often added and the porridge is usually served on toast as a breakfast, but it can be enjoyed any time of day, as you can see here in a photo from Luboš blog: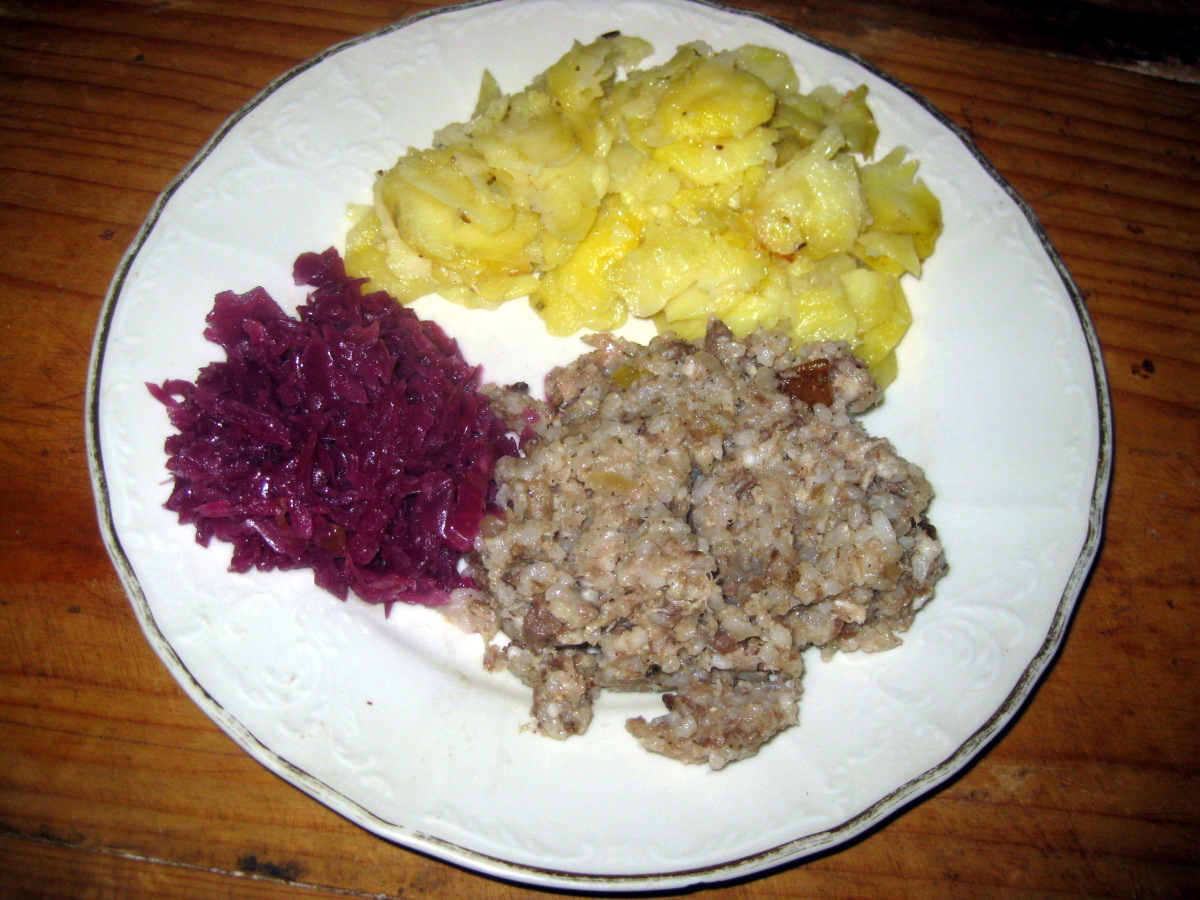 Photo Credit: http://www.slovakcooking.com/wp-content/uploads/2010/01/hurkova-kasa.jpg]
As a cased sausage, the jaternica is stuffed into natural hog casings made from the pig's own intestines, which are reserved and cleaned during zabíjačka. The casings are then tied at each end, sometimes into rings or loops: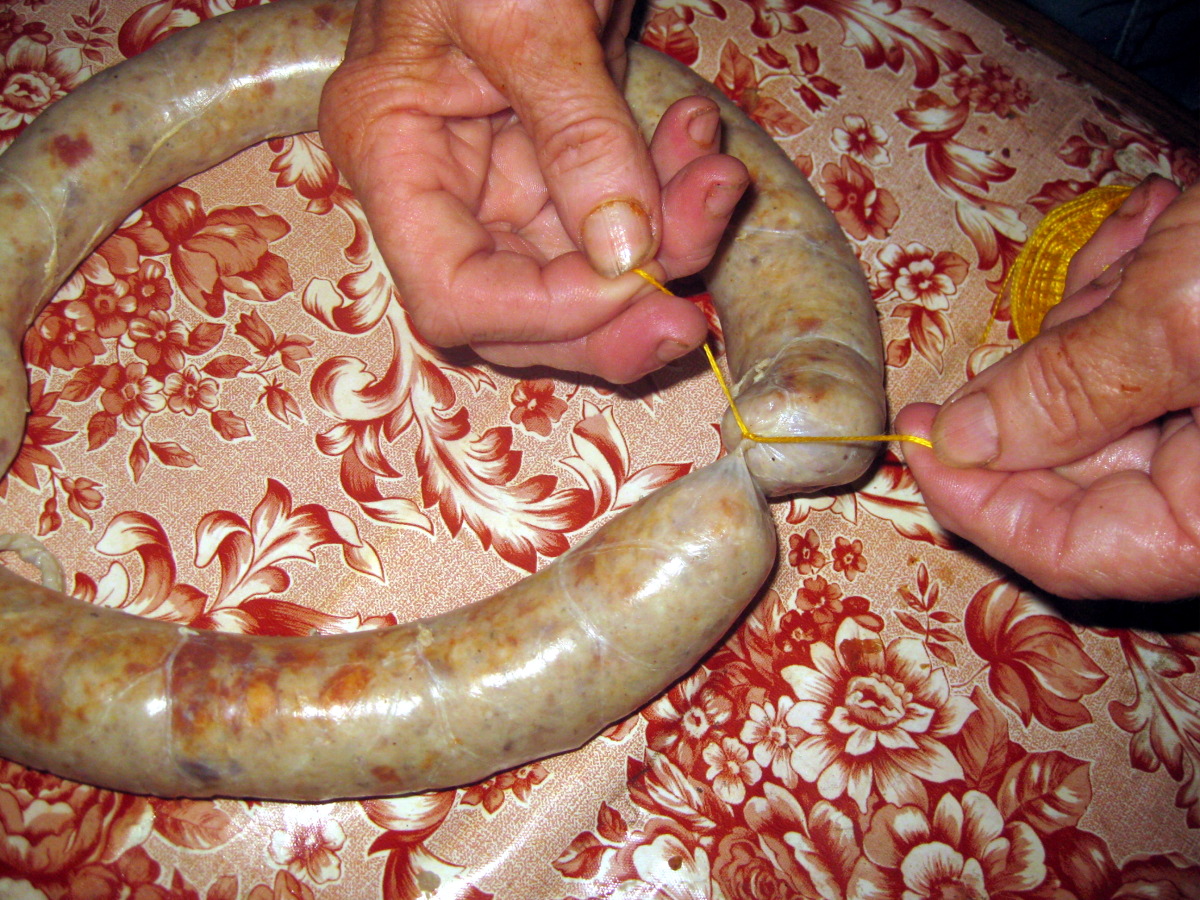 Photo Credit: http://www.slovakcooking.com/wp-content/uploads/2010/01/sausages11.jpg
Incidentally, the Hungarian word for "loops" is... hurky.
The completed, cased sausages are either eaten fresh or poached in simmering water until they float before they are frozen or stored in the larder. When they are cooked, the sausages can be prepared for the table by poaching, frying, grilling, baking or any combination of these methods. Here is a photo of hurka being served with Slovak domáce klobása (home-made sausage), baked potatoes and beets, with mustard as a condiment: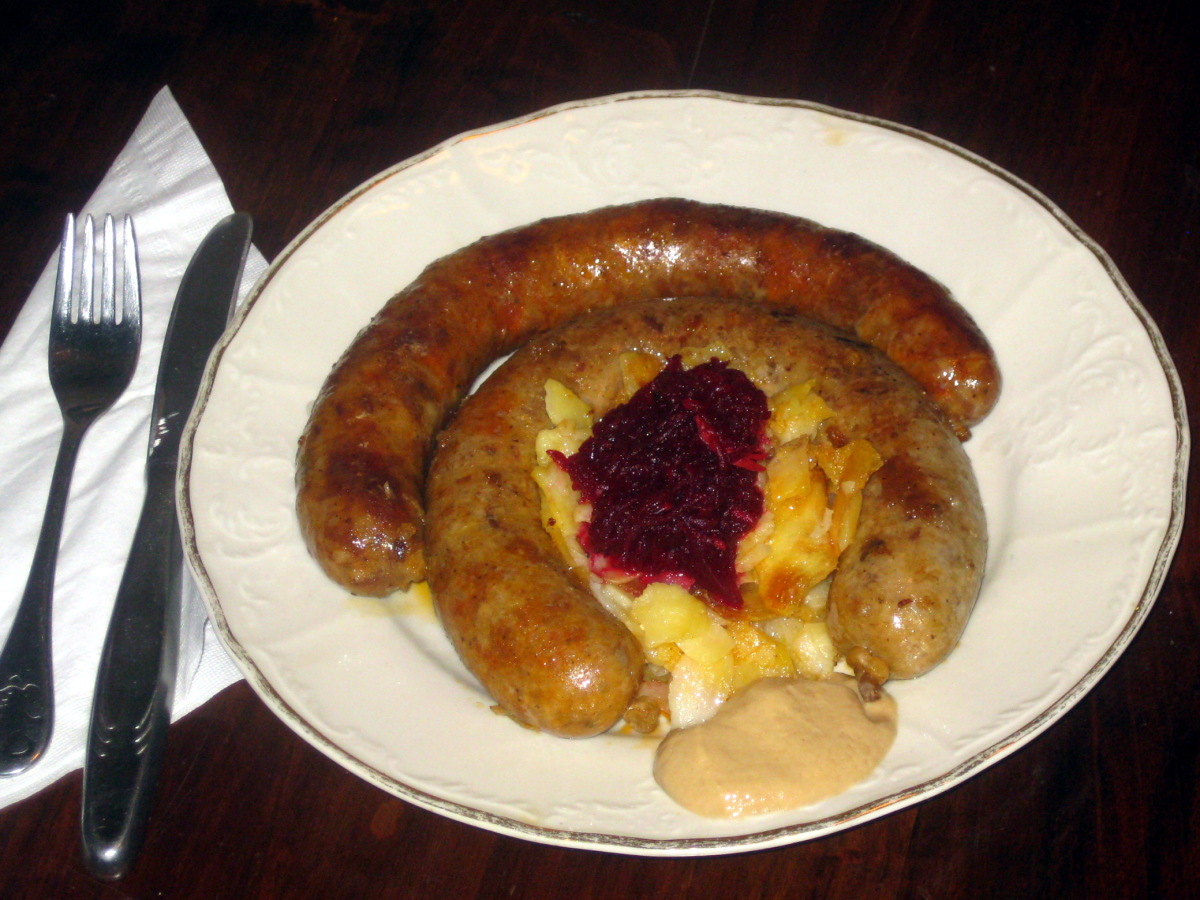 Photo Credit: http://www.slovakcooking.com/wp-content/uploads/2010/01/sausage-and-hurka.jpg
The casings can also be split open and the contents fried in order to result in the aforementioned porridge.
By now, you are probably asking yourself, as I did: how is jaternica pronounced? The truth is, I am not entirely sure. Based on the little that I know of these languages, I would have guessed that it is pronounced "ya-ter-NEETCH-a;" I caution you that this is only a guess. My research didn't bring up much in the way of answers, but a couple of sources indicated that it might be pronounced "ee-ther-neetz-ay" or eet-a-nitz." For all I know, either pronunciation could be correct, but this will hopefully give you an idea. As for spelling, I have seen it spelled jaternica and jaternice; I am guessing that the former is singular, and the latter is plural - but I do not know for sure. Throughout this pictorial, I will use jaternica, but it can refer equally to jaternice, hurka or hurky, as all are used in Slovakia.
When I first learned about jaternica, I was immediately intrigued with it and wanted to give it a try as it appealed to me on several levels. I am very interested in sausage making, and this seemed very easy to make; it also had the virtue of being unique, and offered a chance to try something out-of-the box that would help me grow as I learned the art of making sausage. There is also a family connection here; my wife's grandmother emigrated from Slovakia to Montana after World War One, and I could easily imagine her family at work during zabíjačka, grinding meats and stuffing casings.
Another very significant reason is because the description of the slaughtering time really appealed to me. For me, autumn is very important in my own family traditions; a time for hunting and for making meat, not so different from the zabíjačka in Slovakia. The meat that I make is based on venison rather than pork, but so what? And with that, my mind began to turn....
I take hunting very seriously; it is the taking of a life for the purpose of feeding my family, and that is no small matter. I pride myself on using as much of the meat off the animal as is possible, and yet I've always been rather ambivalent toward deer liver; I could take it or leave it - truly neutral where it is concerned. As for other organ meats or offal, I would occasionally at least try a bite of heart, tongue or kidney - and acknowledge that they tasted better than I thought they would - but I could never, ever bring myself to embrace them, simply because of what they were and where they came from....
And then I discovered jaternica and figured, why not? It looks pretty good, actually.... I resolved to try it using deer liver and heart at the first opportunity, which brings us to the autumn of 2013. I went hunting with 2 of my sons and a really good friend in the Rocky Mountains at Hardy Creek, Montana. The country there is beautiful, rugged and full of deer: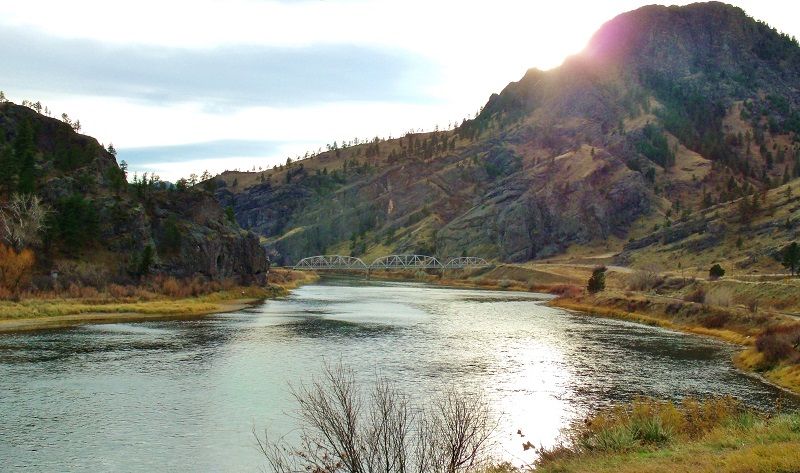 The hunting is hard - you will literally be climbing mountains - but it is also satisfying, and the views are breath-taking. To make a long story short, we came out of the hunt with two nice mule deer; a buck for my son and a doe for me. Even as I watched the deer drop from the shot, I was thinking to myself,
Well, now I'll get to give
jaternica
a try....
The recipe that I used was from Luboš's Slovak cooking blog; you can follow
this link
to learn more about
jaternica
and see how it is actually made in Slovakia using pork liver, heart and other assorted pork meat:
As you can see, the jaternica in Luboš's pictorial is prepared in Slovakia, and I wanted to make this Slovak sausage following this tried-and-true, authentic method as much as I could. For the sake of convenience, here is a "shopping list" of ingredients that you will need to make jaternica in the same manner that it is made by Luboš's family in Slovakia:
2 pounds of uncooked rice
Water in an amount that is double the volume of the rice (measured in coffee mugs)
1 pound pork liver
2 pork hearts
1 pound pork meat such as side or shoulder (about 50% fatty - you can also use skin)
2 small onions
Salt
Pepper
Marjoram
Oil
As mentioned above, I replaced the pork liver and heart with those from a deer; I also added two cloves of finely-diced garlic to the party. These are minor details however, and everything else was the same, and the method I used followed Luboš's as closely as I could.
Let's get going!
Here are the meats used: a pound of deer liver (trimmed of membranes, veins etc.), a deer heart and some pork cut from the shoulder:
Where the pork is concerned, I used about 2.5 pounds of pork "steaks" cut from shoulder (to make up for the missing 2nd heart); I used them because they were practically giving them away, and I could mix and match in order to buy the amount that I needed for this project, rather than incurring the wrath of The Beautiful-But-Thrifty Mrs. Tas by buying an entire pork roast. If any of you are doing the math, you will see that the proportions probably aren't exactly the same as in the list above; no worries, doesn't have to be perfect, so use what you have!
Aside from the meats above, I also used 2 pounds of plain, uncooked rice, salt, pepper, onion, garlic and marjoram: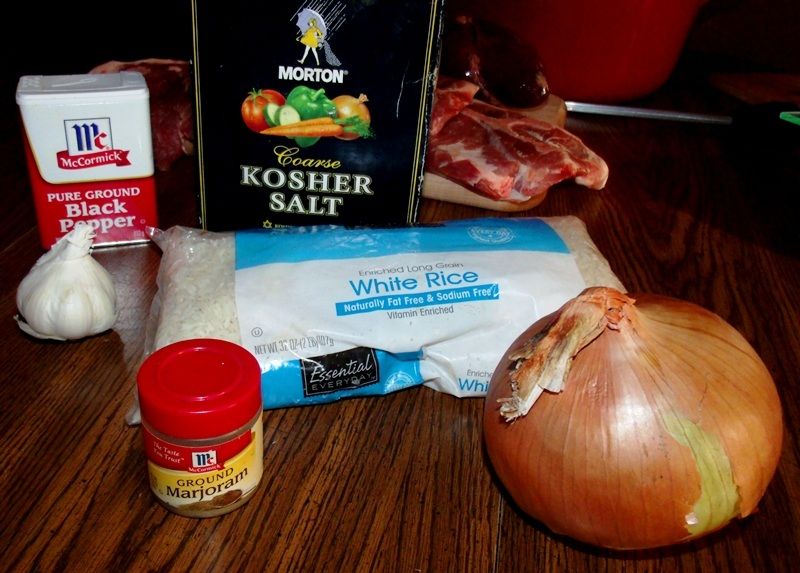 I didn't have 2 small onions, so I used a large one.
A note on the marjoram - I only had ground marjoram, and our local grocery had no marjoram, so ground marjoram is what went into my jaternica. You can use ground, leaf or whatever.
And finally, the ingredient that some might think is most important of all: bacon!
For the record, this is not my preferred brand of bacon, but it is what was available and it was on sale; sometimes that's what counts! I am guessing that if one had their own home-cured-and-smoked bacon to use, they would really enjoy it in this project.
The first thing to do is to get the rice going; to do that, measure rice by the coffee cup-ful into some sort of cooking pot, keeping track of how many cup-fuls you use until you've added 2 pounds: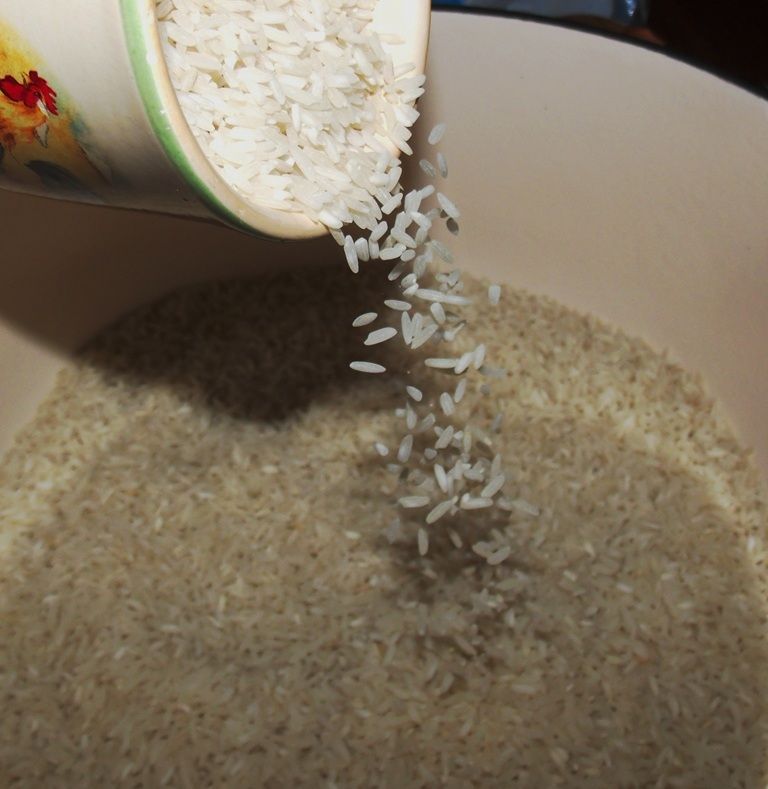 I don't remember now how many mugs it took to measure the two pounds, but that isn't what is important because different mugs are going to be different. The important thing is that however many mugs it does take, you want to use twice as much water, measured with the same mug.
But before you do that, add a little bit of fat (I used a tablespoon of olive oil, but butter, rendered lard or sunflower oil might be more "Slovak") and salt: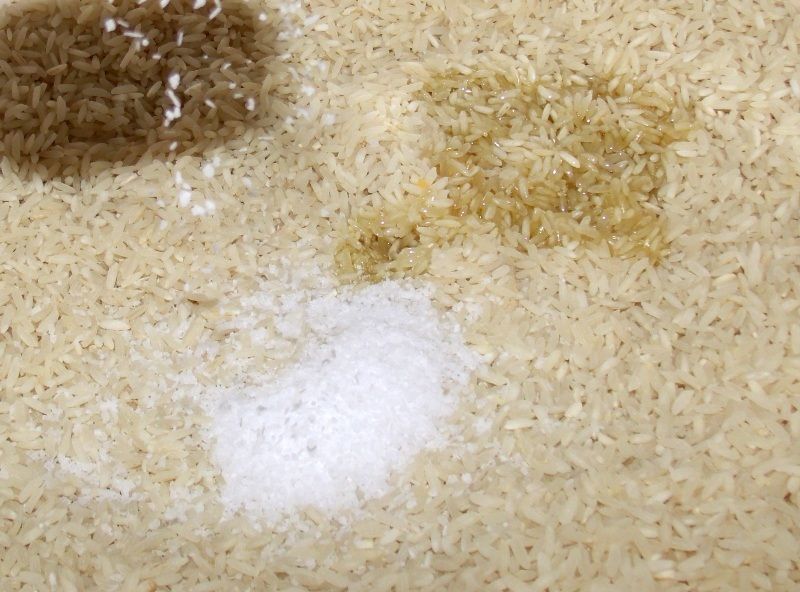 If I remember correctly, it was a tablespoon of salt that was added.
Now, go ahead and add that water: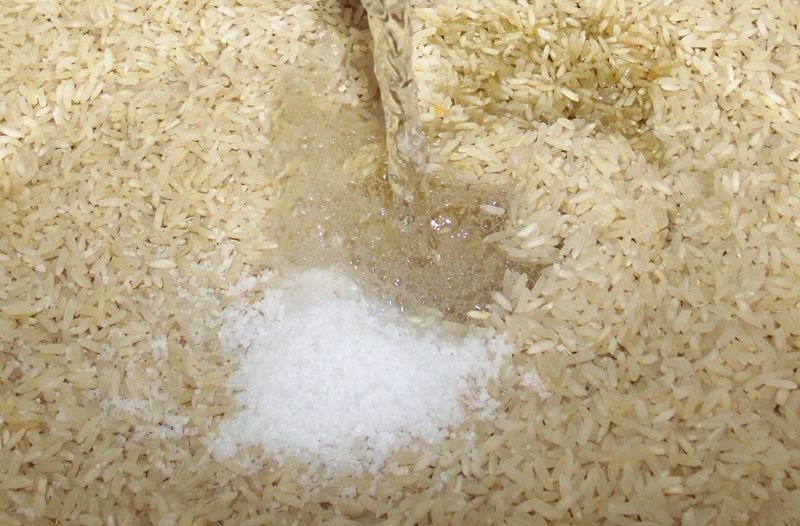 Remember that you're measuring the water by volume, so you want twice as many mug-fuls of water as there were of rice.
Now, put the pot on the stove top until the water begins boiling, then reduce the heat to low and cook the rice until it appears to have absorbed all of the water; we'll come back to this in a bit!
In the meantime, take your liver, heart and pork: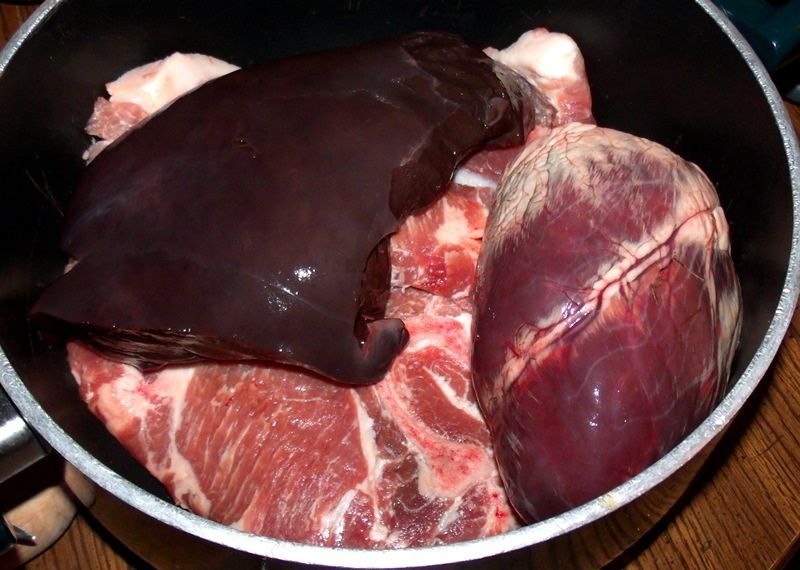 Note - I probably should have trimmed the majority of the fat from the heart, but didn't; there isn't much difference either way, but you will want to trim it off either before or after boiling.
Cover the meats with cold water, add a little salt (1 to 2 tablespoons, per your preference), and bring the pot to a boil, skimming any scum from the surface as it floats up:
When the water begins to boil, reduce the heat to something fairly moderate and continue to gently boil the meats until they are cooked; this can take 45 minutes to a little over an hour, depending on many factors. BE sure to continue skimming foam and "stuff" off the top, and add a little hot water if necessary in order to keep the meats submerged.
When the rice appears to have absorbed all (or nearly all) of the water: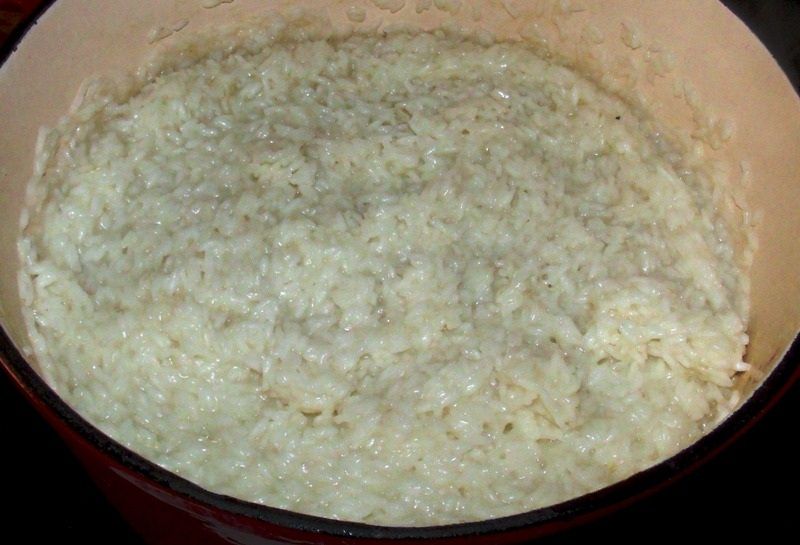 Turn off the heat, cover the pot and allow the rice to continue cooking as it absorbs the last of the water.
Now, give your onion a good chopping, then dice a few slices of bacon (I used 6) and a couple of cloves of garlic:
The amounts used are just a guess; I tried to keep it conservative, with an eye toward the fact that this would all be mixed with a lot of rice. If you want to try this, these amounts work pretty well, or they can be tweaked to your preferences.
Fry the diced bacon in a man over moderate heat:
When it is around half-done, pour off most of the rendered fat and then add the onions: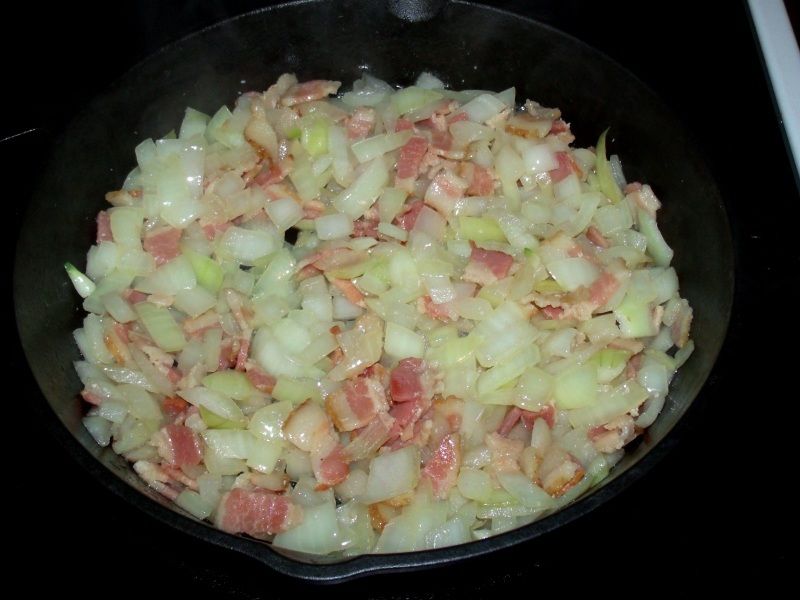 When onions begin caramelising, add the garlic and stir it around:
Then remove the pan from the heat and allow the mixture to cool.
By now, the meats have probably finished simmering; allow them to cool a little, and then remove them from the water:
That little piece in the middle is a chunk from the liver.
Be sure to reserve the broth that results from simmering the meats! You will need it later, if you decide to stuff the jaternica into casings; even if you don't do this, chances are that the fragrant, meaty broth will come in handy for some future project.
If you haven't already trimmed the fat from the deer heart, do so now (with pork, this is not important), then remove the bones from the pork (if any) and cut the meats into pieces that will fit in your grinder. Here are the liver and heart, cut up and ready to grind: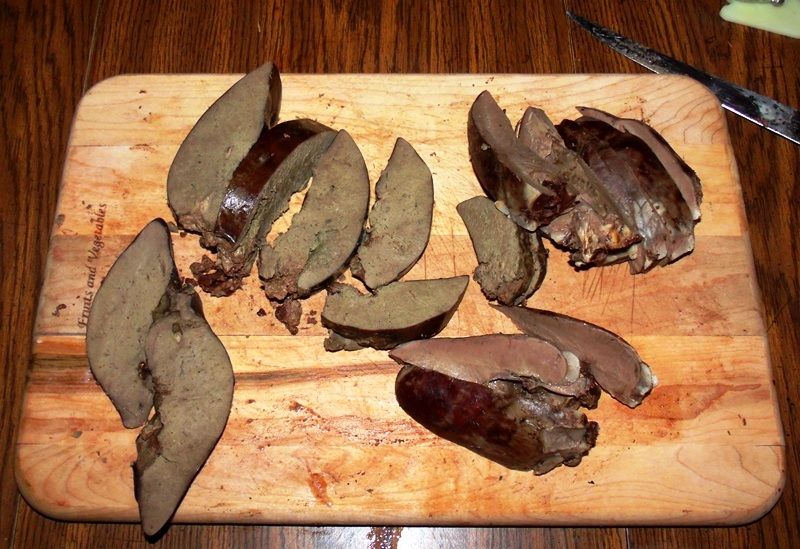 Next, run the meats through your grinder:
I used my Czechoslovakian Porkert grinder and a 1/4 or 3/16 plate (can't remember - if you can tell, let me know!); you can use a coarser grind if you want to - it's all good!
I alternated between liver, heart and pork as I fed the meat into the grinder, to ensure a good mix; here's what the meats looked like after their short-yet-dramatic journey though the Porkert: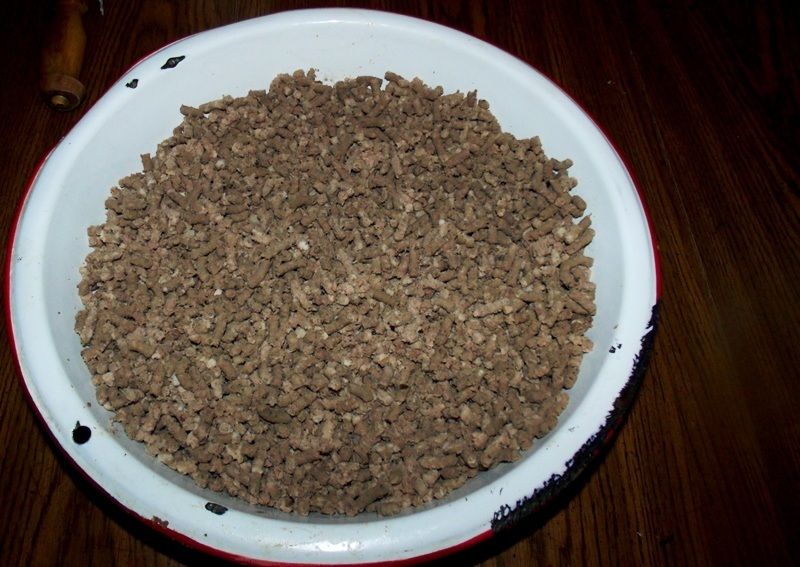 It was now time for me to introduce the meat to the rice, so I transferred the rice to a larger stock pot that would hold everything:
I had concerns that the rice might be too moist or "sticky" to mix well with the meats, but everything turned out just fine in the end.
As you can see, the amount of meat looks to be just about equal to the rice, but as I said before, the proportions don't have to be perfect and I believe that the meat-to-rice ratio is somewhat subjective according to preference. In any case, the next step is to bring the two together:
Then, add the onions, bacon and garlic:
And the spices:
I used 2 tablespoons of salt, 1 scant tablespoon of pepper and 1 generous teaspoon of marjoram. The recipe advises a very modest amount of marjoram, and I followed that advice - but considering the large yield of this recipe, I think you would probably be able to double that amount, if you like the flavour that marjoram provides. I also added a little more pepper than advised, making a full tablespoon instead of two teaspoons; crushed red pepper or paprika wouldn't be a bad thing either, as long as you don't overwhelm the other flavours. This is not intended to be a spicy sausage - just flavorful!
Next, gently fold everything together, mixing it as thoroughly as possible and melding all of the ingredients as much as you can. I found it helpful to tilt the stock pot at an angle, and then stir it up from the bottom with a wooden spoon as I rotated the pot a bit at a time.
Here's how it looked after a couple-three minutes of mixing:
Not perfect, but not too bad, either! I mixed if for a couple of minutes longer, and then called it good.
As mentioned above, you have the option to leave the mixture just like this and fry it as a porridge or hash, or you can stuff it into cases. If I would have been thinking, I would have reserved half and packaged it without stuffing, so I could see what the porridge would be like. But since I was in "making-meat-for-winter" mode, I simply ran the entire batch through the stuffing horn of the Porkert and into natural hog casings. While stuffing the cases, I took the longer sausages and tied the ends together into loops (hurky!).
A few important points about this:
1. You want to stuff the casings rather loosely, and tie them off at both ends.
2. You want to leave an inch or so of loose casing at each end, because when the jaternica is cooked, it will swell up; depending on how fully the casing was stuffed, you might risk losing some of the jaternica if it expands and "blows out" the end.
3. I noticed when casing the jaternica through my manual grinder that the process of running it through the grinder "mashes" the meats, onions, rice, bacon etc. together a bit, making it grey-ish in colour and giving it a finer texture. A coarser grind and/or a dedicated stuffer would not do this, of course, but I think it is "proper" either way.
Once all of the jaternica was stuffed into the casings, I lit the stove under the broth that the meats were simmered in (you did save it, right?) and brought the broth to a simmer, but not a boil - probably around 180 degrees. Working in batches 2 or 3 at a time, I dropped the sausages into the simmering broth and left them there until they floated to the top. The reason for doing this is because many of the sources I consulted advised me to do so in order to ensure that the contents are completely cooked, which would inhibit spoilage. I suppose that one could skip the poaching and immediately freeze the sausages, but about half of the sources I found said to do it, so I tried it. One benefit to doing so was that I was able to discover that a couple of the sausages weren't tied off very well or didn't have enough loose casing at the end; this caused the ends to blow out a bit on a couple of them, but it was an easy matter to re-tie the ends once the sausages came out of the broth.
As the sausages came out of the broth, I allowed them to cool naturally for a few minutes and then placed them in the freezer so that they could partially freeze. The reason for doing this is so that they would not be "squished" when I vacuum-sealed them for long-term freezer storage:
I sealed them in packages that were approximately 1 pound each, give or take; the finished jaternice looked just like all the photos I have seen of the product, so I must have done it right!
This recipe makes a lot of jaternica! Altogether, I ended up with a little over 8.5 pounds of it. The final yield would probably have been closer to 9 pounds, but there was some taste-testing here and there along the way, and I lost a little to the aforementioned blow-outs as well.
As I mentioned above, this sausage can be put to lots of good uses. It can be cooked any number of ways, and can the cases can even be split open and the contents fried as a hash or porridge for breakfast - or any time of day! I was able to sneak a taste here and there as I was making, stuffing and poaching the jaternica; my first impressions were that this is very savory-good stuff! Considering my feelings toward liver, which are neutral-to-slightly-negative, it was definitely not what I was expecting. I'm thinking that a lot of the hunters and sausage heads are going to enjoy this as an excellent use for organ meats, if they try it. If you like heart and/or liver, you will definitely love this; even folks who aren't very fond of liver might find it to be worth a try, as this Slovak porridge/sausage just might change your mind! It is quite tasty and, and its versatility will ensure that you can try it in a number of ways to find out how it works best for you. Something about it screams breakfast to me, but it would be equally good as part of a peasant lunch or supper - on toast, with some potatoes or beets, and of course an ice-cold mug of pilsner. Truth is, it's one of those things that can be enjoyed any time of day, especially this time of year.
Thanks for looking, and many, many thanks to Luboš and his family for sharing yet another wonderful Slovak tradition.
Ďakujem vám a dobrú chuť!
Ron