I bottled this beer last night and I'm pretty sure that this beer is going to end up being just about the way that it is supposed to be.
The beer looked great, in my opinion. In the fermenter, it seemed very dark, as I've described above; however, as I transferred it to the bottling bucket, I noticed that is much lighter than I thought, somewhere in the realm of amber and copper. I'll eventually get a photo, but for now, I am going to "borrow" this photo from the InterWebs, which shows just about how it seemed to look to me: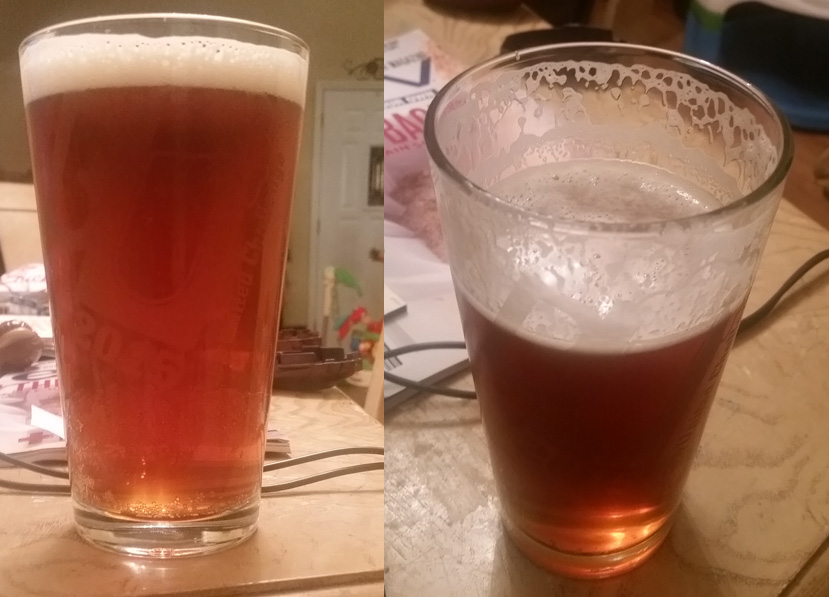 It might possibly end up looking a little darker, once it is in the glass, but this is the very close to the colour that I saw in the siphoning tube, and it looks beautiful, to me.
For this beer, I elected to use Brewer's Best Carbonation Tablets:
http://a.co/hSS8gHo
I like them because they are versatile (low-to-high carbonation, depending on how many you use), consistent, convenient and fool-proof. For this beer, I chose a "medium" carbonation, which is 4 tablets per bottle.
Due to a glitch on my part I was about 3 ounces shy of 9 bottles for this batch, so my #2 son Mike and I split the extra for a sample, leaving 8 bottles that will be carbonated in 2 weeks. The sample was very good, and very tasty, keeping in mind that this is not the finished beer, yet.
I was again impressed with the colour of the beer and liked that it was a bit on the darker side; that tiny, tiny bit of black malt worked really well! The aroma was malty and had a unique character that I assume comes from the corn and caramel; I don't remember anything relating to the hop aromas, but I wasn't really thinking about it at the time. My over-all impression is that they blended in well and complimented the profile as a whole, without asserting themselves or becoming dominant. I'll try to report more on that with future tastings.
The descriptions that I have read of Kentucky Common Ale include words and phrases such as "mild in character," "malty" and "slightly sweet," and those descriptions certainly seem accurate after trying this. It tasted the way you would expect with 6-row, corn and caramel malt, and had just enough bitterness to keep it from being too sweet. I am rather inexperienced with these types of beers, but over-all, I think I hit pretty darn close to the intended mark with this. So far, it seems like a very drinkable, very tasty beer, and it is funny that Mike and I both looked at each other and said at the same time, "Grandpa (meaning my dad) would love this."
Of course, the beer isn't finished yet, as some conditioning still needs to happen; I expect these initial characteristics to change a bit and will report on the results.
Ron