NOTE - Scroll down for original recipes
We embarked on our tour of
Foods of the World: The Cooking of Italy
by starting with a recipe from the North in a region called Emilia-Romagna.
This region lays claim to the original lasagna as well as several other pastas like tortellini (but who knows who really came up with them though). They also produce the only true Parmigiano-Reggiano - all others must use the more generic name Parmesan cheese (Parma, a city in the region, is responsible for the name).
So we chose
lasagne pasticciata
, a traditional dish made with
pasta con uova
(egg noodles),
ragu bolognese
(bolognese sauce - a hearty meat sauce) and
besciamella
(white sauce).
We started the ragu bolognese at midday since it was a 4 hours sauce. I admit that I did not follow the recipe in the Italian cookbook. It called for veal and chicken livers. While I feel I'm pretty adventurous, this was my first meat meal after nearly a life time of vegetarianism so I was a bit squeamish about organ meats. Plus, I have NO idea where to get the type of veal that is produced in Italy - calves raised with their mothers until slaughter. I didn't even see veal in either of the stores I went to this week. So I used an adaptation of a recipe from the new
Cooks Illustrated Cookbook
I got for Christmas. It simmered all day and made the house smell delicious!
-----------------------------------
Ragu bolognese
Makes about 2 ½ cups
5 tbsp butter
2 tbsp finely chopped onion
2 tbsp minced carrot
2 tbsp minced celery
6 ounces ground beef
6 ounces ground pork
1/2 tsp salt
1 cup whole milk
1 cup dry white wine
1 (28 –ounce) can whole tomatoes, drained with juice reserved, tomatoes chopped fine
Melt 3 tbsp butter in a dutch oven over medium heat. Add onion, carrot and celery and cook until softened, 5 to 7 minutes. Stir in the ground meats and the salt and cook, breaking up any large pieces with a wooden spoon, until no longer pink, about 3 minutes.
Stir in the milk, bring to a simmer, and cook until the milk evaporates and only rendered fat remains, 10 to 15 minutes. Stir in wine, bring to a simmer and cook until wine evaporates, 10 to 15 minutes. Stir in the tomatoes and reserved tomato juice and bring to a simmer. Reduce heat to low so that the sauce continues to summer just barely, with occasional bubble or two at surface, until liquid has evaporated, about 3 hours. Season with salt to taste. (we didn't need any more salt)
---------------------------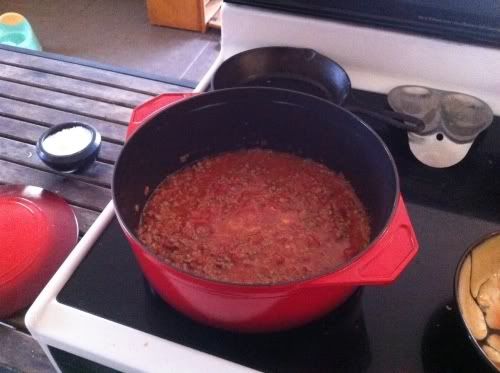 Next, we made the pasta according to the recipe posted
here
. We rolled the dough through the pasta machine and made thin sheets. We rolled out sheets to the second to thinnest setting.
---------------------------------
To cook the pasta:
6 to 8 quarts water
1 tbsp salt
1/2 lb lasagna
[I used the entire ¾ lb from the above recipe – not sure if this is a dry or wet weight!]
In a large soup pot or kettle, bring the water and salt to a bubbling boil over high heat. Add the lasagna, stirring gently for a few moments with a wooden fork to be sure the strips do not stick to one another. Boil over high heat, stirring occasionally, until the lasagne is tender, but still al dente, or somewhat resistant to the bite – the time may vary between 10 and 25 minutes, depending on whether you use homemade or commercial lasagna. Set the pot under cold running water for a few minutes to cool the pasta. Then lift out the strips and spread them side by side on paper towels to drain.
-----------------------------
While the pasta was cooking, we made the besciamella sauce:
---------------------------
Besciamella for Lasagna
3 tbsp butter
6 tbsp flour
2 cups milk
1 cup heavy cream
Pinch of ground nutmeg
1 tsp salt
In a heavy 2- to 3- quart saucepan, melt the butter over moderate heat and stir in the flour. Remove the pan from the heat and pour in the milk and cream all at once, beating with a wire whick until the flour is partially disooveld. Return the pan to high heat and cook, stirring constantly with the whisk. When the sauce comes to a boil and thickens into a smooth cream, reduce the heat and simmer, still stirring, for 2 or 3 minutes. Remove from the heat and season with nutmeg and salt.
-------------------
Hubby was very apprehensive about a lasagna that essentially had no cheese in it (there's a sprinkling of parmesan on top). But after making the white sauce, we realized there was no need for cheese! It's thick and tasty.
Finally, on to the actual lasagna direction!
----------
Lasagne Pasticciate
Baked Lasagna with meat and cream sauces
To serve 6 to 8
Lasagna as above
Besciamella sauce
[came out to 3 cups]
2 1/2 cups ragu bolognese
1/2 cup freshly grated Parmesan cheese
Preheat the oven to 350F. Generously butter the bottom and sides of a 9-by-12-by-3 inch serving casserole or baking dish
[we didn't think it was going to make enough so we used a 9x9x3 – I think it worked perfectly]
.
Spread a layer of ragu bolognese about 1/4 inch deep evenly over the bottom of the buttered casserole. Spread over it about 1 cup besciamella. Lay one third of the lasagna on the besciamella, overlapping the strips slightly. Repeat the layers of ragu, besciamella and lasagna two more times, then tops with the rest of the ragu and a masking of besciamella. Sprinkle with grated cheese. Bake 30 minutes, or until the sauce is bubbling hot.
----------------
We found the homemade lasagna to be INCREDIBLY flimsy and fussy to deal with. Maybe we just made it too thin, but we ended up needing the whole batch, so I'm not sure. The assembly was a bit of a nightmare, but well worth the effort!
We served it with some Caesar salad from the
Foods of the World: Cooking of America
book even though I now know that's an American invention - it just seems to go with Italian food!
We will most certainly be making this again. But it was so incredibly rich, you could only have one little piece. It was just so creamy - that was certainly the overpowering flavor. The recipe ends up with 3 cups of white sauce and 2.5 cups of meat sauce. I'd like to keep the filling at the same level (5.5 cups) but use 2 cups of white sauce and 3.5 cups of meat sauce next time.