Just thought I would make any Northern gardeners here jealous!
In Texas, we grow veggies year round. This year has been a little hard on roots crops (beets and carrots are practically non-existent) but we've gotten some. Our family farm has a CSA - subscription vegetable baskets. I'm the taste tester of everything so I get a packaged basket just like the customers. I cook from it all week and then post pictures of my creations on the farm blog with some tips on what to do with certain veggies since a lot of people are new to eating seasonally.
So this is the basket that came this week: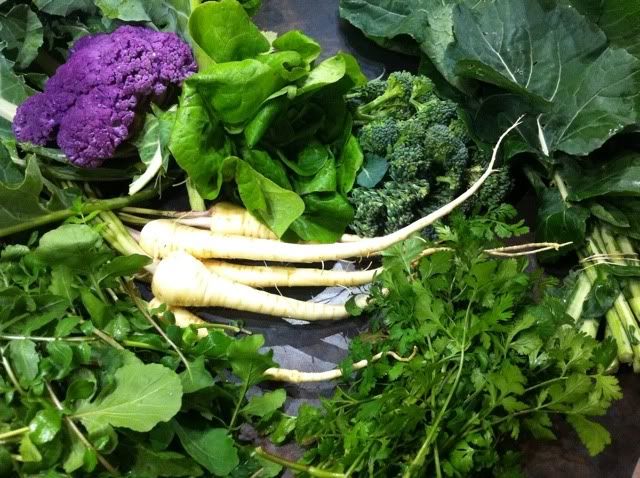 PURPLE CAULIFLOWER! It's the first year we've grown it. Outrageous. I'm worried that the color will bleed out if I cook it, so I'm thinking of maybe light steaming and just serving with dip (along with some broccoli, carrots, radishes, etc).
The roots are a skinny type of parsnips - one of my favorite!
The greens just below the parsnips on the left is arugula and on the right is cilantro. Bibb lettuce above the parsnips, along with some broccoli. And the ubiquitous winter green - collards - on the far right.
Anybody else doing any harvesting now?