Making Ahron's Falafel
I think the first mention that I ever heard of falafel was in late 2009, or possibly in 2010. Even then, it was quite a long time until I had any understanding of what falafel was, but once I discovered it, I knew that I wanted to try it. It is quite possible that my family and I were the last people in the world to learn of the existence of falafel, but just in case we were not and there is someone else out there living in darkness, I prepared this pictorial in the hopes of spreading the gospel about this wonderful and widely-popular Levantine street food.
Arguments will probably always rage about the origin of falafel; it is not my place to state whose "national dish" this is with any authority, but the best evidence that I found in my research seems to indicate that the concept began in Egypt, using fava beans rather than the now-quintessential chickpeas. Wikipedia elaborates on the spread of falafel culture and how its primary ingredient has evolved:
The origin of falafel is unknown and controversial. A common theory is that the dish originated in Egypt, possibly eaten by Copts as a replacement for meat during Lent. As Alexandria is a port city, it was possible to export the dish and name to other areas in the Middle East. The dish later migrated northwards to the Levant, where chickpeas replaced the fava....

Debates over the origin of falafel have sometimes devolved into political discussions about the relationship between Arabs and Israelis. In modern times, falafel has been considered a national dish of Egypt, the Palestine, and of Israel.... While falafel is not a specifically Jewish dish, it was eaten by Mizrahi Jews in their countries of origin. Later, it was adopted by early Jewish immigrants to Palestine. Due to its being entirely plant based, it is considered parve under Jewish dietary laws and gained acceptance with Jews because it could be eaten with meat or dairy meals....

Today, falafel is eaten all over the world.... In North America, prior to the 1970s, falafel was found only in Middle Eastern and Jewish neighborhoods and restaurants. Today, the dish is a common and popular street food in many cities throughout North America...as an alternative to meat-laden street foods....

Falafel is made from fava beans or chickpeas, or a combination of the two. The use of chickpeas is predominant in most Middle Eastern countries. The dish is usually made with chickpeas in Syria, Jordan, Lebanon, Israel and Palestine.... The Egyptian variety uses fava beans....




http://en.wikipedia.org/wiki/Falafel
Wiki goes on to describe the health benefits of falafel:
When made with chickpeas, falafel is high in protein, complex carbohydrates, and fiber. Chickpeas are also low in fat and salt and contain no cholesterol. Key nutrients are calcium, iron, magnesium, phosphorus, potassium, zinc, copper, manganese, Vitamin C, thiamine, pantothenic acid, Vitamin B, and folate. Phytochemicals include beta-carotene. Falafel is high in soluble fiber, which has been shown to be effective in lowering blood cholesterol.

http://en.wikipedia.org/wiki/Falafel
Such an interesting dish, and I'd never really heard of it! I was immediately hooked, and decided to give it a try in order to see what it was all about. The recipe that I used is rather special to me, because it comes from a very good friend whom I have not yet met, FotW's own Ahron (africanmeat)! Ahron generously shared his sister's recipe with me, and graciously encouraged me to share it with the forum. His sister used to have a food truck that sold falafel, so it's the real deal!
Ahron's Falafel

For 20 falafel balls:
2 cups chickpeas (1 pound, dry), soaked in water all night
4 cloves of garlic, chopped
1/2 onion, finely chopped
1 potato (boiled, then mashed with a fork)
2 teaspoons baking soda
1/3 cup of chopped parsley
1/2 cup chopped cilantro
1 teaspoon cumin
1 teaspoon paprika
Pinch of salt
Pinch of black pepper
Oil for deep frying
Preparation:
1. Drain the chickpeas, then grind them with garlic, onion and spices in a food processor.
2. Process until coarse, moist and pasty; if you need to, add some water.
3. Transfer to a bowl; add the mashed potato and remaining ingredients and mix well.
4. Cover and set aside for an hour.
5. Add the baking soda and mix well.
6. Make falafel balls with a device or with wet hands and fry until light brown in colour.
I was amazed at just how easy it was to make falafel, and impressed with how tasty this popular street food is. Here's all that you need: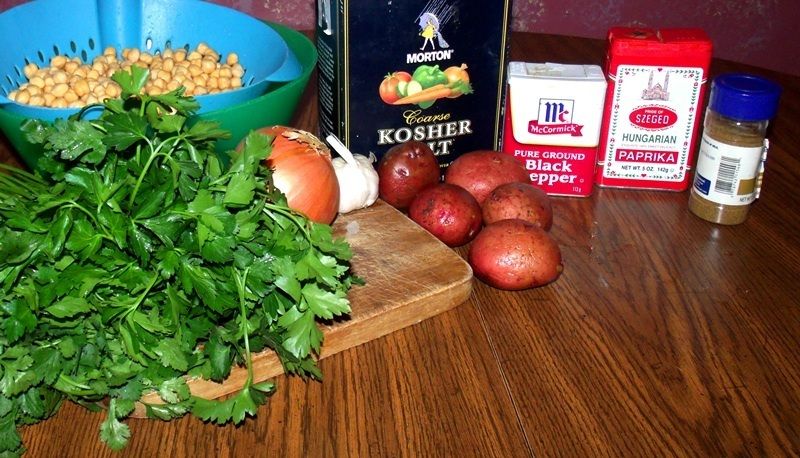 The ingredients are pretty self-explanatory: chickpeas in the back (After soaking over-night), then (left-to-right) cilantro, parsley, onion, garlic, potato, kosher salt, black pepper, paprika and cumin.
To begin, peeled the small potatoes that I had and put them on to boil; then, I chopped half an onion and 4 cloves of garlic:
Next, I measured my spices:
Clockwise from the top: a generous pinch of salt, a generous pinch of pepper, a generous teaspoon of paprika and a generous teaspoon of cumin.
You can tweak the spices to your taste, varying the amounts as you prefer; but since this was my first attempt, I kept things reasonable.
After adding the spices to the onion and garlic, I chopped the cilantro and parsley rather finely:
When it comes to cilantro, I am "one of those people" who can't abide very much of it. I wanted to adhere to the spirit of Ahron's recipe though, so I only cut back on the amount of cilantro by a little bit; in essence, I swapped the measurements for the parsley and the cilantro, and called it good.
By this time, the potatoes were finished boiling, so I drained them well and mashed them thoroughly with a fork:
The mashed potato serves as a binder for the falafel balls, holding them together as they cook. Ahron's recipe calls for only one potato, but at the time, I only had a few small potatoes left from our summer gardening, so I used 4 of those. My logic was that once they were peeled, they would approximate an average-to-large potato, and this seemed to work well.
With this work done, I turned my attention to the chickpeas; the vast majority of sources in my research cautioned to not cook the chickpeas - which will result in a mushy texture and poor binding - so I followed this advice. Please note that if you want to make falafel from fava beans, you must cook them, first.
I had intended to use my food processor to mash the chickpeas to their proper consistency, but for some unexplained reason, a curious little fellow living in our home named "Not Me" ran off with a key part to my treasured appliance. I tried using an old-fashioned potato masher, with disastrous results, and eventually had the presence of mind to remember our blender, languishing away in a closet. This seemed to do the trick well enough when a little water was added, and I eventually reached what seemed like the right consistency. I added the onion, garlic and spices and blended them into the mixture, resulting in this: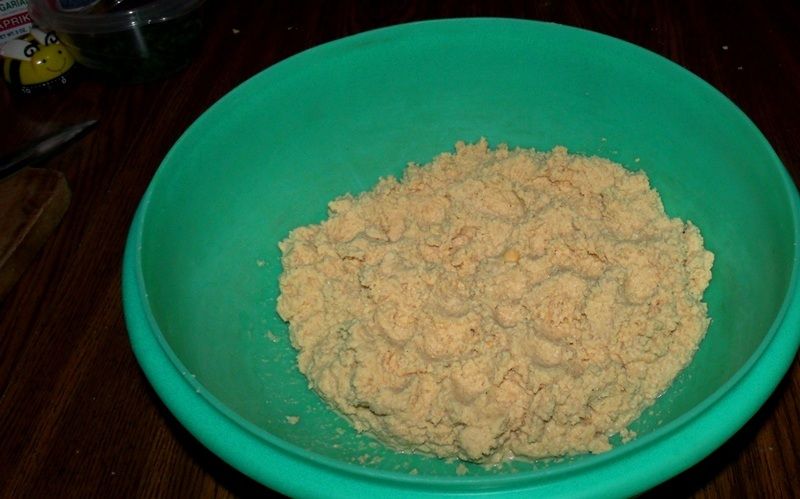 Next, I introduced the mashed potato: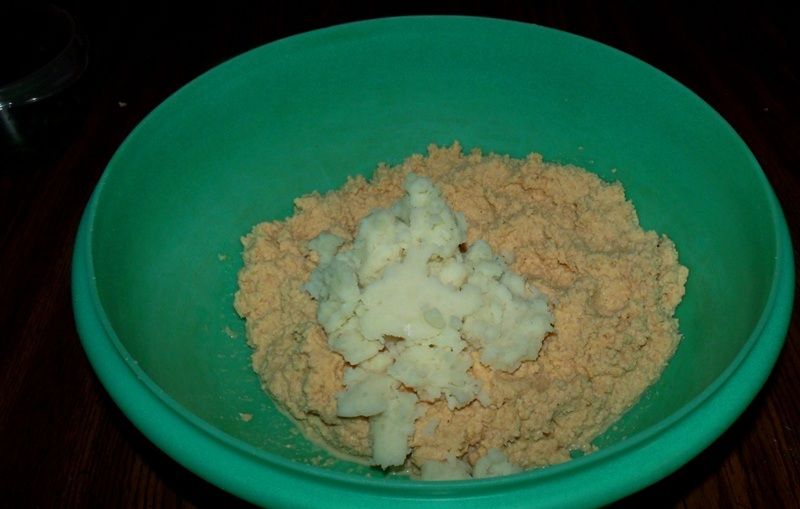 Then the herbs: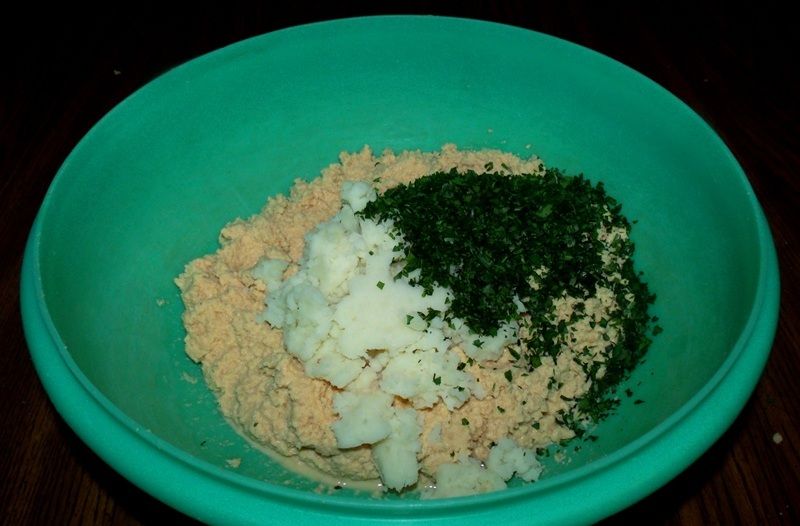 At this point, I poured some canola oil in my cast iron frying pan until it was about half full and began heating it; I set the burner to medium, but a few degrees shy of medium would probably have been better.
As the oil heated up, I mixed all of the ingredients for the falafel together, and then added 2 teaspoons of baking soda to act as a leavening agent:
Wikipedia's article reports that, for cooking, falafel is shaped into balls, patties or other similar shapes by hand or with a device called an aleb falafel; not having one of these tools around, I simply recruited my youngest son to help me form the falafel balls:
The mixture seemed rather "loose" to my un-trained eye; the "balls" turned out to be slightly flattened by this circumstance; somewhere between a ball and a patty in shape, but since this was a first attempt for me, I decided to go with it and see what happened. As things turned out, this was just about right, I think.
True to the recipe, we ended up with 20 falafel balls/patties, ready to cook: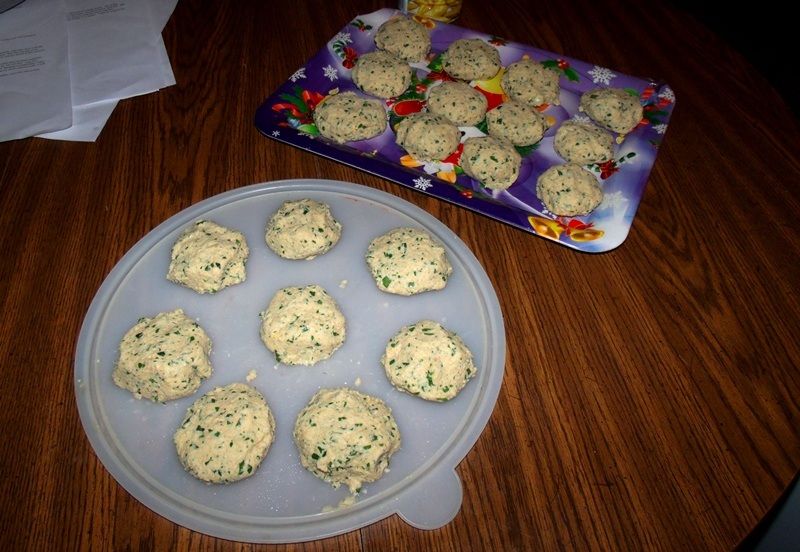 I fried them in batches - 5 at a time - first one side:
Then the other:
As you can see, the leavening action of the baking soda worked well, puffing the falafel up a bit and somewhat returning them to their expected spherical form, albeit slightly flattened on the top and bottom due to the pan they were cooked in.
I was unsure of how long to cook them, so I figured about 3 to 5 minutes per side would be a good estimate, leaning more toward 5 in order to make sure that they were thoroughly cooked. I cut one open, and it seemed to be done properly, so I fried the rest of the falafel batches according to this plan, reducing the heat just a bit in an effort to help the falafel keep its proper, golden-brown colour.
Falafel is served in a variety of ways; most often, it is served in pitas, khoubz or similar flat bread with an array of fresh and pickled vegetables such as tomatoes, lettuce, cucumbers and shipka peppers. I was making the falafel as part of a Levantine-themed supper, and was doing a surprisingly-good job of timing all of the component dishes to be done at the same time; since my preparation was part of a larger meal, I treated the falafel more as a side dish:
There are many sauces that you can enjoy with falafel, including hot sauce, tzatziki and - the one that I chose for this evening - a tahina-based lemon-and-garlic sauce known in Lebanon as taratoor. This was, in my opinion, an excellent choice!
Here are the finished and plated falafel, topped with taratoor and served alongside khoubz, tarnegolet bemitz hadarim, kumquats, shipka peppers and (not pictured) a Lebanese lentil soup:
Having never had falafel before, I was unsure of what to expect; however, based on the ingredients, I did have an educated guess as to how it might taste. When I tried this Levantine street food for the very fist time, I was very impressed with it and immediately knew that I would be enjoying it again and again in the future.
The falafel had risen very well while cooking, giving the mashed chickpeas a light, puffy mouth-feel interspersed with contrasting, nutty texture here and there. Visually, I think that the colour was very good; golden-brown on the outside, tan and flecked with green (from the herbs) inside. If I would have been thinking, I would have gotten a photo of one of them cut open, but it didn't occur to me at the time.
Most importantly, the falafel tasted great! I instantly fell in love with this ancient-yet-modern food, truly enjoying the way that the flavours played off each other. My worries about the cilantro amounted to nothing; it worked perfectly with the parsley without overwhelming. The spices really brought the flavours of the Middle East to my palate; the warm, enticing paprika and cumin added to the exotic ambience provided by the rest of the ingredients, rounding out the falafel very well. The taratoor, in my opinion, was a perfect choice for a sauce, as it added some bright highlights to the nutty chickpea base; one of these days, I will try falafel with tzatziki., and with hot sauce of some sort, but I am pretty sure that the taratoor will always be my favourite. Taken as a whole, my first falafel was delicious all-around, and I cannot wait to make it again, as it will be served often in our home whenever the occasion arrives.
Now that I know what falafel is about, I hope that I have successfully shared my experience with you, and have inspired you to give it a try. For anyone who has any questions, please feel free to ask; for anyone with more experience, please let me know if I made any glaring errors. My thanks to all for taking the time to read this, and I hope that you give it a try.
Ron