Making It With Mustard
Our recent discussions about gravlaxsås highlights the simple culinary fact that there's a lot more to mustard than the ballpark condiment we're so used to.
Mustard is actually one of the oldest condiments around. There are biblical references to it, for instance, and some works that pre-date the bible also discuss it as both a culinary and medicinal herb. In all that time, however, the basic method of preparing mustard remains the same. The seed is ground into a powder and mixed with a liquid---usually, but not always, an acidic one.
There are, literally, hundreds of blends making up prepared mustard, each of which has its own flavor profile.
The actual flavor and appearance of prepared mustard is determined by several factors: the type of seed used; the grind; the liquid chosen; and other ingredients added for flavor and appearance. The bright yellow of ballpark mustard, for example, comes from the addition of turmeric.
Culinary mustard seed comes in three colors. In order of increasing potency they are white or yellow mustard (Sinapis hirta), brown mustard (Brassica juncea), and black mustard (Brassica niger). Interestingly, while black mustard is primarily used in Indian foods, brown mustard is also known as Indian mustard. Go figure.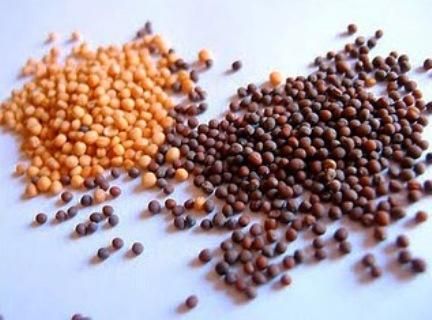 Potency of the seed is affected by age. The younger the seed, in each case, the more potent it will be. This degradation is accelerated once the seed is ground. So, the first clue to preparing great mustards is to prepare it in small quantities, grinding the seed as you need it.
Most commercial mustards are made in the smooth form. To achieve this, the husks are removed, and the rest of the seed ground finely into what is called "mustard flour." That's the same mustard powder you can buy off any spice shelf. Whole grain mustard is made by cracking the seed, mixing it with mustard flour, and adding the liquid. Essentially, whole grain mustard is regular prepared mustard with cracked husks mixed in. Sometimes whole seeds are included as well.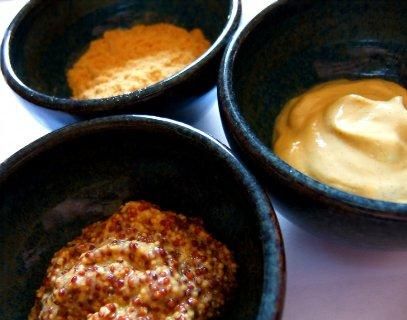 When making it at home, you merely grind the entire seed into powder, and not worry about the husks. If you want whole grain mustard, just pulse the grinder to crack some of the seed, set it aside, then turn the rest into flour.
Commercial mustards, and most home-made ones, do not require refrigeration. Because of their acid content, they will not support the growth of mold, bacteria, or other harmful pathogens. Storing mustard at room temperature, however, hastens the loss of potency, so it's a good idea to store prepared mustard in the fridge.
No matter which seed you choose, ultimate flavor is affected by the liquid chosen. The majority of prepared mustards use vinegar as the base. But that's not always true. Classic English mustard is made strictly with water, as is Chinese mustard. Irish mustard is made with either stout or whisky. Beer mustard, as the name implies, uses beer. It's one of the "newest" forms of prepared mustard, having originated in the American mid-west in the 20th century.
Other mustards use wine, or a combination of wine and vinegar, to achieve their flavor. Dijon mustard is the most well-known of these. It's also among the most misunderstood mustards.
When Dijon mustard was first formulated in 1856, in Dijon, France, it used a combination of verjus and white wine as the liquid base, giving it a distinctive flavor. Verjus (or verjuice) is an incredibly sour-tasting liquid made from unripened grapes, on the continent, or from crab apples, in England.
Dijon mustard, nowadays, uses white wine and vinegar, instead of the verjus. If you want to make your own, verjus is back on the market from a handful of artisan producers, so you can go for the original. Or just use one of the modern recipes.
Contrary to conventional belief, Dijon mustard is not recognized by the European Union as a protected product, and does not carry a PDO classification. In fact, most of it is made in America and marketed under the familiar Grey Poupon label---an imprinteur of Kraft Foods.
What all this means is if you want to vary the flavor of mustard, change the liquid. Take a standard recipe and, for instance, try mixing it with beer instead of vinegar.
Finally, mustard flavor is affected by other ingredients. These range from herbs, other spices, horseradish, sugars of various kinds, and even fruit. Sometimes, as with Creole mustard, they have to age in order to bring out their full flavors. Other times they depend on thickeners and smoothers to create a sauce-like preparation, such as starting with simple Chinese mustard and creating a creamy dipping sauce. And sometimes another flavor determines the hallmark of the mix, as when using sugar in German style mustards.
As many of you know, I am not a big fan of Wikipedia. But I did find, there, an interesting breakdown of mustards by type that might prove useful. Here it is in a slightly edited form:
American mustard is the most commonly used mustard in the United States and Canada.. A very mild prepared mustard colored bright-yellow by turmeric, it was introduced in 1904 by George T French as "cream salad mustard".
Spicy brown or "deli style" mustard is also commonly used in the United States. The seeds are coarsely ground, giving it a speckled brownish-yellow appearance. In general, it is spicier than yellow mustard.
Beer mustard, which substitutes beer for vinegar, originated in the 20th century somewhere in the American Midwest and has remained a popular local condiment.
Dijon mustard originated in 1856, when Jean Naigeon of Dijon substituted verjuice, the acidic "green" juice of not-quite-ripe grapes, for vinegar in the traditional mustard recipe. In general, mustards from Dijon today contain white wine rather than verjuice. Dijon mustard is not covered by a Protected Designation of Origin (PDO) or a Protected Geographical Indication (PGI) under the auspices of the European Union. As a result, while there are major mustard plants in Dijon and suburbs most "Dijon" mustard is manufactured elsewhere, most prominently in the United States under the Grey Poupon brand.
In whole-grain mustard, also known as granary mustard, the seeds are mixed whole with other ingredients. Different flavors and strengths can be achieved through different blends of mustard seed species.
Honey mustard is a blend of mustard and honey, typically 1:1. It commonly used both on sandwiches and as a dip for finger foods such as chicken strips. It can also be combined with vinegar and/or olive oil to make a salad dressing.
Combinations of English mustard with honey or demerara sugar are used in British cuisine to coat grilled lamb cutlets or pork chops.
Fruit mustards: Fruit and mustard have been combined since the Lombard creation of mostarda di frutta in the 14th century. Large chunks of fruit preserved in a sweet, hot mustard syrup were served with meat and game, and were said to be a favorite of the Dukes of Milan. Variations of fruit mustards include apple mustard, apricot-ginger mustard, berry mustard, cranberry mustard, lemon mustard, orange and honey mustard, and pineapple and honey mustard.
Hot mustards: The term hot mustard historically usually referred to mustards prepared to bring out the natural piquancy of the mustard seeds. This is enhanced by using pungent black or brown mustard seeds rather than the white mustard seeds used to make mild mustards.
Sweet mustard (Bavarian) is made from kibbled mustard seed and sweetened with sugar, applesauce or honey. It is typically served with Weisswurst or Leberkase. There are regional differences within Bavaria toward the combination of sweet mustard and Leberkase. Other types of sweet mustards are known in Austria and Switzerland.
(Photos from various internet sources; I want to thank Ron for finding and downloading the photos for this article.)