REcipe shared by John Rivera, along with these comments:
Its an ancient one, for real Mayan, and I've made it before and its good. Don't know where they would have gotten cumin from, but that's probably a modification over the centuries.
This is good stuff, a greay accompaniment for any soutwest or latin meal ~
· 1 small red onion, thinly sliced
· 5 black peppercorns
· 3 allspice berries
· 1/4 teaspoon cumin seeds
· 1/4 teaspoon dried oregano, Mexican preferred
· 2 cloves garlic, minced
· 1/3 cup white vinegar
· Salt
Place the onions in a bowl and pour boiling water over them. Let them sit for 1 minute and then drain. Discard the water.
Coarsely grind the peppercorns, allspice, and cumin seeds in a spice or coffee grinder. Add to the onions.
Add the remaining ingredients, and enough water to barely cover. Allow the mixture to marinate for a couple hours to blend the flavors.
------------------------------------------------------
these were easy and tasted great! i liked the way they took the harsher elements of the red onion flavour away and left behind spicy, tart-vinegar goodness that played off the onion ~ and the colour was great, too!
#3 son billy made this mayan pickled onion using the recipe above. here he is cutting a large red onion in a not-so-safe way: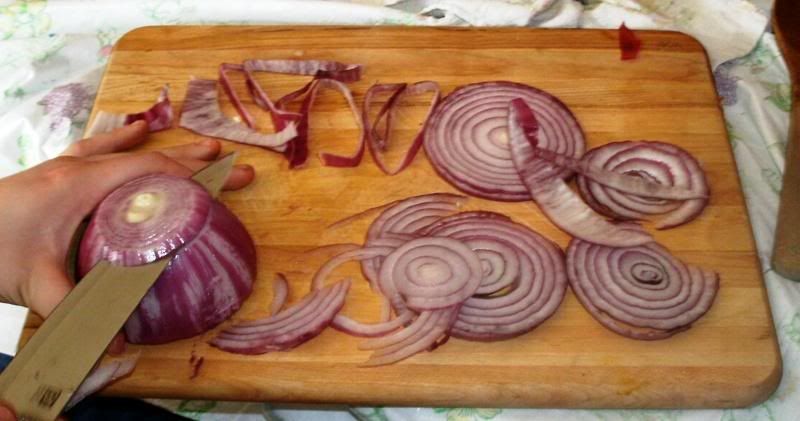 since the onion was so large, we decided to double the recipe. billy wasn't too careful with his measurements, doing a lot of eyeballing, but it was all good and the results were very tasty!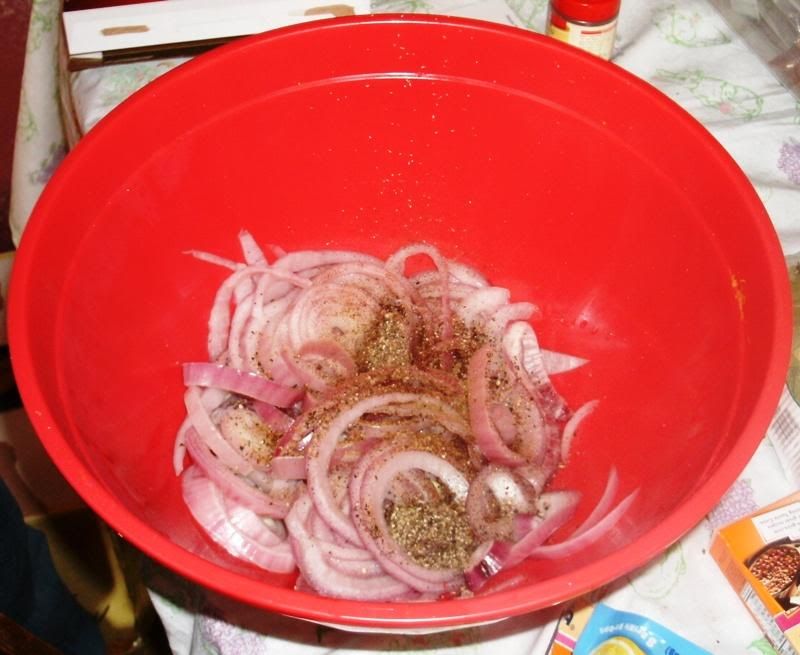 most everyone who tried the onions liked them. the beautiful mrs. tas isn't a big fan of raw onion, and this recipe unfortunately did not change that position (she also isn't very fond of vinegar); however, the boys and our dinner guests did like them! the only thing i would do different is make sure all the onion slices were nice and thin.
as an aside, there was plenty of vinegar marinade in the bowl that was used effectively as a spoon-on sauce for the pork. good stuff all-around!