From FotW: Italian Cooking.
Mozzarella in Carrozza
Deep fried cheese sandwiches
Serves 4 to 6 [we made a half batch and it was still enough to serve 4]
Vegetable oil or shortening for deep frying
a 1 lb loaf of sliced French or Italian bread [we used the largest diameter French bread from the grocery - not a baguette - and sliced it ourselves, about 1/2" thick]
1 lb fresh mozzarella cheese [the kind you get in liquid, not the 'string cheese' american version]
4 eggs
3 tbsp milk
1 cup milk
1 cup fine dry bread crumbs
Heat 3-4" of oil to 375F in a large heavy sauce pan.
Using a cookie cutter or a small glass, cut slices of bread into 3" rounds. [I just cut off the crusts since our bread wasn't even quite that big] Slice mozzarella into 1/4" slices, just a bit smaller than the bread. Make sandwiches from the cheese and bread.
Beat the eggs and 3 tbsp milk in a small bowl. Pour a cup of milk into another bowl and spread the bread crumbs on a sheet of wax paper.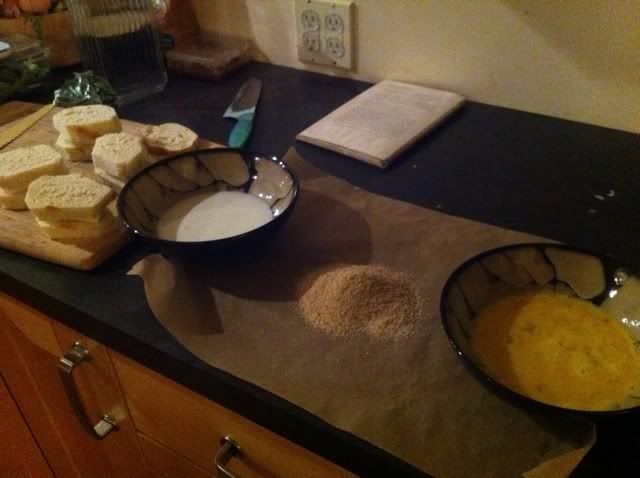 Dip each sandwich into the milk briefly, press the edges of the bread together to seal them. Coat both sides in the bread crumbs. To seal the edges even more securely, roll the sandwiches slowly though the bread crumbs like cartwheels. Dip the sandwiches one at a time in the egg mixture and fry in the hot oil until golden brown on both sides. Drain on paper towels and serve while still piping hot.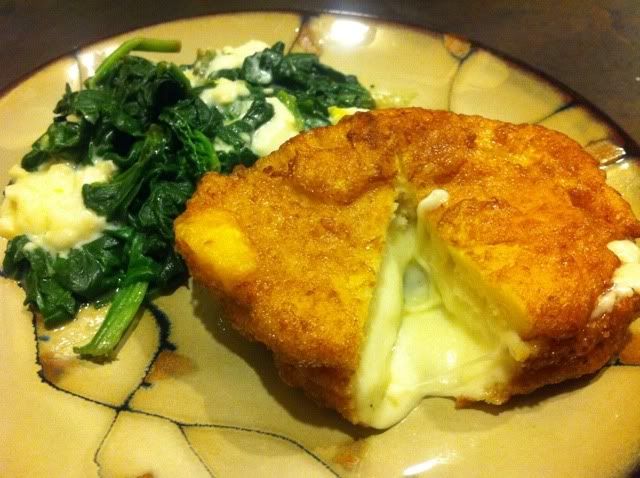 It was absolutely delicious and unusual. Just don't look in my arteries any time soon!