This one has been in our family since I was a kid and never fails to be a good one. My mother is originally from southwestern Colorado, so i am assuming that she brought this recipe to our family from her childhood. It's one that I remember her making when I was young, and for some reason it was always a special time when we had them, even though there's nothing complicated or elaborate about the recipe.
Here's what you need for 10 to 12 burritos:
1 package of 10 or 12 "regular-sized" (maybe 10"?) flour tortillas

1 "large" can of refried beans

1 onion, diced

1 "large" can of Old El Paso enchilada sauce

Shredded sharp Cheddar cheese

Oil for frying
A note on ingredients: I personally prefer to use Old El Paso enchilada sauce when making these burritos; this may seem weird to some, but it's what I like. Keep in mind that if you want, you can use any sauce, or make your own; this is simply the sauce I grew up with for home-made tacos and burritos - I didn't even know there were "other" taco sauces out there to use until I was in my teens!
Besides, I like the flavour profile that it has, and it works very nicely with the refried beans and onion, so it is recommended. I guess thinking about it, you can make your own tortillas, too - and refried beans and so on - but this is weeknight food, where some convenience is understandable or desired. Besides, this is how my mom made them, so this is how it's getting made!
Here's the goods, as they say:
You've probably noticed that there is some extra stuff here. We bought enough for what was essentially a double batch this time, since we were feeding a crowd. The store didn't have a large can of sauce, so I got three small ones. We ended up making 17 burritos total (don't ask me how that number came to be the result, because I don't know), but had leftover beans and a little over 1 can of extra sauce, so it's safe to assume that 1 large can of refried beans will make 10 to 12 burritos, depending on how you divide it up - more on that, later. Also, as you can see, we added some sliced olives to the party, since The beautiful Mrs. Tas likes black olives on anything remotely Mexican.
But something's missing! What could it be?
Oh yeah, the cheese.... Well, since I'm cutting up the onions, here's the cheese, too:
When I was growing up, we used a cheese called "longhorn," a variety of cheddar that I really like; however, longhorn seems to be rather scarce these days - at least around here - so I usually go with the sharpest cheddar I can find. If you prefer a white cheese, then I recommend one that has a similar flavour profile and "meltability."
In any case, dice your onion finely, and then let's get going with the tortillas. My mom insists that you need to give the tortillas a little bath in some hot oil, just for a few seconds on each side, so that's what we're going to do here. This keeps the tortillas from drying out while they are in the oven, and I believe that it also helps with colour and flavour, as well; a "raw" tortilla just doesn't taste as good, and tends to break while folding or eating anyway, so let's listen to Mom on this one, ok?
Heat up some oil, shortening or whatever in a pan - enough to just barely cover the tortillas. We used canola oil in this case, but I distinctly remember Mom using Crisco when I was a kid, because I liked to watch it melt. Any frying pan will work, but I love my cast-iron, so I used my cast iron.
Once the oil is heated up over medium to medium-high heat, drop a tortilla in it just for a few seconds, until it starts to puff up: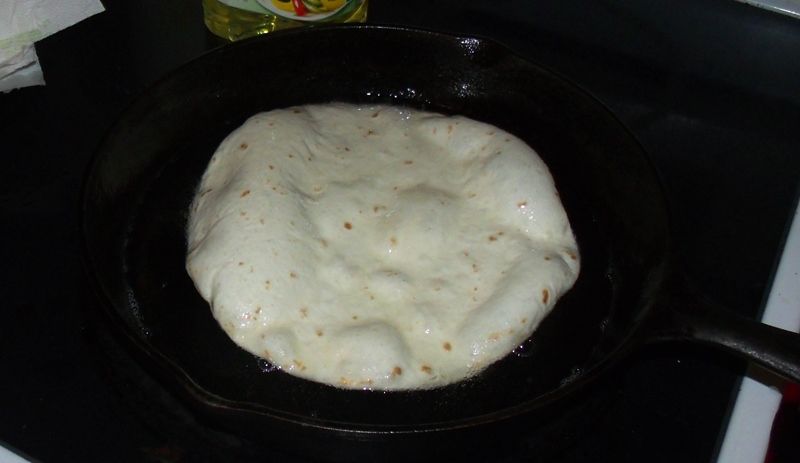 Here, my youngest son Roger is learning the art of flipping a tortilla over without flinging hot oil around:
Heat the "other side" of the tortilla just just a few seconds - probably the same amount of time as the first side: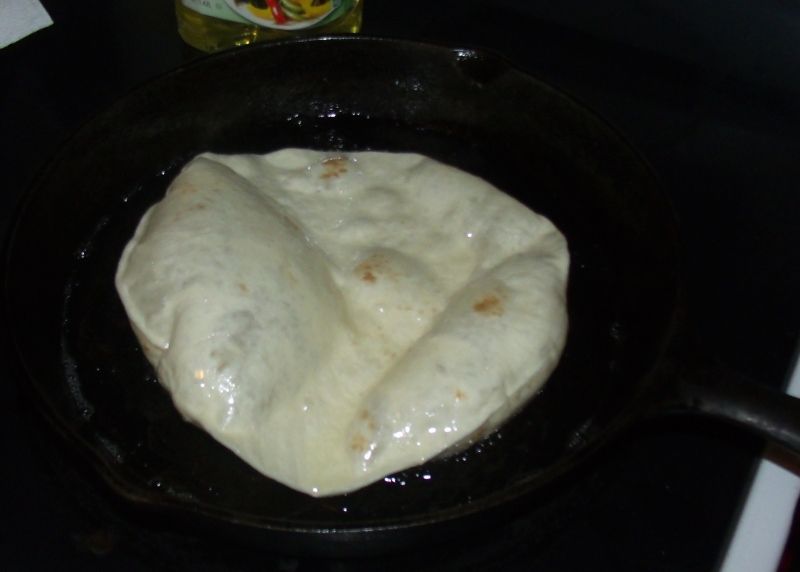 Keep in mind that you don't want to actually cook the tortilla, like you might do with a soft-shell taco or other Tex-Mex dish; you simply want to heat it up a bit so that it is pliable and get a little oil into it so that it will not dry out in the oven.
After a few seconds, remove the tortilla from the pan, stacking them all between layers of paper towels: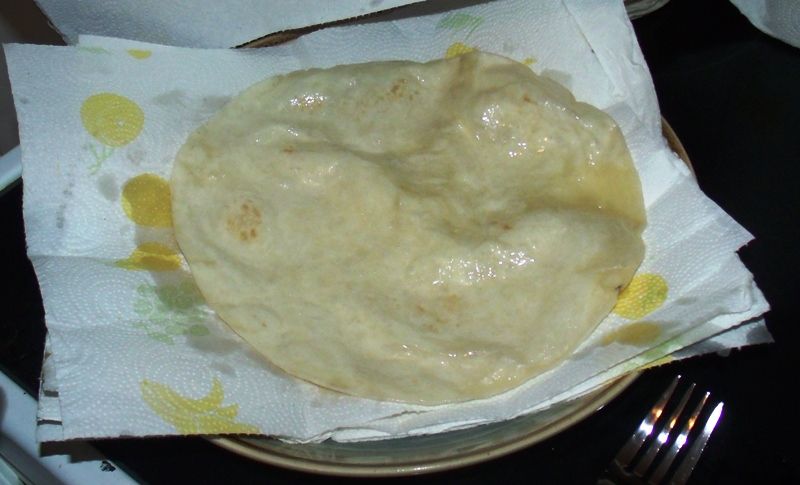 Yes, that looks incredibly "oily," but the paper towels soak up the majority, and when I was assembling the burritos, I didn't find them to be excessively oily or greasy.
Speaking of assembling the burritos, once all of the tortillas have gotten their hot bath, you will be ready to go! But first, pre-heat your oven to 350 degrees.
This is pretty easy and needs very little explanation, but here's how Mom does it: toss down a tortilla, then run out a line of refried beans:
As far as the amount of beans - well, that's up to you. I am not sure of the exact amount, but then again, Mom never got out the kitchen scale when she made these, so I am guessing that no one's going to be giving a quiz on it later.
If you want, you can open up the beans and divide them into 10 or 12 portions, depending on the number of tortillas you have. I simply use somewhere between a spoonful and a spoonful-and-a-half. The spoon I refer to is the larger of the two spoons that comes with any common silverware set. Keep in mind that the beans tend to expand or something in the oven; it always seems like I don't have enough beans while I am assembling them, but that suspicion is laid to rest by the time they are finished.
Once the beans are down, add some of the diced onion: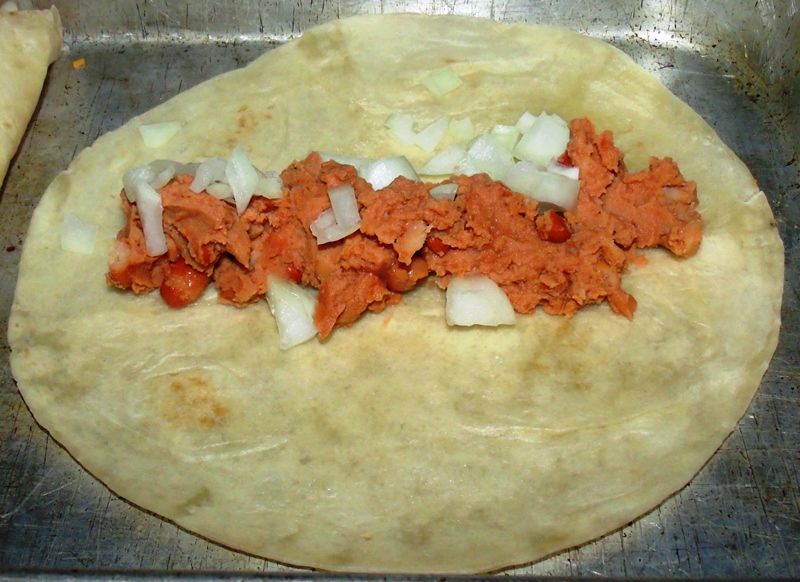 A scant or generous sprinkling, according to taste, should be good.
Next, add some sauce: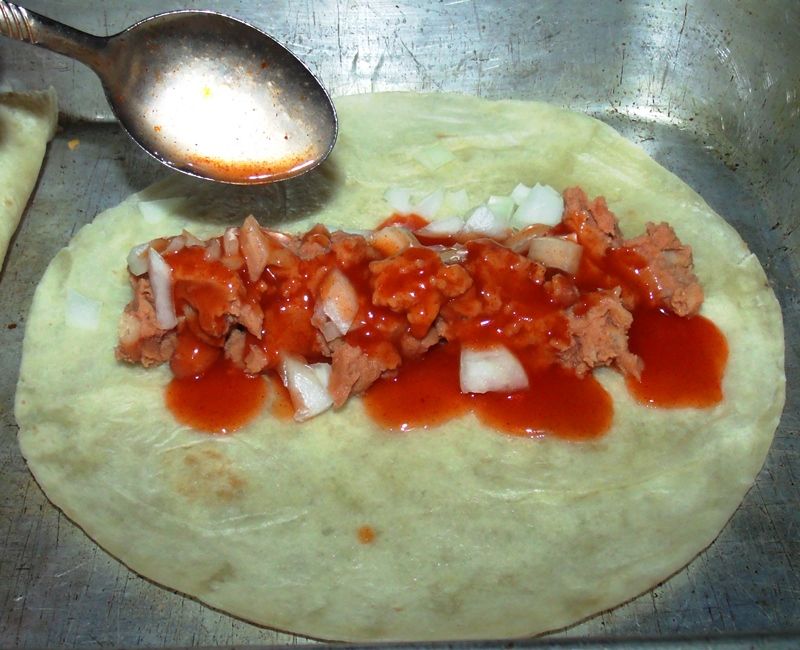 Where the amount of sauce is concerned, use a spoon the same size as the one you used for the beans - and also your judgement. I put on 3 spoonfuls, but I think that 4 would have been just a little better; no need to be skimpy with it!
After that, some cheese, according to taste: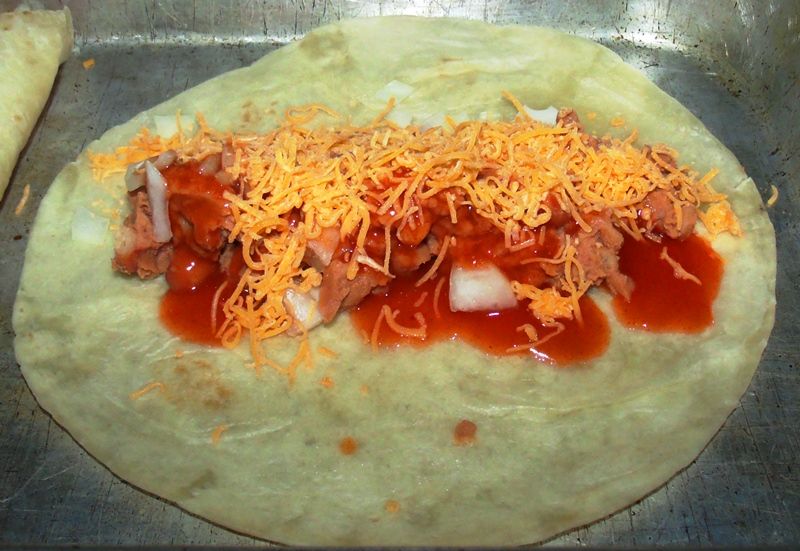 And some olives, if you like them: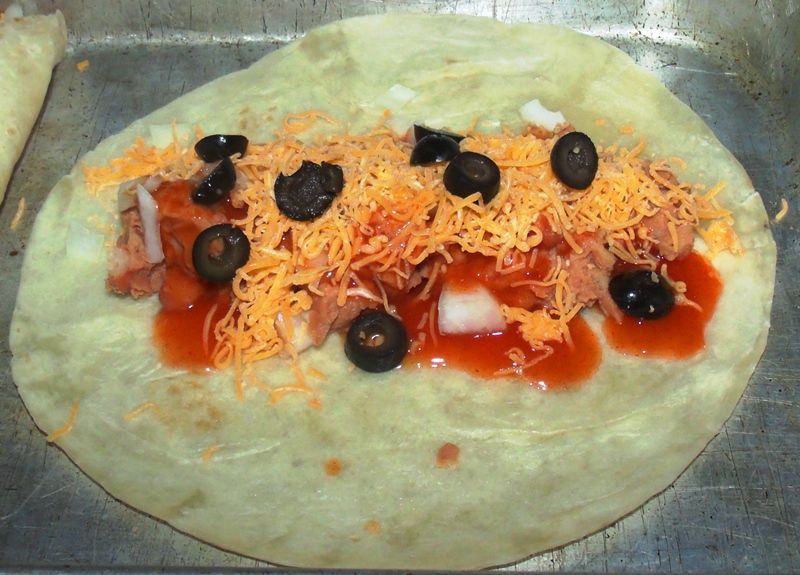 Now, simply roll the tortilla up - one side over the other - and secure it with a toothpick:
You can roll them in a way that makes them closed at the ends if you'd like, but Mom never did, so I rarely do. It seems that when I do them closed-ended, I invariably get a blow-out or three, so the way I see it, you might as well leave them open-ended; besides, they look better that way, to me, when they come out of the oven. If the tortilla "unwraps" a little, that's ok, as long as the burrito is secured with a toothpick. I remember them doing this as a kid, and it never hurt anything; in fact, when this happens, you end up with crispy-browned edges on the tortilla that really taste good after baking in the oven.
Here's one pan of burritos, ready to go: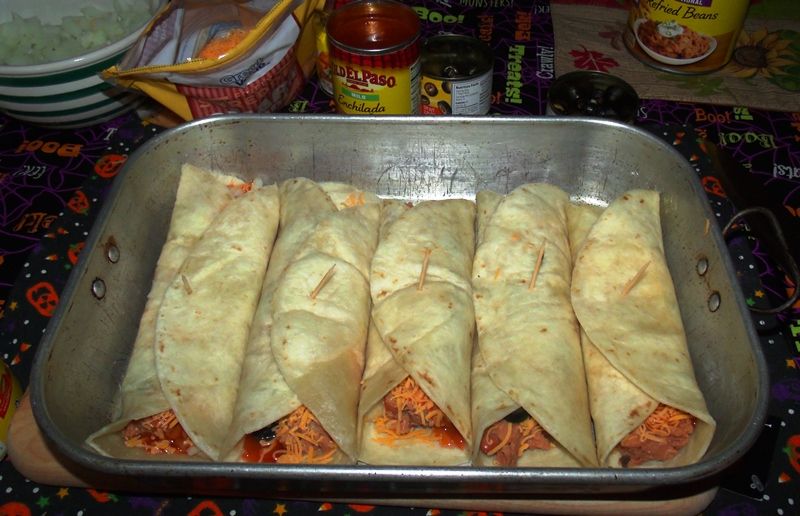 You did pre-heat your oven to 350 degrees, right? If not, do so now.
Here are all the assembled burritos, ready to hit the oven: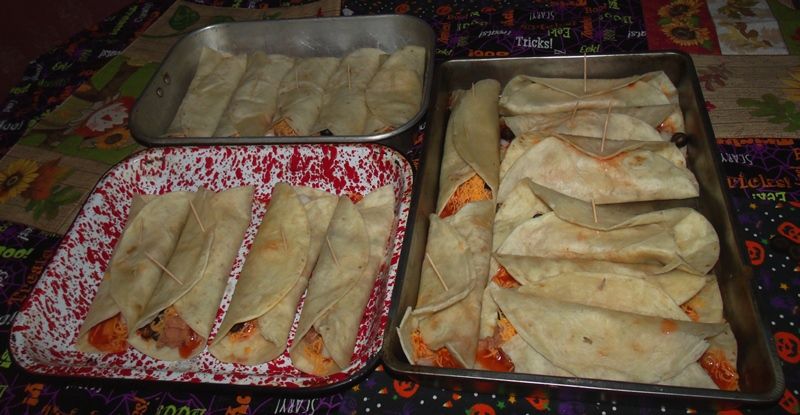 Put the burritos on the middle rack of the oven, and then bake them at 350 degrees for a t least a half-hour; if necessary bake them a little longer - up to 45 minutes.
Here's what they should look like coming out of the oven:
Pretty nice wouldn't you say?
What else can we do, but plate them up?
As I said before, I really like these burritos to me, all the flavours work just right. The oven-baked tortilla, the refried beans, the earthy sauce, the melty, tangy cheese and the roasted onions are all working as hard as they can here, just to give you some great flavours!
I prefer my burritos unadorned, the same as I had been eating them all my life:
The Beautiful Mrs. Tas, however, likes to have some sour cream and salsa available for dipping:
Either way, it's all good!
And with that, I will leave you, Dear Reader, to reflect and hopefully be inspired to try this recipe. They really are easy, and quite delicious; comforting, hot, wholesome eating any night of the week.
As always, if you have any questions or comments, just let me know! Thanks for looking, and thanks Mom for the burritos!
Ron