Pečené Bravčové Koleno
Roasted Pig Knees
I made this dish about a year ago, and did manage to get some photos. Once again, they are from my iPod, so they are not great photos, but you can certainly get the idea, and see how tasty this humble Slovak dish really is!
I dedicate this post to Miro, who took the time to share it with us and introduced me to yet another wonderful reason why I love the food that comes from the ancestral land of The Beautiful Mrs. Tas. Thank you, Miro!
Here are our "pig knees," along with a few simple ingredients that make a wonderful Slovak meal:
The pig's knee is a bit of a unique cut, and my impression is that it is not a common one in American markets. It is the knuckle below the leg, yet above the hock; an excellent source of good meat with a lot of connective tissue that melts into some real good eats, much the same as it does for a shoulder or rib cut. If you count on one per person, you should be alright, but big eaters might require two knees.
Prep work, as you can see, is very easy:
As Miro says, you can certainly improvise here, to your individual taste. Add a hot pepper or two, or perhaps a little extra garlic; or pepper, or what have you. Measurements are not terribly important, as is so often the case in "Grandma cooking." You can keep the additions "true" to Slovak or Eastern European cuisine, or not. Since I am a bit of a traditionalist, I kept it pretty simple; salt, pepper, bay leaf, marjoram, onion and garlic worked for me. I considered some paprika and a couple of hot peppers, but decided not to, in the end. Other possibilities might include caraway, savory, thyme...really, you can add what you want, but like Miro says, "simple does it!"
Here we are, all set to simmer for a while:
After this photo was taken, I put just enough water in the Dutch oven to cover the pig knees, then brought it to a boil. I then reduced the heat to a simmer, and let it go for a little over an hour, partially-covered.
At this point, I removed the pig knees from the broth and prepared them for the oven. I did not have to score the skin, because there was none on the knees; this is too bad, because as we all know, oven-roasted pig skin is a wonderful, crispy treat, a welcome sight at any Slovak table.
Here they are, looking beautiful!
Anyway, I had no home-rendered lard to rub onto the pig knees, but I did have some bacon fat left over from that morning's breakfast; I rubbed it onto the pig knees, then seasoned them a bit with some more of the same aromatics that I used before: salt, pepper, bay leaf, marjoram, onion and garlic.
I then baked the pig knees for about 75 minutes at 350 degrees; meanwhile, I turned my attention to my side dishes. I wanted to keep them simple and rustic, just some green beans and some rice; but for the rice, I wanted to add a little something extra, and thanks to my oldest son, Josef, I had just the thing.
On a recent trip to Seattle, Joe brought home something that he thought I would like, and he was right!
These roasted, lightly-pickled strips of red pepper seemed like a great addition to the rice, especially considering that I have seen many, many references to pickled peppers in Central-and Eastern-European cuisine.
My side dishes were finished just in time for the pig knees to be ready: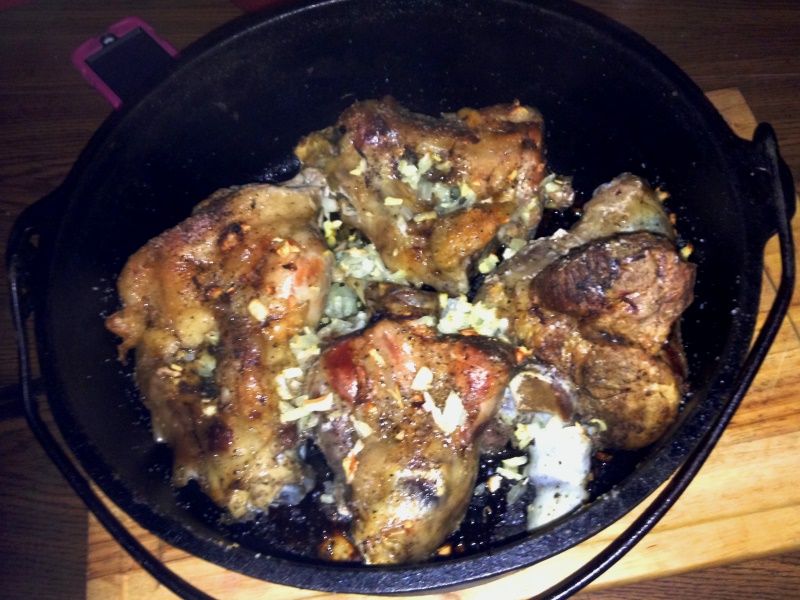 These are looking pretty good, if you ask me!
As usual, the family was hungry and eagerly ready to be a guinea pig for yet another one of my projects, so I served up their meal:
I've never been to Slovakia myself, but I would like to think that this plate of food would be familiar and welcome there.
With great optimism, we started our meal, and enjoyed it very much. The pork was tender, juicy and well-seasoned, with the rendered fats and connective tissues adding much to the texture and flavour. I truly liked this, and could see the possibilities with other similar, "cheap" cuts such as spare ribs, country-style ribs, neck bones and so forth. The slow simmering followed by the roasting ensures a tenderness that will be savored, while the simple-yet-effective seasoning enhances the pork allowing it to shine nicely on its own.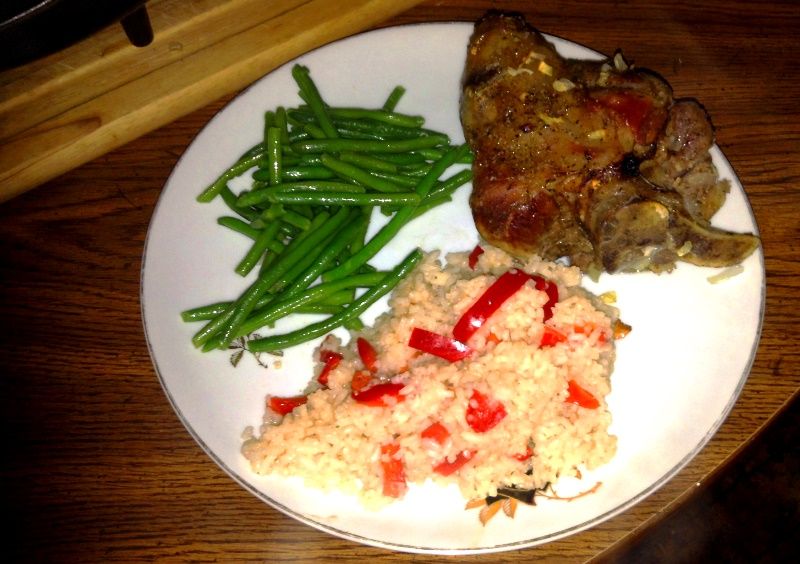 The rice turned out very well, too; I could have used some form of potato - or perhaps dumplings or noodles - but the rice, especially with the addition of the pepper slices, was really nice. Cabbage, Sauerkraut, kohlrabi or some other vegetable would have worked well, too, in place of the green beans; along with some tomatoes or especially mushrooms. In reality, peasant food is about what you have and what you love, so use it!
If you'd like to experience some truly rustic, home-style food from a special part of the world, this is the way to do it. In addition, this meal should fit well - with only only slight local adaptations - in any Slavic-themed meal from Central or Eastern Europe. Side dishes or some seasonings might need a tweak here and there, but the fundamentals remain.
Humble, satisfying and delicious - this one is worth a try, for sure. My thanks again to Miro for sharing it with us, and my hearty recommendation to you all.
Dobrú Chuť!
Ron