Paella, From Beginning to End....
Paella, often acknowledged as Spain's national dish, never gets old, which is kind of ironic, considering that its origins are probably as old as Spain herself, reaching backwards in time through the Golden Era of Spain to the Andalusian days under Mohammedan rule. If one would take the time to look for them, there are probably connections going back even farther, to the Roman Empire and the Phoenician trading vessels that would ply the east coast of the Iberian Peninsula.
Not long ago, I made a great paella that the entire family enjoyed. It can appear, at first glance, to be an intimidating dish, but the simple truth is that with a modicum of prep work and attention to timing, it is easy as can be.
We had some discussion on ingredients, rice, methods etc. here, for anyone who is interested in reviewing that information:
http://foodsoftheworld.activeboards.net/forum_posts.asp?TID=2038&title=time-for-another-paella-discussion
And for some good historical and geographical information, you can click here:
http://foodsoftheworld.activeboards.net/forum_posts.asp?TID=576&title=paella-the-national-dish-of-spain
Here's an ingredients list for a great paella feast that will feed 6 to 8 people, depending on appetites:
Olive oil
1/2 pound Spanish chorizo (1 pound smoked sausage can be substituted), cut into coins or cubes
6 chicken thighs, or one whole chicken, cut into portions
Salt and pepper
1 large yellow onion or equivalent, diced
4 to 6 cloves of garlic, minced
1 tablespoon Pimentón de La Vera (smoked paprika), generous or scant, depending on taste
3/4 to 1 teaspoon saffron
2 cups Bomba or Calasparra rice (Arborio rice can substitute)
4 cups chicken stock or broth
6 cod fillet portions (any fish can be substituted, as you prefer)
24 medium shrimp, peeled and de-veined, or any equivalent combination of shrimp, clams, mussels etc.)
1 to 2 red bell peppers - cored, seeded and cut into strips
1/2 pound trimmed, fresh green beans, cut into 1- to 2-inch lengths (peas can be substituted)
2 lemons, cut into rings or sections
Keep in mind, the ingredients for paella are very versatile. You can substitute nearly any different meats or vegetables as you prefer, using the same amount of sausage, onion, garlic, stock, Pimentón de La Vera, saffron, rice and stock. Also, some people like to add finely-chopped tomato (about 1 cup) to sauté along with the onion and garlic in order to create a sofrito; I haven't yet tried this, but plan to and urge you to do the same, if you are so inclined.
Let's get on with it!
As I said, this is an incredibly easy dish, made easier by taking the time to do some prep work. Let's take a look, by the numbers:
For the sausage, you can cut it into thin rings, or you can cut it in half lengthwise, then cut the halves in half lengthwise into quarters, then cut the quarters into cubes, as I did: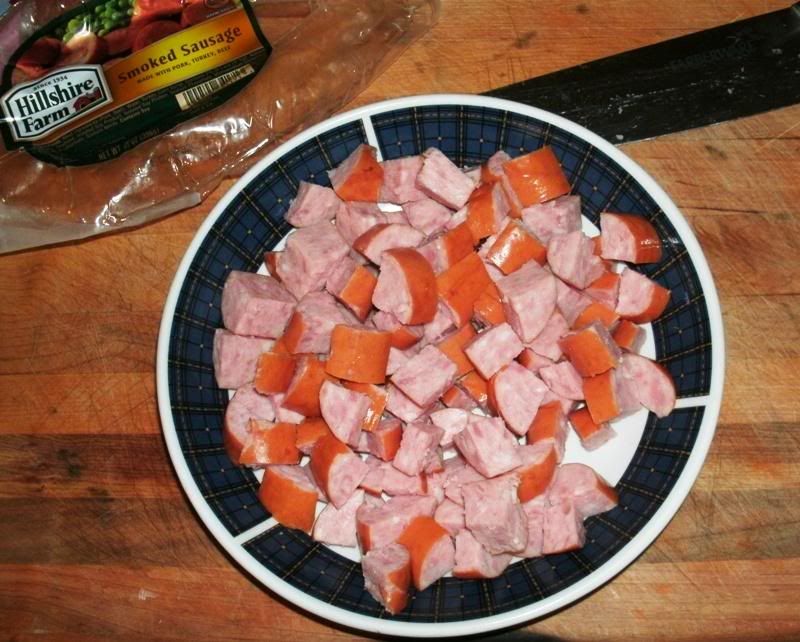 As you can see here, I used plain ol' farm-type smoked sausage. Spanish chorizo is the sausage of choice for this dish, but this is fine; or kiełbasa, which has a great garlic dimension, or any smoked, non-crumbly sausage, the more garlic and paprika it contains, the better. Under no circumstances should you use those chubs of soft Mexican chorizo, which is a whole 'nother product.
Next, I prepared my produce, transforming it from this:
To this: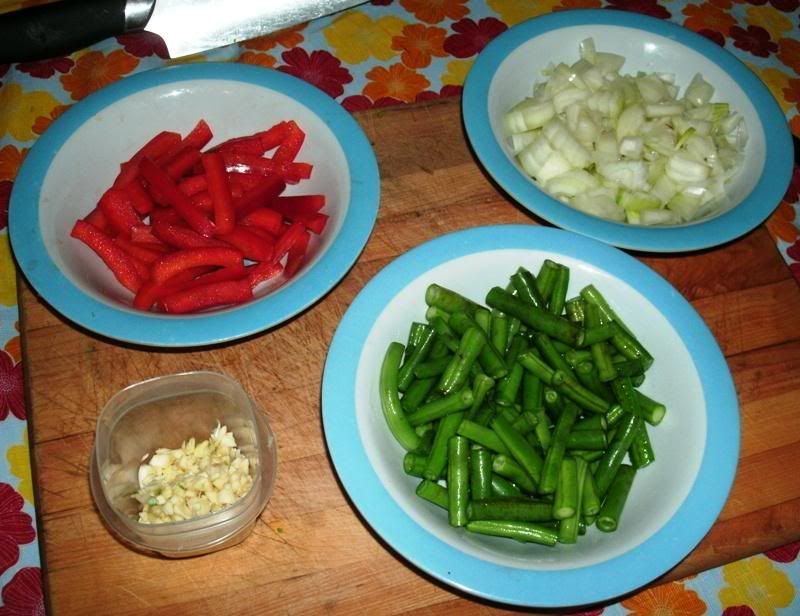 Keep in mind that the amounts used are a general guideline. I said 1 large yellow onion in the ingredients list, but if you have 4 small ones, use them. If all you have is white onions, use them. Feel free to use another red pepper, or more or less garlic as you prefer. Don't like green beans? Try peas! As I always say, this is peasant cooking, not set in stone.
Next, I prepared my seafood by portioning the cod fillets and peeling the pre-de-veined shrimp that I had: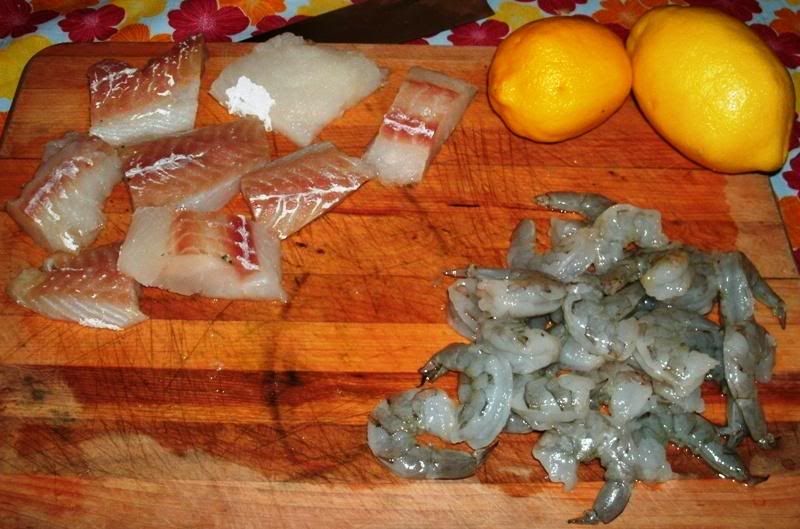 Once again, this is another one of those preference things. You can use any fish, or none at all. If you're not fond of shrimp, then use clams, mussels or something else. Or you can leave off the seafood entirely and use another meat. If you don't eat meat, then use no meat and add more vegetables. What you see here is what I did for my paella, and it worked great; however, when you do yours, feel free to make it your own!
Now came the time to measure out two ingredients that are absolutely essential for paella, saffron and Pimentón de La Vera, otherwise known as smoked paprika:
I used twice as much pimentón as I recommend in my list above, and even though it resulted in a much darker dish than is normal, this is fine for me since I love the earthy, smoky flavour that it imparts. If you have no smoked paprika in your area, or can't get any, you can use "regular" paprika if absolutely necessary; however, I urge you to contact friends or relatives, order online, or do whatever is necessary to get the real thing; it's that fundamental to the dish.
When it comes to saffron, however, there really is no substitute - it's expensive, but you only need a tiny bit of it to get the flavour, aroma and visual benefits of this exotic, golden spice, so it's worth it. Here I splurged a little and probably added half again as much as was called for. It's a good idea, but not absolutely necessary, to give the saffron a quick chop with a small knife; be sure you can account for every strand, as this stuff is precious!
Once I cut the lemons into wedges, the preparation was pretty much complete: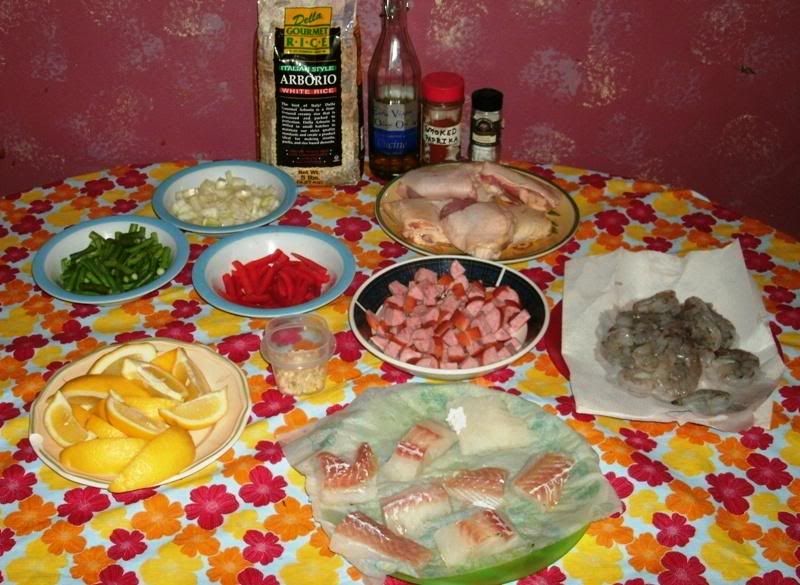 Two things (well three things, to be honest) not show above: salt, pepper and chicken stock. I'll give a little more discussion on those shortly.
It's time to begin cooking this feast!
First, get a good splash of olive oil going in your paellera, enough to cover the bottom of your pan, and...
What's that?
What's a paellera, you ask?
Well, it's more commonly known as a paella pan, and I'm going to borrow Andy's picture to show you what it looks like: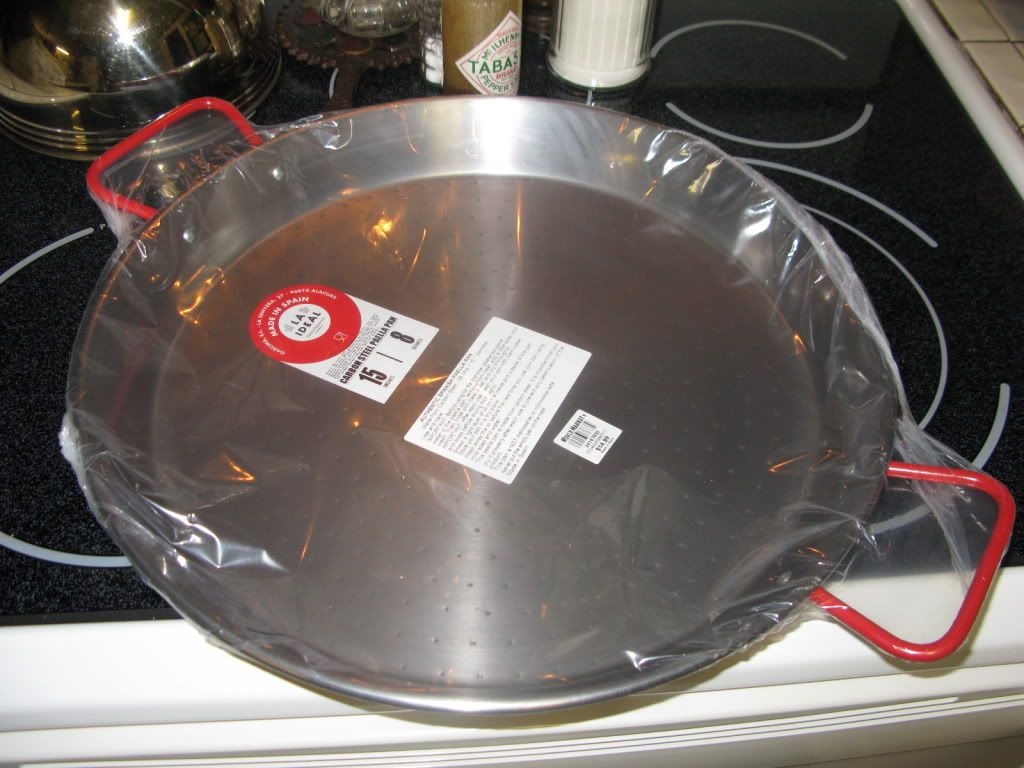 If Andy's photobucket account ever goes dead, let me know, and I'll replace the picture. In the meantime, there it is.
You can follow the links I posted above to go in-depth on the history and importance of the paellera in Spanish cuisine, but suffice to say that if you're going to get into paellas, you should probably get one. You can get a decent one for around 20 dollars, and you will never regret the purchase. Having said that, If you want to make this right now, or don't want to buy a paellera, then the next best substitute would be the widest, flattest pan you have that is of similar dimension - a large, 12-inch skillet should work in a pinch, or maybe even a wok - but it won't quite be the same.
Anyway, get your olive oil heated up to, oh, about medium high - you don't want the oil to burn or smoke, but it should be good and hot. Some of the older cookbooks say to heat the oil "until a light haze forms over the pan," and this is probably as good advice as any. Then give your chicken a modest dusting of salt and pepper. I prefer to use coarse-grained sea salt and a few grindings of a multi-coloured pepper medley, but use what you prefer, kosher salt, black pepper - it doesn't matter.
What I did here was to heat the chicken and sausage together:
This worked, but it was a little awkward, so you might be better off if you choose to brown the sausage first, rendering out its fat and getting it almost to a crispy-brown stage, and then brown the chicken in the flavoured fat renderings. In my case, I stubbornly slogged on, doing them at the same time.
Next, I got the saffron started seeping in warm (not hot) chicken stock: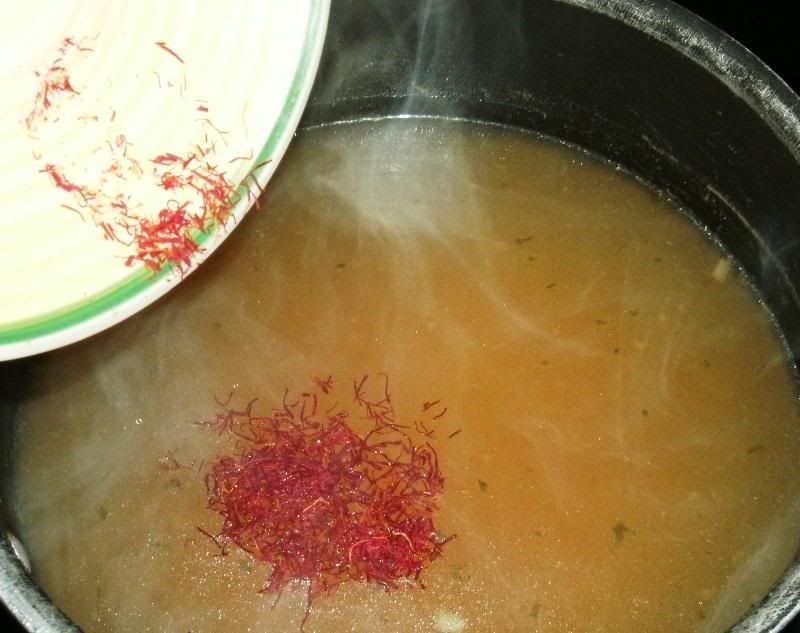 Some people steep the saffron in two or three tablespoons of vinegar, and this is fine. Doing it in the chicken stock worked rather well, also - either way works. You can use chicken stock, chicken broth, or a combination of the two; you could even use vegetable stock or water.
By this time, the chicken and sausage were browning pretty well:
So I removed the sausage and set it aside on a couple of folded paper towels:
The darker bits of sausage are actually what you're going for; this indicates that they've rendered out the largest share of their fat and have also reached that wonderful, browned, crispy-delicious stage, and that's perfect, as long as they aren't burned.
I also set the chicken pieces on a rack and put them in the oven on its lowest setting to keep them warm:
Next, I removed some of the excess oil from the pan, so that there was a moderate amount coating the bottom, and began cooking the onions:
In the picture above the garlic is in there too, along with the browned bits from the bottom of the pan. In reality, I should have sautéd the onions for perhaps 6 or 8 minutes before adding the garlic and sautéing it only a minute or two, but this was ok; I simply kept an eye on my heat and made sure that the garlic did not get overly-browned or scorched.
Once the onions were translucent and just barely starting to turn brown, I added the sausage back to the pan, along with the rice and the Pimentón de La Vera, stirring everything around gently to get the rice coated with the goodness:
If you did not steep your saffron in the chicken stock, now's the time to add it to the pan. Be sure to keep gently moving the rice around; you do not want to toast the rice, but you do want it to get good and warm.
As I said before, I used twice as much Pimentón de La Vera as recommended, out of personal preference, and you are about to see the consequences of that choice. The next step in the process, once the rice gets just to the point of starting to toast, is to add the liquid for the rice (in this case, the saffron-infused chicken stock):
You want to use 2 to 2.5 times as much liquid as you did rice, give or take, depending on the type of rice. If you use frozen vegetables, cut the liquid by about half a cup, for sure.
As you can see, the Pimentón de La Vera gave this a deep, brick-red colour that is beautiful, but it did overwhelm the yellow of the saffron quite a bit. It's nothing to really worry about, but something to keep in mind - half as much Pimentón (in other words, the amount I actually recommended) would have had much less impact.
This is important: once the liquid is in, stir the pan once in order to distribute the rice evenly, but don't move it around more than you have to. This will minimise the breaking-up of the starches in the rice and keep it from turning your paella into a mushy soup.
Once you reach this point, things start to happen pretty fast. As the liquid began to boil, I arranged chicken pieces on top of the rice, alternating them with the cod fillets:
I then added the green beans and red bell pepper strips:
And the shrimp: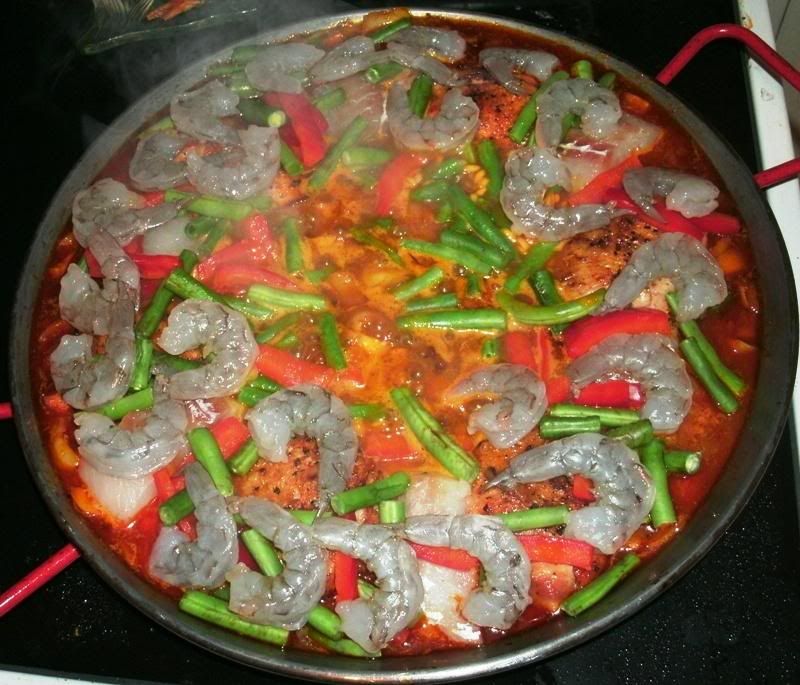 During the cooking stage, some people elect to use the "Portuguese crutch" and cover the paellera tightly with foil, in order to ensure that the chicken, rice etc. is steam-cooked and not raw. I'm still rather new at this paella thing, so I did that, and recommend you do the same. Once you get more experienced, you will probably wean yourself away from it. If cooking outside on your grill, this might not be a necessary step.
From here, it's a matter of timing for the rice; for the Arborio rice that I used, I cooked covered it for 20 minutes, and this seemed about right. Another minute or three would have been ok, but not much longer.
Once I took the foil off the rice, it looked like everything was done:
The rice had soaked up the water, and all the components had begun to meld together and interchange flavours, whilst still retaining their individuality. It seemed just about right to me, so I removed it from the heat and arranged the lemon wedges around the pan:
Here's another view: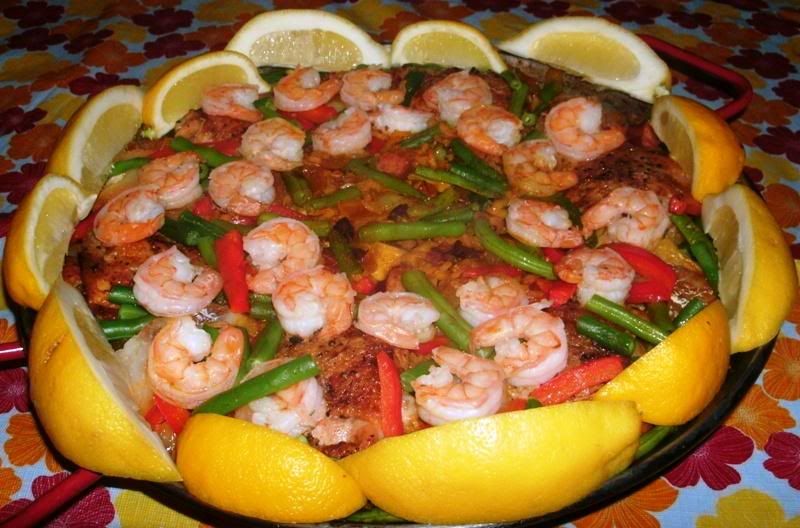 And a closer look: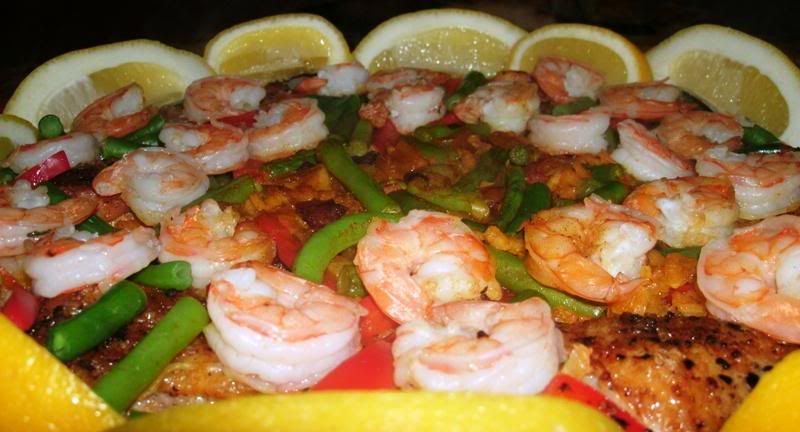 Not bad for some guy in Montana!
As usual, the family was tired of waiting, so I served it up with oven-toasted French-type bread:
Looking back, I probably should have used lighter-coloured plates, for presentation purposes, but oh well.
When I serve paella, I like to highlight the individual components of the dish as much as I can, so I separated the chicken, the seafood, the rice etc. into their own areas on the plate:
This is the way I like to do it, but you can go ahead and throw it all together, if you want.
This paella was, in my opinion, outstanding, and the entire family enjoyed it. I can't say it turned out perfectly, since there were a couple of minor execution issues, but it was sure delicious and worthy of the name. The chicken, the seafood and the rice were all carried well by the rich, earthy spices of the dish; the sausage provided another savory dimension, and everything was highlighted and enhanced by the crunch of the fresh vegetables and the accent of lemon.
Taking a bite of this will put you on another continent, under a different sky, the sing-song words of another language in your ears; you might feel warm sand beneath your feet and might hear waves crashing on a beach, or perhaps distant cheers from a corrida, but you will definitely be in Spain, for a while....