Panang Candied Brussels Sprouts, Togagashi Lamb chops and Bevarian Poppy Seed Tort
1 bag of Brussles Sprouts
½ med yellow onion cut to small dice
3 strips bacon cut to small dice
4 tbs bacon fat
¼ cup apricot poaching liquid, (1.5 cup sugar,½ vanilla bean,1 wedge fresh ginger, 3 cup H2O)
1 Tbs Panang Red Curry
2 Tbs lime juice
The apricot poaching liquid is a left over from here, http://foodsoftheworld.activeboards.net/bavarian-poppy-seed-tort_topic3994.html#29592
1 Rinse the Sprouts, cut end off, cut in quarters
2 Cook the bacon
3 add onion to the bacon and sweat with no color on med heat
4 remove onion mix and set aside, leave fat in pan
5 turn heat up until bacon fat is almost smoking, add sprouts and brown lightly, tossing frequently, add more bacon fat as necessary
6 when sprouts are browned, move to stainless bowl and add onion mix, poaching liquid and Panang Curry. Mix.
7 Spoon to vac bag and vac/seal.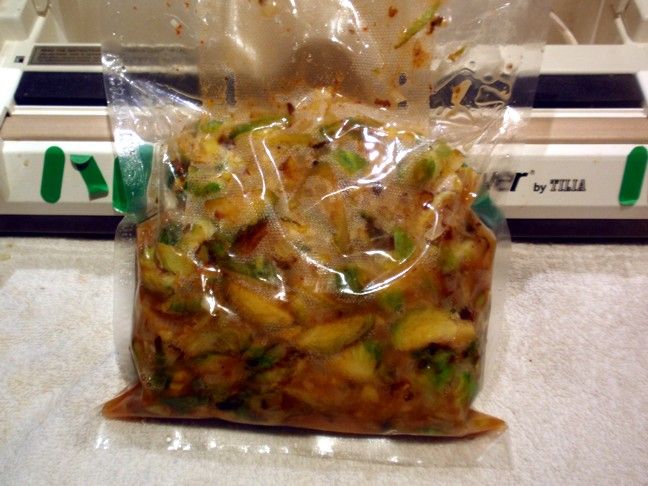 8 place sprout bag in water bath pre-heated to 170° for 20 minutes to one hour depending on desired crispness. (more time is less cryspy)
In this case we are reheating some lamb chops also, so the heat will stay at 130° for 2 hours. Into the water bath they go!
The Rack Of Lamb cook is here, http://foodsoftheworld.activeboards.net/togarishi-seared-sous-vide-rack-of-lamb_topic3995.html#29593
And here we have Dinner!
Togarashi Lamb Chops, Panang Brussels Sprouts and Bavarian Poppy Seed Tort.
Notice that the reheated lamb is not overcooked, it looks the same as it did when first cooked!