I was finally able to make this last month, and I think that it went very well: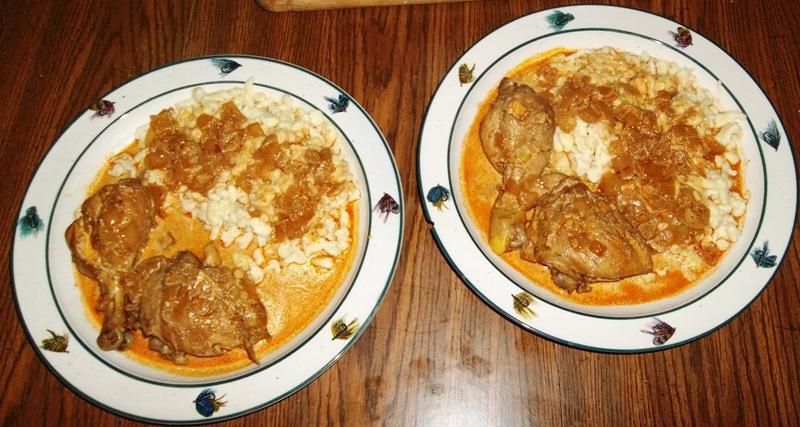 I followed Rod's directions exactly, using the ingredients in the amounts specified etc.; chicken legs and thighs were the chosen medium for this treasure. Using careful patience and attention to Rod's details, I was rewarded with wonderful flavour, succulent, tender chicken, and perfect nokedli: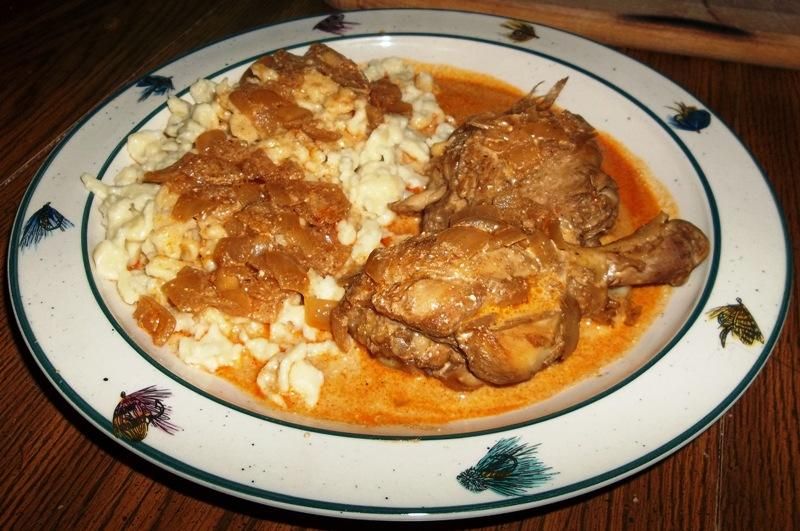 There were a couple-three execution problems that were my error alone, and were not the fault of the recipe or method. The main one was that, as I was trimming the chicken, most of skin sloughed off, and as a consequence the chicken did not get browned the way I would have preferred, plus it stuck to the pan as I tried to sear it, causing some sections to get ripped off. This was mostly a cosmetic problem, as you can see:
But the flavour was just fine, and I was very impressed with the way everything worked in beautiful harmony.
The other execution error that I may have made was that perhaps I should have let the whole dish rest, off the heat and covered, for a few minutes before serving. The reason I say this is because as I was plating the chicken pieces, they turned a dark, grayish-brown almost as soon as they hit the air. I've seen this happen with pork roasts, and have been told that it has to do with a lack of resting time. The flavour was great, but once again, it did cause a cosmetic flaw that was my error and not the fault of the recipe.
The nokedli turned out very well, also - following Rod's very, very easy formula of 1/2-cup of flour and 1/2 eggshell of water per egg, with a little salt and pepper, I was able to make six eggs' worth of wonderful Hungarian tradition that were a perfect compliment for this ancient meal:
The family also enjoyed the meal very much, and this dish will definitely be made again and often. The only thing close to a "complaint" that was mentioned was that the sauce seemed a little thin compared to what they were used to with my usual, similar dish, called
paprika hendl
:
However, it should be noted that, due to time constraints, I did not serve any bread with this meal, which would have been perfect for sopping up the savory, flavourful sauce. Personally, I liked it, and wouldn't really change it because the flavours are very much in balance. I suppose a person could reduce it somewhat, but I see no need, when one is trying to prepare a rustic, family-oriented peasant meal such as this. An option for a future preparation might be to use chunks of de-boned chicken and serve it more as a soup; or, perhaps I could drop the nokedli dough into the simmering sauce, so that the dumplings can soak up some excess liquid as they cook. But the truth is, the only thing that was really lacking was some good, crusty bread to sop up this beautiful sauce.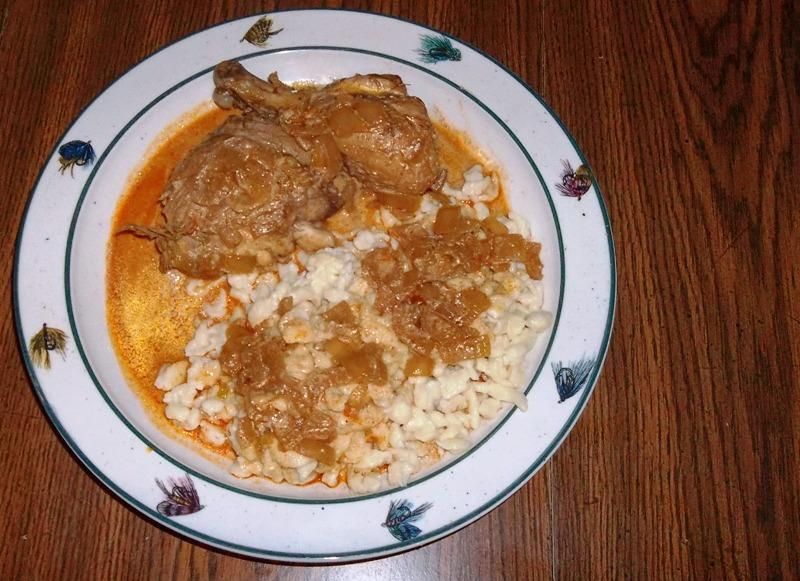 The only other "problem" is that, when I rendered the finely-diced chicken skin for fat, I put the beautiful, crunchy cracklin's (with a sprinkling of salt and pepper) on a paper-towel-lined saucer and set them aside, intending to use them as a garnish for the chicken and a topping for the nokedli, to add a little texture and flavour as well as visual appeal. Unfortunately, I made the mistake of offering a few of these savory, crispy-soft wonderful cracklin's to the Beautiful Mrs. Tas to sample, and she really liked them and kept asking for a few more. Then the kids found excuses to wander through the kitchen and try them too, and kept wandering through - so, by the time the meal was ready to serve, the cracklin's were gone. Next time, I'll hide them!
The bottom line is that if you're looking for some real, traditional Hungarian family eating, then this is definitely the dish for you - it really doesn't get any more "Hunky" than this! My thanks to Rod for sharing it, and my hearty and enthusiastic recommendation goes out to all: do give this a try!
Oh, and yes - Pride of Szeged really is all it's cracked up to be -
It worked beautifully for this dish, with the best flavour and colour that I've ever had in a paprika-based recipe. Short of actually having some little old Hungarian grandmother smuggling some of the "real stuff" in-country for me, I wouldn't use anything else.