Pesce al Forno in Crosta di Sale
Fish Baked in a Salt Crust
Anyone who is searching for an unique, delicious way to prepare a whole fish for themselves, friends, family or guests would do very well giving this a try. It is very easy with no hidden pitfalls, producing results that look and taste equally at home in a pricey restaurant or on a terrace overlooking the Mediterranean. It was one of the very, very few times that the beautiful Mrs. Tas has enjoyed eating fish, so it must be good!
Roasting a whole fish in a salt crust is a very old method of cooking fish - and other meats, for that matter - that reaches clear back to the beginnings of civilisation, where it must have been a completely natural development among coastal and seafaring cultures. Laura Kelly traces the origins of salt-crusted fish on her blog, www.silkroadgourmet.com:
I have long been fascinated by this dish, because so many nations have claimed it as their own. The Spanish have laid claim to it as have the French, Portuguese and Italians. The Moroccans [also] have a version....

Even a few hundred years ago, this dish would have been expensive to prepare, because of the huge amount of salt needed to prepare it. Further back, it would have been a feast dish or reserved only for the wealthy and prosperous. The only people who could have originated this recipe on an ordinary budget were people in salt-producing areas.

Thinking about...salt producing areas, I turned...to North Africa or other parts of the Muslim world for the source of the recipe. I found one reference to it in Lilia Zaouali's Medieval Cuisine of the Islamic World. She writes about Shad Cooked in Salt which she says comes from, "a thirteenth century Muslim cookbook...."

But, the story doesn't end in the 13th Century.

The earliest recipe I've found to date for salt-baked fish is from the 4th Century BCE in the fragments of Archestratus's Life of Luxury. Archestratus was a Greek living in Sicily who espoused simple cooking methods, usually with minimal herbs and flavorings added to meats and fish.... His recipe calls for a whole, round white fish such as sea bass, sea bream or snapper that was cleaned and gutted. The fish is seasoned only with a few springs of thyme inserted into the cavity of the fish prior to encasing it in two pounds of salt moistened with water and egg whites. Baked and crust removed, the fish is served simply by drizzling first press olive oil on it.

Further research shows that this dish probably originated with the Phoenicians in Carthage along with their empire built on the salt and garum trades.... Obviously, there may be Levantine roots to the dish given the origin of the Phoenicians in the Eastern Mediterranean, but I've yet to find direct or indirect evidence of that. To me, it makes perfect sense that the Phoenicians originated this recipe – given the extent of their colonies from the Near East to Southern Spain.
Given the wide dispersal of cultures that use this method, not to mention the many, many other regions where it has become a common practice in modern times, this recipe could probably be posted just about anywhere, especially in the Mediterranean; however, after reading a beautiful description about it at www.globetrotterdiaries.com, I decided to post it in Italy:
Some things in life need to be enjoyed in their simplest form. Fish baked in a salt crust is a perfect example of this. It's stupidly simple but absolutely brilliant. The salt encloses the fish completely, flavoring the fish and sealing in the moisture, making the flesh succulent....

In Italy's coastal areas, fresh whole fish is often baked in a salt crust. It is usually baked with little to no aromatics inside the fish and covered with a salt crust, which is then broken open revealing the plump flesh. The fish is taken apart and served with a simple drizzle of fragrant extra virgin olive oil and wedge of lemon, both simply showcase the essence of the fish. Once you have fish this way you'll understand why unadorned fish is a revelation. Served in typical family style, this fish is dazzling, especially when whacked open with a hammer.
Here's the recipe I used, from the July 2012 issue of Field & Stream Magazine:
Ingredients:

1 whole fish, gutted and scaled
2 sprigs tarragon
6 egg whites
3 cups kosher salt
2 bay leaves, crumbled
Extra virgin olive oil, for drizzling
1 lemon, cut into wedges
Freshly-ground pepper, to taste

Directions:

Preheat the oven to 450 degrees. Rinse the fish inside and out, and pat to dry. Sprinkle salt and pepper into the fish's cavity, then tuck the tarragon sprigs [inside].

Whip the egg whites until stiff peaks form, then fold the salt and bay leaves into the egg whites to form a thick paste.

Line a sheet pan with parchment paper. Spread about a third of the salt paste in the center of the paper and lay the fish on the paste. With a rubber spatula, smear the paste all over the fish so that it's completely encased. Place the pan in the oven.

Cook for about 25 minutes. By this time, the salt paste will have hardened into a thick crust. Allow the fish to rest for 5 to 10 minutes, then crack the crust by knocking it with the flat side of a butter knife, and remove the crust in chunks. Scoop out the meat to serve, drizzling it with extra virgin olive oil and giving it a squeeze or two of lemon.
The recipe also included some notes by author Jonathon Miles:
Roasting fish that's encased inside a salt crust is a centuries-old method of ensuring moist, ultra-flavorful flesh. The dramatic presentation is just a happy bonus. Nearly any fish benefits from this treatment, and feel free to adjust the herbs as desired. For an easy side, toss some cut potatoes in olive oil with salt and pepper, spread them on a roasting pan, and put the pan in at the same time as the fish.
As Miles notes, this recipe is highly adaptable. I chose to follow it fairly closely, but one can really get creative with it, using herbs, spices, citrus zest and other flavourings according to preference, theme or whim.
Let's take a look at this method, using whole trout; just about any fish would do, I am sure, but this is what we had. Here's all you need, as per the recipe:
Pictured above are a large brook trout and rainbow trout; there was a third, slightly-smaller whole rainbow trout that we also used. Because of the number of fish that we had for this, I chose to double the recipe.
As mentioned above, you can choose your herbs and play with the flavours quite a bit with this method, but for a first attempt, I chose to follow the recipe, and was rewarded with some very nice dining. For starters, I preheated the oven, then washed and seasoned the cavities of the fish. Then I crushed some bay leaves and added them to the separated egg whites: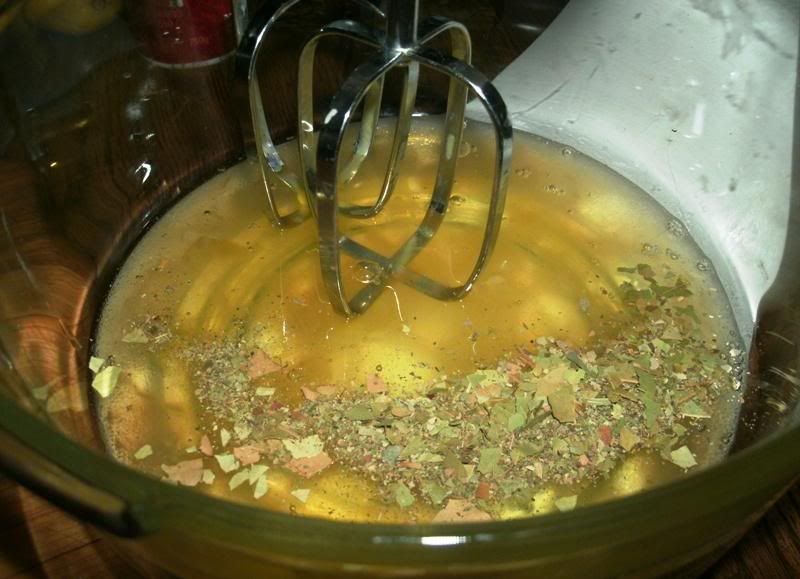 And then I got the stand mixer going:
It didn't take long before I got the nice, stiff peaks that you see here: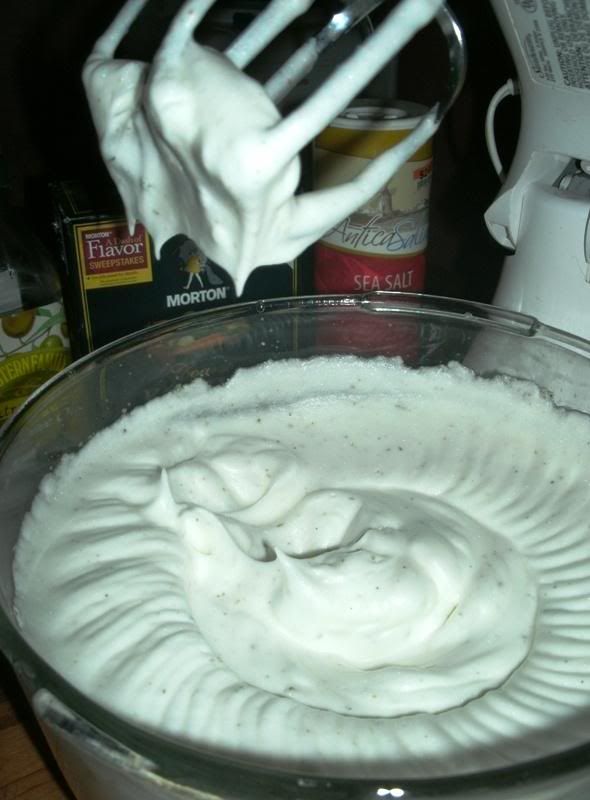 I then gently mixed the kosher salt in, a little at a time:
The recipe describes the final texture as similar to a thick paste, and that's exactly what I got:
Next, I lined a baking sheet with foil and put down a layer of the salt paste, just like frosting a cake:
This layer formed a nice bed for the fish to lie in while they baked.
Once the bottom layer was down, I nestled the trout in: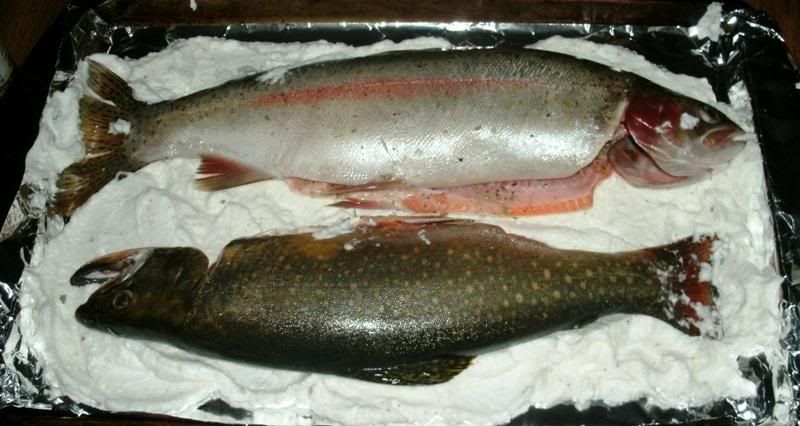 And then covered them thoroughly with the salt paste, sealing them in: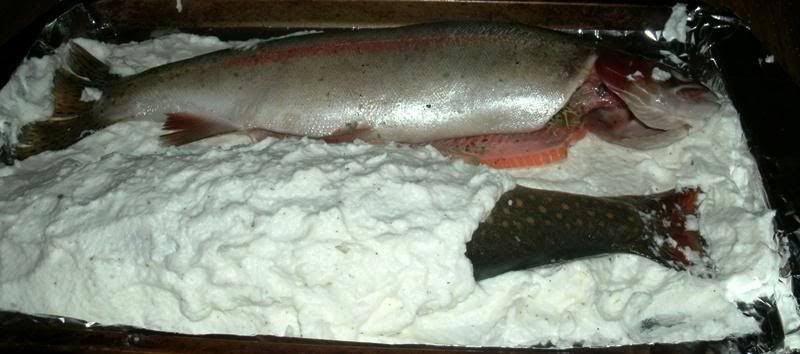 Here we are with the first one done:
And here's how it looked with both of the trout entombed in the salt paste:
It's important to make sure they are sealed in well, so that they are able to bake in their own juices and become succulent, flavourful and delicious.
After covering the third trout in the salt paste (for some reason, I didn't use the foil this time):
I then placed the baking sheets in the pre-heated, 450-degree oven: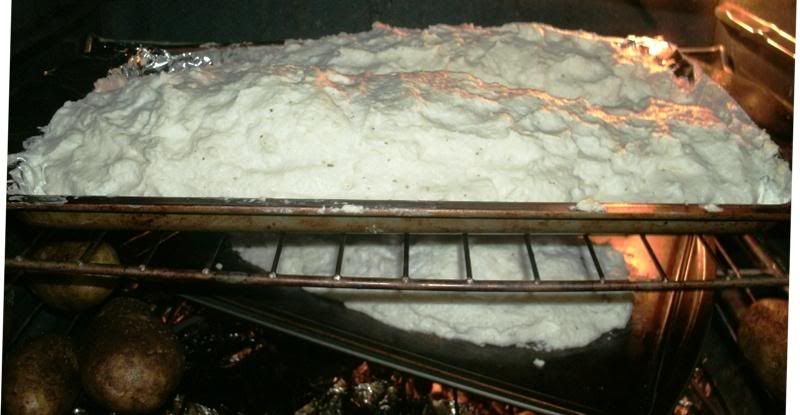 The recipe says to bake the fish for 25 minutes, but since we had three whole fish to deal with here, I left them in the oven a little longer.
Many cultures around the globe have discovered the benefits of encasing meat in something - salt, clay, even mud - then baking it in its own juices for moist, tender results. This method of cooking really does take a person to another time - and sometimes, another place.
When the mounds covering the fish looked like this, I removed them from the oven: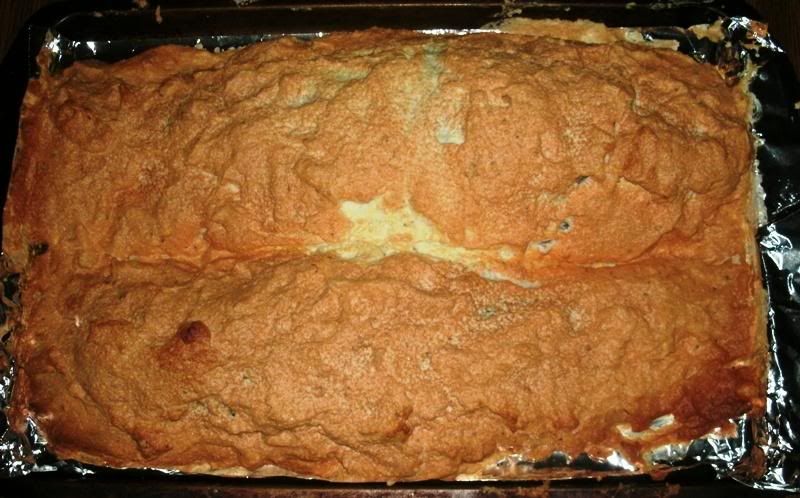 The egg allowed the paste to hold its shape as it browned and transformed into this beautiful crust: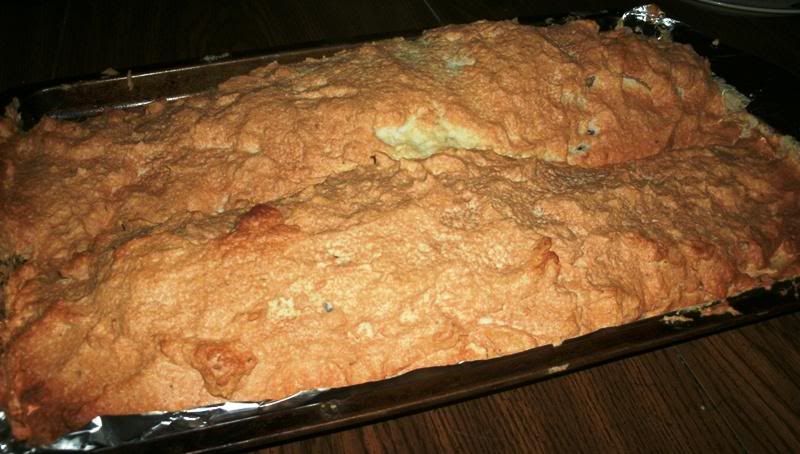 The smell filling the kitchen and dining room was incredible, and even the crust looked good enough to eat:
After letting the fish rest for about 10 minutes, I broke open the "third" fish to discover what was inside. I didn't need a hammer to do it, it came off easily enough:
Looks pretty good, if you ask me!
The process kind of reminded me of a "dinosaur dig kit" I had gotten many times for my children; when I "un-earthed" the brook trout, it seemed as though I was peeling back the layers of time:
Time to stop looking and get this served up! I peeled back the skin of the trout, revealing the succulent, fragrant meat below:
Time to eat! I drizzled the fish lightly with olive oil, then served it with peas and a baked potato:
For some reason, I wasn't able to lift the fillets off whole, but it worked nonetheless.
The results were nothing short of outstanding. The entire family was there, including the beautiful Mrs. Tas and all four children; my dad was also there, as he often shows up around suppertime on the weekends. I don't think this is a coincidence. Anyway, everyone greatly enjoyed the meal, which was a surprise because most of them, except for my dad and one of the boys, usually complain when fish is served. This, however, must have been a different story. The fish seemed done "just right" and was not salty at all, which was one concern that Mrs. Tas had; rather, it took in the fragrant herbs, which were enhanced by the seasonings.
Beyond that, every bite had an extra, savory something to it that was intangible, yet delicious. A "roasted" quality, for lack of a better word, that permeated the moist, juicy fish and wrapped itself around the entire meal. I could easily imagine myself at a villa in Sicily, next to a hearth in Greece - or even with my family around a fire on a Phoenician coastal beach, enjoying the bounty that had been provided by nature. It really was the closest thing to perfect fish that I'd ever eaten, much less created!
This is one method that can make you a star in the kitchen every time; it's practically fool-proof and will never fail to produce fish that will impress everyone with its stunning looks, wonderful aroma and savory flavour.