I made these over the weekend, using the recipe below, which comes from the Ball Blue Book (1974):
Beet Pickles
2 Cups sugar
3.5 cups vinegar
1.5 cups water
1 tablespoon whole allspice
1.5 teaspoon salt
2 Sticks cinnamon
3 quarts peeled, cooked small beets
To cook beets: Wash and drain beets. Leave 2 inches of stems and the tap roots. Cover with boiling water and cook until tender.

Combine all ingredients, except beets; simmer 15 minuets. Pack beets into hot canning jars, leaving one-half-inch headspace. (Cut larger beets in half, if necessary). Remove cinnamon. Bring liquid to boiling. Pour, boiling hot, over beets, leaving one-half-inch headspace. Adjust caps. Process pints and quarts 30 minutes in boiling water bath.

Yield: about 6 pints
This recipe produces a great batch of easy-to-make and great-tasting goodies that can be served as a side dish for many meals, or served at parties, picnics or barbecues - or simply enjoyed at home for no reason at all. Pickled beets are a piquant delicacy with a wonderful and exotic combination of spices that are perfectly at home anywhere, whether on a paper plate under a hot, sunny, summer day, or next to a serving of roast beef and mashed potatoes for a satisfying evening meal in the darkest depths of winter ~ or straight out of the jar, any time.
In making these pickled beets, I enlisted the assistance of my mother, who has been canning and pickling as long as I can remember. To this day, the best kosher dill pickles I have ever had in my life come from the Ball and Kerr mason jars filled by her. She was glad to help with this project, but didn't have much patience for the photographic process ~ consequently, a few of these pictures are not quite as "polished" as I would like them to be, but no worries - the method is now preserved for posterity!
Her method differs very slightly in procedure from the recipe above, but it is essentially the same thing, and the
ingredients
are the same. You can follow the exact procedure of the recipe, or do it her way - results should be great no matter how you do it.
I started this project at my own house and then moved the operation out to mom's to be finished. Here are the beets, which turned out to be exactly enough to fill 6 pint-sized jars:
The beets are locally grown at a nearby Hutterite colony; always a source of delicious, freshly-picked produce!
First, based on her instructions, I scrubbed the beets and then cut off the stems and tops: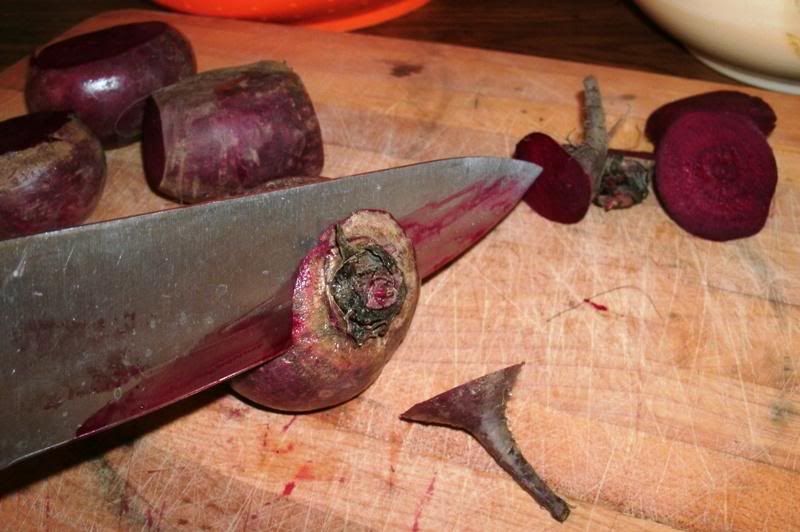 The recipe says to leave 2 inches of stems and tops, but this worked fine; a person could go with either procedure.
Next, I put them in a kettle and covered them with cold water:
And brought it to a boil: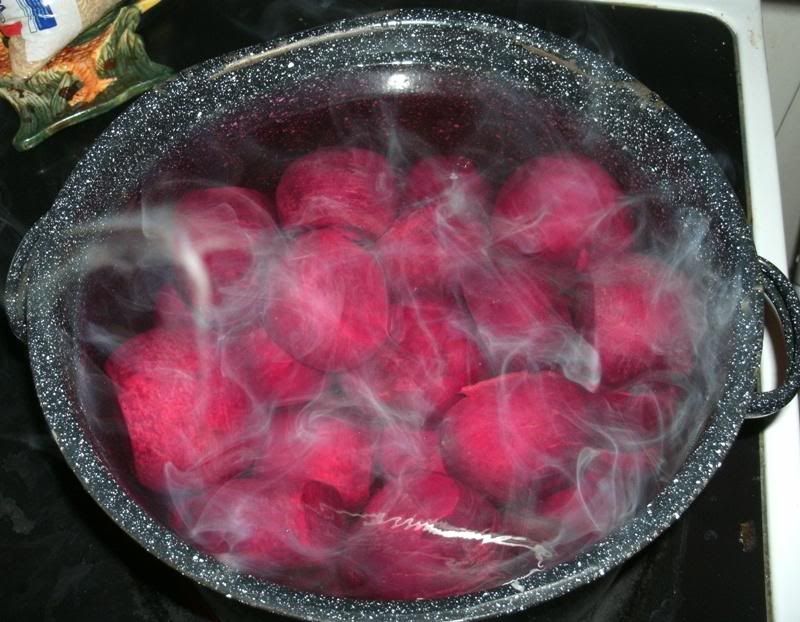 You want to perform this step mostly so that the beets can be easy to peel, but also so that they become tender. Be sure that you don't peel the beets before boiling, or they will lose a lot of their colour. A person could drop them into boiling water, as per the recipe, but since I wasn't sure how full to fill the kettle, I simply did it this way. Well, actually, the main reason I did it this way was because Mom told me to! Either way seems to work....
Once the boiling started, I set the timer for one hour, so that the beets could boil until they were tender. I must say that while they were boiling, I was loving the aroma that filled the house. Beets are one of those vegetables that truly capture the essence of the land that they come from, and there is something very satisfying about cooking and eating them that brings you closer to your own roots with the land, even if you didn't realize you had those roots.
When the hour was finished, I drained the water, packed up the beets (still in the kettle) and the jars and headed out to my parents' house.
Once I got there, Mom was ready to go. Here are the goods for the pickling:


Over the years, she's found that it's best to set up a kind of station, where one can peel the beets over a "garbage bucket" and then toss them into a waiting container:
The skins and other "garbage" from the beets will get tossed into the garden to work back into the land.
As you can see, the "jackets" come off easily:
Most of the time, a knife wasn't even necessary; they simply peeled off.
Once you peel them, place them into a container to await the next step: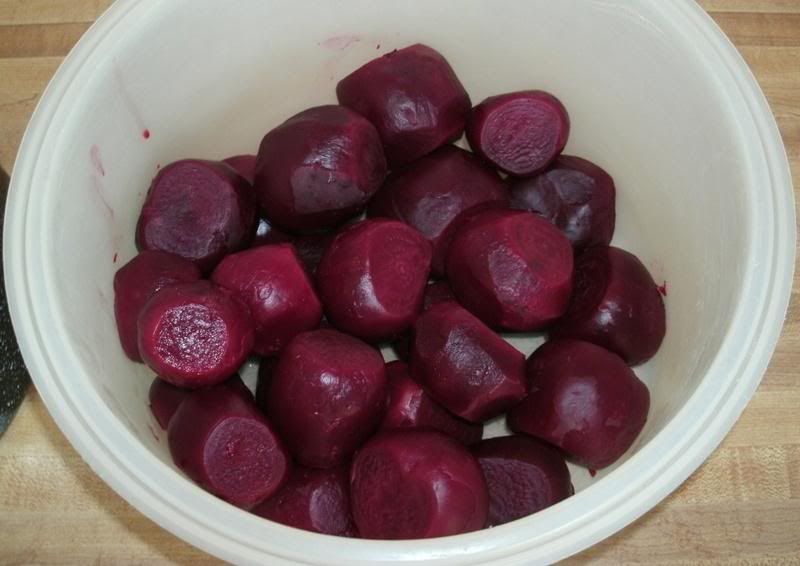 I suppose before they go into the container you could slice them, or quarter them - or cut them into chunks or cubes - whatever works best for you; however, this is the way Mom did it, so it's the way I do it. This site is about food, culture and history, and a very large part of that is preserving methods of preparation within the family and archiving what our previous generations have to teach us. I am guessing that every single person reading this right now regrets that there is something from his or her parents, or grandparents, or great-grandparents - a story, a recipe or even just a memory - that is now lost forever. How many of us would, if we could, go back and record, write down or otherwise preserve even a small part of what is now lost? I know I would, but since time-travel is impossible, the best we can do is visit with our elders and save their wisdom now, while we can.
Once we finished skinning the beets, we turned our attention to preparing the pickling liquid. I measured the allspice, cinnamon and salt: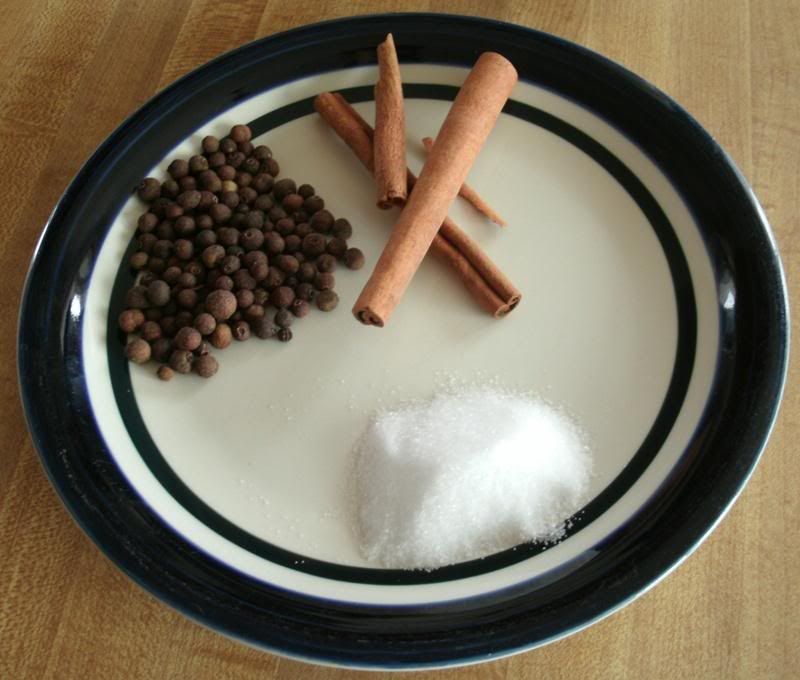 I was a little generous with the allspice and cinnamon, but not overly so. You want the finished product to hint at these flavours, but woudl also want all the components to work together in creating a whole new flavour, melding and mulling. Indeed, one thing I like best about this recipe is how you get a progression of flavours as you taste the beets, more than the sum of its components, but each one coming forward in its own turn. My favourite part is the way the cinnamon comes out at the end, just to remind you that it is there.
After adding those spices to the vinegar and water, we introduced the sugar:
And brought the entire mixture to a boil, stirring to dissolve the sugar and distribute the flavour: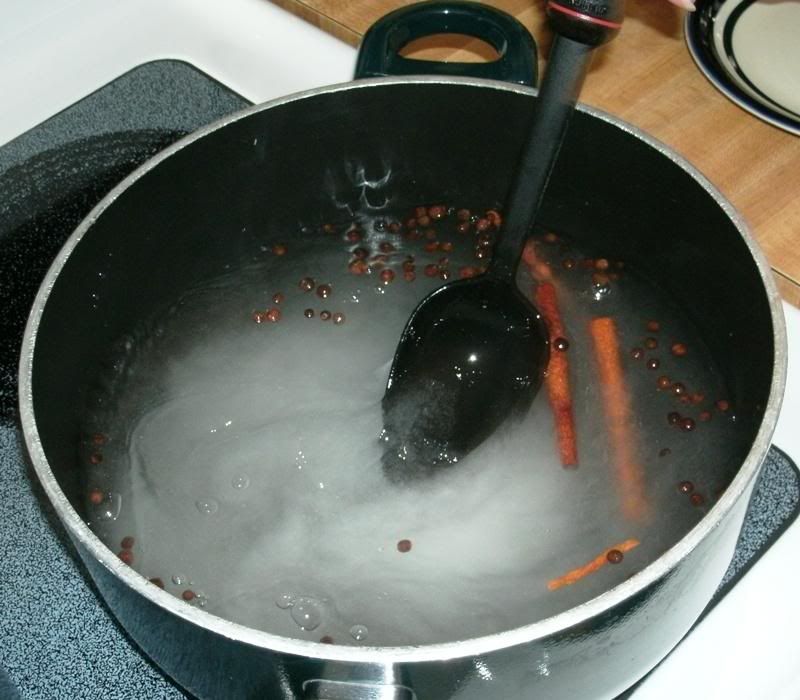 Once the liquid just came to boiling, we reduced the heat and let it simmer gently for 15 minutes in order for the flavours to mull and marry.
During the simmering, we turned our attention to the beets and started filling the jars.
It goes without saying that you want the jars to be washed and in waiting in hot, hot water right up to this point; one reason is for cleanliness, but another is so that there will be no nasty surprises when you fill the jars with the boiling liquid. To keep it simple, we submerged the jars in the canning kettle, which should be heating up to almost-but-not-quite-boiling by now. Also the clean tops for the jars should be sleeping at the bottom of a clean sink or pan with very hot (but not boiling) water, along with the clean bands. Is everyone getting the clean theme, here?
Now we're ready for the fun part, packing the jars. Use tongs to grab a jar, emptying the water out of it and setting it on the counter. Pack the beets in the jar, leaving a half-inch of headspace as specified by the recipe (note: the "new" Ball book says to leave 1/4-inch headspace).
Some beets we sliced: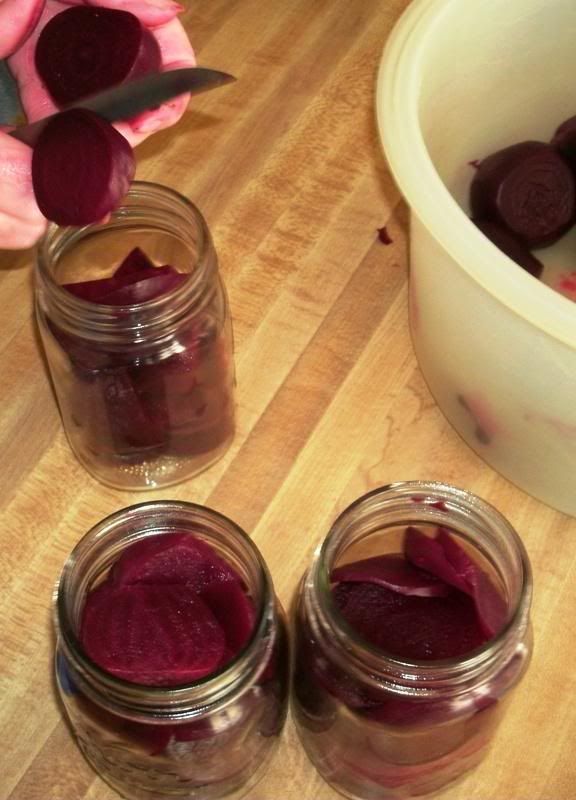 And other beets we cut into quarters or sixths, depending on size:
A person could also cut them into cubes, if desired.
Here are all the jars, ready to be filled with the pickling liquid:
Next, we brought the picking liquid back to boiling for one minute, removed the cinnamon sticks and then filled the jars, leaving a half-inch of headspace as directed (note: the "new" Ball book says to leave 1/4-inch headspace):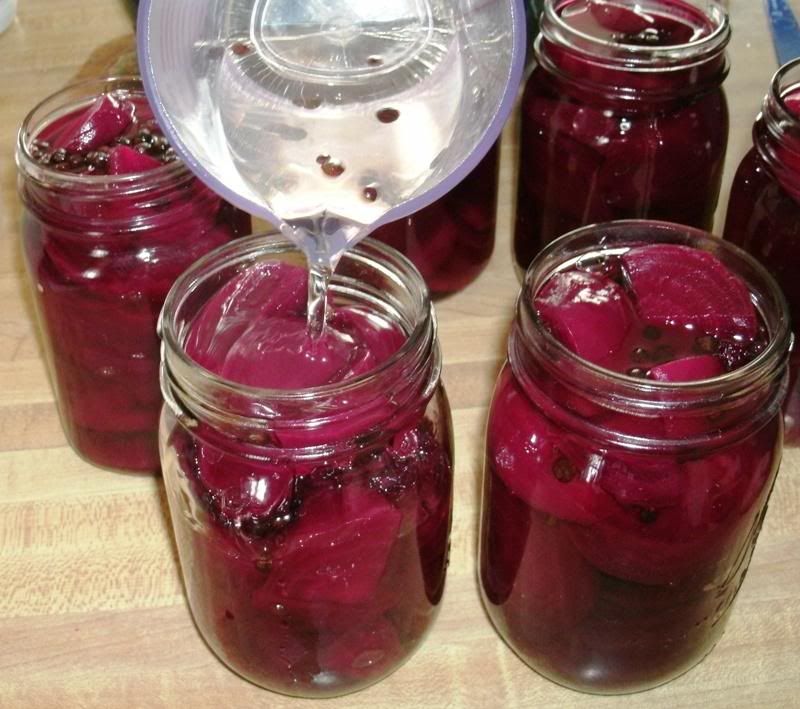 Be sure to distribute the allspice berries evenly amongst the jars!
Once the jars are full, remove any air bubbles, then wipe off the mouths of each jar with a hot, clean cloth that has been rung out: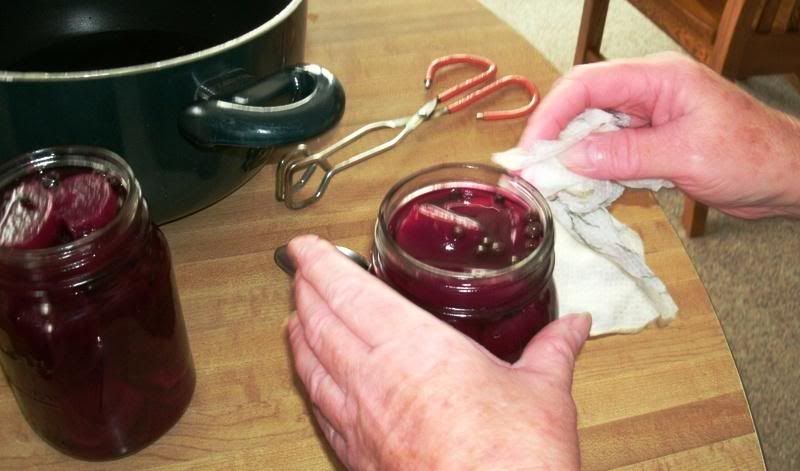 Using tongs, remove a lid from the hot water and center it on a jar:
And then snug a band down on the lid to "finger-tight" (see comments in replies below). Repeat this procedure until all of the jars are covered and ready for processing.
Here are the jars ready to be lowered into the canning kettle, which you want to be full of water that is just ready to boil:
When lowering the jars into the kettle, you want to be sure that the tops of the jars are covered with at least an inch of water.
The rest is pretty standard. Consult your canning instructions in case there are any variances, but here's what we did: we brought the water to a good, rolling boil, then we covered the canning kettle and started the timer for processing. For our altitude, we added 5 minutes to the time given in the instructions, for a total of 35 minutes.
Once the time had passed, we used tongs to remove the jars and placed them on a clean, dry towel in an out-of-the-way area where there would be no draft so that they could cool:
You want to be careful as they come straight out of the boiling water, as a draft could cause the jars to burst.
After the jars had cooled, I labeled them, giving the product and the year:
I suppose I could have given the month as well, but this is good enough. The "official" line is that the pickled beets, like most home-canned foods, have a shelf life of up to one year, when stored in a cool, dry place; however, it has been my experience that they will last significantly longer ~ This also goes without saying, but if you ever see any signs of spoilage, open the jar and discard the lid and contents.
We finished exactly as the recipe said we should, with 6 pints of the finest pickled beets imaginable ~ much, much better than anything that could be bought at the store: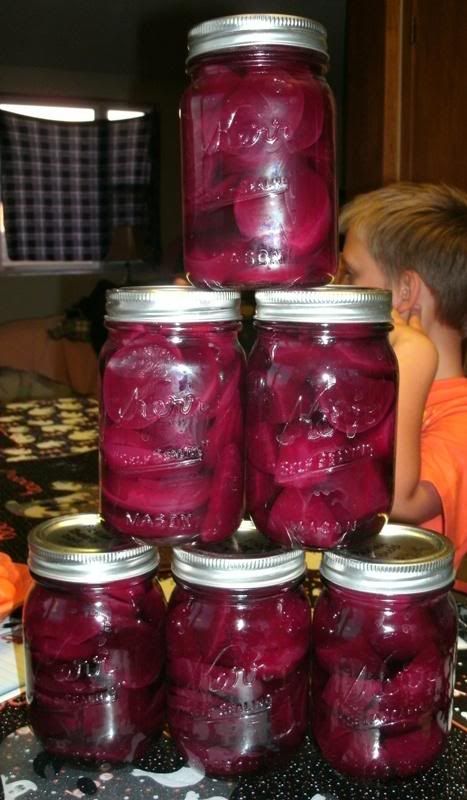 Now that you've seen how easy it is, I hope that you'll give it a try. If you like pickled beets, then this is a way to get the best, most economical pickled beets you will ever have. If you've never tried them, it's a cheap and easy way to possibly find a new favourite - and if it turns out that for some reason you don't like them, I can guarantee that you will be able to make a gift of the rest and give them to someone you know who absolutely loves them!

As always, if anyone has any questions, just ask.