A traditional Christmas meal here consists of Perogies, a Polish dish that my wife makes.
The wife is second generation American with a heritage of 50/50 Russian-Polish, (aka, the angry idiot).
Her perogies are really good and luckily, for me anyway, these are only made about 2-3 times a year. I'd eat em all if I could. LOL
Anyhow, a couple people here have commented on them when I mentioned them and asked that I share her recipe. She started making them up for Christmas dinner and I made her call me each time she did a step that I thought was pertinent.
Let's begin.
First, take 2 Large yellow onions and chop them up. Small pieces, no larger than 1/2" square.
Then, using a large pot, melt either 8 sticks of salted butter or the equivalent of margarine. (Yes, that ma seem like allot of butter, but you need it for a batch this size. If you half the recipe, you can half the amounts of butter and onion.
Sauté onions until soft. Transfer this mix to a large tub or something as you will be adding your cook perogies to this mixture.
For this recipe, we are making potato and cheese perogies.
You will need.
A 5# bag of potatoes.
1 1# block of sharp cheddar cheese.
Wash and peel tatters, cut up and toss in boiling water. Just like one would do when making basic mashed tatters.
While they are heating up, grate the 1# block of cheese.
Mash tatters only. Do not add anything to them. Just the tatters.
When mashed, dump in all the cheese an mix while the tatters are still hot giving the cheese time to melt it.
When all mixed, cover and set aside and start to make the dough.
If you plan on making them right away, get a large pot of water and bring it to a boil. If you want to wait on making them, skip the boiling water step and just place the dough balls you will make up in the next step in the fridge until ready.
For the dough you will need.
2 Cups regular flour.
1 Egg
1/2 Cup Milk
Mix all this up so your dough is neither sticky or dry, adding small amounts of flour or milk as/if needed. Pliable, but not so much that it sticks to your hands or the table. Make the dough recipe 6 times so you end up with 6 balls of dough. Place each ball in wax paper and place in fridge until ready to use.
When ready, remove one ball from fridge and roll dough out on a lightly floured table and to a thickness of approx. 1/8". A little under that is good, but don't make any thicker.
Traditional perogies use a round cutter or a glass to cut out circles roughly 3" in diameter.
When doing it this way, once you have all that you can cut out, you gather up the dough, knead, and re-roll it and cut out more. However, each time you do this, the dough gets tougher so the wife simply makes squares. The still taste the same and it's quicker. You can do it either way, it's all good....
If you have helping hands, like kids or a willing spouse, while you are making up the dough, have them make scoop the tatter mixture and make little potato balls a bit smaller than say a whole Walnut (in the shell).
Set them on some wax paper, or you can scoop as you go. Having the dough pre made into little balls saves time.
With your dough cut out, place a scoop of the tatter mix in the middle, and fold and stretch the dough over to make a ravioli. Pinch the seams together so they don't open and set them on a lightly floured surface.
Once you have about a dozen or so, drop them in the boiling water and boil them for 7-9 minutes, depending on how thick your dough is. They should have that cooked basic noodle taste/texture to them.
Once they boiled for the proper amount of time, remove them from the water with a slotted spoon and set them in a strainer so the water can drip off them a bit.
Then, place them in the container that has your onion and butter mixture and give a light toss to coat them in the butter/onion mix.
Continue with the above steps until the dough is used up.
If you end up with extra dough, you can make noodles from it. The wife will sometimes just add them to the mix. Not sure how well it freezes, or thaws for that matter, but you should come out pretty close to utilizing what ya made. After making them a few times, you'll get an idea.
The wife also makes sauerkraut filled perogies. For that, you will need the following.
1 22 oz Can of Kraut
1 Small head of cabbage.
For the dough, you will need 4 balls.
Slice cabbage thin so it looks like the kraut. Place cabbage in pot FIRST, and add then kraut, juices included, over the top of cabbage. Cook until cabbage is soft. When cabbage is soft, remove lid and turn stove down to a simmer and continue cooking until almost all of the juice has evaporated. Watch as it will burn.
***Traditional Polish methods for this are to dump the kraut juice and rinse it off to remove the tartness of the kraut. We personally like it with all it's tarty krauty goodness. It's up to you. If you do remove the juice, just make sure to replace it with the same amount of water when you cook it.
Use the same size amount of kraut as tatters for the filling. Everything else is the same.
Walla, you have now made perogies. You can either eat them like they are, or like many do, give each of them a small dollop of sour cream.
OR.......the best way, at least in our house, is to let them sit in the fridge overnight and fry them up the next day. They'll already have a light coating of butter on them so no need to add any oil or butter to the pan. Just heat your pan and fry until they get that nice golden fried color to them. Salt/pepper to taste if so inclined and top with a small amount of sour cream and your rollin.......
I think I got it all covered. If any part of this did not make sense, just let me know either thru the post or pm and I will get back with ya.
A quick pictorial.
After the dough has been made, you roll it out. Here's the wife showing what a good size of dough should look like.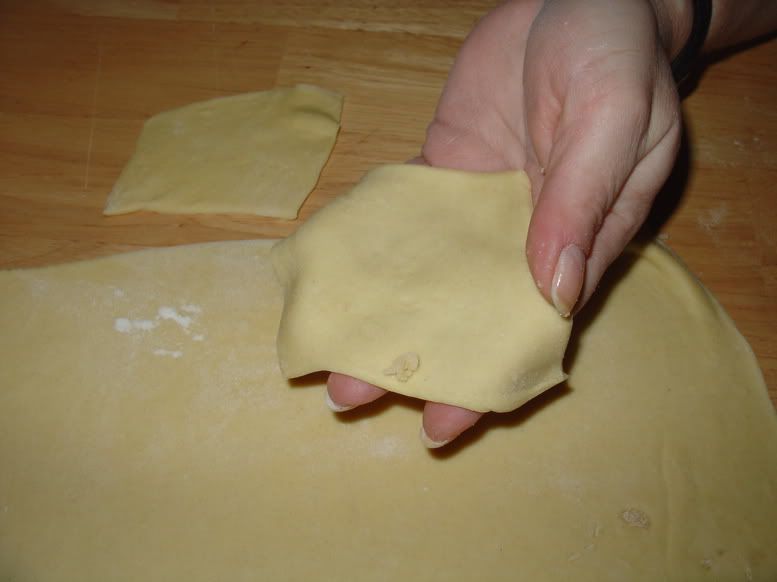 With a ball of the potato/cheese mix.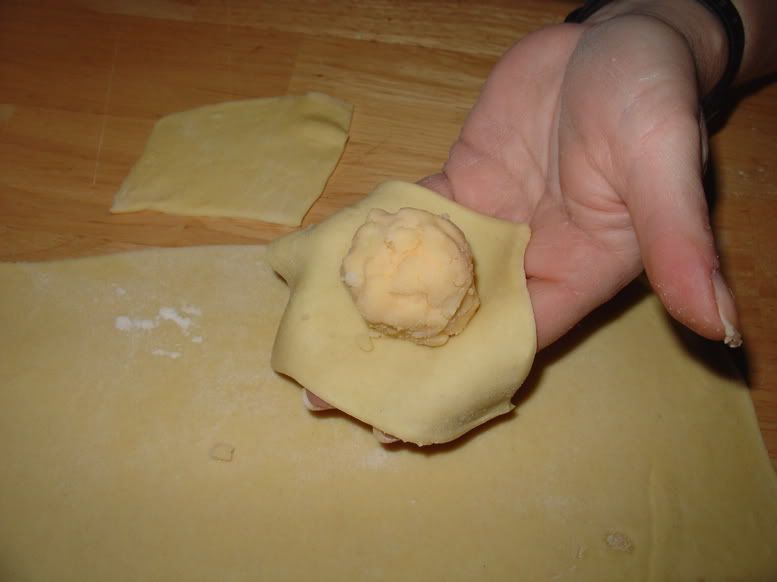 One side folded over and starting to pinch the seams together.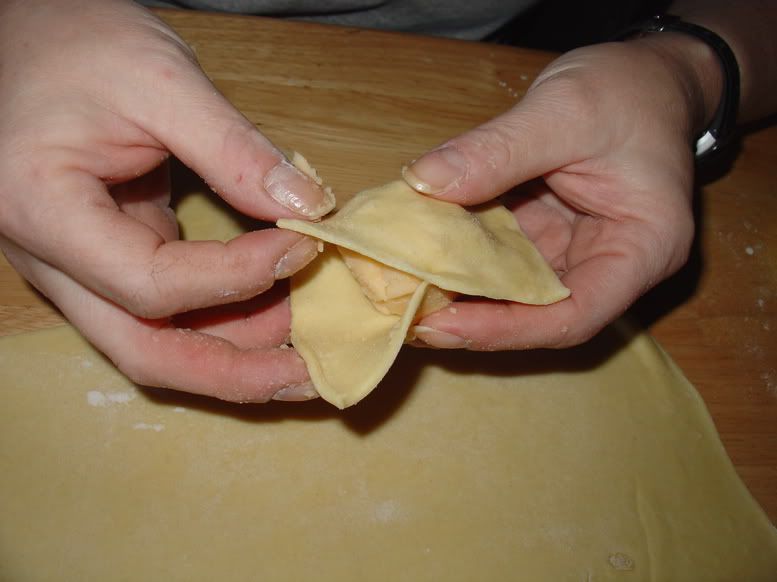 A couple made up so you can see what they look like.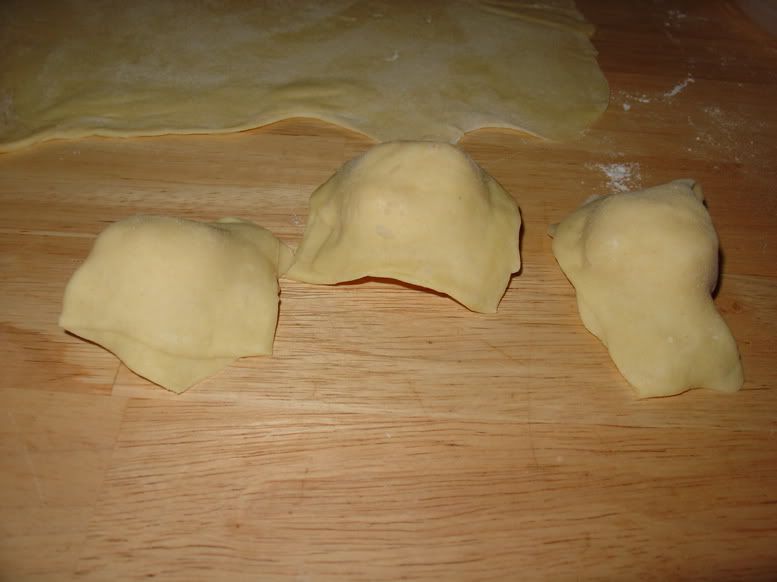 I figured you could get an idea of what it looks like when you drop them in water, but if not :lol: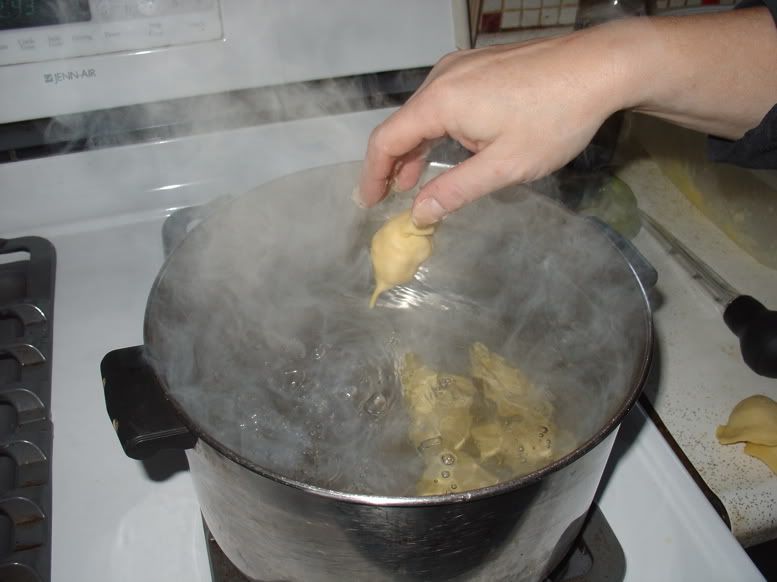 After a dozen or so, they are placed in the container that has the cooked onions and butter.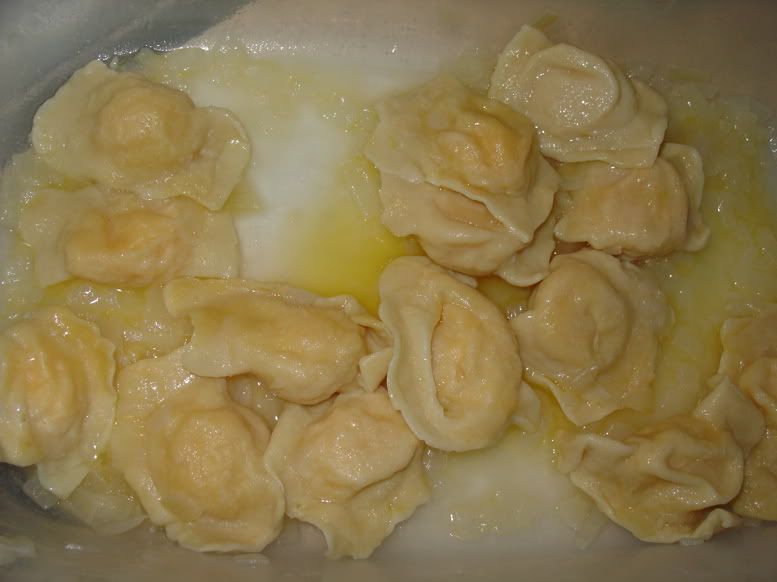 And like I said, they rock when you fry em up the next day :drooling: