well, folks - this was a resounding success; a wonderful, satisfying dish that i honestly enjoyed, and a truly historical bridge that spans from greece and turkey to the former yugoslavia, and even beyond to hungary. i will be making this one again, and i strongly recommend it to anyone looking for an easy, substantial meal on a cool grey day - or any day for that matter. this is something that is definitely different, but not so exotic that it is off-putting or intimidating - a true treasure from serbia.

naturally, we'll start with the goods, and it can't get much easier than this: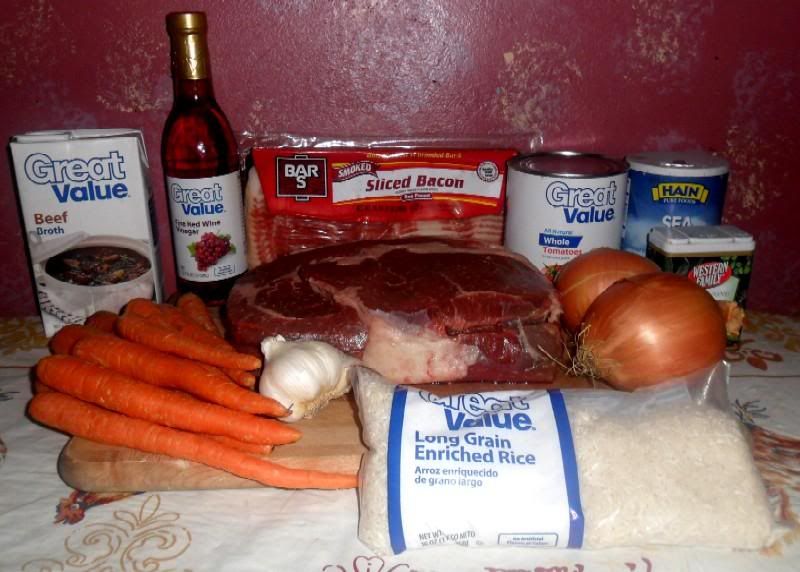 note that i substituted whole, canned tomatoes rather than using green peppers. this is perfectly acceptable and in keeping with the traditions of lovački djuveč, as both ingredients are very common and either, or both, may be used.
my preparation was for roughly a "recipe-and-a-half," which i figured would feed the family with leftovers for lunches. some of the amounts seen here might be more than called for, and that's the reason why.
my first order of business was trimming the beautiful, 4.5 chuck roast of most of its fat, then cutting the meat into good-sized chunks and cubes: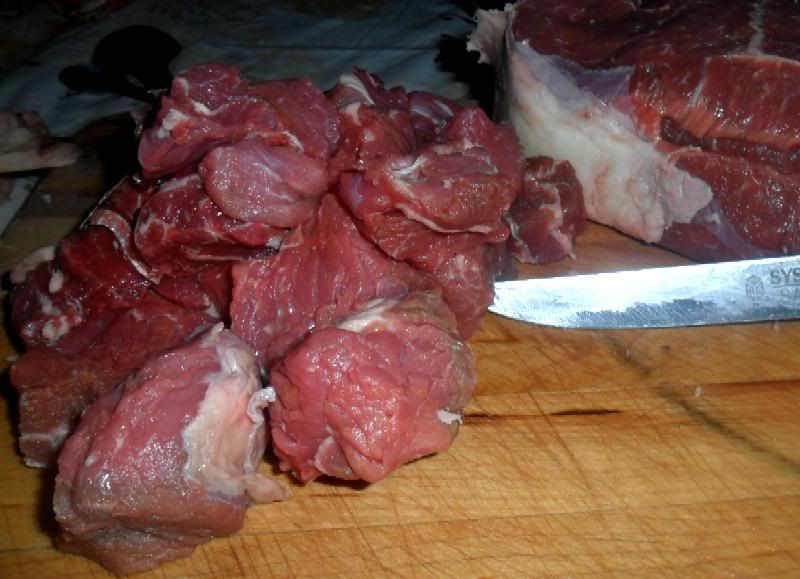 this local beef was raised, slaughtered and packaged not far from here, and as usual, turned out to be the perfect choice for this djuveč.
next came some steps that are familiar with similar dishes - dicing onions:
chopping garlic:
and, in this case, slicing and chopping some carrots into fairly uniform sized pieces so that they cook evenly: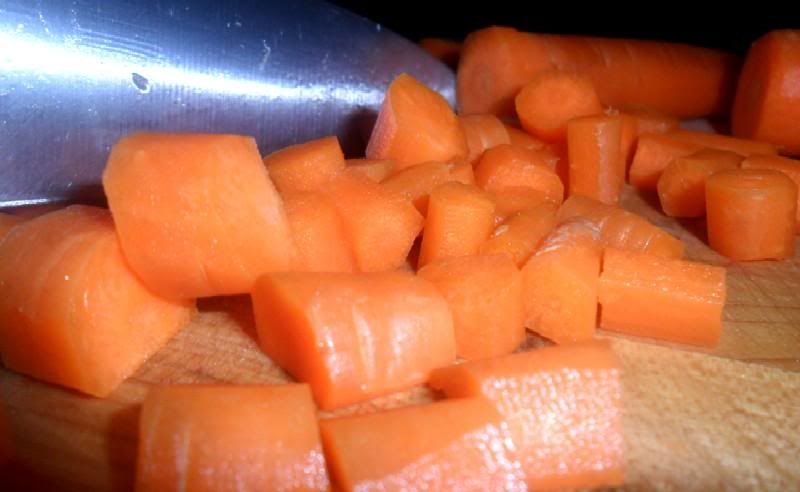 to get the actual cooking started, i tossed some bacon into the dutch oven, clooking it slowly and stirring it often until it had rendered out as much fat as possible without burning: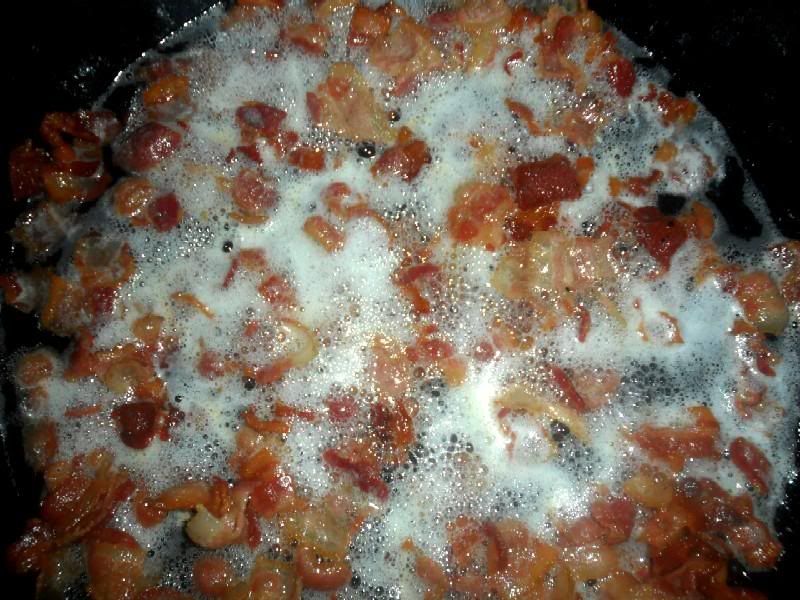 as you can see here, i used thinner-sliced bacon when i should have gotten thick-sliced bacon! i strongly recommend that you learn from this - the thin stuff is fine, but the thick-sliced bacon will be much more satisfying as the pieces will hold up better to the final product.
once i poured off all but a thin film of the rendered fat, i tossed in the onions and got them cooking until they started to turn translucent:
you do not want them to carmelise or get very brown at all - just slowly cook and stir them over medium-low or medium heat until they turn a beautiful golden colour.
when the onions get where you want them to be, toss in the garlic and carrots, stirring over the same moderate heat for 5 or 6 minutes: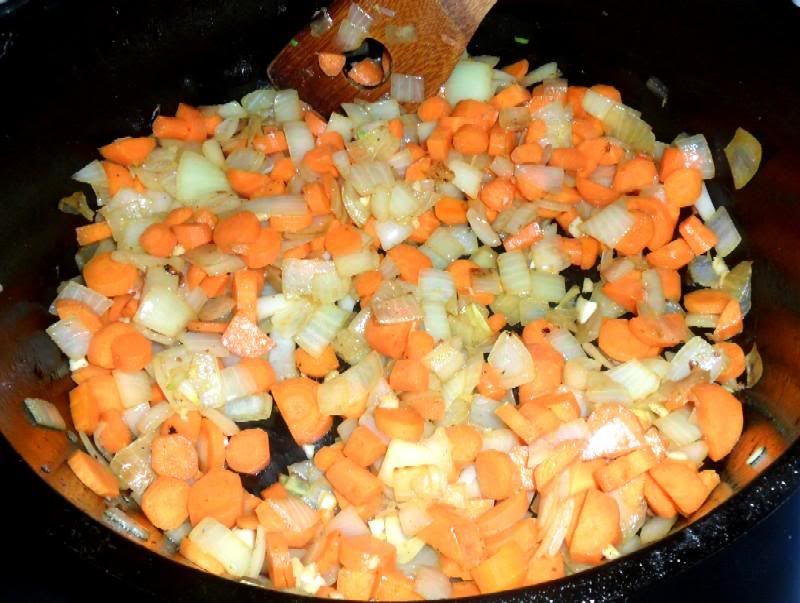 if the garlic starts to brown, you're going just a hair too far, you want the carrots to just begin to get soft on the outside.
when you get to that point, add the bacon back in and stir it around:
then add the water and wine vinegar, and also the chunks of beef:
finally, add salt and pepper to taste, and stir it all around.
this serbian djuveč is interesting in that, like http://foodsoftheworld.activeboards.net/forum_posts.asp?TID=755&title=bogracs-gulyas-from-the-cooking-of-viennas-empire - hungarian gulyas , you do not want to sear or brown the meat before adding it to the liquids to simmer, as you would with other dishes - and even if you do decide to brown the meat anyway, you absolutely do not want to flour the meat or add any flour to the process at any time; slow simmering and the rice, which will be added later, will do the thickening for you!
once done, you can cover the kettle and then either reduce the heat to a low, low setting or put it in an oven at 275-300 and slowly simmer for at least an hour-and-a-half; even two hours would not be out-of-line. the purpose of the long, slow simmering is to give the collagen, fat and connective tissues in the cheap-yet-very-flavourful cuts of beef time to melt down and transform into wonderul flavour and texture.
in my case, i put this into the oven and took a couple of my kids fishing for a while. it was our first trip of the year and we had a good time, just outside of town on the milk river. my youngest son, roger, was the only one who caught anything - just a small whitefish, but it was the first of the year! right after that, it started raining, so we returned home a little early. i washed up and took the dutch oven out of the oven, and saw this when i lifted the lid: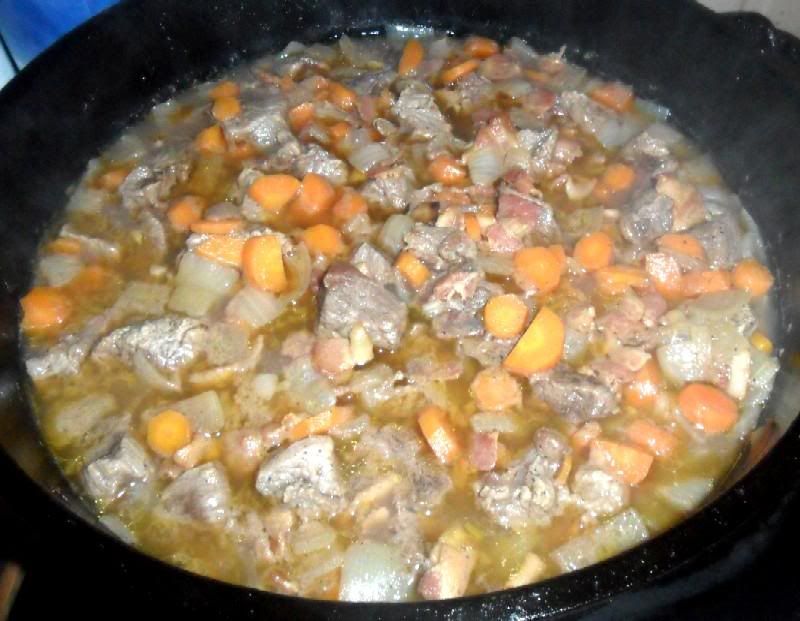 perfect! the beef was almost completely transformed into wonderful, fork-tender chunks, and the aroma in the kitchen was mouth-watering in its simple, savory goodness - i was eager to get this one finished and to try it, so i got down to business - mashing the tomatoes just a little with a potato masher to break them up and adding them to the djuveč, along with the rice: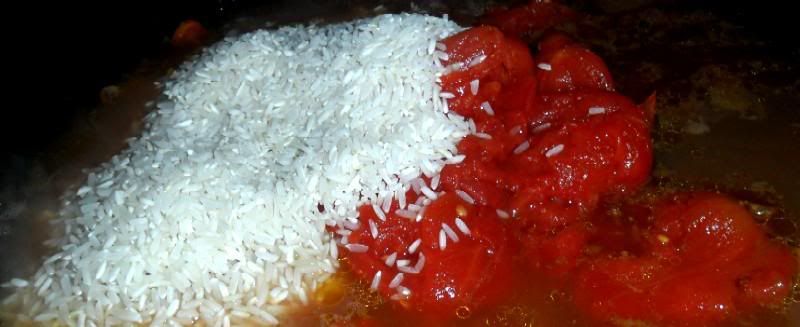 i've got to put in a plug here for the canned, whole tomatoes from wal-mart - i was not sure what to expect, as i normally buy cans of diced or crushed tomatoes, but these were asolutely wonderful, and very, very good for the price. i will certainly be using them more in the future!
after adding these components, along with the beef stock, i gave a short, very gentle stir to let the rice settle to the bottom of the kettle, bringing the contents just to the cusp of a boil: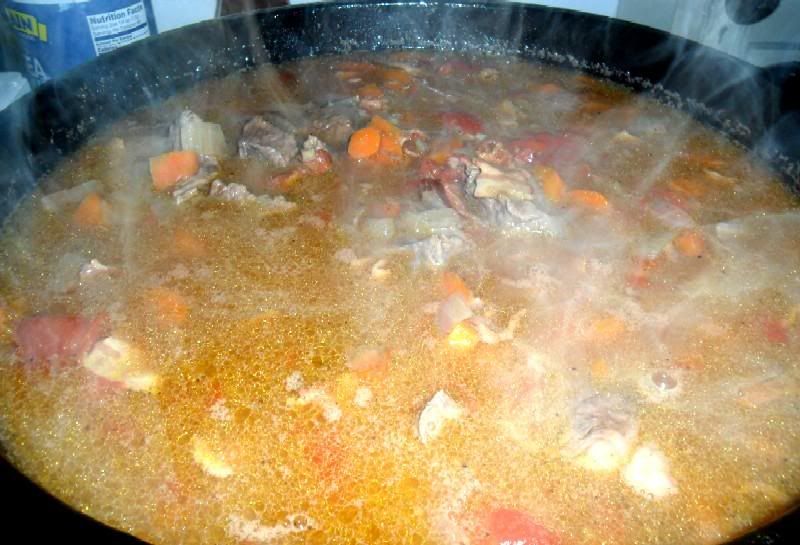 then i immediately reduced heat down to the lowest setting, covered it and let it simmer for about half an hour so that the rice could absorb all of this liquid and flavour, whilst also thickening the final dish; all this while the beef finished the last of its transformation into tender, rich chunks of love. sure enough - when the time came, i lifted the lid to see this: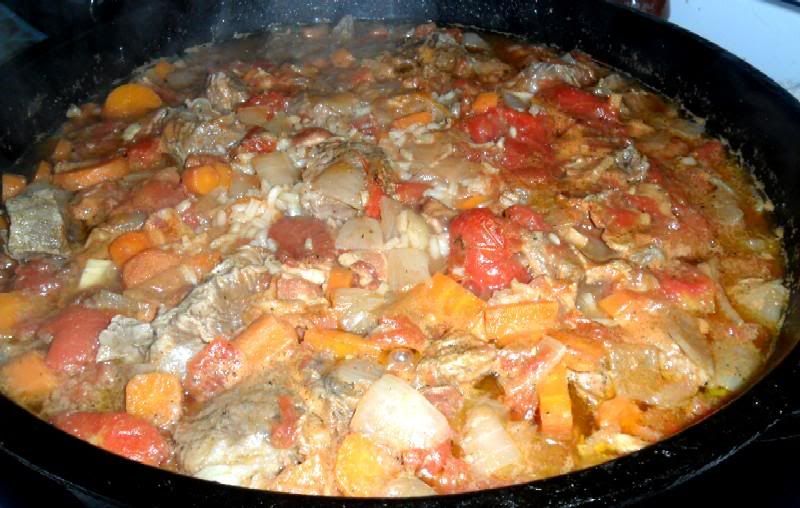 now how good-looking is THAT?! i was impressed, and craving this by now - the smells and the sights were about as good as can be. my dad, who happened to drop by right about then, remarked that it looked like him to be very similar to the gulyas that he enjoyed as a kid, and considering the ingredients, the history and the geography of the dish, i'd have to agree. the rice (rather than potatoes or noodles) is the unique thing here, and it certainly makes for a special experience.
after stirring the finished djuveč around a little, i served it up:
you can see how thick this is, as well as how savory-good:
it's not hard at all to see the turkish and greek influences, melding perfectly with the best of southern and eastern europe:
i passed it out to the family and we got down to trying it: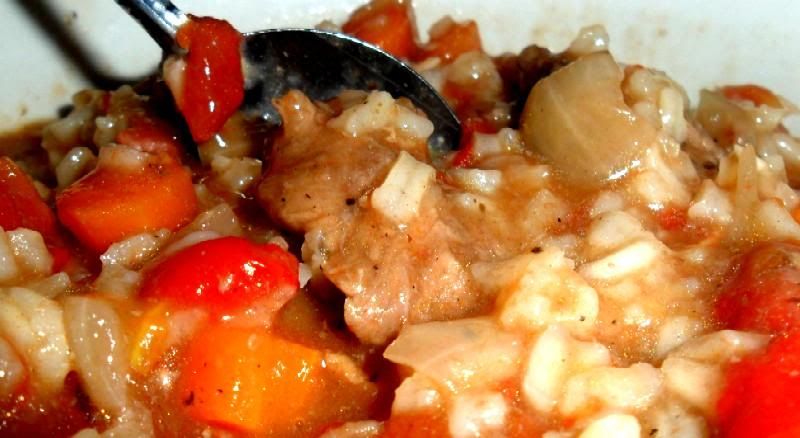 all i can say is that this was outstanding, having everything that one likes in a rich, thick, hearty meal. every flavour came through, from the sweet carrots to the tang of the wine and tomatoes, to the tender, rich, beefy goodness of the chuck cubes. the garlic, onion and other seasonings all played their parts perfectly, and the rice was the matrix that held it all together beautifully - making this much, much more than a simple beef stew or a casserole - it was djuveč!

everyone enjoyed this and had seconds - which means there were no leftovers! oh well - maybe next time....i really enjoyed this one, and i am pretty sure that you would too, if you gave it a try.



-------------
If you are a visitor and like what you see, please http://foodsoftheworld.activeboards.net/registration_rules.asp?FID=0" rel="nofollow - click here and join the discussions in our community!