Potatis Korv för Sankta Lucia och Julafton
Swedish Potato Sausage for Saint Lucia and Christmas Eve
Ever since Dave posted http://foodsoftheworld.activeboards.net/potatis-korv-swedish-christmas-sausage_topic1585.html" rel="nofollow - his rendition of potatis korv :
http://foodsoftheworld.activeboards.net/potatis-korv-swedish-christmas-sausage_topic1585.html" rel="nofollow - http://foodsoftheworld.activeboards.net/potatis-korv-swedish-christmas-sausage_topic1585.html
I've really been wanting to try this unique, potato-based Swedish sausage. For one thing, it just plain looks good; it's got a flavour profile that I like, and his preparation photos really appealed to me. Also, I am partially of Swedish descent; my great-grandfather, who was German, married a Swedish girl, and Scandinavian traditions are in my blood.
My wife was raised Catholic; I was raised Lutheran. Anyone who knows much about those two religions is aware that the differences are indeed few; however, in some corners of both sides of the family, you would have thought that we're all going to be separated by barbed wire in the afterlife because of this union.
One of the few Saints that both religions venerate in common is Saint Lucia of Siracusa; according to Wikipedia:


Saint Lucia (Lucy) was a wealthy young Christian martyr who is venerated as a saint by Roman Catholic, Anglican, Lutheran, and Orthodox Christians. Her feast day in the West is 13 December; with a name derived from lux, lucis "light", she is the patron saint of those who are blind. Saint Lucy is one of the very few saints celebrated by members of the Lutheran Church among the Scandinavian peoples, who take part in Saint Lucy's Day celebrations that retain many elements of Germanic paganism. Saint Lucy is one of seven women, aside from the Blessed Virgin Mary, commemorated by name in the Canon of the Mass....




[Lucia] was a Christian [who] consecrated her virginity to God, refused to marry a pagan, and had her dowry distributed to the poor. Her would-be husband denounced her as a Christian to the governor of Syracuse, Sicily. Miraculously unable to move her or burn her, the guards took out her eyes with a fork. In another version, Lucy's would-be husband admired her eyes, so she tore them out and gave them to him, saying, "Now let me live to God."

The oldest record of her story comes from the fifth-century accounts of saints' lives. In medieval accounts, Saint Lucy's eyes are gouged out prior to her execution. In art, her eyes sometimes appear on a tray that she is holding.




A more-detailed account of her legend can be found in the http://saints.sqpn.com/golden136.htm" rel="nofollow - Patron Saints' Index .

Her feast day is a big deal in Scandinavia; according to another Wiki article:
In Sweden, Estonia, Denmark, Norway, and Finland, Lucy (called Lucia) is venerated...in a ceremony where a girl is elected to portray Lucia. Wearing a white gown with a red sash and a crown of candles on her head, she walks at the head of a procession of women, each holding a candle. The candles symbolize the fire that refused to take St. Lucia's life when she was sentenced to be burned. The women sing a Lucia song while entering the room, to the melody of the traditional Neapolitan song Santa Lucia; the Italian lyrics describe the view from Santa Lucia in Naples, the various Scandinavian lyrics are fashioned for the occasion, describing the light with which Lucia overcomes the darkness. Each Scandinavian country has lyrics in their native tongues. After finishing this song, the procession sings Christmas carols or more songs about Lucia.
Although St. Lucia's Day is not an official holiday in Sweden, it is a popular occasion in Sweden....The Swedish lyrics to the Neapolitan song Santa Lucia have traditionally been either Natten går tunga fjät (The Night walks with heavy steps) or Santa Lucia, ljusklara hägring (Saint Lucy, bright mirage). There is also a modern version with simpler lyrics for children: Ute är mörkt och kallt (Outside it's dark and cold).
None of this really has much to do with Swedish potato sausage (known as potatis korv among descendents of Swedish immigrants here in the US and more commonly as värmlandskorv in Sweden), which is a tradition of Christmastime; but since the timing was right, I decided to make this sausage and serve it for both occasions. I followed Dave's lead as close as I could; the only difference is that I did not add any curing agent, since I wasn't going to be smoking the sausage and it is traditionally made, cooked and served as a fresh sausage. Here's how the making of the sausage went down:
The ingredients are simple, and so is the preparation. For the sake of convenience, here is the recipe for Dave's adaptation, sans curing agent:
Swedish Potato Sausage

1025 grams pork shoulder (2.25 lb)
681 grams boneless beef chuck (1.5 lb)
681 grams peeled raw potatoes (1.5 lb)
454 grams raw white onions (1 lb)
85 grams dry milk powder (one packet)
30 grams salt (4 tsp)
10 grams sugar (2 tsp)
3 grams ground allspice (1.5 tsp)
8 grams black pepper (1 Tbsp)
123 grams ice water (.5 cup)

1. Grind the meat, onions and potatoes through a 1/8" plate.

2. Place in mixer and mix for three minutes, or until well incorporated.

3. Add remaining ingredients and mix in thoroughly.

4. Stuff into 38mm hog casings and tie off into 12" rings.

5. Poach sausage in 180°F water 1 hour, or until internal temp of 160°F is reached.

6. Remove to cool, refrigerate or freeze until use.

7. To eat, brown gently in butter to heat through and color the casing.
Where the meat is concerned, I had 2 pounds of pork; since the total meat in the recipe is 3.75 pounds, I made up the difference in ground chuck. Because of this, my pork-to-beef ratios are slightly different than Daves; however, this is of absolutely no consequence, since every recipe I found during my research used a slightly-different ratio, with most hovering around 50/50.
On to important things, here are the rest of the ingredients: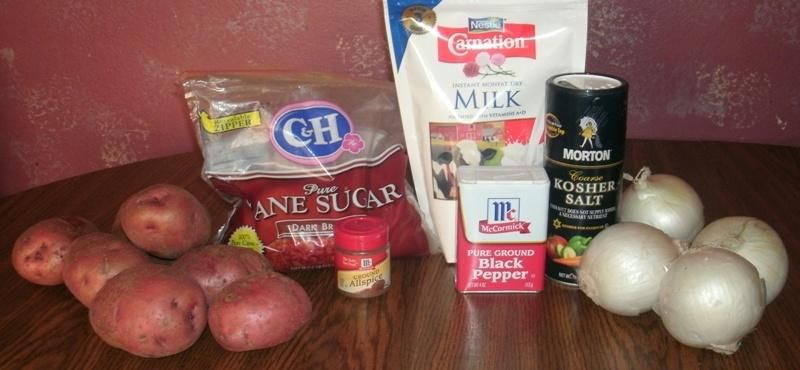 Potatoes, dark brown sugar, allspice, dried milk, ground black pepper, kosher salt and onions.
Before going too far, I put 3 lengths of hog casing into some warm water, so that they could soften up and be ready when the time came to stuff them:
For this amount of sausage, it turns out that I only ended up using about 1.5 lengths, but that's no big deal; the leftover casings were simply re-salted and put back in the refrigerator with the rest, to wait until they are needed.
Next, I measured my ingredients according to Dave's formula: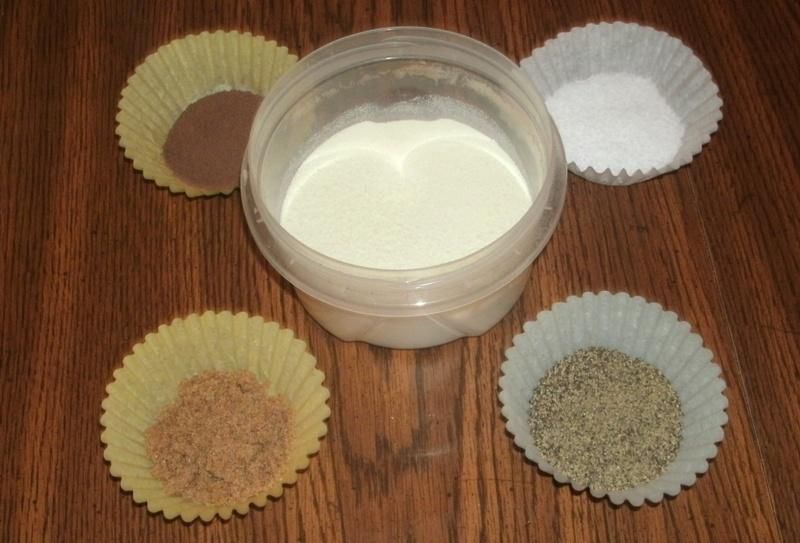 It should be noted that you can use teaspoon/tablespoon measurements, but you get the most accurate measurements by weighing them, especially when it comes to the salt, since different varieties of salt have different densities.
After that, I chopped some onion, carefully weighed out the amount that I needed and ran them through my #10 Porkert grinder's 1/8-inch plate:
Yes, the grinder is a little blurry - don't judge me! LOL ~ my youngest son was helping me make this, and we had a great time. Besides, the interesting thing, to me, is that the part showing the onions is in focus, and it creates a nice effect.
I repeated the above steps for the potatoes, keeping them in cold water from the moment I peeled them right up until the moment I ground them, in order to keep them from turning grey: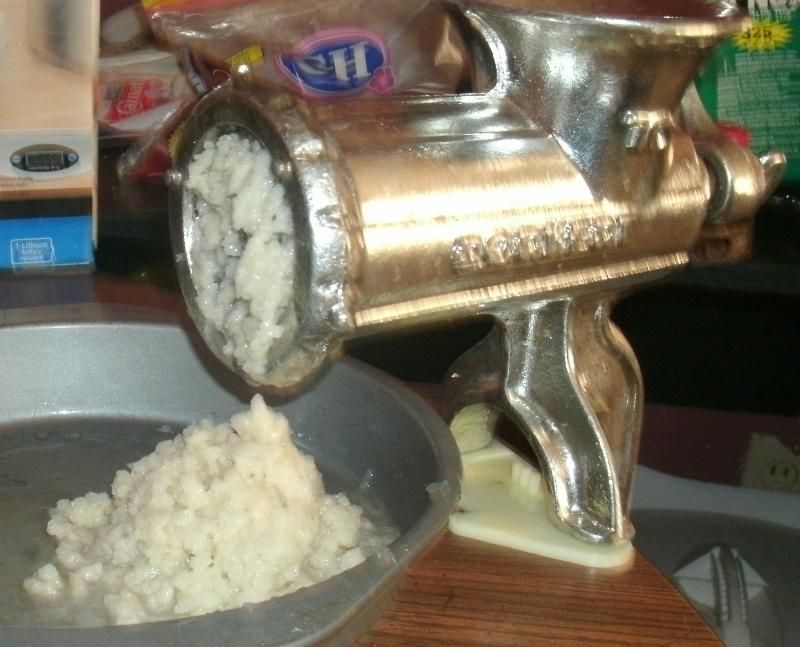 After that, my son mixed the minced onions and potatoes with the ground meats:
Once they were thoroughly blended, I added the spices:
Clockwise from the top: pepper, brown sugar, allspice and kosher salt.
Normally, I would have made a slurry with the liquid, but forgot to do that until it was too late; no worries, I simply exercised due diligence when I mixed everything together!
After mixing the spices into the meat for a couple of minutes, I sprinkled the dry milk on top and added the water, as called for in the recipe:
The milk serves as a binder, and also because many Scandinavian meat-and-potato combinations call for milk or cream in the mixture.
I debated with myself as to whether or not to add the water; due to the minced potatoes and onions, there was a lot of liquid already in the mix. In the end, I decided to go ahead and add the water. This did create a very "wet" sausage mixture, which would have been a problem if I hadn't been stuffing the sausage into casings. Next time, I will try it without adding the water, and see how it turned out. One thing is for sure, the water did help to make a very well-blended sausage, which is important.
After mixing everything thoroughly, I technically had sausage, and could have packaged it "in bulk" and used it either crumbled or in patty form. One other option was also quite obvious: I could have rolled them into Swedish meatballs, since the flavour profile was basically the same almost to the letter. The only real difference is that liquid milk or cream would be used (the added water made up for this lack, reconstituting the dried milk) and an egg or two would be added to the mix, in order to help bind the meatballs together.
Anyway, I was making sausage in links today, so I covered the sausage mixture, and then put it in the freezer to chill while I experienced the intricacies of rinsing sausage casings and putting them on a sausage stuffer for the first time in my life: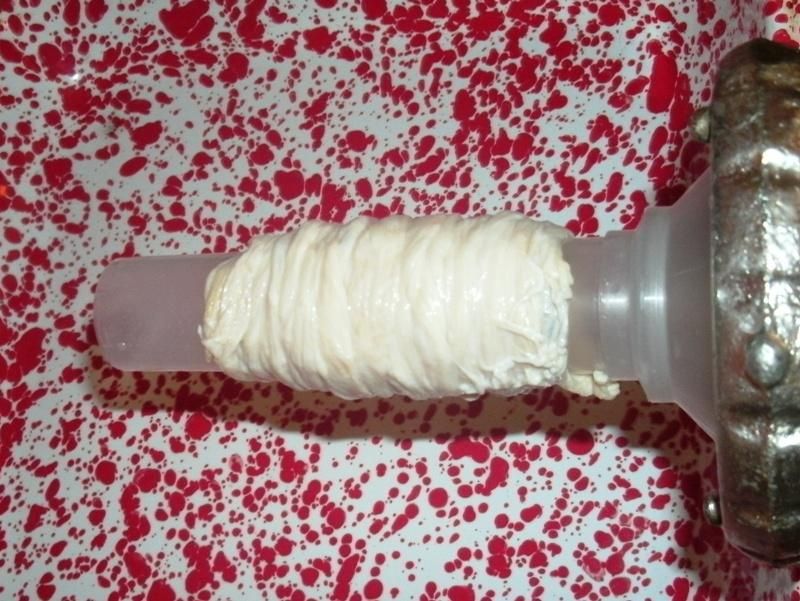 It really wasn't too difficult, but a person does want to exercise due caution so as not to tear or perforate the casing.
When the time came to stuff, I retrieved my chilled sausage:
This colour is quite normal! Keep in mind that this is a fresh, non-cured sausage that will be cooked, so it is going to look like raw meat, the colour was also affected by the fact that the minced potatoes were darkening as well.
Stuffing the casings was ridiculously easy, and I had no troubles with this; I simply loaded the sausage into the hopper of my Porkert and ran it through the grinder and stuffing attachment into the casing:
Nothing could have been easier, and once again, I mentally kicked myself for being intimidated by the idea of trying another project that was seemingly complicated but actually very easy; wasting years - literally! - that I could have spent enjoying all kinds of sausage. I will say to you once again, dear reader: quit putting things off! If you are interested in making sausage, don't wait until "the time is right" or you have all of your "ducks" lined up in a row, or until the moon is full on a night when the planets are properly aligned. Just do it! You don't need anything complicated; any 10$ grinder at a garage sale will work just fine to get your started!
Anyway, back to the project, I was a little surprised at how large the sausages were in diametre, and was concerned that I might have overstuffed them; however, I soon realised that this was simply the size of the natural hog casings, and my fears were later laid to rest when I cooked a small test link.
I twisted links and tied ends of casings where appropriate, and ended up with 15 links in total:
If I would have been thinking, I would have followed Dave's lead and made larger, ring-style sausages, but these were perfectly fine; I had enough sausages for two meals, plus three left over to give to my dad, who is the reason that I have Swedish blood.
As mentioned above, I prepared a small "test link:"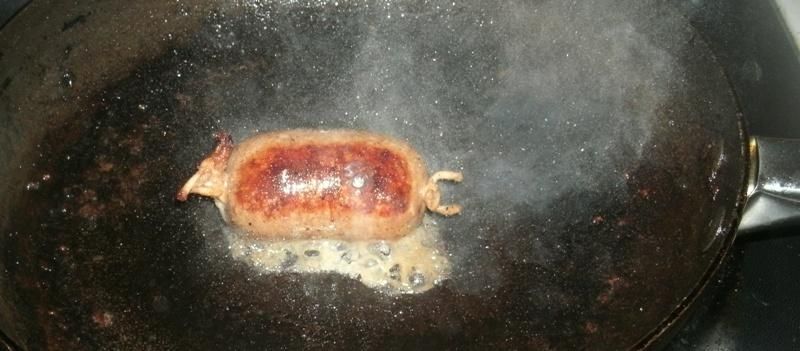 First, I poached it in a small pan for a while; then, when the water eventually boiled off, I added a little butter in order to fry it.
When it was finished:
I cut it open to see what I had:
Looks pretty good! Very well-blended (save for a little errant piece of onion there on the bottom) and with a colour that looked the same as other versions I had seen in my research. It sliced easily:
And tasted great, reminiscent of Swedish meatballs, just as advertised. I was impressed with my efforts, and was glad to find that my first attempt was a success.
As stated above, I ended up with 2 packages, each of 6 sausages (6 people in our family):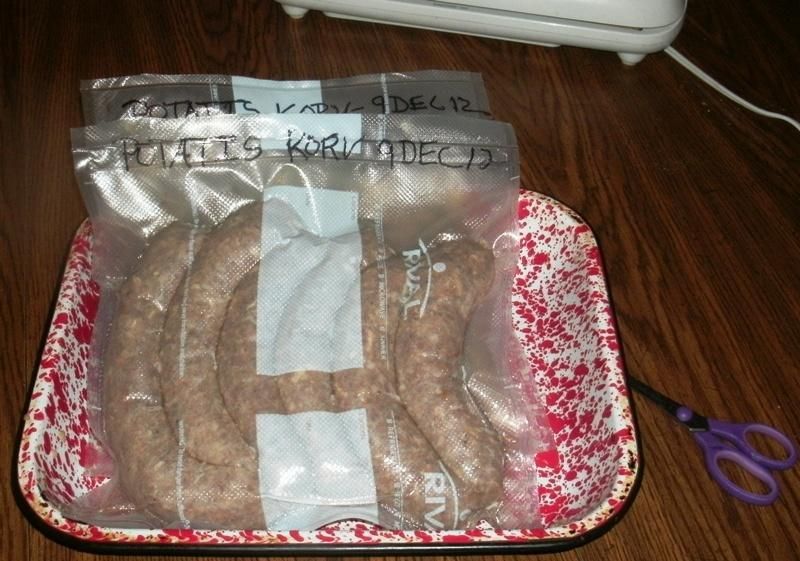 And three "extras" for my dad:
For some reason, I had a heck of a time sealing that last package, but it eventually came around; however, I might have "compressed" the sausages more than I wanted to, and Dad might discover that his sausages are a little on the flat side - oh well, it all tastes the same!

I'll be preparing one package tonight, in honour of Saint Lucia; the other one will be prepared on Christmas Eve, either as a meal at home, or possibly as some sort of "party food" at my parents' place if we go out there. More details on these preparations to follow.

To sum it up, my first experience with a sausage that involved using the grinder to stuff into natural casings turned out pretty well; as a bonus, I get to pay some homage to my heritage while enjoying what I expect to be a great meal - sounds like a win/win situation! Many thanks to fellow Swede Dave (Hoser) for the recipe and guidance ~ I couldn't have done it without you!

Thanks for looking, and if anyone wants to try this, please make sure you do so - if you have any questions, just ask.

Ron



-------------
If you are a visitor and like what you see, please http://foodsoftheworld.activeboards.net/registration_rules.asp?FID=0" rel="nofollow - click here and join the discussions in our community!